Technology is everywhere in business these days. If your company is yet to adopt any of the latest technological trends, then it needs to reconsider its stance on the future! Here are ten essential technology trends that your business may find very useful throughout the coming years. Give them a go!
1. SEO
No idea what SEO is? Well, you are behind the times, my friend. SEO, or search engine optimisation, is how companies get their online presence ranked higher in search results. Here's how it works. Let's say somebody types in a keyword into Google, 'marketing', for example. Your agency is then likely to appear higher than those who have not utilised SEO techniques to increase their online profile. This, in turn, brings your website more visitors each month, and creates additional revenue. What more could you want? There are two ways to go about implementing SEO, which is a rather tricky and specialist method of marketing. Firstly, you can clue yourself up and go it alone to avoid the cost of hiring somebody professional. Alternatively, you could hire an SEO firm for a small cost to implement your digital marketing strategy for you, remotely. This is often incredibly seamless and involves little to no hassle, which is ideal if you're not that clued up on technology.
2. Cloud Services
Cloud computing is on the up. Basically, the concept behind this is that all of the computers in your office run remotely off a server, which is, theoretically, in the cloud. What this means is that you can save on hardware, by purchasing low specced machines that run remotely. This is done over the internet, off of a more expensive and powerful server. You can either set-up your own cloud computing network by purchasing a server of your own. Alternatively, do what many businesses have started doing, and pay for access to a company's remote server. This will provide an enhanced experience. Other cloud services include storage. You've heard of iCloud, that neat tool that backs up all of your iPhone's content, right? Well, think similarly but with a business head on. Services such as Google Drive, OneDrive and Dropbox have all greatly advanced the free, online storage market. All three offer paid subscriptions, too. These offer you greater storage packages, useful for businesses who need to store a lot of content in the cloud, where it is safely backed up.
3. 4K
Just as 1080p HD became the industry standard for shooting video in, 4K is the same. 4K cameras can shoot up to the four times the resolution of a standard HD recorder, and this is a big deal. Our displays and devices are getting larger. This means that there is more ad space on websites and generally more opportunities to promote your business. This is why the video content that your company produces, needs to be of the highest standards. Take Apple, for example. Their marketing campaigns are always recognisable due their clean, crisp and high-resolution advertisements. Your business should follow suit! Services such as YouTube and Netflix are already streaming 4K content, so why doesn't your business adopt it too? The world's first 4K display on a smartphone is already here and 4K televisions are already flying off the shelves. So, it's definitely here to stay. Jump on this tech trend, today!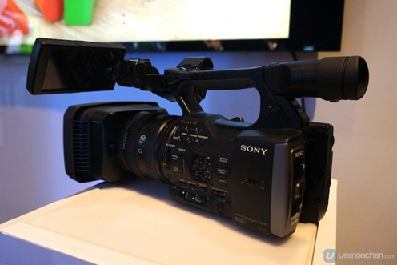 'Photo Credit'
4. Social Media
Social media is fundamental to any good business nowadays. Your online presence is basically void if you do not have a number of social media channels to promote you company from. Facebook, Twitter and Instagram are all excellent marketing tools. However, not everything about social media has to be promotional. Many businesses are using social networking tool LinkedIn to headhunt and hire new employees. There is a whole new job market on there, which is just waiting to be tapped into by your business. What are you waiting for?
5. Smartphones & Tablets
Chances are, a lot of your employees commute to work. If so, then supply them with a smartphone or tablet and encourage them to get more done on the bus or the train on their way in. These two tools enable unrivalled levels of productivity in the workplace. Prices are even falling with every year that their prominence in the marketplace grows. Does your business primarily runs its calendar and email services through Microsoft Outlook? If so, then supply your employees with a phone running Windows 10 made by Microsoft. Manufacturers such as HTC and Nokia are creating some incredible smartphones and tablets. These will seamlessly sync up with your businesses I.T platform. This will ultimately, keep your employees on task. It should also have the benefit of getting them to meetings on time instead of not at all. Plus, lastly, keeping them reading and responding to their important emails. It's a sound investment.
6. Mobile Payments
The new way to pay is here. There are many options that already exist. These include Apple Pay, Samsung Pay and even Android Pay, the list is exhaustive, and for good reason. This is the future of mobile payments within business. If your company owns a retail store, or similar, then it is essential that you jump on this bandwagon. Consumers appreciate ease, especially at the checkout. If all they have to do is scan their phone next to a chip and pin reader, then they're likely to come back and use your store more often. This cuts down on queuing times, the awkward and unnecessary conversations at the till, and is just generally convenient. Get started with Apple Pay today, almost all of the country's banks are supported already.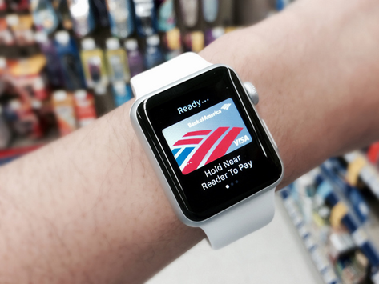 'Image From Here'
7. User Experience
The user experience of the technological side of your business must be easy to use and accessible. Consumers to not appreciate technical jargon, fuss or incompatibility with their devices. For example, make sure your website is looking crisp and clean and is optimised for all different types of screen sizes. Ensure that it has a mobile, dumbed-down, equivalent, too. This aids ease of access on smartphones and tablets. On the desktop version, be sure to have your Web Design team follow current design trends, such as material design. This is the method Google is currently taking to its Android mobile operating system and it's web services such as Google Maps and Gmail. Similarly, your company may have a smartphone or tablet application. If so, make sure it is supported and available on both iOS, Android and Windows devices. You don't want to limit your consumer base, simply because you didn't spend that extra bit of cash on developing your app.
8. Ultrawide Monitors
Investing in ultrawide displays may also benefit your employees. If you company employs a lot of graphic designers or video editors, then this may be what they have been craving for a long time. These ultrawide monitors offer a 21:9 aspect ratio, which is perfect for displaying a lot of content, or large application on the screen. Similarly, if your staff need to manage multiple applications at once, then this is possible with an ultrawide monitor. For example, a Twitter feed, Adobe InDesign and Microsoft Word can all be displayed simultaneously. This is because they offer the screen real estate to be more productive and display three different applications, side by side, at once.
9. Video Conferences
Video conferencing is a massive part of business these days. If your company offices have a conference room, then take full advantage of it. To do this, have your conversations with international clients over the internet, rather than locally. This cuts down on time and money by using free services such as Skype and Google Hangouts. Be sure to have a crisp, HD resolution webcam set-up. This will enable you to convey your important business discussions clearly over the internet. Video conferencing is an accepted standard for many international business meetings nowadays. So, do not feel like your company is being cheap or even rude, by not having the custom to visit or invite clients over.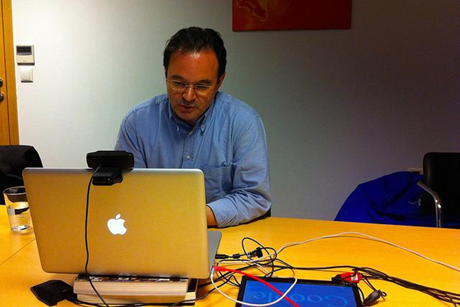 'Click Here For Source'
10. Wearables
Arguably the biggest up and coming trend in technology right now is wearables. Now, this may not, at first glance, appear particularly relevant or important to businesses. However, it can be, if utilized correctly. All over the country, smartwatches are helping employees be on time more, be better informed and staying more active. Hopefully, the latter will lead to less sick days. As notifications reach your employee's wrist, it will prove difficult for them to argue that they haven't read your email anymore. Similarly, their wrists will be buzzed when a notification from their calendar reminds them of a business meeting. Never again will they be late or unprepared, hopefully!
If your company invests in even some of these technological trends, then you are bound to notice the difference. The quality and intensity of the work that your employees produce will vastly be improved. This is surely only a bonus. Technology is a sound investment and 2016 highlights how there has never been a better time to do so than now. If this list wasn't exhaustive enough for you, and you're a bit of a tech enthusiast, then why not check out some more need to know tech trends for 2016?