Long gone are the days when you needed local peripherals to store your data. With the advancement in technology, now you can store your data in the cloud and access it whenever you need them.
The clouds provide a colossal amount of storage space, which is secure and can be accessed anytime with a proper internet connection.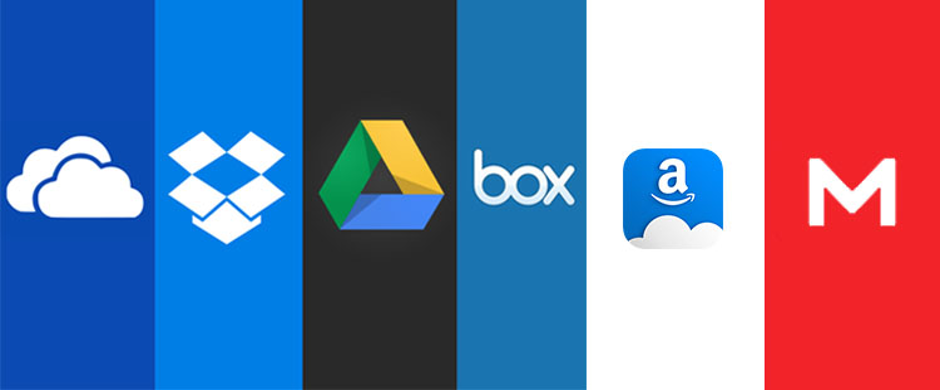 Various platforms like Amazon cloud, Onedrive, Dropbox are available in the market. However, with rising storage needs, users generally create different accounts to fulfill their needs.
With different accounts, the sharing of files between them becomes a hot potato. Every cloud user wants an easy way for cloud migration. The ability to move files from one Onedrive account to another, migrate Dropbox to Onedrive, sync data between different cloud platforms, and manage files from one platform will be the cherry on top of the cake.
You may think this is not possible at all. But, wait a second. Wondershare InClowdz is here to prove you wrong. There are many alternatives present in the market, but with Inclowdz, you get a single stop to transfer files, sync data, and access them from a single platform.
Performing all these tasks is quite straightforward. Let us get into the details, see how easily you can manage different files on different platforms.
Data migration in different cloud platforms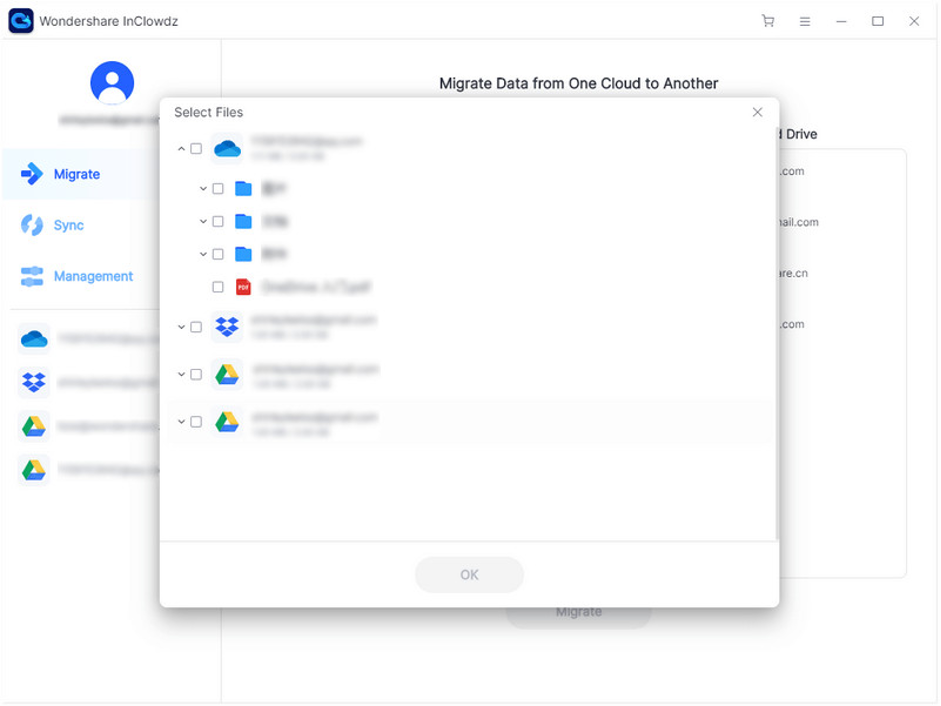 With InClowdz, the process of migration becomes smooth and straightforward. If you want to transfer files between OneDrive accounts or Migrate Onedrive to another account (any cloud platform), you just have to follow the below-mentioned steps. Let's get into them.
Download the software on your PC or laptop and start it.

If you have an account on the InClowdz platform, then sign-in to it. Otherwise, create an account. Fill in the necessary details and register.

Once you are in the account, look for the "Migrate" module. In this module, select "Add Cloud Files".

Now you will get two options, Source and Target. Source means the cloud account from where you want to transfer data. Target means the destination where you need the files to be stored.

Select both Target and Source accounts and authorize your credentials for both the accounts.

Now select the files you want to transfer. Click the checkbox in front of the folders and files you wish to transfer.

Now select a destination folder in the target account.

Now click on the migrate button and just wait for a few minutes.

Your files will be transferred in some moments, and you don't have to go through any complex process.
Syncing data between cloud platforms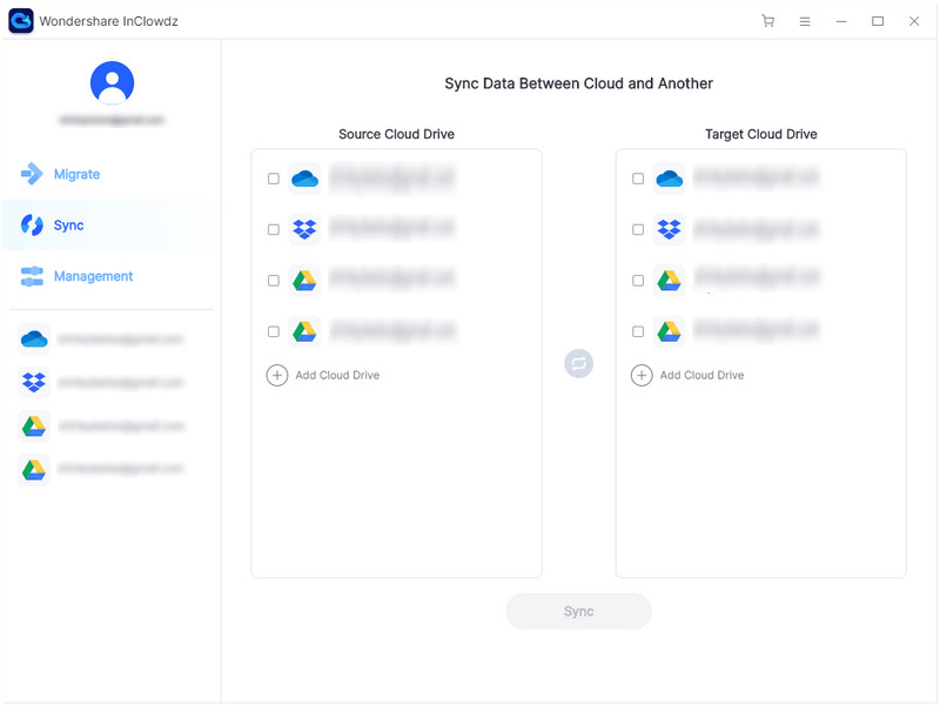 You might think that syncing two platforms is impossible. However, with InClowdz, you can complete this process in some clicks only. Let us get into the process in detail.
Fire up your laptop and go to InClowdz.

Sign in with your credentials and look for the Sync option.

Click on it, and you will see different cloud platforms you are using. However, if you have not added the platforms you are using, then select the "Add Cloud Drive" option in the menu.

Now you will get Source and Target options.

Select both the platforms according to your need.

After this, you will have to authorize your accounts. Fill in your account credentials for both the cloud platforms and complete the authorization process.

After selecting the Source and Target, click on the Sync button, and voila!! In just a few minutes, the syncing process will be completed.
Managing different cloud platforms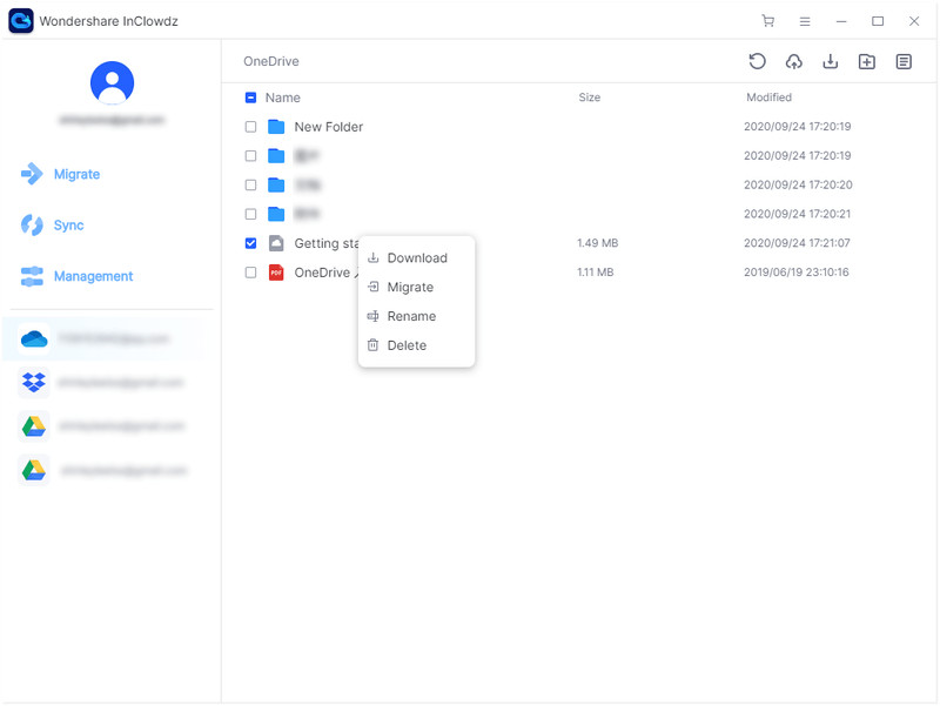 Long gone are the days when you need to open different platforms separately and access your files and data. With InClowdz, you get a single stop to access all the data with full privacy and security. Let us see the steps to manage different cloud platforms.
Open the InClowdz software on your laptop or PC and log-in with your credentials.

Now click on the Management tab. Here you will find all the cloud platforms that you are using. You will get details on the space that is filled and the unused space you have on your clouds.

If you have not added the cloud platforms you are using, then add them. You will need your cloud credentials to authorize the process.

Once added, you can access all the platforms and data in them.

You can migrate, download, delete, and upload files on any platform you are using.
Final Verdict
With Wondershare InClowdz, you can manage, sync, and migrate the files between different cloud platforms in a jiffy. There is no need to go through long and complex processes.
All you need is to log-in with the software, and you will get all the features on your screen. With just a few mouse clicks, you can move Google Drive to Dropbox, transfer Onedrive to Google Drive, and perform several other tasks.
So, without wasting any more time, download the application on your system and enjoy its unique features.