The update of Luminar 3.1.0, one of the best photo editing software, comes with several innovative artificial intelligence (AI) based features. Designed for photographers, Luminar 3.1.0 offers realistic image enhancement and focuses on image quality and efficiency.
The latest update incorporates an improved Accent AI filter, performance and usability enhancements, better management tools, and dedicated features for Windows and Mac users. The new features of Luminar 3.1.0 can be tried in the software's free trial version.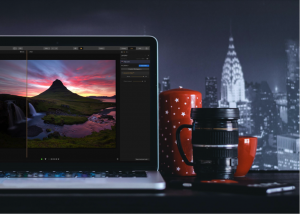 The new generation of Accent AI 2.0
From the beginning, the aim of Accent AI filter has been to offer natural-looking results for image enhancement. Using AI based algorithms, it combines many of the basic adjustments in a single function and automatically applies them to the image. Using just a slider to control the filter's intensity, the user can adjust exposure, colors, sharpness, depth, and tone in a few seconds. In terms of standard adjustments, the newer version is even better as it's optimized for accurate color corrections and detail boost.
Accent AI 2.0 goes even further than that and introduces facial and object recognition technology. It's able to recognize individual objects in the image and to selectively apply adjustments to them. For example, Accent AI 2.0 is "human aware", which means it's able to recognize faces and people without any user-made selection. As a result, it fixes colors and exposure without affecting skin tones. Editing portraits with Luminar 3.1.0 is easier than ever.
The new technology improves landscape photographs as well. Accent AI 2.0 is able to identify the sky area and apply special adjustments to achieve the perfect contrast and a richer sky. It enhances shadows and details, and it brings out the best of the image.
While Accent AI 2.0 is designed to replace manual adjustments, the user is free to customize every aspect of the image and can change the enhancements suggested by the filter.
Fast-forward image retouching
Luminar 3.1.0 represents the new wave of image editors dedicated to photography. It's designed for fast-forward usability. For example, it allows the user to apply the same changes to a series of images with Sync Adjustments command. This means users can choose predefined Looks and filters, adjust them to their artistic style, and transfer them to a selection of photos. Sync Adjustments assures a homogeneous style for an entire photo session series of photographs.
In addition, Luminar 3.1.0 introduces a new way to process RAW and JPEG files. Files can be edit independently but the user can choose to see both of them or only one, and then sync the edits.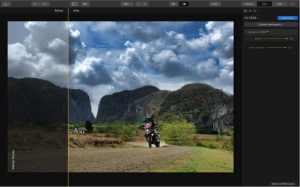 The update comes with improvements in workflow and performance. Better labeling and sorting methods are also on the new features list.
Maybe the most engaging part of Luminar 3.1.0 is the way it treats some specific image retouching features. While it's hard work to change the background color in Photoshop, to do a background replacement in Luminar takes only 30 seconds and it's very easy to learn. No need of endless tutorials and pricey courses. Luminar 3.1.0 doesn't use selection tools and it's almost impossible to make mistakes.
More features for Windows and Mac users
The update of Luminar 3.1.0 solves issues and performance improvements requested by users. It also comes with new specific features for Windows and Mac.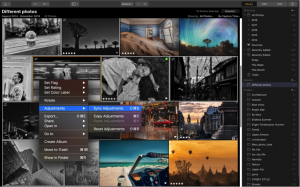 Among the new features for Windows are:
Import Images, an import function that allows users to import images from external drives and use subfolders;
SmugMug Sharing, a function that allows posting images to SmugMug;
Photoshop Elements support;
Rotation function and improved selection tools for images in gallery;
The possibility to add folders and albums to Shortcuts list.
Mac users will enjoy several performance improvements and a brand new progress bar when using tools like Erase.
Accent AI 2.0 in Luminar Flex
Luminar Flex is a plugin for Adobe Photoshop, Lightroom Classic, Apple Aperture, and Mac Photos. It includes many of Luminar features in a form that can be used inside other image editors.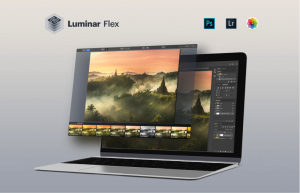 With the arriving of the new Accent AI 2.0, Luminar Flex users will have one of the best Lightroom presets for portraits. The "human aware" capability will allow them to do subtle portrait retouching inside their favorite image editor. Accent AI 2.0 will be coming soon in a future Luminar Flex update.
In conclusion, facial and object recognition technology introduced by Accent AI 2.0 allows the user of Luminar 3.1.0 to apply smart and fast adjustments and to stay in control of the editing process. It also encourages a natural-looking approach of photography, much needed in this "photoshoped" era.