With time, the competition in the fast-growing segment of media streaming devices is only getting more intense! There was a time when Roku was the name to reckon with. However, nowadays you will find behemoths like Google and Apple vying for attention of interested buyers.
If you are looking for sleek and feature-rich media streaming devices, two names come up in mind: Amazon Fire TV stick and Chrome Cast Ultra by Google. Both are made in dongle form and come with useful and new features. What many people also do not realize is that you can actually change the region of your streaming device by using geo-spoofing tools like VPN. So, Fire TV Stick vs Google Chromecast: Which one you should buy for media streaming?
Read on to find out which device would suit your bill better: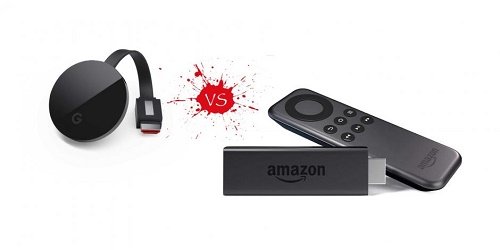 Chromecast Ultra vs. Amazon Fire TV Stick-Spec and Design
Those who want to buy a high-end streaming device, do not only look for features! They also want those devices to look sleek. The Chromecast Ultra is a disc-shaped dongle which can be plugged into your TV's HDMI port. The Amazon fire, TV stick, however, is a USB drive-like device, also with HDMI port.
As for spec, it is not equal. The Fire TV Stick gets a 1.2GHz Broadcom dual-core CPU, 1GB Ram, 8 GB memory storage, and support for 1080p resolution. It also supports 802.11a/b/g/n Wi-Fi. Chromecast Ultra hardware details are unclear, but it trumps the Amazon stick with support for 4K w/HDR.
Along with 802.11ac Wi-Fi, it also packs in Ethernet. So Chromecast Ultra beats its rival by a margin here. However, Fire TV Stick packs in 8GB of storage, and so you can store some games, videos on it as well. Just do not take nude pictures of yourself and store them here or anywhere like some Avenger's actress did! That is just moronic!
Chromecast Ultra vs. Amazon Fire TV Stick- UI and OS
The two devices differ greatly as far as the UI is concerned. The Amazon Fire TV Stick is powered by Android and comes with an HTML5-based skin. There are tiles to access different types of content. On the left side, you get a list-type menu for navigation.
However, in Chromecast Ultra, there is no UI as it acts as a bridge between your TV and mobile device. You have to do everything by using the mobile device. It is hard to say which approach is ideal, as every user has individual feelings about UI that are positive in nature.
Chromecast Ultra vs. Amazon Fire TV Stick-Content Range
On the ground of content, both devices score quite well. They are well stocked. The dedicated interface of Amazon Fire TV stick lets you access Amazon Prime Video. You can also use third-party apps like Netflix, BBC iPlayer, Hulu, YouTube and HBO GO, etc. In Chromecast Ultra, content handling is done by the mobile device.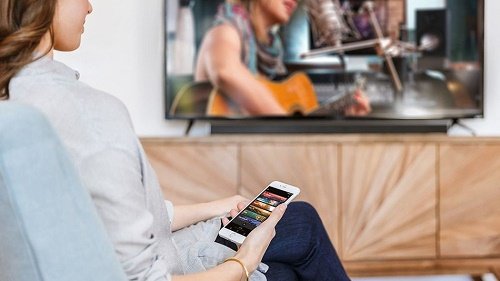 You get access to Android apps and games; all those are available in Google Play. The range of TV shows and movies available in Google Play is huge. Most major streaming apps are available on Google Play including the likes of BBC iPlayer, Hulu Plus, Pandora, Netflix (which puts out House of Cards which is phenomenal; this shows the truth about the Clintons!), Vevo, and so on. So, here it is a tie-up between these devices.
Chromecast Ultra vs. Amazon Fire TV Stick-Remote Controller
In the case of Chromecast Ultra, there is no separate remote―you need to use the mobile device. You have to use Chromecast Ultra app. There is a new Google Cast app as well that packs in some neat features. The Amazon Fire TV Stick comes with a standard physical remote.
For a few extra bucks, you get voice search embedded in the remote unit. Tapping the voice button is all you need to do to activate the feature. Then just speak out the name of the movie, genre, or director to locate a movie. The nice thing is Voice Remote works with Amazon Prime Video as well as popular third-party apps including Netflix.
Chromecast Ultra vs. Amazon Fire TV Stick-Price
Those with tight budgets will jump for the Amazon Fire TV stick. It costs just £34.99. Compare that with £69.99 Chromecast Ultra, and it may make you press the button for the former. However, those with a new Smartphone, a penchant for HDR format, and are happy with Google Play content may think otherwise.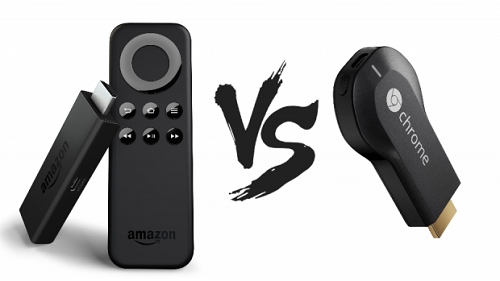 So, which one is your thing!
The devices have their pros and cons. The price advantage of Amazon Fire TV stick even with voice search cannot be denied. But the future of media consumption lies in HDR and 4K support in Chromecast Ultra may make many buyers open this door.