The Asvape Michael VO200 TC Box Mod is perhaps the most unique and luxurious VO200 Box Mod available in the market today. Could be you are familiar with the old VO chipset because you might have heard of BMI. The Michael Mod has the most current VO200 chip set.
The Asvape Michael Mod is luxurious too, made using zinc alloy like many other mods out there, but covered by genuine carbon fiber. Its entire design comes from an idea of the Ferrari Sports car designer whose signature is found at the top of the mod. It's powered by double 18650 batteries meaning its output wattage can be around 200W. The Asvape Michael Mod brings you an excellent vapping experience through the output modes Bypass, VW, TC and OUT DIY. Moreover, the mod has a TCR adjustment, firmware upgradability and the user to make adjustments on its wattage curve.
Here are its features:
Build quality and styling
The number one thing you will notice about this mod is its size. It's a bit bulky and if you have been using a smaller vapping device you may not be comfortable with it. However, this isn't a bad thing. Size is a matter of preference. The construction of the mod is excellent and feel perfectly put together. The design is nicely contoured meaning it's actually very comfortable to use. Its weight is reasonable thanks to the Zinc alloy construction. Additionally, when two 18650 batteries are put in their place, it's well balanced.
Unique finishing
This is also a matter of personal taste. However, the Michael Mod compared to other mods has a unique finishing characterizing a perfectly done artwork of a Chinese lady who is surrounded several supernatural entities.The artwork is really nice and finished with rubber for protection from any scrapes or knocks.Other parts of the Mod are finished with a gold paint making it look great.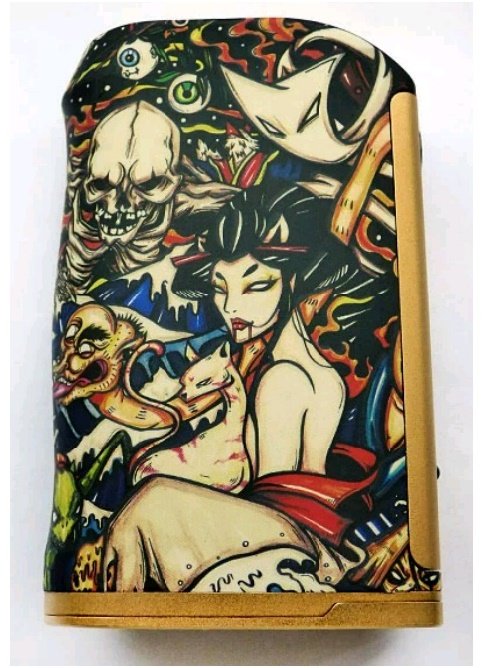 Easy to use
In several ways the Michael Mod VO200 Chip has a feel that is almost similar to that of a YIHI chip. Therefore, it's a bit simple to clasp. The only thing that may take abit of its ease of use is the Temperature control Mode. However, if you have been using variable wattage, this isn't a concern. To the advantage of the things, the user manual is comprehensive and therefore chances are you are unlikely to run into issues.
To lock or unlock the device, you only need to click the fire button thrice
By clicking the fire button five times, you get access to the menu
You can choose from three modes: The Bypass, the Temperature control and the Variable wattage.
For the high tech vipers, the Michael Mod features a manual TCR adjustment and allows you to adjust the Wattage curve.
When using the Temperature control mode, this device gives you two options: AC and NC. Primarily, AC recommends a particular temperature for you while the NC allows you to choose your own temperature.
To switch it off, go to system.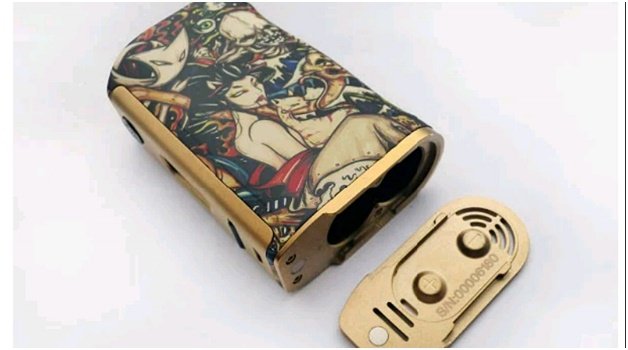 Excellent performance
When you use the Temperature control or the variable wattage modes, this device works fantastically. Longevity of the batteries is similar to most other devices which use dual 18650 batteries and the wattage you vape at will of course determine it. That means if you use a low wattage, the batteries will last longer.
How much does it cost?

The Michael Mod goes for $110.00 retail price.
Pros
Powerful device that performs excellently
Solid construction
Durable
Easy to use
Very responsive excellent fire button
Due to its bulky state, you can easily accommodate atomizers.
Reasonable weight
It's simple to fit the batteries
The battery door is easy to fit
Great amount of venting in the door of the batteries
Cons
It's bulky
Additional play in the battery door
Getting into grip with the menu may take time
Verdict
The Michael Mod device is surely a great device, though big, but one that excellent in performance. Its construction is so solid and it can last you long giving you value for your money. However, one thing that lets this device down is the amount of play in the battery door. Nevertheless, it's something you can fix using a little tape. What matters is how much it will bother you. Everything else the Michael Mod provides is very worthy to be considered and its unique artwork surely makes it stand out among others.