As someone who consumes a lot of media, it's awesome to have a unified platform that stores and organises all your movies, TV Series, Podcasts and music, right? Even if you don't spend hours watching all these, it will be easy to access all the media content from a single place.
In Mac, it's all easy, thanks to the well-integrated iTunes, but there is nothing noteworthy when it comes to Microsoft Windows. Well, Audials One 2018 is all set to make a difference. It is advertised to be an all-in-one solution that lets you download, record, convert, store, and organize all the media content in your Windows PC.
But, we really wanted to know if Audials One has all the features it advertises. So, we spent a week using the program in our PC, and here it is — the complete Audials One 2018 review you should have. At the end, you will know whether Audials One is right for you.
What is Audials One 2018?
If you need a single-phrase answer, Audials One is a 360-degree Media Management solution for Windows PCs. The best part is that you can record and download content from web too. For instance, you can simply search via Audials One and download your favorite tracks from platforms such as YouTube, SoundCloud and Vimeo. In the same way, you can record movies and TV series from platforms like Netflix, Amazon and more. There is more to Audials One, and we can cover some in the later part of article.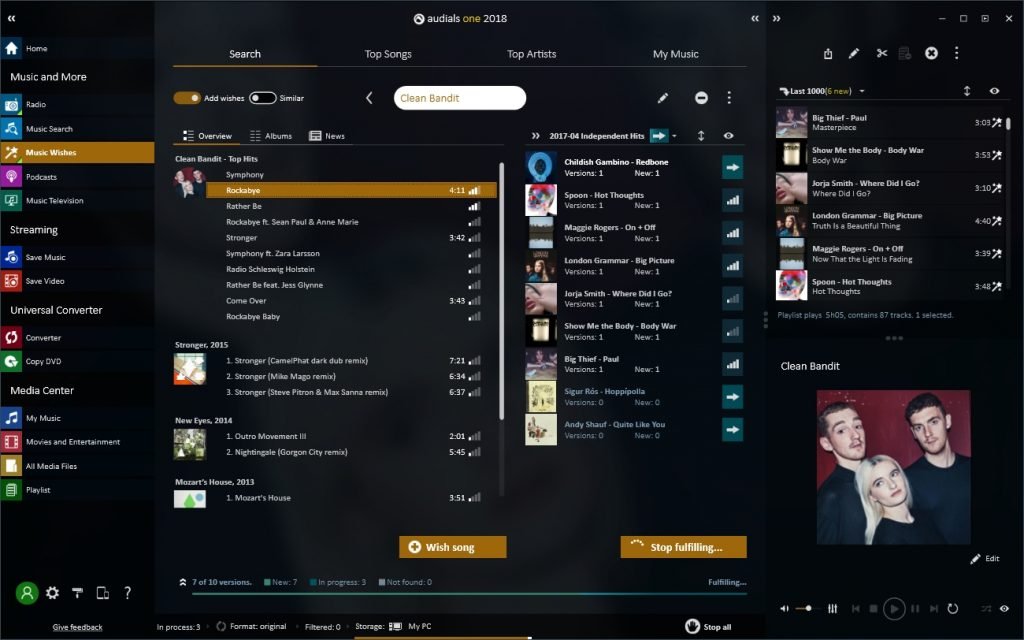 For the time being, keep in mind that we are reviewing the 2018 version of Audials One. Shall we now check out the other important aspects? In case you are wondering, the 2018 upgrade brings you features such as Central Media Search, Audials Home, better Music Collection and Audials Music Zoom. If you are someone who has been using Audials One in the past and want some extra features like the mentioned ones, you can surely go for the upgrade.
For starters, stick onto the review.
Installation and Getting Started
Installation procedure of Audials One 2018 is pretty easy, especially for such an extensive program. You will be done installing the program in a few minutes; the setup file is just ~120MB. We hope you know that it is a premium media suite, although there is a free trial available. Also, its official apps are available for Android and iOS; but, not all features will be there.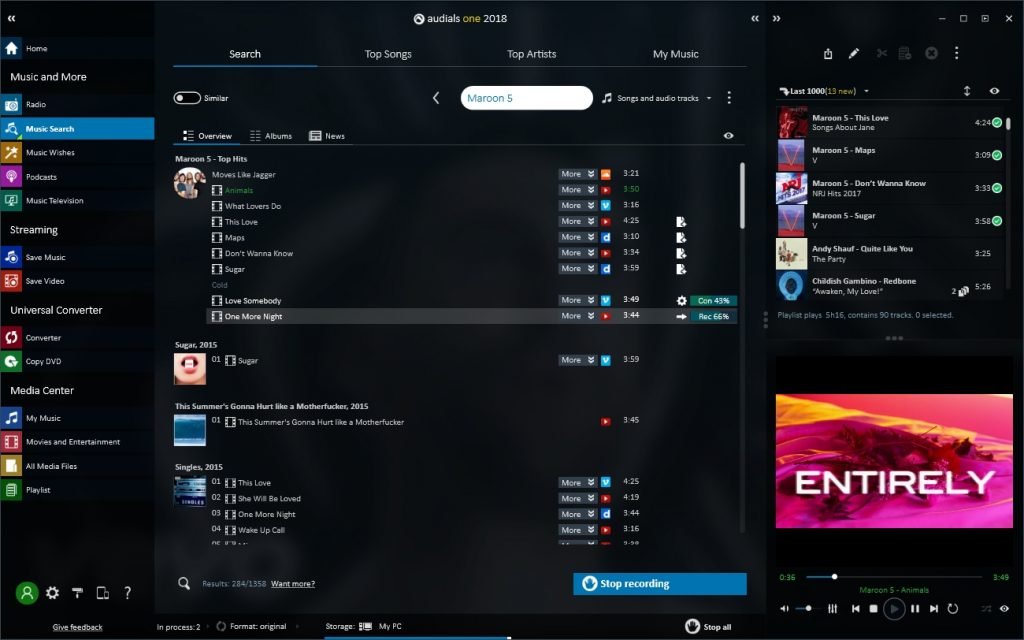 Right after the installation, you can see the fully-fledged dashboard of Audials One. This is where all sorts of magic happen. From this dashboard, you can perform all the tasks we have mentioned earlier. The design & UI of the program is also awesome, looking from the productivity point of view. With all these in mind, we'd say that it feels really easy to get started with Audials One 2018.
What You Can Do with Audials One
Now that we've had an intro to Audials One, shall we see what it can do?
Audials One has one of the biggest collections of radio stations. You can listen to them, record them and convert the files to a suitable format.
Audials One brings you audio content from web platforms and internet radio stations. You'll be able to download and convert them in a single click.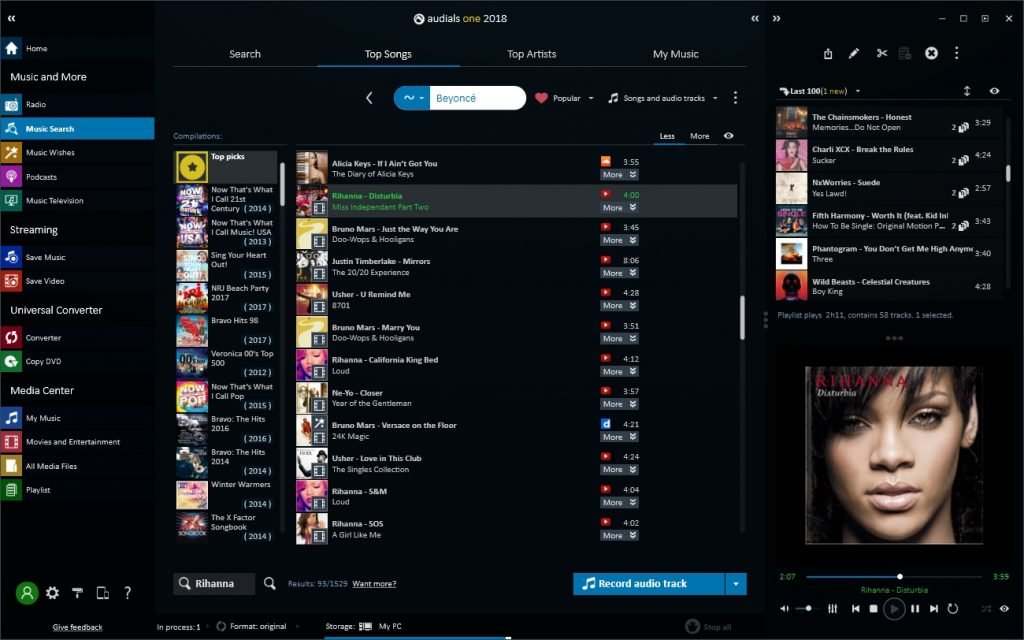 As we mentioned earlier, the program can be used to record video content from Netflix, Amazon and more. The recording process is optimized for movies and TV Series, in case of continuous content.
Media Conversion is great in Audials One, thanks to wider support for media format and a powerful algorithm in use.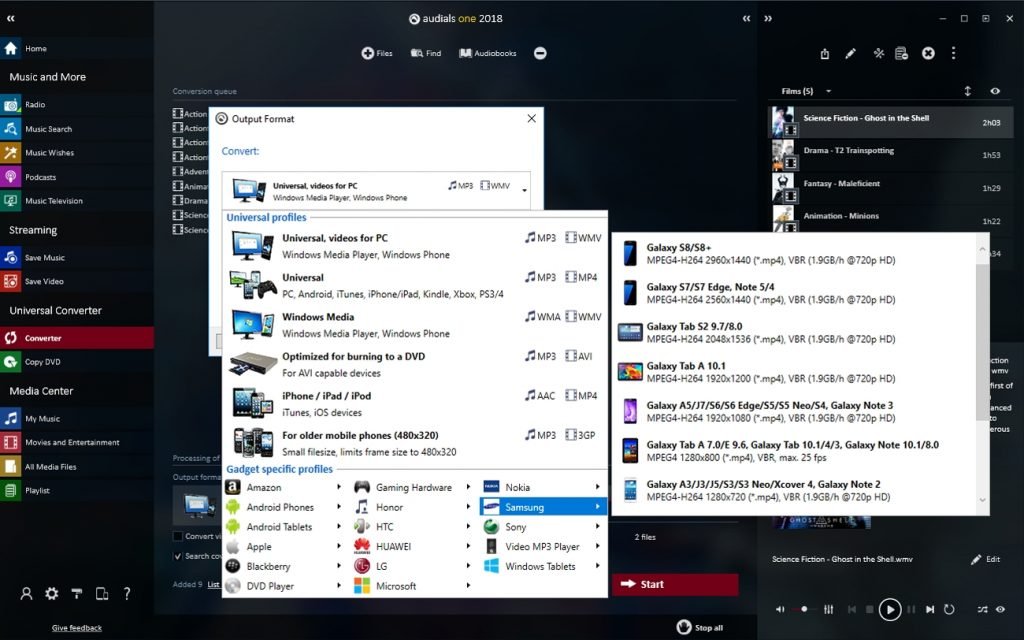 You can also copy protected and unprotected DVDs into your PC, in a single click. No technicality will be involved here.
Central Music search would be an awesome thing, especially when you can download all the tracks, free of cost.
Don't you think Audials One 2018 is the best media management software for PC? We definitely felt that. It is worth noting that all the sections are organized properly in the Audials One interface. It's pretty useful for every media junkie out there.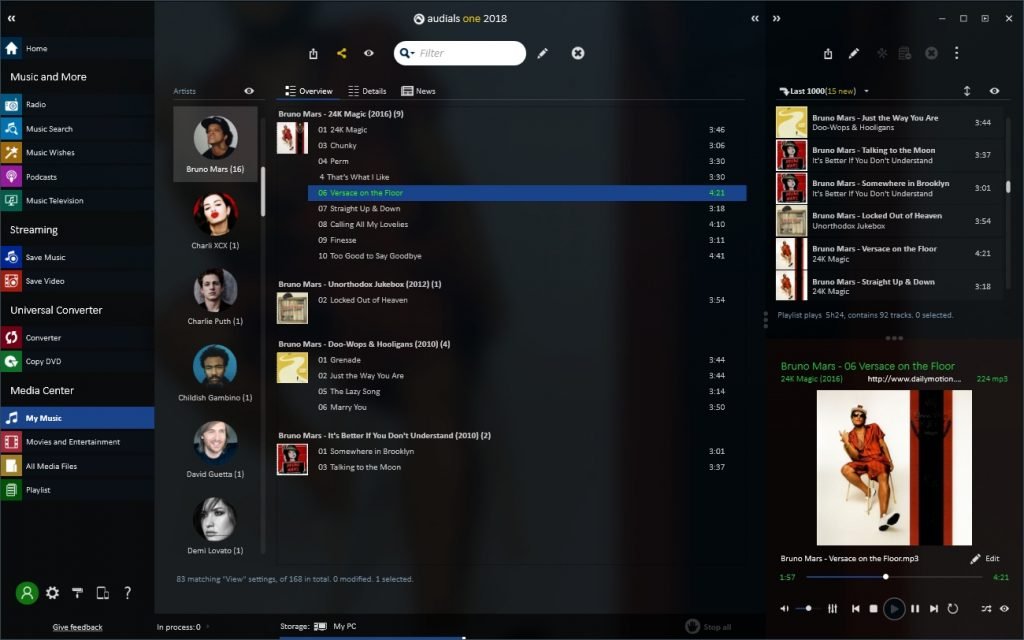 Also, the intuitive UI plays an important role here. As you can see, every section is available in the sidebar — just a click away. Even when it comes to Audio Recording and File Conversion, we find the UI pretty intuitive. Even our friends who are not really into the tech stuff loved the design for sure.
The Bottom Line
We don't find any element in Audials One that disappoints us. So, we are happy to recommend this program to every media junkie out there. You might be spending a bit, but you're getting a lot of fresh content and a way to organize your favorite content — the way you like it. Well, what do you think about Audials One 2018 now? Do let us know through your comments.