There's a reason why traditional marketing techniques have stood the test of time – they work! Whether you're an online business or a shopfront, there's always a way that you can implement brick and mortar marketing strategies. So your business can take advantage of these incredibly effective tools, we've compiled 5 of the best marketing tactics that online stores can employ.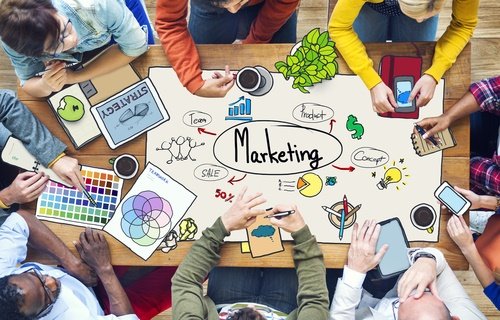 Image source: Shutterstock
1) Sponsoring events
Not to be sniffed at, sponsoring an event is a great way that you can advertise your business to a large number of people at one time. If that large group of people happen to be in your demographic, then you've hit the big time. Do this by associating your brand with other like minded companies and events, and sponsoring them where possible. This can be as simple as having a few products on hand, or having your business print stickers to be placed around the event for people to be able to take home with them.
2) Giveaways
It's no secret, people love free things!
If those free things happen to be useful, informative and attractive, then you've hit the jackpot. Run giveaways on social media or at local events to give your business a tangible feel, whether it be online or in person. A giveaway can be as small as some of your business' free products or as large as an overseas holiday! It all depends on your budget and the sort of traction you want to create.
3) Providing excellent customer service
One of the things that can often be lost with online stores is customer service.

Train your staff to be experts in social media, knowing the online reviews and responding promptly and politely to any customers' complaints or queries. Encourage your staff to always demonstrate their product knowledge, attention to detail and care for the customer, even if it's only via email. Maintain a professional manner at all times, and encourage your customers to provide clear, honest feedback.
4) Personalising the shopping experience
There is now new technology available, such as beacons, that can target customers with truly personalised offers by syncing shopping lists, wish lists and favourites with the use of mobile apps. Another way to personalise the shopping experience is to give each and every customer an identity, with their purchase history easily locatable. Loyalty cards are also a great initiative that have been proven to encourage customers to buy – providing there is a good enough incentive waiting for them after a certain amount of purchases.
5) Providing add-on services
Customers like to be given options.
For instance, 'click-to-collect' and 'reserve-in-store' services are very popular among customers, as it gives them flexibility to buy immediately and collect it themselves rather than waiting for delivery.
Offering services such as indicating product availability, so that customers with items in an online shopping cart can also locate those items in a store they are passing by (if the same item is in stock there), make the promise of an omni-channel retail experience closer to reality.
As the brick-and-mortar vs online retail battle gets more intense by the day, we are all inquisitive to know if this battle will ever end. However, the answer may just be: neither! The best marketing strategies are often a combination of both. If you're an online store, try incorporating these 5 brick and mortar marketing tactics and watch the reach soar.