It is quite bewildering to think how the world around us is changing, from the advent of technology to the way in which everything from house valuations to insurance premiums are calculated. In many instances there is also a direct link between innovation and the evolution of elements such as house insurance, with improved security systems and the emergence of multi-platform, battery-powered tools driving down the average policy cost to £287 per annum.
In fact, there is a growing number of objects that benefit from using universal batteries. This form of power has the least drawbacks and is particularly beneficial for those looking to carry out work in the home and garden. When you have battery powered tools, it provides maximum convenience and manoeuvrability. In addition to this, it also means that work can be carried out in places with no electrical supply. This includes large remote rural areas, in the garden and on rooftops.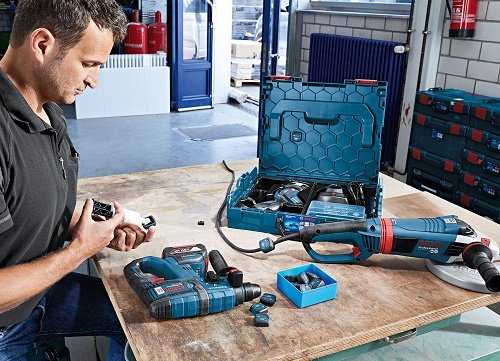 The Main benefits of Cordless, Battery-powered tools 
When you also consider that many brands now sell single battery packs for an entire family of tools, the cost of buying and maintaining these products is reduced. With this in mind, let's look further into the benefits of battery-powered tools for home-owners in the UK. These include: – 
Convenience and Manoeuvrability 
When it comes to DIY projects, this convenience and manoeuvrability is crucial. You do not want to be limited by cables as this can make the work much harder and also more dangerous. As they are cordless, the battery powered tools can be used anywhere and at difficult angles. There are cordless alternatives, but these are not as efficient as battery powered tools.
Large air compressors and air cartridges can be extremely expensive, whilst batteries are affordable and last a long time.
Fast, Efficient and Safe DIY
Fortunately, many manufacturers understand the benefits of battery powered tools. Ryobi has a range of terrific one battery tools, all of which allow for complete manoeuvrability and can make DIY fast, efficient and safe. This includes their excellent cordless nail guns and staplers, available from suppliers including SGS, which can make all kinds of projects around the home simple and straightforward.
This could include making furniture, work on skirting boards, woodworking or upholstery. These tools can also be altered for the application and are equipped with single firing and rapid bump mode. Available in different gauges, this range all use the same ONE+ batteries to make life much easier and there are many other excellent tools in their range. When you have a complete range of battery powered tools, you will find projects around the home much easier to carry out as you get complete freedom and flexibility without compromising on quality.
Weighing the Pros and the Cons: Why Battery-powered Tools are the Future
For many people, they may be deterred by battery power due to the fact that it only lasts for a limited period of time. Although this is true, batteries will still last long enough to carry out the majority of tasks (relevant to the tool in question, of course) and in many cases they can simply be recharged.
Although eventually all batteries will die, they are also easy to replace and very affordable compared to other cordless systems. When you consider this alongside the other primary benefits of battery-powered tools and universal charging platforms, it is clear that corded and mains-operated products will eventually become a thing of the past.