If you're a business owner or a blogger in general, you'd probably know the benefits of a landing page on converting the reader or buyer. A landing page helps you to convert your visitor to buy your product, subscribe to your email list, download your lead magnet, etc.
Today, I'm going to compare two very popular landing page builders, GetResponse and HubSpot. We'll see the features, pricing and support that these two provide.
GetResponse landing page
GetResponse has a pretty good landing page creator that is the best value for money. It offers simple to use, drag and drop editor that gets you the desired industry standard landing page in a matter of seconds. Here is a detailed overview of GetResponse landing pages.
1) Design and pre-built templates: GetResponse has some of the best looking and converting landing pages in their pre-made gallery. This is good if you are a busy marketer and want to set up a landing page to capture leads or sales. In addition, for those of you with specific requirements, GetResponse offers you a WYSIWYG editor that can build custom designed landing pages with just a few drag and drops.
GetResponse also provides you a free domain to publish your landing pages on to.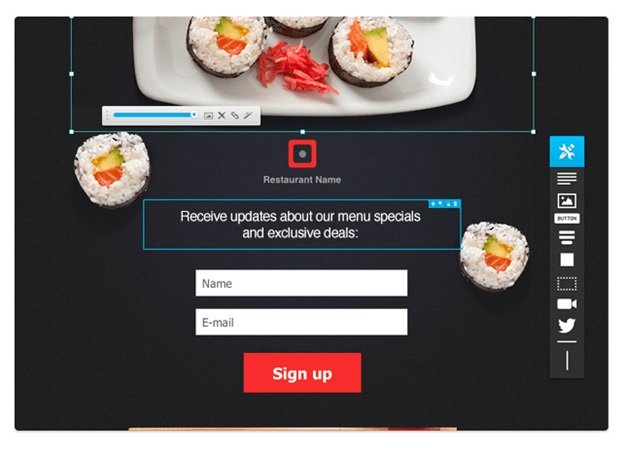 2) Split testing: Split testing is the heart of any campaign. In order to choose the best converting landing page, GetResponse offers split testing of up to five variants to track and improve the best performing landing page.
3) Integrations: Any landing page provider is powerful by the number of integrations it supports. GetResponse integrates with Google analytics to give you the best reports, conversion rates, unique views and all such important data. It also integrates with YouTube, Facebook (for creating landing pages on your fan pages), PayPal (for money transactions) to name a few.
4) Responsiveness: With the advent of the mobile era, more and more of our readers are accessing our sites through mobile. This is where having a responsive page builder becomes important. Landing pages with GetResponse are mobile responsive too.
5) Usability & Pricing: As mentioned before GetResponse has a very easy user interface. This is the best for non-coders like me who can create a professional landing page and publish it in a minute.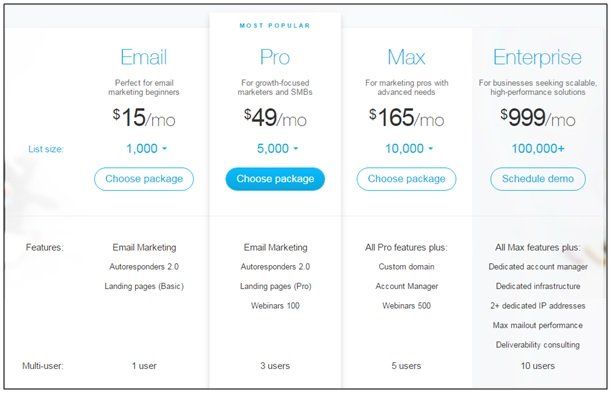 On the pricing front, GetResponse gives you a good kick start with 15$ per month. You can increase your packages if you have more than 1000 users.
Now that we've looked into GetResponse landing pages let's compare it with another industry favorite HubSpot landing pages.
HubSpot Landing page builder
HubSpot landing page builder is also one of industry favorite landing page solutions provider. Let us see what it takes to get a landing page working with HubSpot.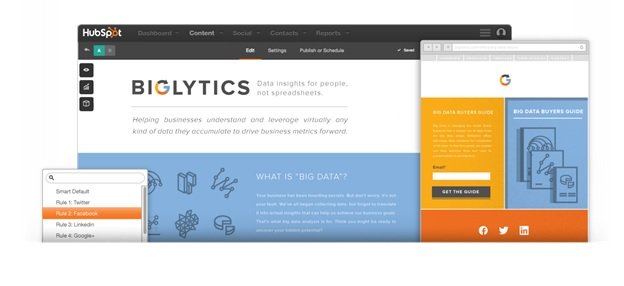 1) Design and pre-built templates: HubSpot has a ton of stunning landing page templates that you can use right away. You can build custom templates from scratch but cannot edit prebuilt forms.  The designs, however, can be modified according to the location, device, source, and buying stage of the buyer. This is something GeResponse lacks.
2) Split testing: HubSpot provides great insights with split testing so that you can know what the best landing page of your campaign is. The demerit here is that it lets you analyze only the viewer's response on two templates at a single period. GetResponse offers five, which is more than double.
3) Integrations: HubSpot integrates with nearly every other platform to make your landing page fully equipped. This is where both the landing page builders have a tie.
4) Responsive design:
Responsive design is very essential when it comes to lead generation or funneling sales and HubSpot being the market leader in inbound marketing knows this better than others do. All the templates of HubSpot landing page builder (both custom made and pre-built) are mobile responsive.
5) Usability and pricing:
HubSpot, though is great landing page builder, might be a bit confusing to the normal users or small business managers. The reason being it has so many functions and features that might not be needed unless you are one of the biggest level industries.  If you're a bigger firm with dedicated staff for creating and managing campaigns, this is the best choice.
On the pricing front too, HubSpot is far from the hands of small business owners. You got to shell out, at least, $200 per month to use it.
Verdict: Who is the best landing page builder?
Based on creative templates both HubSpot and GetResponse are fabulous. They have awesome integrations that make the marketing campaign smooth. But, when it comes to giving power to the user GetResponse has a clear win. HubSpot offers only two split testing at a time, which is less than what GetResponse offers. While usability front too, HubSpot is for large business or company savvy.
When it comes to pricing HubSpot also is far away from the common marketer or bloggers. Shelling $200 is nothing that easy for bloggers, that too, on a single tool. GetResponse is handy and offers good pricing options starting at just 15$ per month.