Digital marketing was adopted by producers not long ago, and they welcome innovation and technological advancements in it with open arms. Digital marketing can have a huge impact on a business and can contribute towards the growth of the business.
Not only is digital marketing highly effective but also comparatively reasonable. Companies with different operational scales can compose and utilize digital marketing strategies to boost the growth of their business.
Utilization of online marketing platforms is on the rise. There are tons of these tools, aimed at assisting you with your marketing strategy. GetResponse is not just another online marketing platform but is an extremely convenient and highly equipped platform. GetResponse is aimed at boosting the growth of your business.
The highly experienced team at GetResponse has developed a powerful suite of solutions, for entrepreneurs operating on all scales. These tools are bound to drive marketing ROI.
GetResponse provides a wide array of services including Marketing Automation, Landing Pages, Webinars and Email Marketing.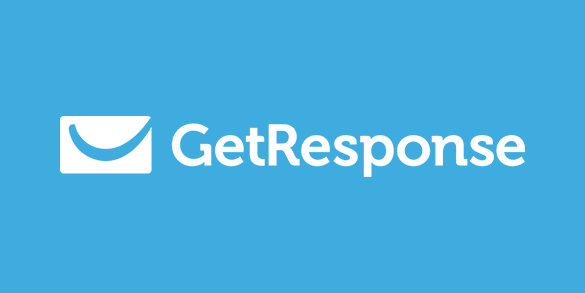 Pricing
GetResponse certainly can boast about the pricing and plans they offer. Their most affordable plan is EMAIL, which is ideal for beginners. It starts from as low as $15/month. The features provided in this plan include:
AutoResponders, Basic Landing Pages
Workflows, Tags
Access for 1 user
PRO is the most popular plan offered by GetResponse. It costs $49/month and offers
AutoResponders, Advanced Landing Pages, Webinars for 100 attendees
Workflows, tags, scoring, abandoned carts, web event tracking, automation segmentation.
Access for 3 users.
MAX plan is suitable for advanced marketers and costs $165 per month. It includes all the features offered in pro plan and some additional features including
Custom domain, Campaign consulting, Webinars for 500 attendees, Salesforce integration.
Access for 5 users. 
ENTERPRISE is the most advanced and equipped plan offered. It is suitable for businesses looking for high-performance solutions. It includes all the features offered in max plan and a few additional services such as
Account manager, dedicated infrastructure/IP, Max mailout performance
Deliverability consulting, access for 10 users.
Below is the detailed pricing structure: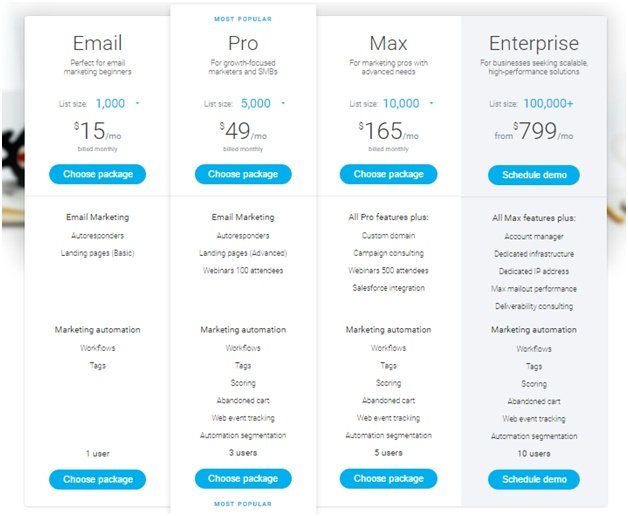 You can also try GetResponse for 30 days, without any costs.
GetResponse Email Marketing
GetResponse is widely known as a platform for email marketing. It enables you to create and deliver compelling and irresistible content to your customers. You can create truly-tailored content for your targeted segments and deliver it to your subscribers throughout the world, at the perfect time, to maximize engagement and response.
You can create tempting content using GetResponse's drag-and-drop or HTML code editor. This tool provides over 500 pre-installed templates, to begin with.
In order to ensure that your messages are optimized for all devices, you can test your creation over the Mobile Preview, which is integrated into the editor.
Dynamic Content
GetResponse enables you to communicate with your customers personally, adding their names and personalized salutations into messages. You can employ GetResponse's dynamic content to personalize messages for specific segments.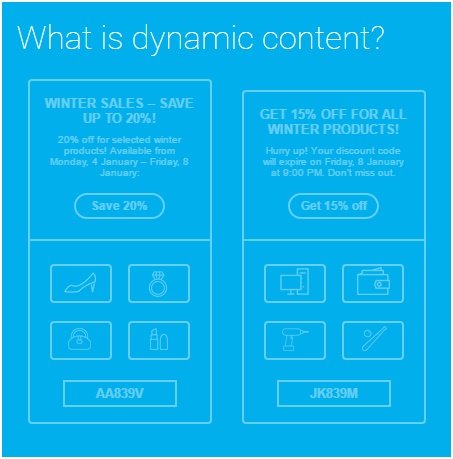 Dynamic content will let you add images, CTAs, and wording, based on your customers' preferences and characteristics.
You can customize content to provide personalized and geographically relevant content.
A/B Testing
A/B testing is another exemplary feature offered by GetResponse. It lets you compare, analyze and tweak your messages to get maximum engagement and response. This feature is integrated into the email settings stage and setting it up is extremely simple.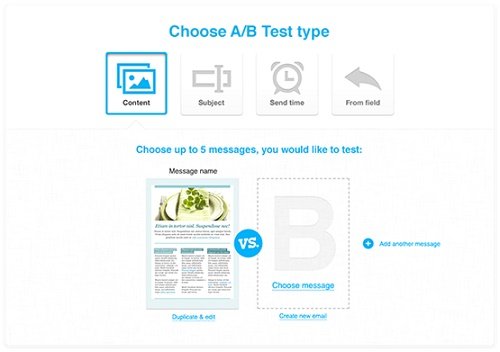 You can test and compare the combination that is expected to give you the maximum response. Getresponse's A/B Testing lets you test and tweak the content, subject line, form field, the day of the week and time of the day.
You can get detailed metrics for clicks, opens, and performance for your messages.
Optimized Messages and Analytics
GetResponse provides optimized delivery to ensure that your messages get delivered to your subscribers at the right time. It delivers messages to subscribers when they are the most active. It can also send messages to subscribers all over the world at your specified timings, regardless of different time zones.
You can analyze the performance of your emails by tracking clicks, opens, social shares and unsubscribes through GetResponse analytics dashboard. It enables you to analyze your subscribers' activities and produce better and more relevant content, according to their preferences.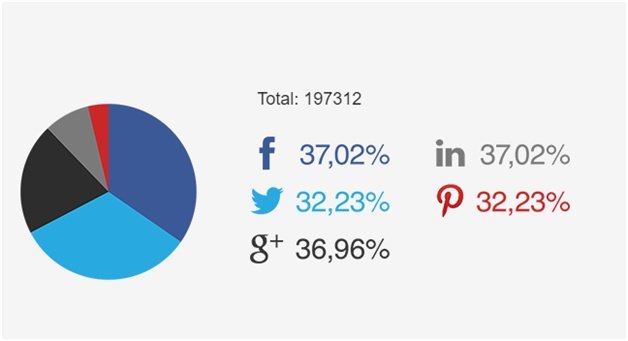 Autoresponders
GetResponse enables you to create Autoresponders based on the actions of your subscribers. Autoresponders are basically automated email cycles that trigger actions based on the actions of your subscribers.
These e-newsletters are sent to your subscribers at intervals or conditions specified by you. You can either set time-based Autoresponders or action-based Autoresponders. You may determine specific intervals or specify actions, for example, you can set up Autoresponders to deliver messages on completion of purchase or completion of survey forms. Autoresponders can also be triggered by clicks, subscriptions, birthday, etc.
Marketing Automation
Marketing automation is an integral element of digital marketing in the contemporary era. It basically refers to the use of software and technology to automate marketing tasks including management and organization of marketing campaigns/Customer data. Marketing automation, if utilized in an effective manner, will enable you to save time and reduce costs, improving efficiency. It will enable you to boost your customer lifetime value by communicating and following up with them.
GetResponse Marketing Automation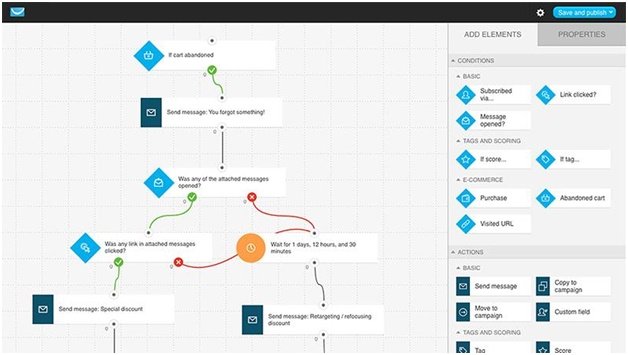 GetResponse recently added marketing automation to the array of services they provide. Marketing Automation isn't entirely a new feature. Instead, it is an advanced and highly equipped version of Autoresponders.
Marketing automation allows you to create automation workflows using a simple drag-and-drop builder. You can design the entire user experience that'll tell the tool how to react as a result of any action by the consumer.
This service offers unlimited potential to customize user experiences.
GetResponse allows you to create intuitive workflows using Conditions, Actions, and Filters.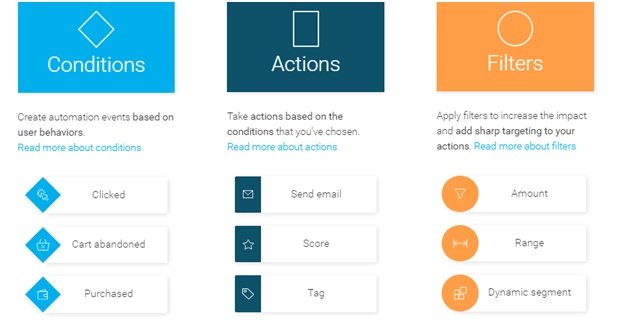 Conditions are used to define your target. You can apply specific conditions to define a segment and narrow down your search results. For example, you can apply the Subscribe condition to narrow down your search to only those who subscribed to a certain campaign.
Filters are used to sharpen your targeting to a greater extent, to increase the impact of actions. Filters will narrow down your search results even further. For example, you can apply the Range filter to restrict the number of subscribers in a certain campaign to a certain range.
Actions are implemented based on the conditions you've set. For example, Send Email action will send a specific email to your targeted segment.
Automation Segmentation
GetResponse's segmentation is one of a kind. It segments subscribers based on factors such as Geolocation, Subscription date, last message date, webinar participation and presence in AutoResponder cycle.
Automation segmentation enables you to target distinct subscribers in your workflows.
Web Event Tracking and Cart Abandonment
Web event tracking lets you benefit from your inbound traffic to a greater extent. You can identify the casual visitors on your website, track their activities, analyze their preferences and deliver personalized messages to them. This lets you convert casual visitors into potential customers for your business.
Web Event tracking also enables you to follow-up with customers as soon as they complete a purchase and add score/tags to them.
GetResponse lets you follow-up and communicate with customers when they leave a purchase incomplete by abandoning a cart. You can deliver customized messages and add/subtract score from cart abandoners.
Webinars
GetResponse also provides a flawless webinar service. You can schedule a webinar, customize the URL and protect it with a password. GetResponse ensures privacy by providing SSL-encrypted URLs only.
You can design invites using the variety of templates provided by GetResponse and schedule reminders for your subscribers.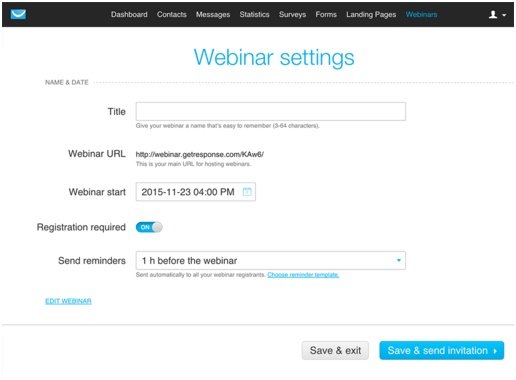 In order to provide convenience and a flawless experience, GetResponse developed a mobile application, which lets your subscribers attend the webinar from anywhere, at any time.
GetResponse also ensures that you get maximum engagement and interaction. You can draw a response from the attendees by integrating polls, chat, screen sharing and whiteboards into your webinar session.
You can view statistics related to the webinar as soon as it ends and utilize them to measure and analyze the performance.
Verdict
Considering the features it offers, GetResponse surely is a great option for entrepreneurs. The wide array of services provided at an affordable cost gives GetResponse an edge over its competitors. This service also stands out due to the innovative and highly equipped marketing automation tools it offers. Get a 30 day free trial now.