Hard disk, as the most important computer data storage medium, is used widely in the whole world. Hard disk can be divided into many kinds due to different classification methods. Based on manufacturing materials, hard disk is generally divided into SSD (Solid State Disk), which uses flash memory particles for storage, and HDD (Hard Disk Drive), which adopts magnetic platters to store data. According to the type of computer, hard disk is divided into desktop hard drive and laptop hard drive.
Apart from that, one of the commonest ways to classify hard drives is dividing them on the basis of the location it is placed. So, hard disk is also divided into internal hard disk and external hard disk. Well, no matter what kind of the classification is, hard disk file recovery is an issue that can't be ignored.
Hard Disk File Recovery in Different Situations
When a hard disk crashes suddenly or when you have made mistakes during the usage of hard disk, hard disk data recovery becomes urgent. However, the things you're expected to do are not all the same.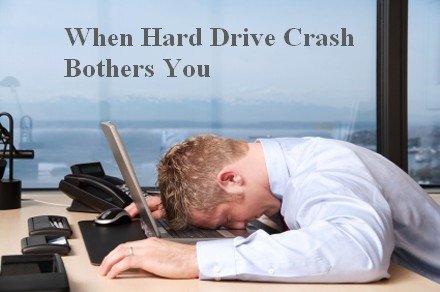 Recover Files from Hard Drive with Free Data Recovery Software
When it is the internal hard drive of desktop computer that has been damaged, the first thing to do is to check whether the computer can be started successfully as usual. If you boot the system successfully, you'd better rely on a recovery tool that provides quality hard drive recovery service; if the computer fails to boot finally, you should make use of the hard drive data recovery software with bootable disk or just take out the hard drive carefully& connect it to another computer to recover data.
How to do:
Step one: Please free download the data recovery software – MiniTool Power Data Recovery Free Edition V7.0 and run it immediately.
Step two: Take a look at the five functional modules you can see in the main interface of software. Then, figure out the one that is most suitable for your case and click on it.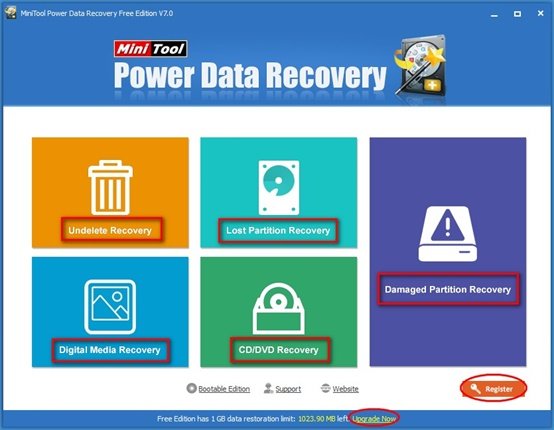 Step three: Select the target partition/the disk containing the lost files, and then press "Scan" button or "Full Scan" button to detect files.
Step four: Wait for the scan and then check all the files you need from the scan result to recover.
Above content is a good answer to questions like "how to recover data from working computer", "how to recover data from hard disk on another computer" and "how to recover data from external hard disk". As for how to recover data from corrupted internal hard disk, please look at the following content.
Recover Data from Dead Computer with MiniTool Boot Disk
What if the internal hard disk which is crashed now is a laptop hard disk or you don't know how to take out the hard drive from a desktop computer properly? You must get your hands on finding answers to how to recover data from crashed laptop hard disk right away, right?
To be honest, things will be much more complex since most of the internal hard disk of laptop is built in the computer and can't be taken out easily even by professionals. Therefore, we provide another useful way for you to deal with hard disk file recovery in this case.
How to do:
Step one: Get the bootable edition of mentioned software on another computer. And then, build a boot flash drive or boot CD/DVD disc with the bootable edition.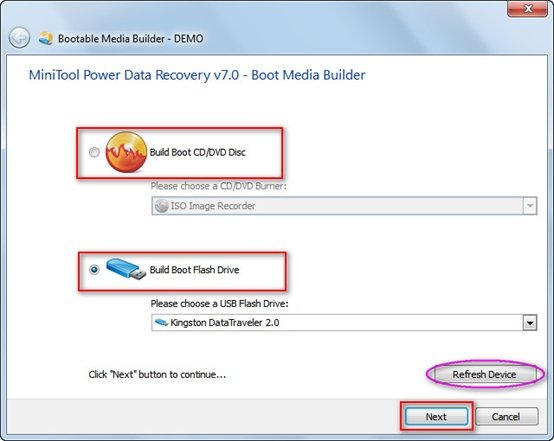 Step two: Eject the boot disk you've just made from computer after a successful prompt appeared. Then, connect it to your unbootable computer and restart the computer to enter BIOS.
Step three: Set this boot disk as the first boot device and then save changes and quit.
Step four: Restart the computer to see the following interface. At this time, you should click on the first option manually or wait for the automatic boot in a few seconds.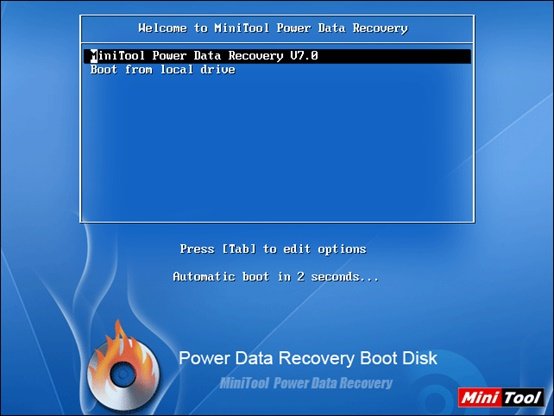 After that, finish step two to step four mentioned in above situation – Recover Files from Hard Drive with Free Data Recovery Software. You should notice 2 things:
a). You'll see only four functional modules in the main interface of the boot disk.
b). You need to connect another storage device to your computer in order to save the recovered files.
That's all about the introduction to the hard drive recovery services provided by MiniTool Power Data Recovery. You may as well download it now to experience this free data recovery software.
To tell the truth, this wonderful recovery software also works well when you need to know how to recover data from hard disk which is not detecting. What are you waiting for? Just have a try yourself!
Conclusion
All in all, both the internal hard disk and external hard disk are fragile and easy to be damaged by a bunch of factors. So users need to be cautious when working or studying on computer. Remember, it is a good habit to back up important data regularly to a separate drive. Otherwise, once the hard disk is corrupted, we bet most users will feel very regretful since the hard disk file recovery work is often beyond their ability range.