Mostly, if you are think about buying a new computer with better performance, you will also need to consider what to do with the old Mac. Some users will leave it alone. You can also sell it. However, for data security, you will worry that your data on the Mac will be get by others. So the most concerned thing is how to permanently erase data before selling a Mac. 
If you simple remove the files or even reinstall the operating system on the Mac, some of the removed data can still be recovered by professional data recovery. If you want to permanently erase your personal data from your Mac before trade in, give it away, or sell it, a reliable data erasure software is necessary for you. We recommend AweEraser for Mac for you to erase data completely and securely.
The software is able to erase data in difference cases. For example, it can delete and shred exiting files on Mac, wipe entire drive, erase deleted data from free space of a drive. No matter you want to erase individual files/folders or all data on a drive, you can use the software to help you. It's the best choice for you to wipe your personal data on Mac permanently before you sell it.
How to Erase Data Permanently on Mac?
To wipe data with AweEraser before you sell it, you can use the following 3 modes.
Mode 1. Erase Files
You can remove all the existing files on Mac first before you sell it. You can add or drop the files that you want to erase to the list of the software. Then you can click "Erase" button to wipe all the select files permanently.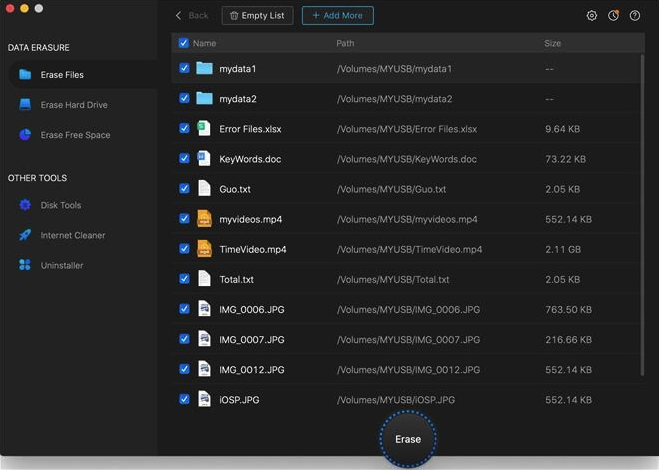 Mode 2. Erase Hard Drive
The software also provide another mode "Erase Hard Drive". With this mode, you can wipe an entire drive. However, this option is not available for the system drive. It can help you wipe other data drive, external drive, USB flash drive, or memory card, etc.

Mode 3. Erase Free Space
It's not enough to only erase the exiting files. You also need to erase the previous deleted data to make sure all the personal data will be wiped completely. Just choose this mode and it will erase the free space on the drive.
By using the above 3 modes, you are able to erase all the personal data permanently on your Mac. Then no data recovery software can recover the wiped data from your Mac machine.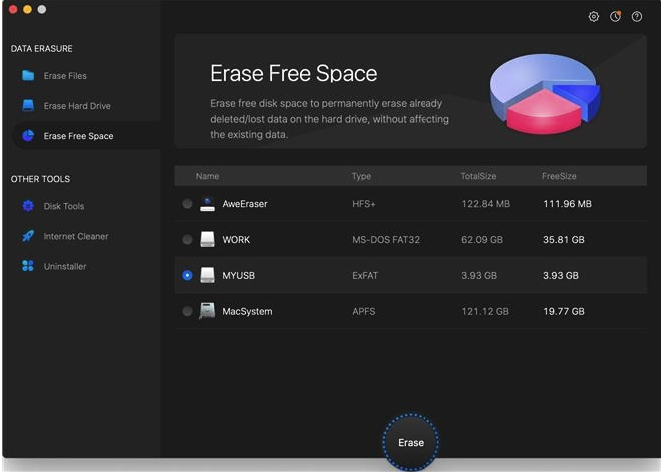 Other tips to prepare your Mac before you sell it
Actually, there are some other things you need to pay attention to before you sell your Mac. Here will show you some of the important thing you have to do in such a case.
Create a backup of your data
Before you erase and sell your Mac, you have to back up your important data first. You can move the data to the new machine or back up to another drive. You can do the job manually to copy the data to another drive. Also, you can use Time Machine to back up your data and system. Besides, you can try to clone your drive and data to another drive as backup.
Some software on the Mac is licensed to you. Before you sell your Mac, you need to sign out of the apps, like iTunes, Music, AppStore, iMessage, iCloud, and so on.
Reinstall the operating system
Before selling your Mac, it's better to reinstall the operating system on the Mac. After reinstalling the operating system, you will have a Mac with a fresh copy system just like a new one.
After doing all above thing and permanently erasing all the personal data on your Mac, you can feel free to give away, trade in, or sell your Mac. You don't need to worry that the personal data will be recovered in any way.