It is a known fact that in the world of computers and other electronic devices, the identification and communication process is done by numbers, using the IP addresses. This means that unlike humans, computers need a number or IP address to connect with the other devices. 
When it comes to the human world, people communicate with each other directly by calling names and not numbers. Names are even used when identifying an object or a person as we humans are accustomed to only memorize and work with names and not numbers.
This difference or disagreement between the electronic and the human world led to the rescue made by networking engineers by developing a server called DNS or the Domain Name System. Let's move further to know more about DNS Server and its various issues.
Dissection Of DNS
The Domain Name System or DNS is basically used to resolve domain names into IP addresses. This breaks the gap and makes it easier for humans to operate computers.
DNS is, therefore, used to convert web addresses into numbers in order to display the user totally accurate results as computers only understand and are accustomed to the language of numbers.
However, this server can sometimes create or come up with problems and not function properly. In such a case, it becomes impossible to search for a web page or perform other internet duties. If you, too, are facing issues with DNS server not responding, then you have landed on the right page.
Stay tuned to find out why your DNS server is not responding and find the best solutions for it.
Top 10 Tricks To Fix The Problem
Usually, the "DNS server not responding" message comes up when you connect your device to a certain network, and the access to the internet connection fails. There are a certain number of reasons for such a problem, and so is the solution. They are further explained as follows:
Way 1: Keep An Eye On The Router Settings
It is quite a chance that the actual problem lies somewhere in the router. Therefore, it is important to begin with restarting your router first when you face such a problem of the DNS server not responding.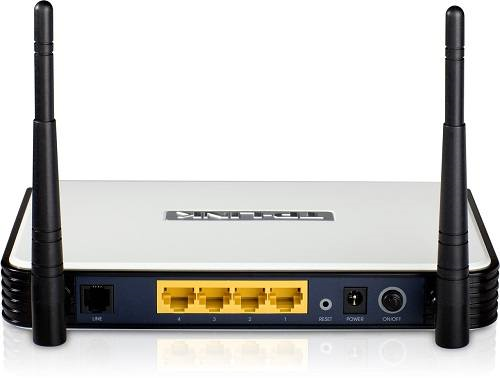 Guide To Keep Router Settings In Control:
Tap the restart button of the router, which is most likely to be either on the back of the router or below the router. You will need a sharp edge device like a needle or a safety pin for this purpose.
Also, do not forget to hold the button for at least 30 seconds as the restarting process needs some time to initiate. All the connected devices will get disconnected once the router restarts. 
You can also remove the power adapter once and plugin it again to restart the router. Kindly check that the power is off before removing the plug. 
What To Do Once You Are Done?
After the router comes back to normal, connect your device to it and check if the problem is gone or is still present. To check the functioning of the server, you can simply try to visit any website, for example, Facebook, by entering its URL, and if the server reaches the website, then it means that the problem of the DNS server not responding is gone forever. Congratulations!
Way 2: Go For Google Public DNS (Works Every Time For All Windows 10 Users)
One of the best options to choose when the DNS server is not responding on Windows 10 is to 
upgrade your current DNS server and opt for a new one. 
You can opt for a great option by Google named Google Public DNS, which is a 100% free service to use and can be availed by any internet user from any part of the world. In order to change your DNS and move to this new DNS, you will have to go through a certain number of steps as mentioned below –
1. The first thing you will need to do is from the start menu, go to your network settings.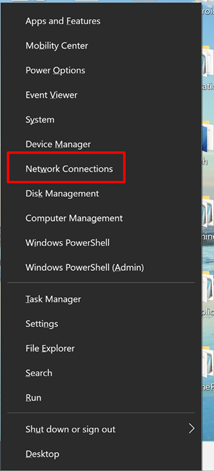 2. After that, you need to choose your respective connection type and later, tap on-field "Change adapter options."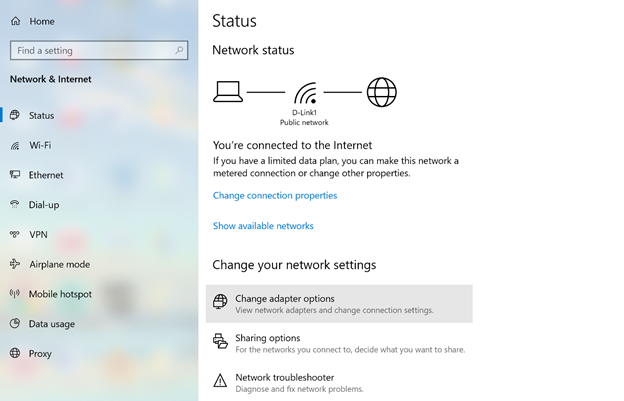 3. Proceeding this, you would be required to view different properties of your connection type with a single right-click on the mouse.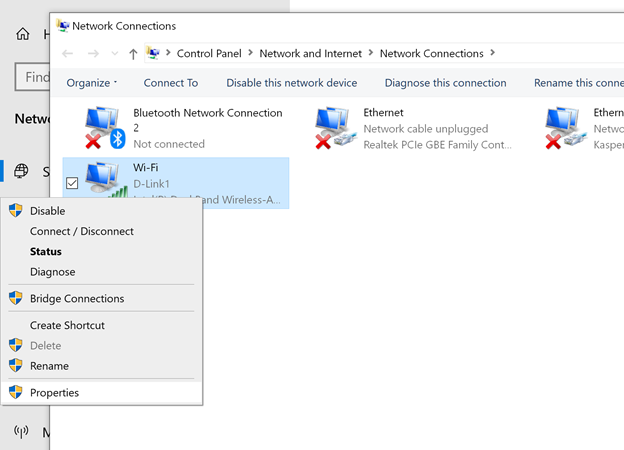 4. From there, you will have to move the pointer to "Internet Protocol Version 4 (TCP/IPv4)" and look for its properties.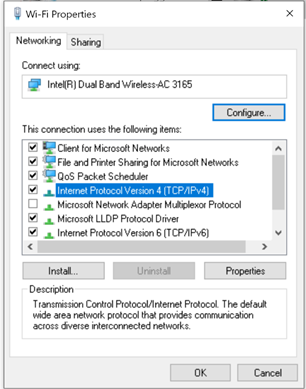 5. The properties window will be displayed onto your screen. In that window under the use following the DNS server address, enter your preferred server row.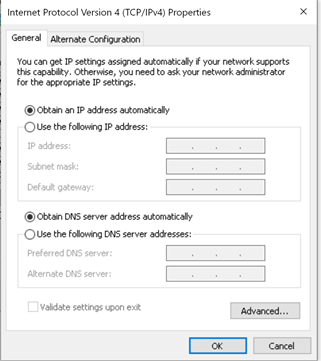 6. Later on, also fill in an alternate DNS server and tap on the OK button displaying on the screen.
This will surely help you get rid of your "DNS server is not responding" issue.
Way 3: Backing Off From Your Antivirus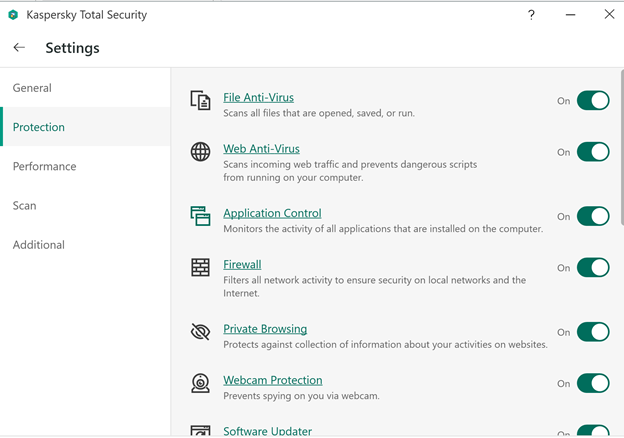 Most of the time, your installed Antivirus software raises such 'DNS server not responding' problems that make you perplexed. No doubt, this software safeguard crucial data and information in your device from malicious viruses and unwanted threats.
However, there is a plethora of software that is rather the cause of several problems and keep you busy in finding the right solution. They hamper the normal functioning and display this DNS error frequently. 
To know if your antivirus software is the reason why you are facing DNS server not responding problems, you can opt for disabling it for some time.
If the problems disappear once you have turned off your antivirus software, then there is no doubt that the software was the reason for all these troubles. Therefore, it will be best for you to switch to some other antivirus software and stop using the current one permanently.
Way 4: Sometimes, It's Time To Flush The Old Cache 
By flushing the cache, we do not mean going to the storage and clear that cache as we do with most devices. Here, this cache specifically refers to the DNS cache, and you can remove it. Later on, you can try to move to a new IP address.
Step-By-Step Guide To Do This:
You will have to follow some steps and type in certain commands as explained below –
1. Open search bar and fill "Command Prompt". Then, opt for "run as administrator" by tapping on the window's right-click.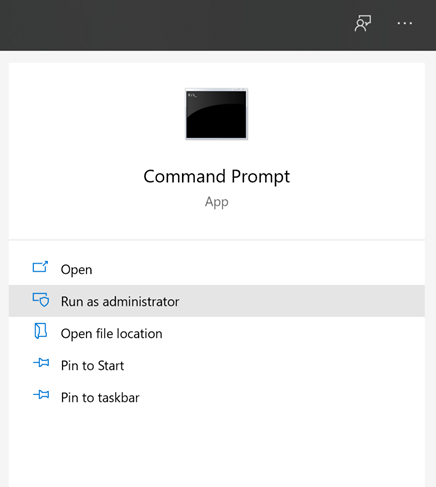 2. A pop window will open in front of you. It will ask you to give permission regarding the app to make changes to your device. Tap on the yes option in the dialogue box.
3. Next comes the essential commands. As soon as the Command Prompt window appears, you shall type the following commands and press on entering after typing each command:
netsh int IP reset

netsh Winsock reset

ipconfig /flushdns

ipconfig /renew
When you are done with the 3rd step, all the commands will be enforced and all you will be left with to do is to restart your device.
Once you have restarted the device, the most chances are that your problem of the DNS server not responding will be gone.
Way 5: Move To A New Web Browser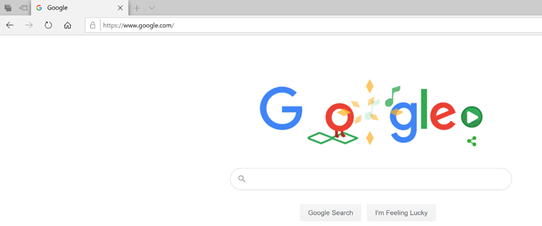 It is possible that you are facing the "DNS server is not responding" problem because of your present browser. If that is the case, then you are in luck as this problem is the easiest to fix with such an issue. 
There are many properly functioning and user-friendly browsers available such as Google Chrome, Mozilla, Apple Safari, Firefox, and so on. Moreover, there are chances that some of these browsers may offer you more exciting and fancy-free services that your present browser does not have.
Try moving to a browser which proffers ease and convenience for the purpose and see if that makes a difference. If it works, then you know you need to make this browser permanent. 
Way 6: Eliminate Additional Connections Hassle-Free
Another way to resolve the DNS server not responding on Windows 10 is by targeting the secondary connections and making them away. To disconnect such additional servers, you will have to execute the given steps:
1. Tap on the start menu and open the "network and internet settings" from there. Later go to the "change adapter options."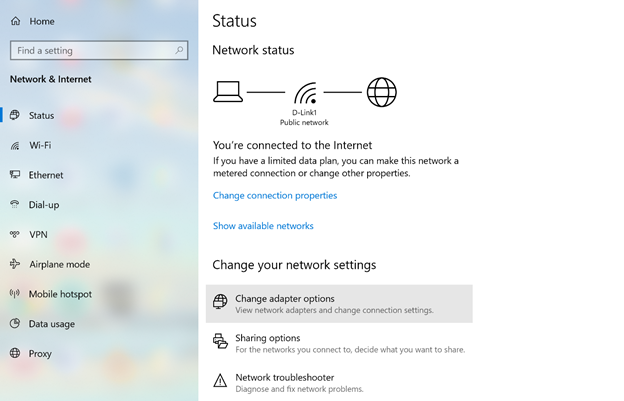 2. Once you have completed the first step, then look out for any additional wireless connections and just disconnect it right away.
How To Remove The Connection? 
3. In order to remove the connection, tap and choose that particular connection and then tap on the "disable this network device" option. Voila, you will get rid of that extra-connection hampering your internet.

Once done, your issue with the DNS server will be long gone. You may also confirm the results by simply typing in your website name and getting the required results. Thus, there are no more issues with your connection, as it is functioning perfectly.
Way 7: Readjust Your Present Server To Its Basic Settings
DNS server not responding is a problem that can be solved by readjusting your current DNS server. And in order to do so, you will have to follow the following points –
1. Tap on your start menu and check your network and internet settings. From there, look for "change the adaptor" option.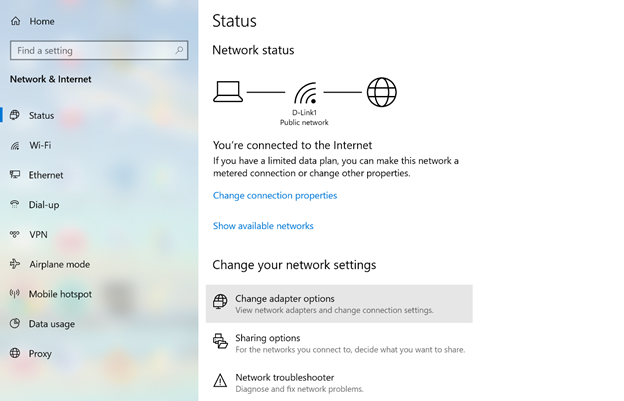 2. You will be able to see your current connection appearing on the screen. Tap on the name of your current connection from the connections page.
3. On choosing the name, tap on the "change settings of this connection" option displayed on the top right corner of the screen.

 4. Next, a dialogue box will be prompted in front of your screen. There will be a plethora of options from which you need to tap on (TCP/IPv4) option and open the properties.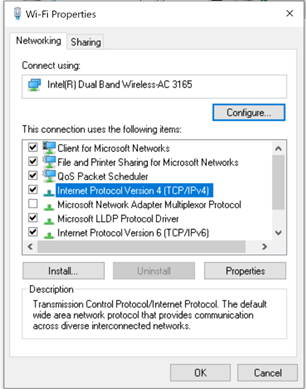 5. Move to the step of resetting the DNS addresses option – On the next dialogue box, you will see "Preferred DNS Server" and "Alternate DNS Server". For preferred DNS server field, enter the respective Addresses and press the "OK" button and then close it.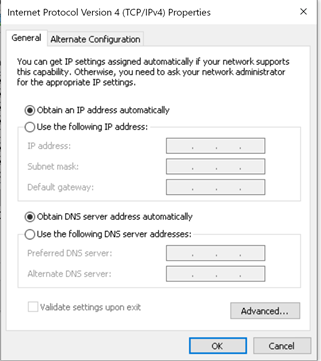 6. Finish off by restarting your device once all the booting up process gets over.
Once you are done with all of these steps, you can check out your connection to see if it worked.
Way 8: Let VPN Come To The Rescue
Another great and helpful option to solve the DNS server not responding on Windows 10 can be solved by using a proper VPN. VPN is a shorthand for Virtual Private Network that offers a secure network paving a way to fixing all the problems hassle-free. 
One of the top VPNs to be recommended is NordVPN. Being available in around 62 countries, this VPN is also super cheap with a rate of around $3 per month. Not just that, they also proffer a "30 days money-back guarantee."
Along with this, other VPN options are also available like the TunnelBear, ExpressVPN, CyberGhost, and so on.
Way 9: Look For Network Adapter Driver Updates
It is possible that the reason why you are facing such connection issues is that you are using an old version of the network adapter driver. To know if your network adapter driver is updated or outdated, you will have to follow the below-mentioned procedure:
1. Open the Power User menu to choose the Device Manager. Then, just press the Windows key + X key to open the power user menu.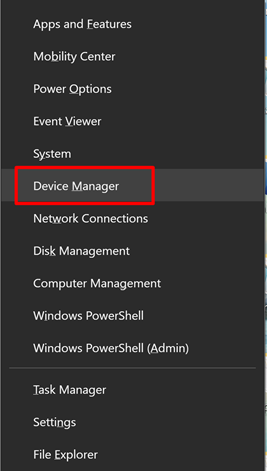 2. Later on, go on your network adapter and right-tap on it to open the "Update driver software" option.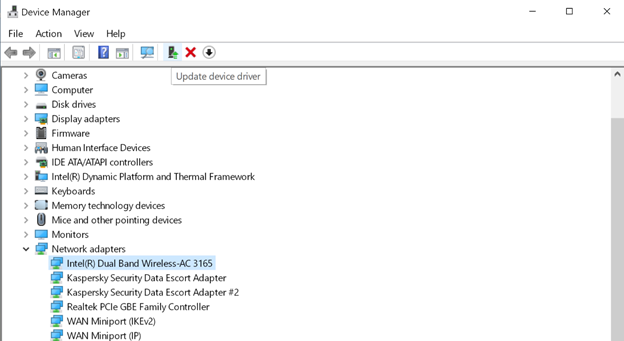 3. It is time to select the search option so that it searches for the updates for the driver. 
4. Then, at last, tap on the 'close' button to complete the task.
After following these steps, quickly restart your device to see if the connection is working properly or not. If the "DNS server not responding" problem still exists, move to the next solution.
Way 10: Quickly Disable The Latest Internet Protocol Version (IPV6)
Disabling the newest version of Internet Protocol, which is IPv6, can be helpful in the problem of the DNS server not responding on Windows 10. 
How To Disable The IPv6 On A Windows Operating System?
Follow these steps given in sequence to get your answer:
1. To start with, open the control panel of the device. Look out for the option of "network and internet", and just below this option, you will find the "view network status and task" option which you have to tap on.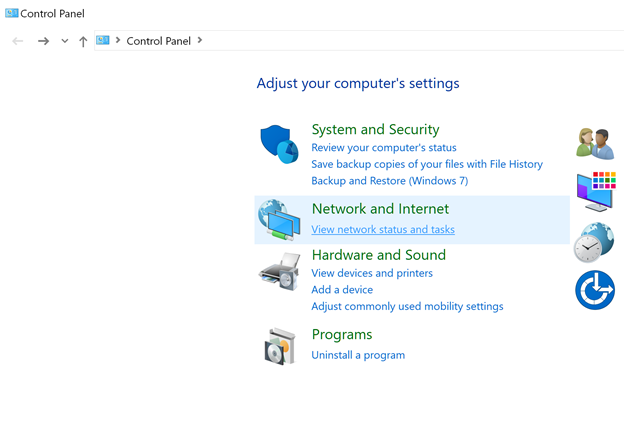 2. Then, you will have to tap on your network connection type and go to its properties.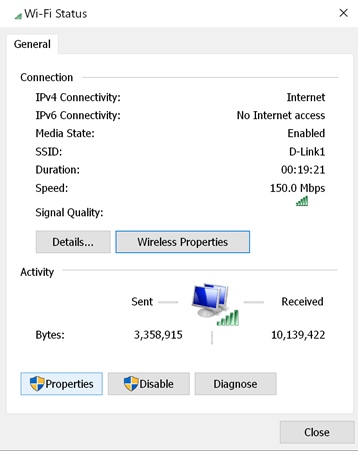 3. As soon as the properties window opens, from there, you will have to untick the "Internet Protocol Version 6 (IPv6)" option box, and voila, your IPv6 has been successfully disabled.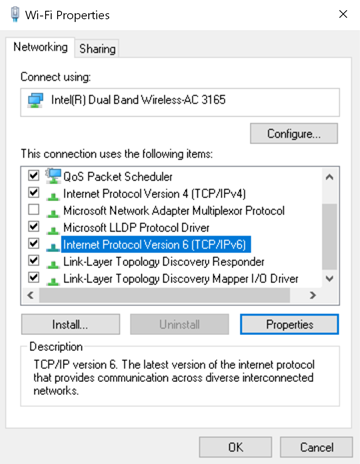 4. Once you are done with all these steps, tap on the 'OK' button to save the made changes and then close it.
Now you can check whether the problem of the DNS server not responding is finally gone or not. 
Way 11: Go On And Disable Virtual Wifi Miniport Adapter For Good!
Another reason as to why you are facing troubles with the DNS server not responding is because of the Microsoft Virtual WiFi Miniport Adapter.
To solve this irritating issue, you will need to disable the Microsoft Virtual WiFi Miniport Adapter. To do so, you will have to follow the following instructions in sequence :
1. Go to the device manager from the power user menu. To get on the power user menu, press the Windows key + X key together.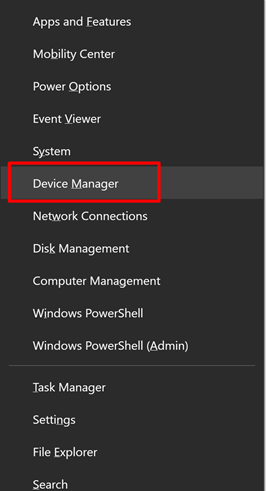 2. Once opened, tap on the "view" option and then, opt for the "show hidden devices" option from the drop-down menu.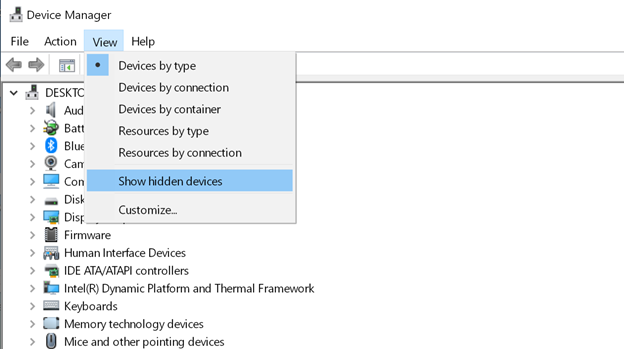 3. Seek here for the virtual WiFi Miniport adapters. After that, just right-click and tap on the disable option.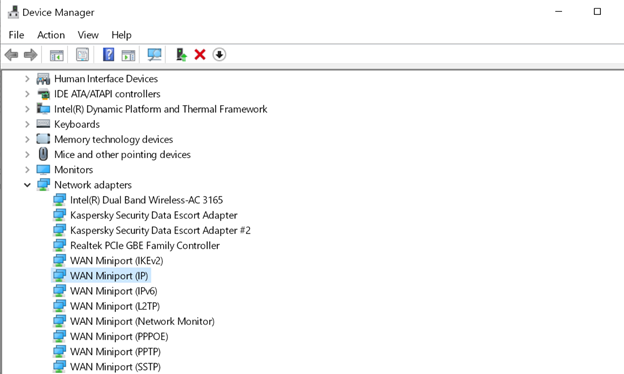 4. Keep on repeating step 3 until you have erased or disabled all of the virtual Miniport adapters on your device, and once you complete the entire process, tap on the "close" button.
Once you are done following these steps to disable the Microsoft virtual Miniport adapters, check if your connection is working properly or if the DNS server not responding problem still shows up, move to the next way out.
Way 12: Get Rid Of The Third-Party Applications
Third-party applications can cause you trouble with the connection leading to the "DNS server not responding" problem. Therefore, it is important for you to ensure that there are no third-party applications installed on your device.
It has been reported many times that these third-party applications have changed the DNS server automatically to a different address. Therefore, you need to locate the presence of any such applications, and in case you find one, do not hesitate to delete it. 
There are high chances that after deleting such third party applications, your problem with the connection, more especially your problem with the DNS server not responding, will be gone. 
Way 13: Let Your ISP Rest
Sometimes, the problem of the DNS server not responding resolves on its own. In such a case, all you have to do is wait for about an hour or two, or maybe even more, and let your ISP seal the deal.
ISP is the short form of Internet Service Provider, which, as the name suggests, provides access to internet services. Sometimes, ISP faces technical difficulties and needs time to solve it on its own.
Because of these technical difficulties, the DNS server not responding message can show up, and in such a case, all you have to do is wait and let the ISP or Internet Service Provider solve it.
Final Note
So, these were the most useful and popular ways to solve the "DNS server not responding" problem. Such a problem with the connection server is indeed common among the billions of Internet users these days.
However, with the various numbers of above-mentioned steps, it becomes easy and possible to solve the issues regarding the DNS or the Domain Name System server.
By following the ways and procedures given in this article, the chances are that not only will you be able to shoot the troubles regarding connections and DNS servers, but also be able to gain a higher network connection speed. 
Moreover, all these solutions are very easy to navigate and perform, and therefore you will not need or require an extra hand or any expert help or professional guidance.
So now that you are well-aware of all the tactics try any of these best possible solutions on your own convenience to get rid of the DNS server problems in the easiest, quickest and effective ways available and stay tuned for more such information and updates on many more useful and interesting topics.
FAQs
1. How One Can Easily Restart The Router? 
You can easily restart the router in a jiffy. Just locate the power button behind the router and click it power off and then click it to power on it again to restart it.
Also, you can directly pull out the adapter of the router and plug it again to restart it. This will sometimes resolve the DNS server issue, and you can easily avoid all those headbanging messages easily. 
2. How To Check That The Antivirus Or Windows Firewall Is Disabled Or Not?
First, you need to verify whether there is any antivirus program installed in your device or not.
If there is an antivirus program, then open the application and disable the antivirus. If not, then go to the control panel and click on the windows firewall option and then disable it.
Can Anything Be Done To Resolve The DNS Issue At Home? 
There are many simple ways to resolve this issue if the problem has not occurred at the end of your Internet Service Provider. You can restart the modem and device, change the antivirus or firewall settings, and reconfigure the current server to solve the issue.
What Does A DNS Server Do?
It is a server that contains a bundle of public IP addresses and their hostnames. It translates the names according to the respective user request. Basically, in simple words, it helps you to go to the page without remembering the technical IP addresses.