The powerful functions of Dell laptop have made Dell more popular than before. With the increase in Windows login password usage, Dell users tend to set more complex password to protect the valuable information on laptop. But sometimes, they will get into trouble of forgetting the Windows login password and locked out of the laptop. Luckily, in the era where technology is touching the limits, resetting your login password can be done within clicks.
There are tons of Windows password reset software available in the market, which offers features and services to recover, remove and reset your Windows login password. So in this article, we have brought you one of the best Windows password reset software. iSunshare Windows Password Genius is professional in Windows 10, 8.1,8,7 Vista, XP, 2000, NT password reset. As most Dell users prefer to use Windows 10 and Windows 7 systems, iSunshare specially develops Windows 10 Password Genius and Windows 7 Password Genius for their convenience. Now, let's explore it together.
iSunshare Windows Password Genius is the well-known Windows password reset software that offers the easy-to-use interface and clear steps for users. When it comes to its compatibility, it supports all Windows operating systems from Windows server 2000 to latest Windows 10 making sure it covers maximum user machines.
Easy to use: this Windows password reset software is super easy to grasp and can be used by any person with knowledge of using the software on a computer. The steps are clear and guides are pretty straightforward so that you can reset Windows password in minutes.
Compatible with all Windows systems: It gives you the ability to reset Windows password on Windows 10, 8.1,8, Windows 7, Vista, XP,2000, NT as well as Windows Server 2016,2012,2011,2008,2003,2000, NT, etc.
Reset password for all users account: iSunshare Windows Password Genius allows you to reset Windows local administrator and other user passwords as well as domain administrator and other domain user passwords. For the Advanced and Raid version users, they can reset Windows 10/8 Microsoft account password. Moreover, it is also possible to add another administrator user account.
Flexible options: To reset Windows password of your Dell laptop, iSunshare offers 4 different plans of Windows Password Genius: Standard, Professional, Advanced and Raid. Besides, you can choose the Mac and Android version so that you can create the password reset disk with Android device and Mac laptop.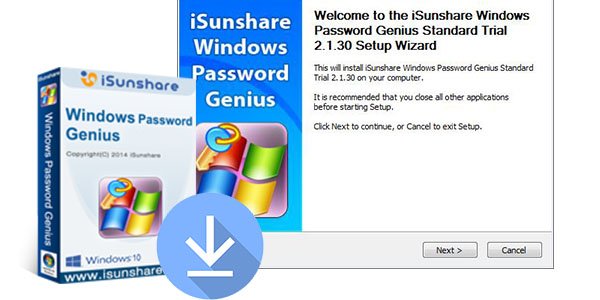 Now as you get the basic understanding of iSunshare Windows Password Genius, let us now go forward to the most important section of this article — how to reset Dell laptop password without disk.
How to Reset Dell Laptop Password without Disk
No matter which Windows password reset software you choose from iSunshare (Windows Password Genius, Windows 7 Password Genius or Windows 10 Password Genius), you will experience the similar process. Now let's take iSunshare Windows Password Genius as an example.
Step 1:
Download and install iSunshare Windows Password Genius on an accessible laptop, no matter it is HP, Acer, Toshiba, Samsung or Sony, Asus, Lenovo.
Step 2:
Run the software and on the first window you will find two options to create the password reset disk: USB device and CD/DVD. Highly recommend you choose USB device.
Step 3:
Insert the USB device and click Begin burning. After few minutes, you will get the successful message.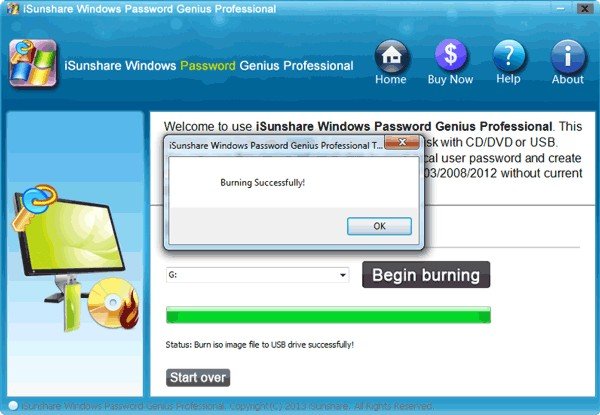 Step 4:
Restart your Dell laptop with the USB device. Choose to boot it from USB device.
Step 5:
When you see iSunshare Windows Password Genius interface, you can confirm the window and choose your account. Click Reset Password and enter your new password. Everything will be changed after you confirm it and click Reboot button. Now, your Dell laptop password is reset and you can login smoothly with the new password.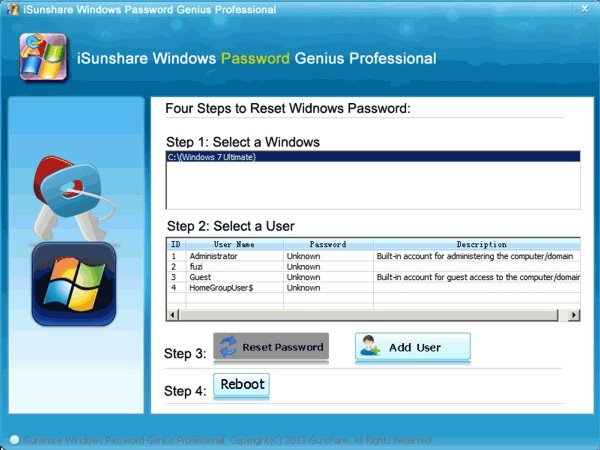 Isn't it super easy? Now you will no longer worry about forgetting the password and locked out of Dell laptop with this powerful Windows password reset software.
The software offers rather affordable price for resetting your Windows password in most cases of emergency. It is guaranteed with the free lifetime upgrade and free technical support service. The prices are different according to the plan you choose: Standard Version for $19.95, Professional Version for $29.95, Advanced Version for $39.95 and Raid Version for $79.95. The prices for 4 plans are the same in Mac and Android version.

The Bottom Line:
iSunshare Windows Password Genius is truly effective solution for resetting Dell laptop password without disk. It helps to create a password reset disk for you to reset Dell password. At the same time, it enables you to create a new administrator account to open the Windows systems. All operations are in safe mode and without data damage. With respect to the powerful features, the price-tag is reasonable as well.