What makes you feel frustrated while editing 4K large videos? Some people usually find it overwhelming to take the first stride towards editing a 4K video. On the other hand, others face various issues that crop up every now and then. Here is the list of some issues which are commonly faced while processing and editing iPhone GoPro DJI recorded 4K large long videos. 
Videos large in size take forever to be converted

Your old computer system cannot handle CPU and GPU intensive software

The output video comprises of strange lines and pixels

Software couldn't handle specific formats like cf.ill support of 4K HEVC
For experienced editors, any of the above-mentioned issues is a mere wastage of time. On the other hand, for novices, commencing with a complex UI is quite daunting. In the article of top video editing software review, you can know the pros and cons of some advanced and basic video editing software for Windows and Mac, like iMovie, GoPro studio, Openshot, and so on. 
This is where VideoProc comes to the fore. Be it an iPhone GoPro DJI video or a HEVC/H265 video, it can deal with any videos in a stable manner. The success of VideoProc in editing 4K videos can be attributed to its full support of GPU acceleration.  
VideoProc is born to facilitate quick DJI video conversion as well as processing
To be precise, VideoProc can be used in 4k video editing. One of the highlighting traits of VideoProc is that it seamlessly accepts an array of resolutions in the form of 2.7K, 4K and 8K. In addition to featuring some basic editing features, VideoProc can also help the user to cut and joint clips in a flexible and precise manner.
With VideoProc, you can also fix shaky footage and eliminate background noise which is common with GoPro and DJI videos. Being one of the good video editing software, it would help you to accomplish editing in a more streamlined manner. When compared with other video editors, VideoProc gives video owners the liberty to download audios which can be used as background music.   
Produce sleek videos perfectly with VideoProc
To be precise, VideoProc is designed for both the novice and the pro users. The handy built-in video converter and recorder can save time drastically when you have to edit innumerable videos. VideoProc has features like crop, cut, merge and effects. These simple editing tools can polish up your footages in a great manner. Let's take a glance at the three highlighting features of this video editing software.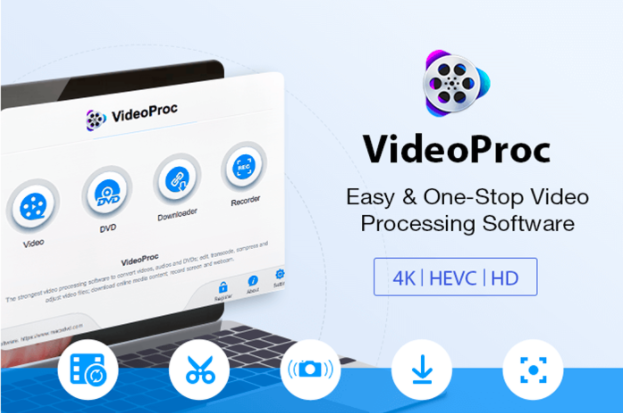 VideoProc helps you with flexible cutting. With this feature, you can shorten a video and chop any segment which you just don't want. Moreover, with this feature, you can rearrange clips in newer sequences. If you are posting in YouTube, you can also optimize the size of the videos. However, note that in VideoProc, you can cut any video file before implementing any other editing operation. 
VideoProc lets you crop a large video so that you can eliminate black bars and remove those portions which can distract the attention of the users. With this editing feature, you can illustrate the focal point to improve the image composition. You can also alter or expand the aspect ratio of the videos. This enables you to meet the requirements of various video sharing platforms. 
This 4k video editing software comes with the phenomenal merge function. With this editing feature, you can join multiple video files of vivid formats like MP4, MOV, AVI, etc. You can also tweak playback speed and resolution of the video. 
Here in the video, we can see it's really very easy to edit 4K videos with VideoProc on any computers:
Enjoy GPU accelerated video processing with VideoProc
VideoProc is powered by level-3 full GPU acceleration which enables it to detect and fully use the graphics card on your machine. With hardware acceleration, the workload on your CPU gets reduced drastically. This ensures that the edited videos can be processed with stability and speed. Note that as a user you don't have to worry much about your systems hardware configuration. VideoProc is optimized for high resolutions as well as large files.  
Whether you are a pro or a novice, you can always look up to VideoProc as a reliable easy to use video editing tool. Interestingly, you can now get VideoProc for free. It features cutting edge algorithms so that it can adapt to changes in an effective manner. In short, VideoProc consumes less computing resources to provide you with high quality 4K videos.