Klondike Solitaire, a timeless classic, has captivated players for generations. Its simple rules, strategic gameplay, and wide accessibility have made it a beloved game enjoyed by people of all ages. In this article, we will explore the fascinating world of Klondike Solitaire, from its origins and history to its modern-day popularity as an online game. Join us on this journey through the captivating realm of Klondike Solitaire.
The Origins of Klondike Solitaire
The exact origins of Klondike Solitaire are shrouded in mystery, but it is believed to have originated in the late 18th century. The game's early history is intertwined with the evolution of card games in Europe. Over time, Klondike Solitaire gained popularity and spread across different regions, taking on various names and adaptations. Its journey through time is a testament to its enduring appeal.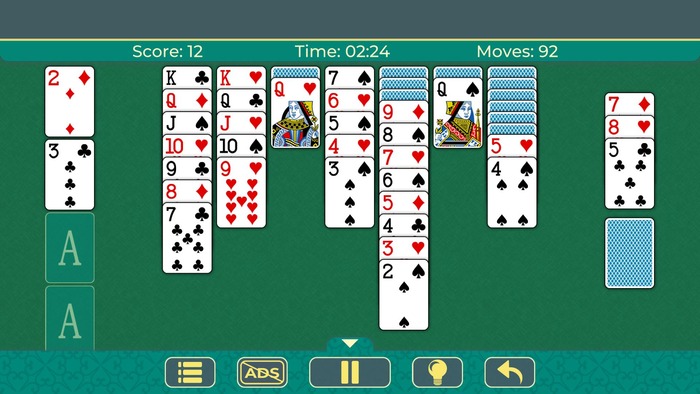 The Enduring Appeal of Klondike Solitaire
A Game of Patience
Klondike Solitaire, also known as "Patience" in British English, perfectly embodies its name. The game requires patience, concentration, and strategic thinking. The objective is to arrange the cards in a specific order, building foundation piles from Ace to King. The rules may seem simple, but the challenge lies in unraveling the hidden cards and carefully planning your moves. Klondike Solitaire provides satisfying mental exercise and a delightful escape from the demands of daily life.
A Game for Relaxation and Focus
In addition to its entertainment value, Klondike Solitaire has been recognized for its positive effects on mental well-being. The game offers a space for relaxation and concentration, allowing players to unwind and clear their minds. Engaging in a game of Klondike Solitaire can provide a sense of mindfulness and improve cognitive skills such as problem-solving, pattern recognition, and strategic thinking. Its therapeutic qualities have led to the integration of Solitaire into stress-relief programs and wellness initiatives.
Mental Stimulation and Cognitive Benefits
Beyond its soothing qualities, Klondike Solitaire also offers numerous cognitive benefits. The game challenges players to think strategically, plan ahead, and make decisions based on limited information. These mental exercises can help improve cognitive skills such as problem-solving, critical thinking, and spatial reasoning. Klondike Solitaire provides an engaging and enjoyable way to keep the mind sharp and agile.
Social Connection and Competition
While Klondike Solitaire is often played solo, it can also be a source of social connection and friendly competition. Online platforms and mobile apps offer multiplayer options, allowing players to challenge friends or participate in tournaments. Sharing strategies, discussing gameplay techniques, and competing for high scores create a sense of community and camaraderie among players. Klondike Solitaire becomes not only a personal pursuit but also an opportunity to connect with others who share a passion for the game.
Klondike Solitaire and Memory Improvement
Memory improvement is another potential benefit of playing Klondike Solitaire. The game requires players to remember the positions of cards, anticipate future moves, and recall previous actions. Regularly engaging in Klondike Solitaire can exercise and enhance memory functions, helping to improve both short-term and long-term memory retention.
Klondike Solitaire as a Teaching Tool
Klondike Solitaire is not only an entertaining game but can also serve as a valuable teaching tool. The game can help children and adults develop critical skills such as patience, logical reasoning, and perseverance. Klondike Solitaire teaches the importance of planning, adaptability, and decision-making in the face of limited options. Its educational value extends beyond the realm of gaming, making it a beneficial addition to educational curricula and cognitive training programs.
From Physical Cards to Online Gameplay
With the advent of technology, Klondike Solitaire has seamlessly transitioned into the digital realm. Online platforms and mobile applications now offer virtual versions of the game, allowing players to enjoy Klondike Solitaire anytime, anywhere. The online format comes with added benefits, including intuitive interfaces, customizable themes, and even multiplayer options. Players can now compete with friends or challenge themselves against computer-generated opponents.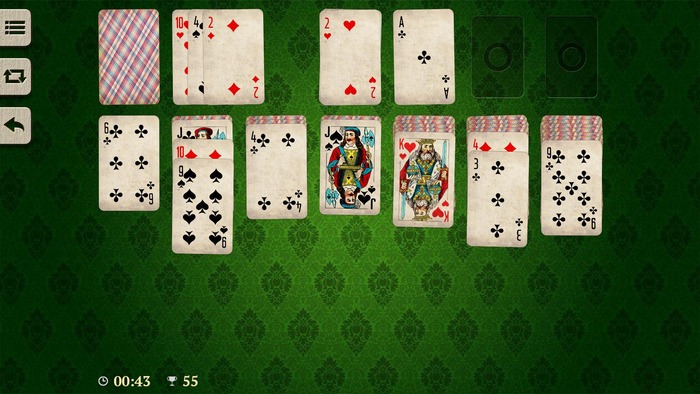 The Allure of Klondike Solitaire Online
The online presence of Klondike Solitaire has contributed to its continued popularity and broadened its reach. Online platforms provide a convenient way to access the game, eliminating the need for physical cards and space. Whether played on a computer, tablet, or smartphone, Klondike Solitaire offers a quick and enjoyable gaming experience for those seeking a moment of relaxation or a mental challenge. It's accessibility and widespread availability have made it a staple in the digital gaming landscape.
Klondike Solitaire: A Game for Everyone
One of the remarkable aspects of Klondike Solitaire is its universal appeal. The game transcends age, language, and cultural barriers, bringing people together through the joy of gameplay. Children and adults alike can enjoy the game's simplicity and strategic depth. It serves as a means of entertainment, mental exercise, and a way to unwind after a long day. Klondike Solitaire truly caters to players of all backgrounds and interests.
Conclusion
Klondike Solitaire's journey from its mysterious origins to its modern-day online presence showcases its enduring popularity and universal appeal. Its evolution from physical cards to digital platforms has ensured its accessibility to a global audience. Klondike Solitaire stands as a testament to the timeless allure of a well-designed game, providing a source of entertainment, relaxation, and mental stimulation for everyone who ventures into its captivating world.