In the past couple of years, 4K Video has become the basic standard for High-Quality video, replacing 1080p. Nowadays, almost every smart device — be it your iPhone, Android smartphone, drones etc. — can capture 4K at its true essence. However, with great quality comes great file sizes. As a result, you will have to dedicate a huge amount of storage space for keeping all the 4K footage.
Most people find Video Compression as the perfect solution for this problem. This process, altogether called Video Processing, comes in handy as well! But, there is another problem of quality: in most tools, a processed 4K video will lose its quality. In addition, there are issues concerning the time for processing, output quality and lack of customization options.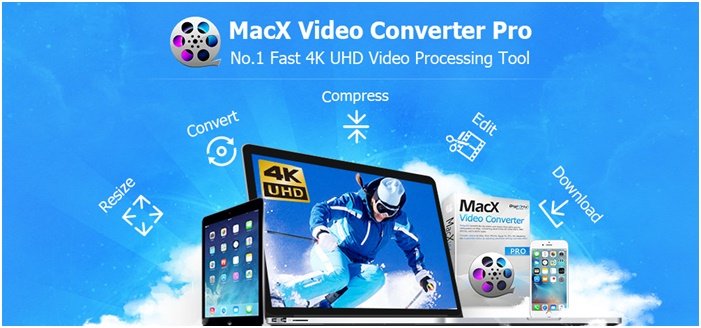 MacX Video Converter Pro for the Rescue
This is where MacX Video Converter Pro comes to rescue you from the dilemma. At its core, this tool might be a video converter, but it's specifically made for high-quality 4K Video processing. MacX Video Converter Pro has been designed in a way that it can process any 4K video at the fastest speed, without compromising any part of quality. This, of course, comes with other noteworthy features.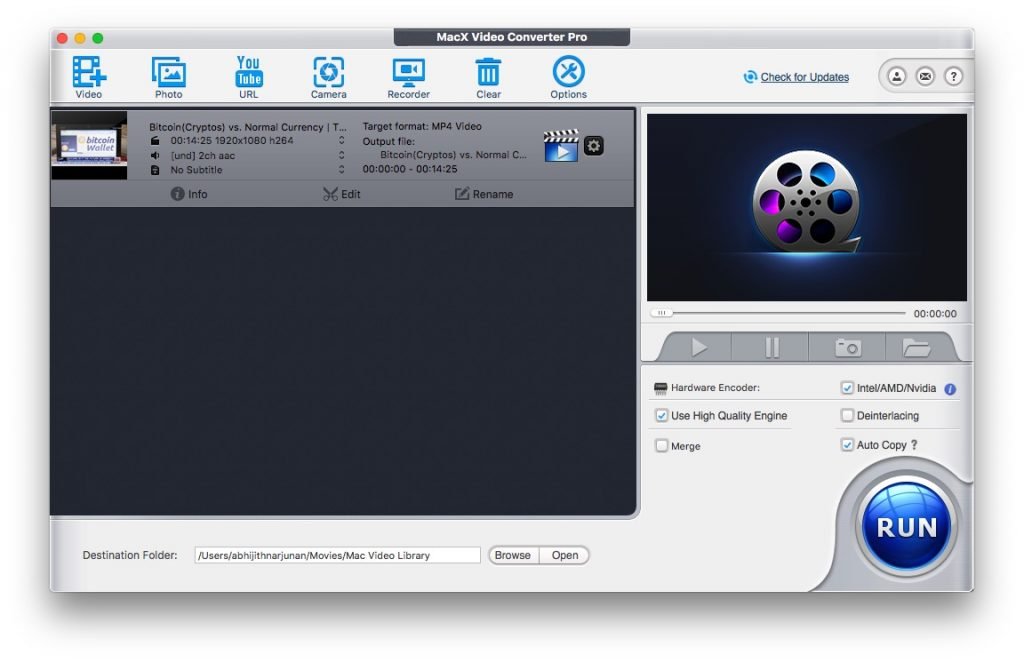 It's an easy task to process 4K video using MacX Video Converter Pro. You can use this tool to reduce video file size or make some further edits. However, it uses hardware acceleration tech to ensure the best speeds while processing or converting 4K videos. More importantly, the developers have optimized to use the total performance of your device for optimal output.
Hardware Acceleration tech used by MacX Video Converter Pro is impressive enough in the sense that every Mac user would be benefited. Your device must have an Intel Sandy Bridge 2nd Gen i3/i5/i7 or higher versions to use HA. This works by passing the graphics-oriented parts of video processing into the GPU of the device. Of course, at the end of the day, you can get the video converted in the best time possible.
The Real-Life Performance
We tested the MacX Video Converter Pro in a few instances to process a few 4K videos. We also made sure that we compared the results with Handbrake for Mac, another popular tool for video processing. Needless to say, the results were impressive enough.
The most important thing is that tools like Handbrake don't support hardware acceleration, making the video processing task take more time. In addition, average FPS rates are also comparatively lower. While output from Handbrake may be a little blurred, MacX Video Converter Pro makes sure that the output is lossless in every sense. This is what every professional video-maker or editors wants.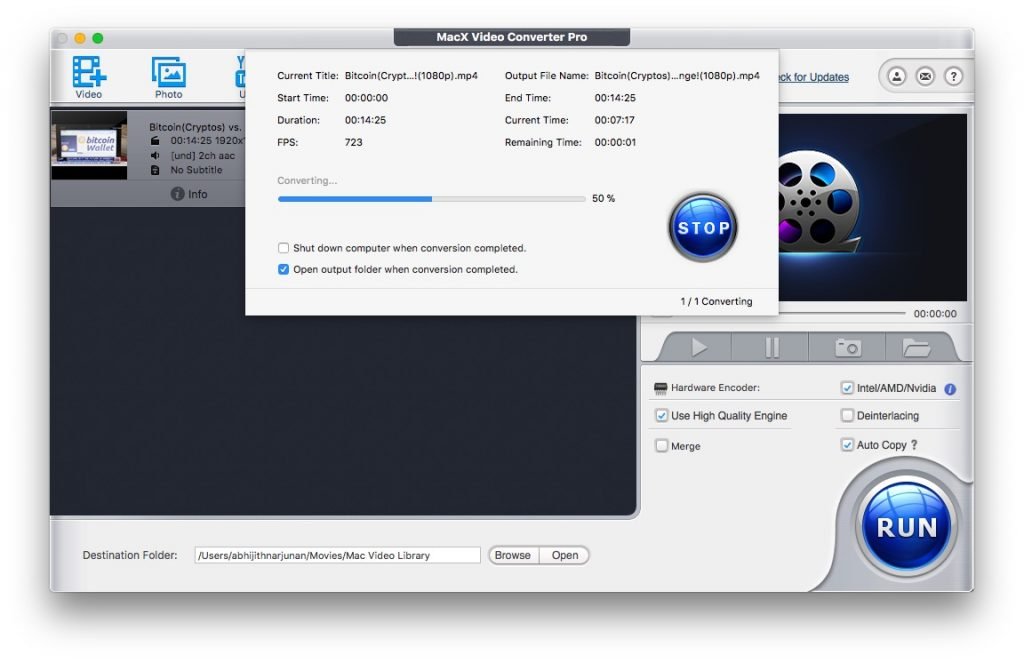 To sum up, MacX Video Converter Pro took around 4 minutes to process a 4K MKV video (of 22 Minutes, 2 GB of size and 3840*2160 resolution) to MP4. Even when Hardware Acceleration is disabled, it did not take more than 20 minutes. Both of these are compared to the 33 minutes that Handbrake took for processing the same video.
We hope now you know how much time and effort you can save by using MacX Video Converter Pro instead of other solutions.
Using MacX Video Converter Pro for Video Processing
It feels pretty easy to start using MacX Video Converter Pro for dealing with 4K-quality video. Once you have installed the program in your Mac, it won't take more than a second to start up. Thanks to the easy-to-use UI, you can drag and drop any 4K file that you want to convert.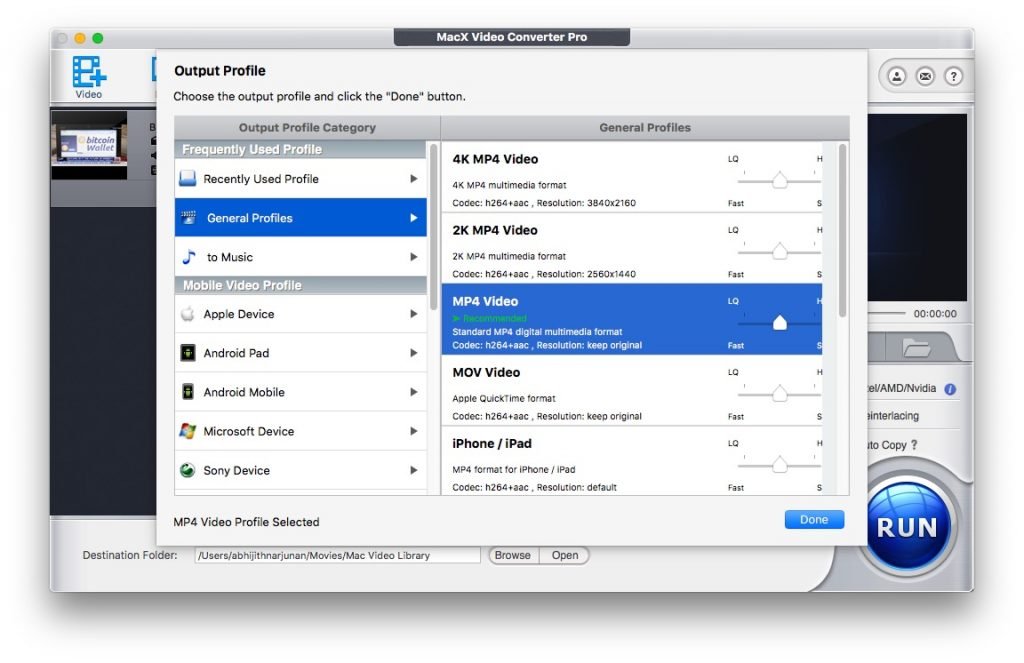 After that, from the dialogue box, you can select the output format and profile. There is a lot of choice there, make sure you pick the right one. If you want to get the best speed, make sure you have enabled Hardware Acceleration, High Quality engine and De-interlacing.
Now, click on Run button and wait until your 4K video is brought to the chosen format, compressed and well.
Some Other Features
Apart from the best option to convert 4K video, MacX Video Converter Pro offers some cool features as well. Some of them are:
Variety of video profiles to choose from, suitable for almost every device and platform
In-built utilities like YouTube downloader, Screen Recorder and Photo Merger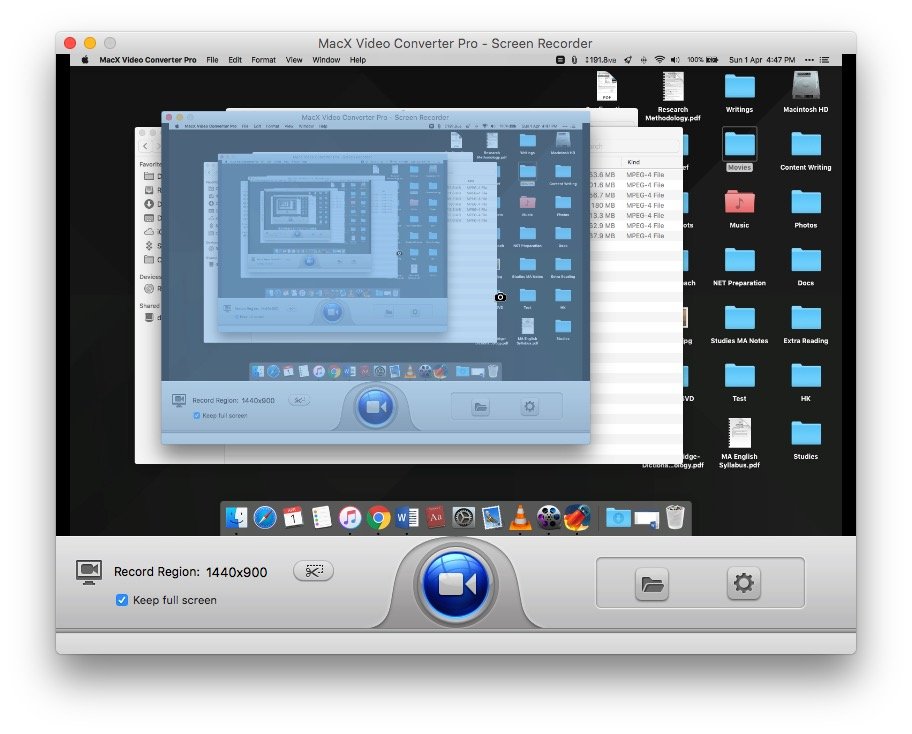 Top-notch customization options for optimizing the output 4K video
Ultimate compatibility with codecs and video formats
Starter editing options such as Cropping, Merging, Watermarking and more
Much impressive, huh?
The Bottom Line
Considering all the features we have discussed above — especially hardware acceleration tech, lossless and quick video compression and top-notch compatibility —, MacX Video Converter Pro is indeed the awesome tool to process videos in your Mac. It makes sure you have the best speed your Mac can offer, which is great. So, if you are a professional, you can go ahead and download MacX Video Converter Pro to enjoy the best speed for conversion and more.
Take a 1-Minute Survey to Win GoPro and More!
Enjoy shooting videos? Now you get a marvellous chance to win GoPro and more prizes by taking a 1-mintue survey about video-shooting held by MacXDVD company! The contest will be valid until May. 31. Why not take your chance?