There is a huge problem users face when it comes to photo editing tools. They come in two major categories — powerful & tough to learn or less-powerful & simple. That's one reason even the beginner photo editors have to master Adobe Photoshop and similar tools. Even after all these, they might be doing some minimal re-touching of photos.
With PhotoWorks, however, things don't have to be like this. It's an easy-to-use photo editing software that brings powerful features and performance to the desk. We thought this would be the tool you need for a quick retouch of captured photos. In this article, we have a brief review of PhotoWorks, exploring the various features, User Interface and Performance. Shall we start?
What's PhotoWorks?
As far as the basics go, PhotoWorks is an extremely simple yet effective way to manipulate your photographs. This tool does not have those complex toolboxes or menu-bars that you have seen in Photoshop, but it gets the job done. Just as we said, you can use PhotoWorks for quickly editing and optimizing photographs that you have taken. Don't expect anything fancy like RAW editing here. This is for the budding photographers — who want to enhance their photographs' overall quality.
PhotoWorks is available for devices running Microsoft Windows XP or later. It's a paid tool, but you can check out the Free Trial from https://photo-works.net to see how it performs. We believe we've got the basics covered about PhotoWorks. Now that you have an idea, shall we check out the important aspects of this tool?
Let's Talk about UI
The User Interface is the most important component of PhotoWorks. It finds the sweet-spot between tools like Photoshop and basic editors out there. The interface is, at the same time, simple and professional. For instance, you can access the required tools from the nearby boxes. In addition, PhotoWorks follows a tab-based structure for organizing the features.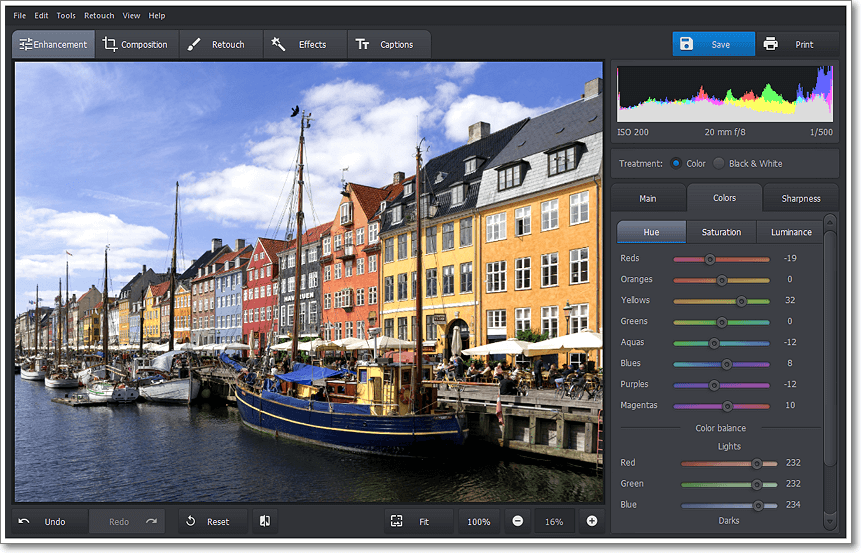 Altogether, the UI of PhotoWorks is as intuitive as it gets. Awesome for something with such a low footprint, right?
Major Functions in PhotoWorks
Well, there are a number of features in PhotoWorks, but we can classify them into a few sections.
This is perhaps the most useful section for portrait photography. In a few clicks, you can enhance the quality and looks of the portrait photograph. It has features like blemish removal, smooth skin, photo sharpening, adding depth and instant enhancement. Out of these, instant enhancement works like magic, because you can enhance the photo in a single click.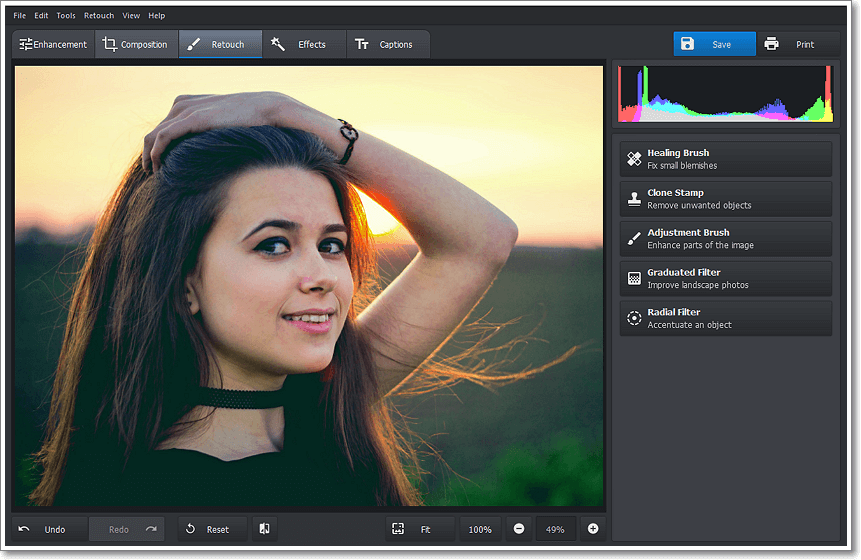 Do you take landscape photos a lot? PhotoWorks offers a bunch of optimization techniques for that as well. The options include sky contrast, vibrant colors, photo sharpening and removal of odd ojects. It's really easy to remove odd objects from the scene, thanks to the powerful algorithms for detection. Those who are into landscape photography will love this section for sure.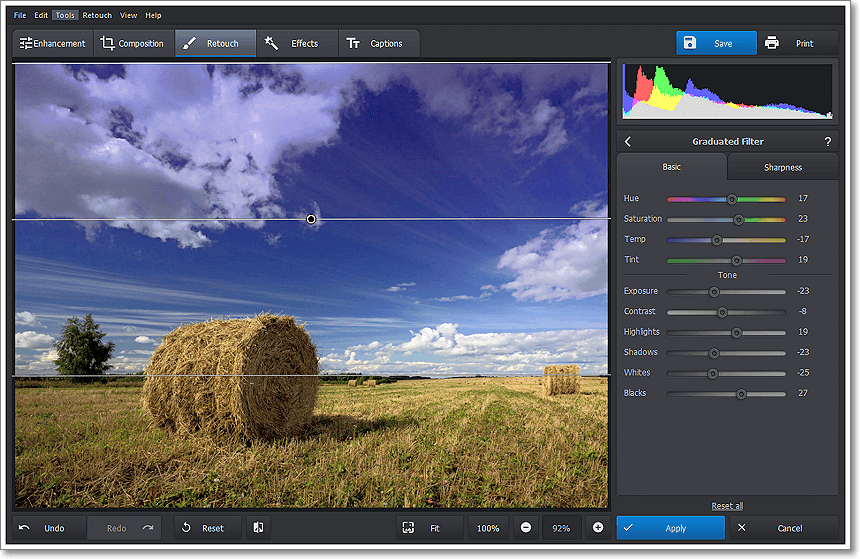 Color Correction and One-Click Effects
PhotoWorks offers a powerful set of options for color correction. Be it Hue, Warmth or anything else, you'll have plenty of options to manipulate the photograph. Coming to one-click effect, there are countless ones in the list. From HDR to detail enhancement and from Black and White to Warm Toning, you can apply pre-sets to optimize the photos.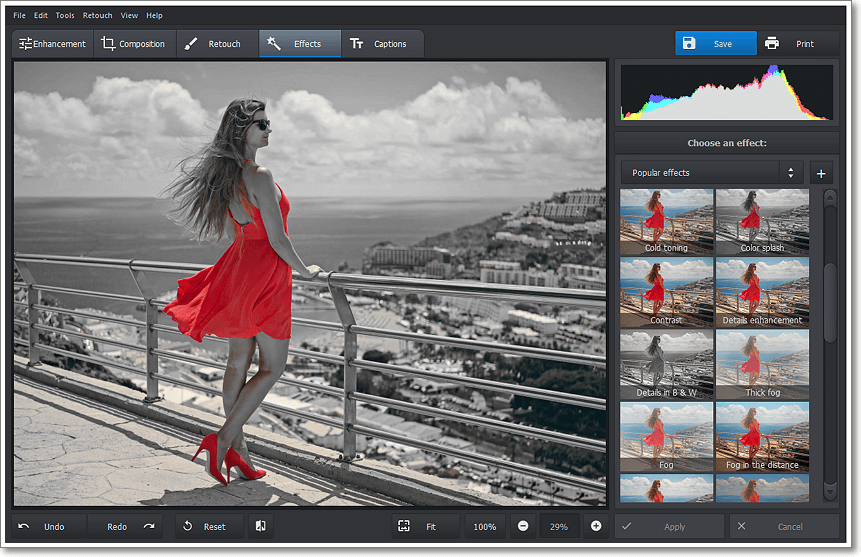 In addition to these, PhotoWorks also offers some standard features like Cropping and Watermarks. You can also get to some other options like Perspective Enhancement. Even when you don't have many of the fancy functions in this package, PhotoWorks makes sure that you get a wonderful photograph at the end of the day. Awesome, huh?
Learning and Support
This is something we loved about PhotoWorks. There are hundreds of learning resources to help you master the art of using PhotoWorks. You don't have to worry about getting stuck anywhere. In addition, the teams behind PhotoWorks also offer continuous product support.
The Bottom Line
Considering all these aspects, PhotoWorks is surely the best option for photography beginners. You needn't get lost in the world of Photoshop or Lightroom just because you have some minor edits to make. We also loved how intuitive the UI gets even during complex tasks. Despite all these, PhotoWorks comes with a quite reasonable price tag of $19.25, which is great.