There are several applications on the market that attempt to recover files that have been deleted for one reason or another. Professional recovery software such as Condusiv's Undelete® Server, Win Undelete and NTFS Undelete can be a quick and affordable way to recover these files without searching through potentially outdated backups.  This not only saves users time but can protect from potentially dire consequences when a critical file is accidentally or even maliciously deleted.
The Undelete Server application provides essential tools for browsing, searching and recovering deleted files. With just a few clicks, you can immediately recover files from your desktop or the entire network.  Furthermore, even if a file has been overwritten, the software is capable of recovering it using what it calls its recovery bin.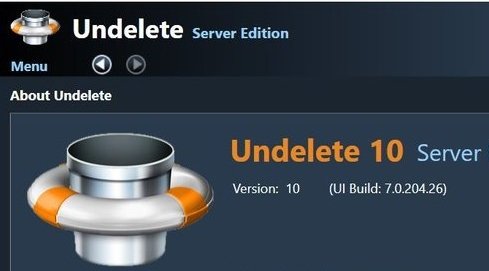 A big plus of Undelete Server is the ability of any user to recover only their files from a shared network without the need for administrator intervention. As any IT staff will tell you, this is a huge time-saver. Each version of Undelete Server includes 10 client licenses. The desktop client allows users to view and recover their own files directly from server recovery bins.
The application was designed to be not only fast but simple enough for anyone to use. The recovery bin search engine enables you to easily find the deleted files that you need to recover. With one click, you can see a list of files that have been deleted over the last 24-hour or one-week period.
The emergency undelete feature of the application enables you to retrieve deleted files before Undelete Server is installed so long as they have not been overwritten. On the other side, the secure delete feature lets you erase confidential files permanently. When you have enabled the feature, the files deleted are overwritten through the use of a sophisticated algorithm that prevents them from being recovered even by data recovery professionals.
Once you install the Undelete Server software application on your Windows File Servers, they will act as an advanced built-in recycle bin that captures deleted files in real time through a marked link to the file server. Essentially, the application functions as a much more robust replacement for your Windows recycle bin as it will capture all deleted files including those on network shares or from applications or command lines, which the Windows recycle bin does not.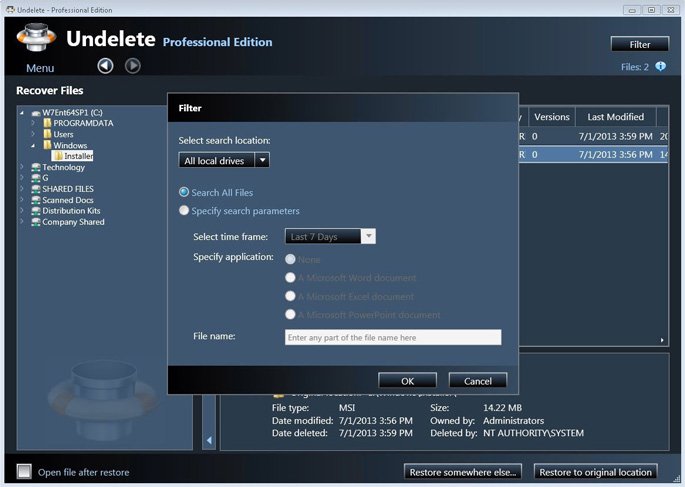 One particular feature of Undelete Server that can save the day is its ability to capture previous versions of Microsoft Office files. So, if a user accidentally chooses Save rather than Save As in Microsoft Word, thereby overwriting the existing file with new data, prior versions of that file can still be recovered.
Undelete Server is designed to be your first stop in attempting to recover lost data before you resort to inefficiently sifting through backups or restoring old disk images. As any administrator who has installed Undelete Server will tell you, choosing the right Undelete Server Software
can save your organization significant resources over time by allowing users to recover lost files quickly and easily right from their workstation without putting in a call to the help desk.