Let's face it: companies often get bottle necked in their daily processes due to a lacks in organizational process on team's or company's levels which prevents  saving your team's time and make it more productive. While suffering from such bottlenecks, companies are no longer able to quickly complete necessary tasks, instead, they take up valuable human hours that could be spent on other business areas that would generate more revenue. When teams are poorly structured and tasks are completed ineffectively, companies earn less. But when there's a problem, there's also a solution, right?
The possible answers lies can be founded  scaled Agile frameworks like SAFe (Scaled Agile Framework), DAD (Disciplined Agile Delivery), SoS (Scrum-of-Scrums), LeSS (Large-Scale Scrum), etc. All of these are approaches specially created to make the day-to-day management of people, tasks and projects easier, more effective and, of course, profitable. Let's explore these options in greater detail.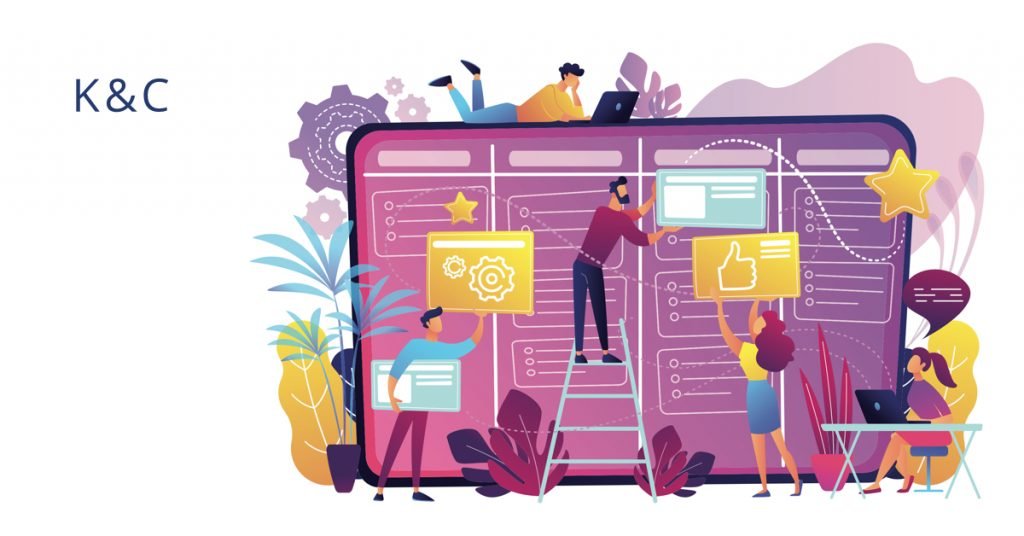 Scaled Agile Frameworks: Historic Perspective
Since the publication of the Agile Manifesto in 2001, countless IT workers have been trained on, and work with an Agile-based approach, at least at the team level. A new wave of Agile started in 2007 with the publication of "The Enterprise and Scrum" by Ken Schwaber and it showed a signal of Agile demand in big companies. In 2008, LeSS (Large-Scale Scrum) was started by Larman and Bodde and in 2011 SAFe (Scaled Agile Framework) was started by Dean Leffingwell.
what about multiple teams who work on the same project? And what about the support team who works using Kanban?
These considerations mean that companies need to decide on a scaling approach. The first step for this is to test and establish high-functioning processes at the team level. For example,  Scrum frameworks can be used in complex environments where cause and effect are not obvious and outcomes are unpredictable and random. Alternatively, a Kanban approach can be used for complicated systems based on rules and deterministic processes. Let's dive deeper into what these actually mean now.
Brief Overview of the Scaled Agile Frameworks
There are excellent parts within all of these frameworks. To better understand the key differences in Scaled Agile frameworks and properly choose the one that works best for you, let's go behind the scenes of some of them. You can create your own solution by blending various approaches and techniques.
Scaled Agile Framework (SAFe)
SAFe is offering the "big picture" which suggests that it is getting Agile "from the box" for large corporations. It's considered to be one of the most popular scaling solutions. This approach is quite cost-hungry in terms of technical excellence.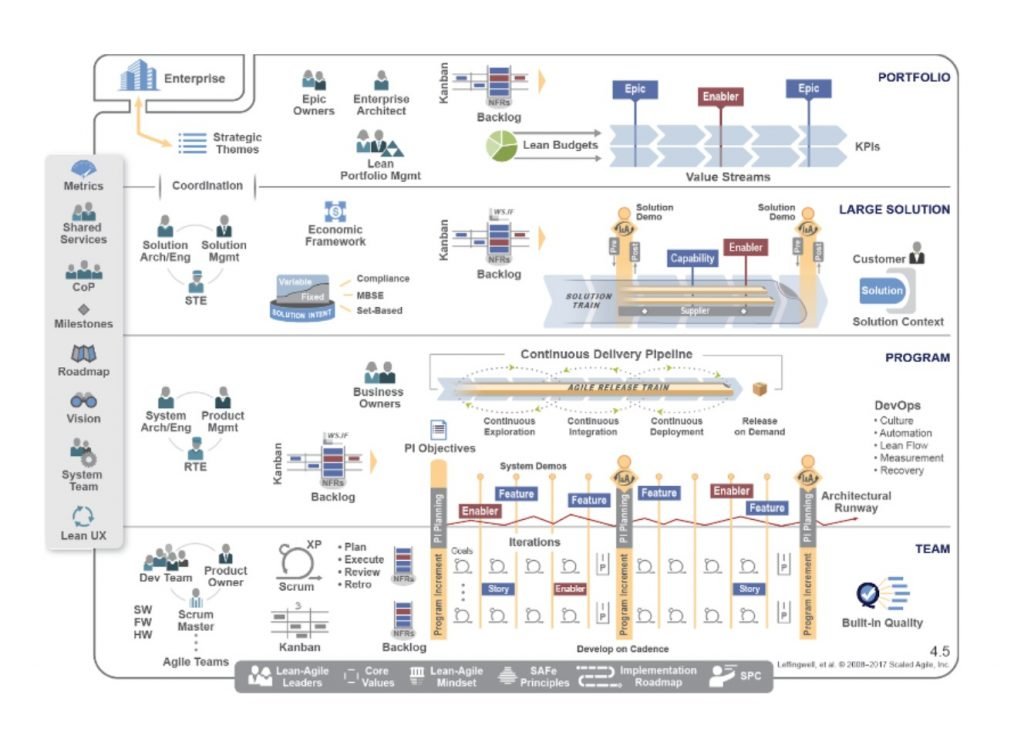 Advantages
Integrated set of engineering practices
Standardization of planning and execution process among big number of teams
Defined and standardized roles among big enterprises on different levels of hierarchy
Quick launch without changing company's structure
Possibility to use any Agile framework (Scrum, Kanban, XP, etc) on team's level
Risks/Concerns
Many levels of hierarchy
Not "agile enough"
Not flexible
Cases
SAFe was implemented at Intel in 2012-14 by scaling 5 Scrum teams in 2012 to 33 in 2013 and 170 Scrum teams in 2014. Working was done in 2-weeks sprints and 8 Release Trains (ART) were launched within only 2 months.
Hewlett Packard, Swisscom, Cisco, Tomtom, Sony, Fitbit, KLM, Philips are some of the big names that have been adopting the SAFe scaling approach in their companies.
When & where to apply
SAFe is recommended for big companies who work with many project portfolios.
Large-Scale Scrum (LeSS)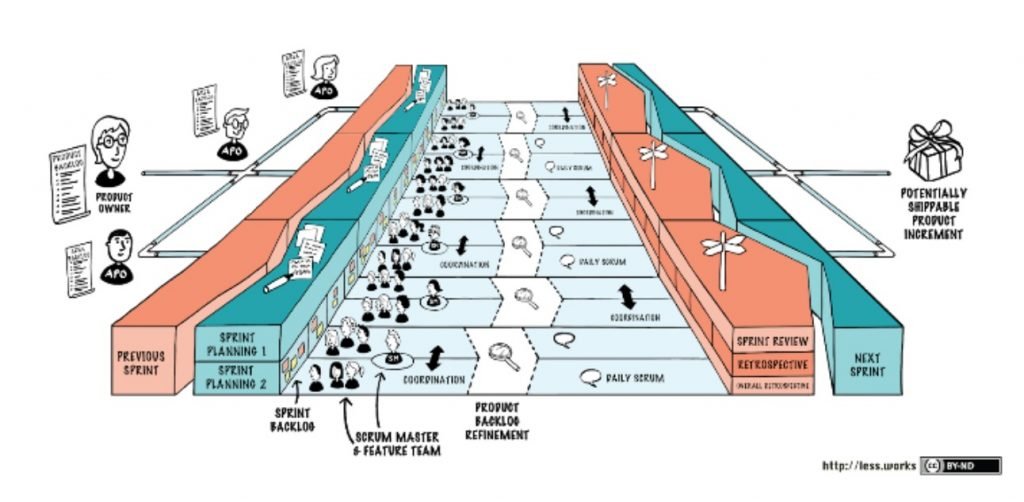 LeSS goes back to the roots of the Scrum framework and the Agile mindset. It focuses on flattening the hierarchy which removes extra waste while handling information. PO (or Area PO for LeSS Huge) is always in direct contact with development teams and guides them from a business perspective. The LeSS approach promotes creating an all-round feature teams instead of functional silos so teams can deliver business value on their own.
One important issue to mention: LeSS adoption requires investments in organizational change and the education of people as well as an Agile mindset shift on a personal level.
Advantages
Comes with a minimal set of rules
Offers good Product Ownership scaling
Allows to create innovative, open-minded and motivated environment
Suggests strong principle alignments
Has two models for medium and large organizations: LeSS and LeSS Huge
Risks/Concerns
"Radically agile" approach
Opposition on middle-level management fighting for influence
Hard to adopt in big traditional organizations with many layers of hierarchy
Cases
Interestingly, one of the biggest and best examples of LeSS adoption was made by Nokia Networks. It started with the Scrum pilot in 2005 by LeSS creators Craig Larman and Bas Vodde. Later, the company went through the LeSS adoption on an organizational level in 2007 with around 500 people in two R&D sites. It was a LeSS Huge set-up "by the book" with Requirement Areas, Area Product Owners, Feature Teams, etc.
Meanwhile, Huawei, Ericsson, JP Morgan Chase, Bank of America, UBS, Telecom Australia and others have successfully adopted LeSS in their companies.
When & where to apply
LeSS is recommended for medium companies working on their own product or start-up, or R&D departments of big enterprises. As it is focused on feature teams instead of functional teams, the LeSS approach allows teams to work faster.
Scrum-of-Scrums (SoS)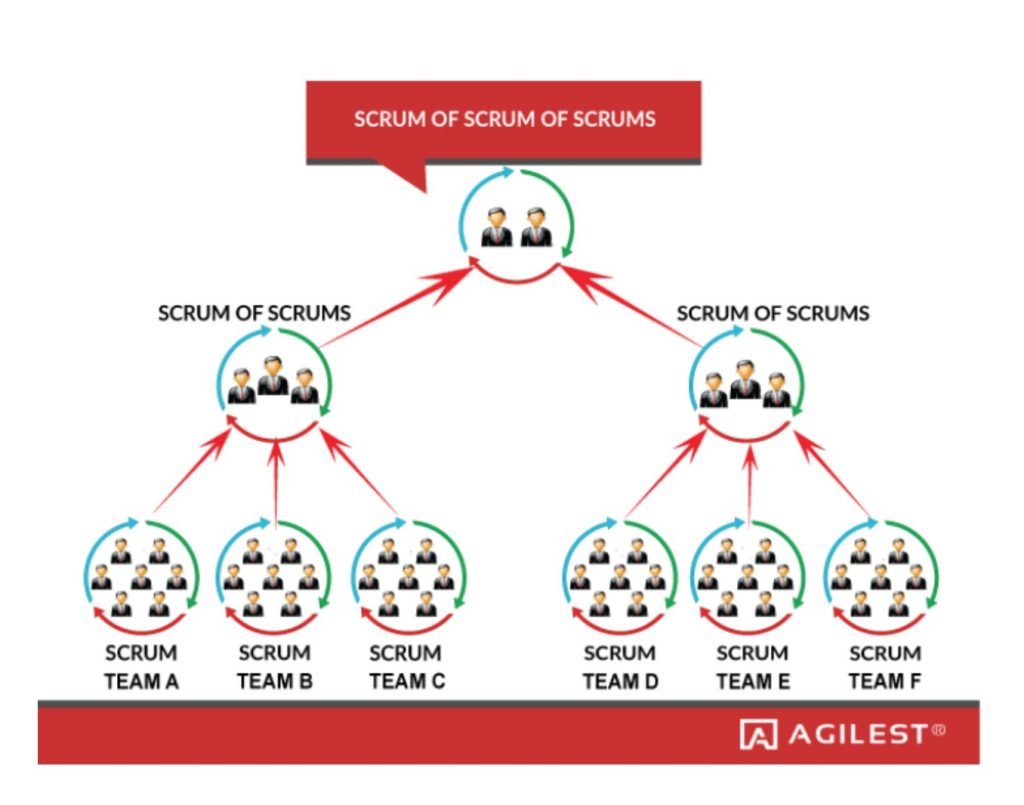 SoS or Scrum-of-Scrums was the first quite obvious Scrum scaling solution, which appeared in 2001. After daily scrum meetings, teams' ambassadors or scrum masters gathering for another meeting called scrum of scrums or meta-scrum.
SoS is focusing on cross-team dependencies for established Scrum teams. Currently, this solution is not considered as a fully scaled approach.
Advantages
Simplicity
Does not require additional roles
Low cost of implementation
Risks/Concerns
Limitations in scaling and documentation
Imperfection in solving team's dependencies on a bigger scale
Possibility of roll-back towards status meetings
Examples:
Scrum scaled for the first time at IDX Systems in 1996. The approach at IDX was to turn the entire organization into an interlocking set of Scrums and later became known as Scrum-of-Scrums. Every part of the organization was team-based, including the management team, which included VPs, directors and architects.
When & where to apply
SoS is only recommended for a small organization with a small number of teams.
So, now everything has become pretty straightforward. Convinced, but still don't know which one to choose? Let's go to facts then.
Statistics of Usage
Currently Scaled Agile Framework (SAFe) is the most popular Agile Scaling Approach according to the 12th State of Agile by taking near 30% of market solutions in 2018.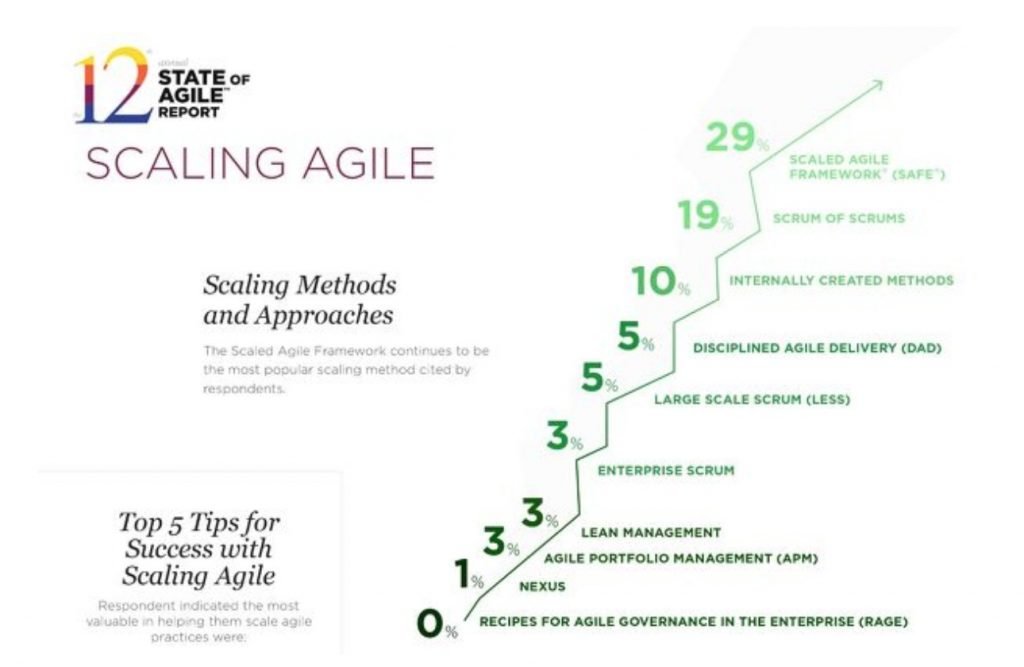 Recommendations on choosing your scaling approach
As agile development is iterative & incremental, it is strictly context-based and will be different for every situation. When choosing any framework, it is better to consider a set of basics and principles which should be adapted to each exact case.
The most well-known example of creating an internal model is Spotify, originally a Stockholm startup, now playing a vital role in the music industry. Here is the Spotify's case: since the company found some things on the Scrum framework that weren't working well for them, they decided to break some Scrum roles, artifacts and events. That was how their own Agile model (despite it's often being called the Spotify framework, it's still not) was created.
Meanwhile, the Spotify Agile model (as it widely known) is definitely a good inspiring example, but your biggest mistake would be to copy it. Wondering why? There are little chances that you can cope with that because to there's a number of obstacles to sort out. For instance, you need to accurately set up a squad (an independent group of people, self-empowered, working together at the same location).
In most cases, the best possible solution an enterprise-level organization can do is to choose a ready-made Scaled Agile Framework. But, don't get complacent at this point,
to adopt any Agile scaling framework, ensure your company:
Understands your goal
Understands how flexible you should be from perspective of your market
Can properly define rules and conduct the needed researches
Synchronizes teams by iterations
Can choose the right model.
Key Takeaways
In a nutshell, since agile development doesn't scale well, large organizations tend to scale Scrum to an Enterprise Level. That's, in fact, what stands behind Agile scaling frameworks. Such frameworks bring numerous benefits to huge corporations. By emphasizing on collaboration, transparency, and trust among the teams and the management, Scaled Agile Frameworks provide a huge increase in employee engagement, better productivity, faster times to market, and better quality in general. However, to benefit from all of these, ensure you've chosen the right large-scale agile framework for your business, which is not that easy because there is still no "one size fits all" approach. For example, SAFe is holistic, but it comes with many levels of hierarchy, and as a result, it's not that flexible; LeSS comes with a minimal set of rules and lets you create innovative, open-minded and motivated environment, but it's difficult to be implemented in a big organization that has many layers of hierarchy. SoS is simple and relatively cheap to implement, but it does have limitations in scaling and documentation.
All thing considered, which one these large-scale agile frameworks would you choose? Still find it difficult? K&C, with its the sharpest and the most creative brains onboard, can help you to choose the best scaled Agile framework for your ultimate business.