Everyone makes some mistakes in the day-to-day life, right? However, some of such mistakes can cost a lot of things too. Accidentally deleting an important official document or losing a really memorable photograph would be one of such damned moments.
It's a digital world that we now live in, and a combination of keystrokes can cause these losses. And the same digital world has ways to recover what you may have lost. And, if you are using a macOS device, a noteworthy solution is Stellar Phoenix Mac Data Recovery.
Now, here, we would like to share our experience with Stellar Phoenix Mac Data Recovery. In this review, its various aspects will be covered, including the performance and usability. In other words, if you are still a bit confused about choosing it as the next data recovery software, our review should give you an answer.
About Stellar Phoenix Mac Data Recovery
You can understand a lot of things from the name itself. Basically, Stellar Phoenix Mac Data Recovery is one dedicated utility program for recovering accidentally-deleted or lost data from a Mac device. Of course, what you lost and how you lost can vary according to the situation. In all cases, Stellar Phoenix Mac Data Recovery can be your successful savior.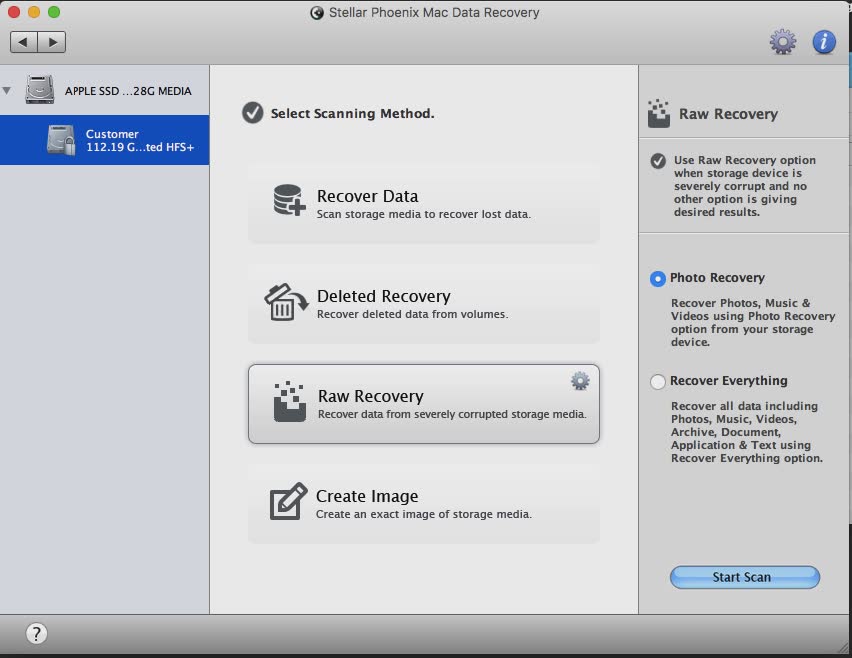 Stellar Phoenix Mac Data Recovery is actually a paid software that offers a free trial. But, there's a catch: you can scan and preview recoverable files from a compatible device. However, you need to purchase the actual premium version for recovering the files. Right after you have done the purchase, the program will start the recovery process.
Supported Sources for Recovery
Speaking with some amount of exaggeration, Stellar Phoenix Mac Data Recovery can recover files and folders from almost every source. The program has in-built support for recovering data from the following scenarios. You may not all of them, but it's quite handy to have a multipurpose tool, right?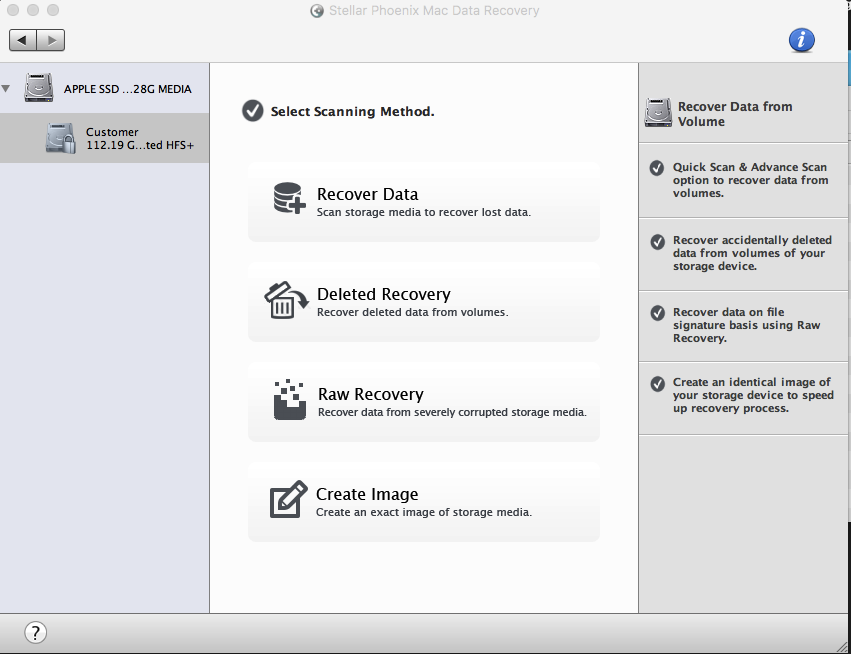 Files you have accidentally deleted without moving into Trash
Media or Files you have lost due to removable drive formatting and drive corruption
Recovery of deleted disk volumes are also supported
RAW Recovery mode for getting back data from a corrupted Mac device hard drives
Data recovery from optical removable media such as CDs and DVDs
Recovery of a BootCamp partition you've made for dual-boot system
Recovery from a Time Machine Backup drive
We are sure that the list sums up almost every data-loss situation you'd ever come across.
Compatibility
As we mentioned above, Stellar Phoenix Mac Data Recovery works with almost every device that runs Mac. It has official support for versions from Mac OS X 10.6 to the latest macOS Sierra. In all these versions, you'd have the native features of the recovery tool, including data recovery from encrypted device. So, if you have a Mac with you, you don't possibly have to worry about compatibility.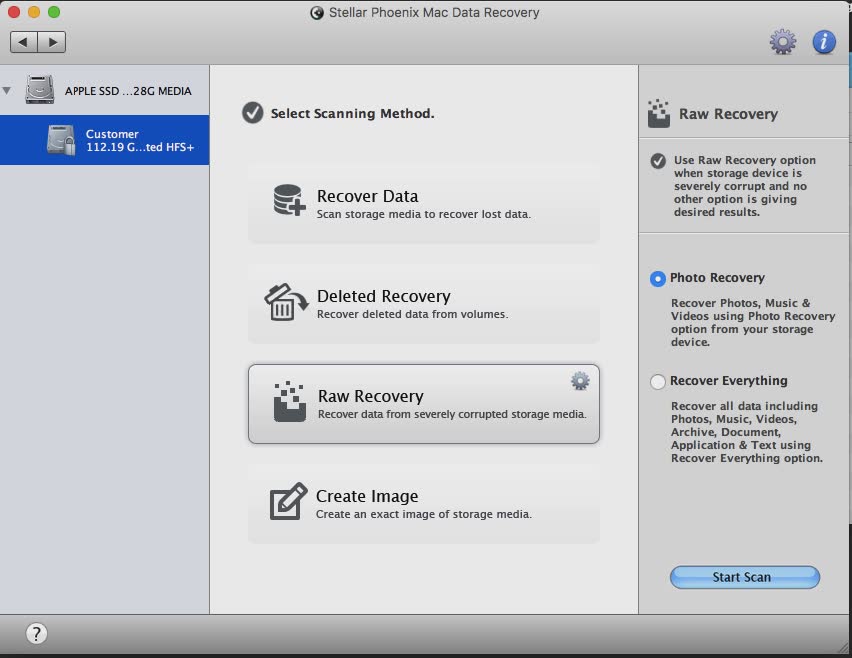 If we take the case of File Systems, Stellar Phoenix Mac Data Recovery works fine with every file system that Mac supports. The actual list includes FAT, ExFAT and NTFS apart from Apple's own HFS and HFS+. In other words, a common user does not have to worry about the compatibility aspect of the tool. You just have to connect the device to your Mac — which can be your Mac itself —, and Stellar Phoenix would do its job.
Recovery Process in Stellar Phoenix
Aren't you interested in seeing how well Stellar Phoenix Mac Data Recovery works when recovering files and folders from a Mac? Now, we will see how you can recover files from the device?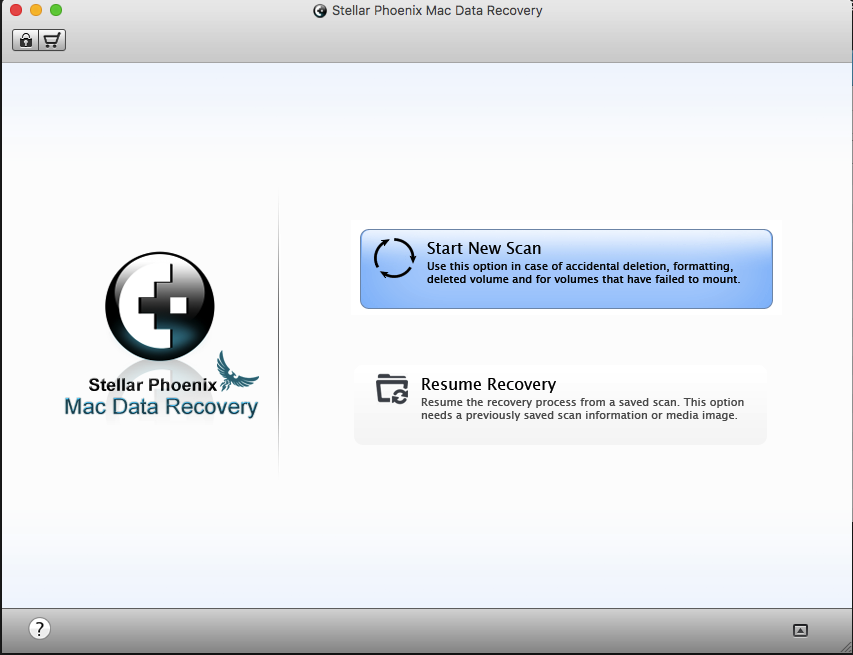 Once you open the software, there will be two options — Start a New Scan or Resume an Existing Scan. Now that we are using the software for the first time, we went for News Scan and chose the 'Recover Data' mode. It's the general mode that allows you to recover lost/deleted data from your devices.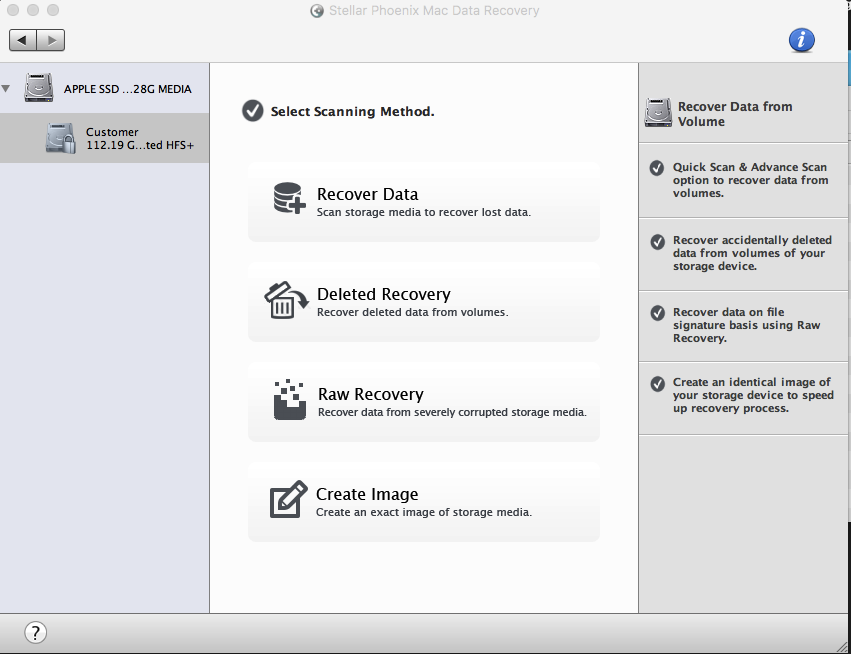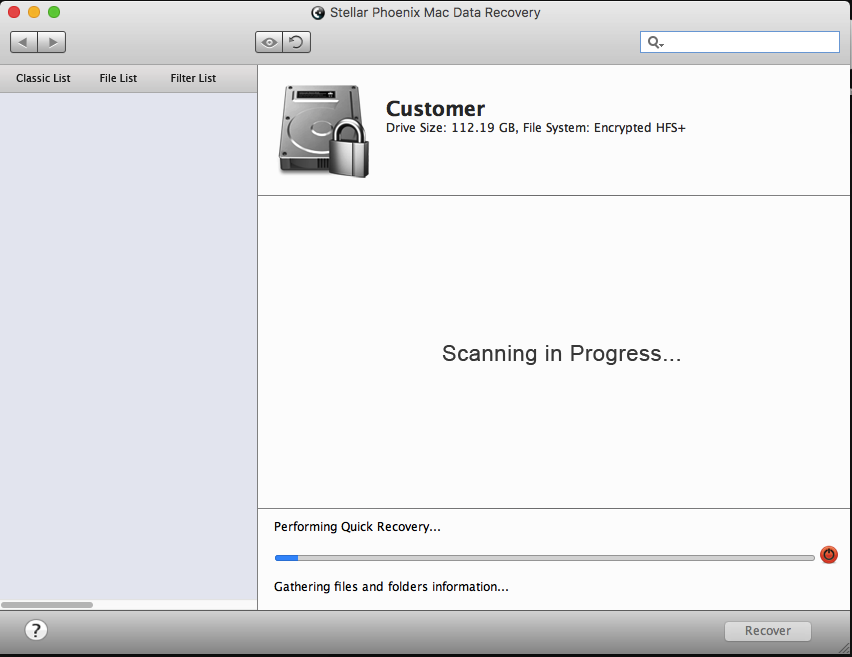 Once again, there is a choice to make between Quick Scan and Advanced Scan. The first one is the quickest way to recover files while the latter method is deep. For the time being, we can go with the Quick Scan mode. Just hit the 'Start Scan' button and the process should start instantly. Depending on the hard-disk size, it may take a few minutes for Stellar Phoenix Mac Data Recovery to bring the recoverable files' list.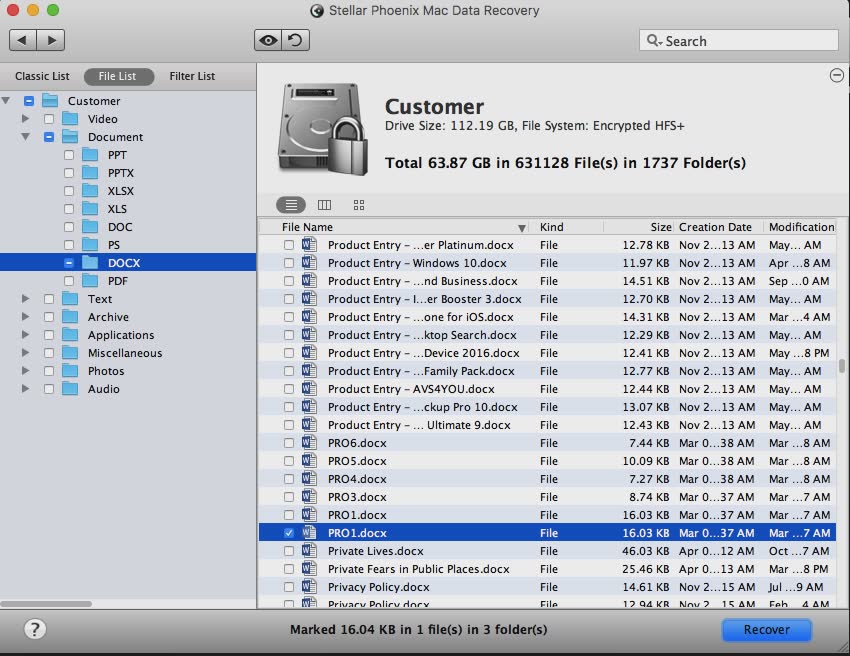 Once you have the list of files ready, there's an easy way to recover them easily. Obviously, you'll be looking for a particular file format — say, DOCX or JPEG. Won't that be great if you can see the recoverable files as per the format? You can do so by selecting the 'File List' button on the left side. Then, you can choose the right file format that you're looking for.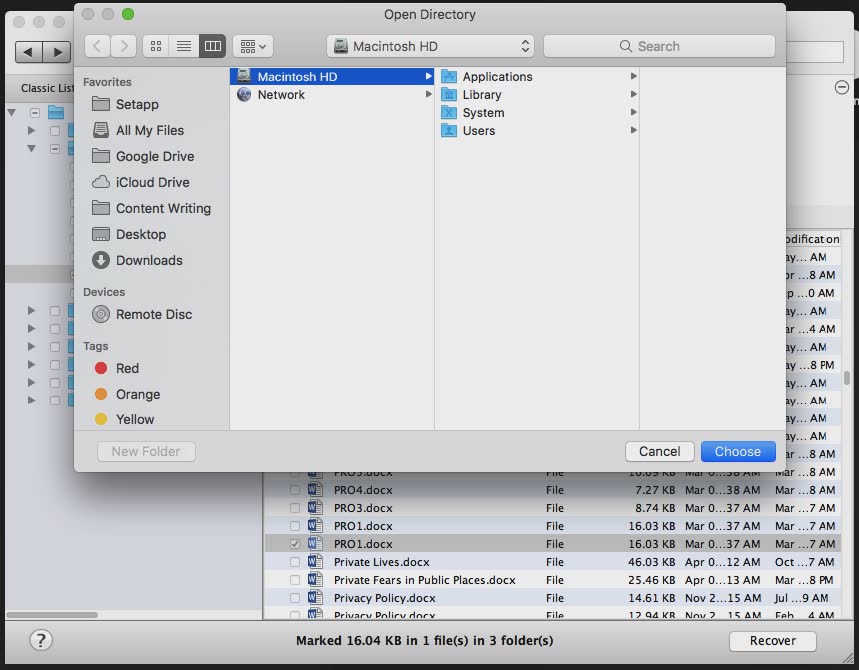 In a few seconds, you will have the sorted list of recoverable files. Just choose the files and hit 'Recover'!
Success Rates and Performance
So, that's how you easily recover deleted/lost files from your Mac using Stellar Phoenix Mac Data Recovery. The process is way too easy and offers satisfactory success rates. We have had the situations when the tool couldn't find the deleted/corrupted files, but that was once in 10 tries. Altogether, Stellar Phoenix Mac Data Recovery is providing a pretty satisfactory performance as far as data recovery is concerned.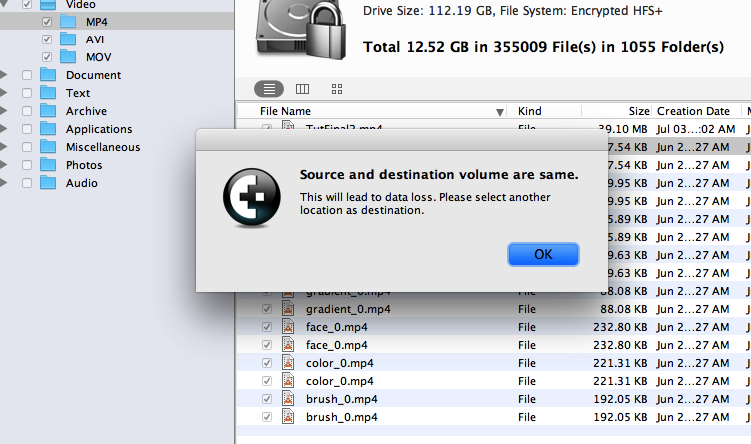 As we come to the recovery strength, there's nothing to be worried about. You can get going with almost all types of files, regardless the size. It's just that you cannot save recovered files to the same hard drive. If your Mac does not have multiple hard drives, you can just use a USB Drive or some other storage devices. This is the only thing that haunts us while recovering files, but that's okay.
UI and Usability
Stellar Phoenix Mac Data Recovery has perhaps the simplest User Interface we've seen in data recovery tool packages. It's so simple that you hardly require an introduction. What's more, the process of recovering data is simple enough, as you have seen in the above section. In addition, even when it comes to enhancing the results — say, that you want to specify the size of recoverable files —, the program has kept things simpler.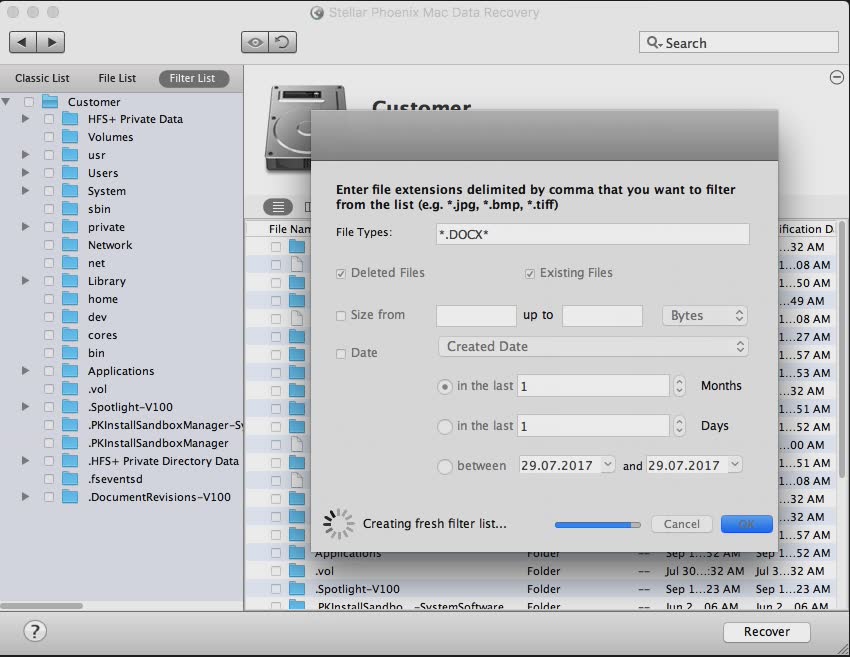 We'd say Stellar Phoenix Mac Data Recovery is quite usable from that point of view. To say the least, anyone can use it for recovering anything that's lost. And, that's something awesome in this world.
Pros and Cons
Pros
Stellar Phoenix Mac Data Recovery is pretty simple to use, thanks to the minimal UI
Even in a low-spec device, the recovery speeds were impressive
It offers one of the best success rates among data recovery software for Mac
Cons
You cannot save recovered files to the same drive
You may take some time to get used to the advanced recovery modes, per se.
The Bottom Line
At the end of the day, we have more reasons to praise Stellar Phoenix Mac Data Recovery than to criticize. I find it quite natural too. In fact, the program has packed a lot of superb features, including different Scanning Modes and an option to pause and resume recovery process. Accompanied by a powerful algorithm, these make Stellar Phoenix Mac Data Recovery the best-in-town data recovery utility for Mac devices.