In the online marketing industry, where the audio and video files play an extremely vital role, the accurate transcripts can really speed up the process.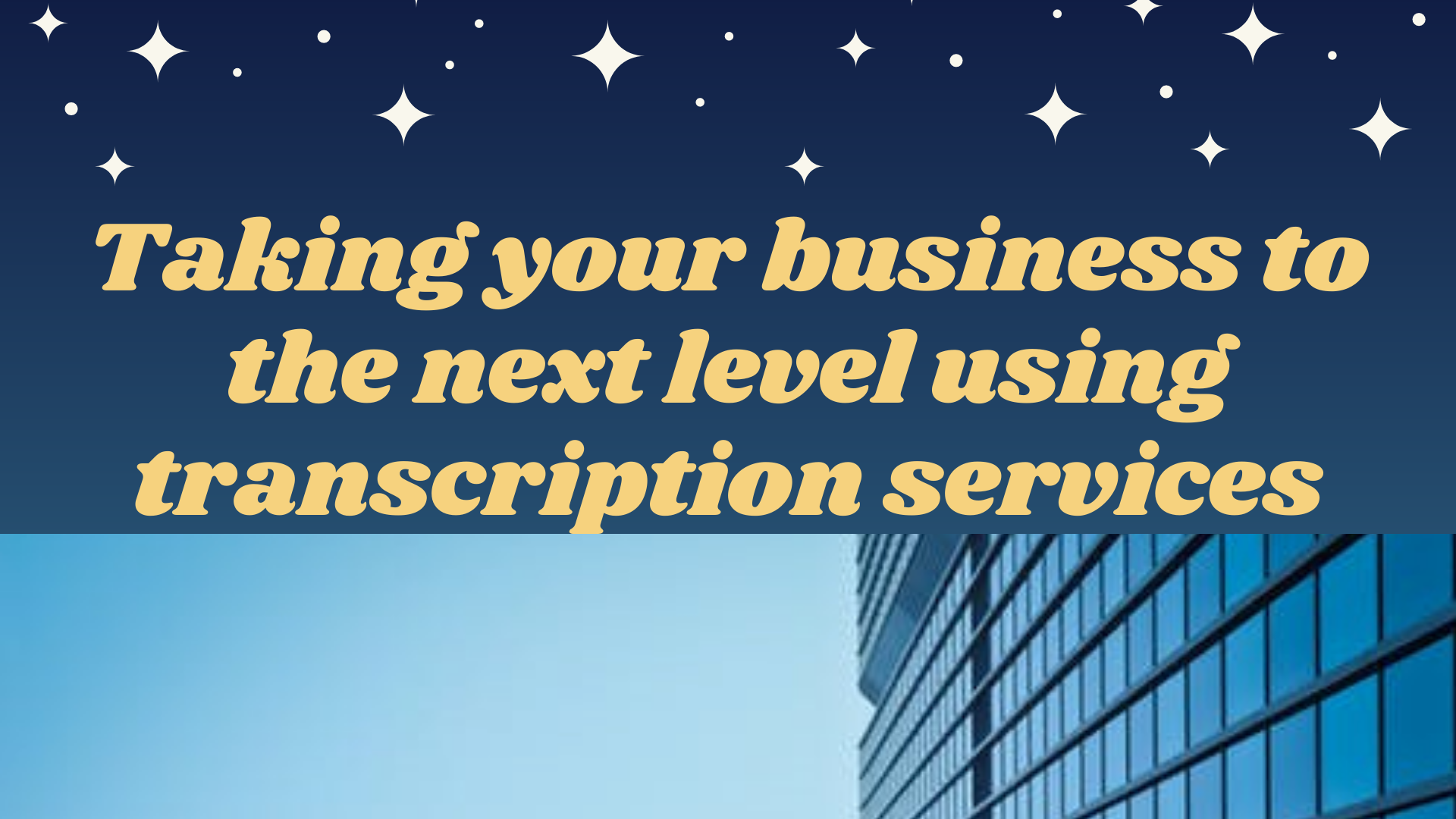 Whether you are a small business owner, a sole proprietor, or a large business owner, it is imperative for every business to save to and resources. We know that almost every business owner has assistants or administrative professionals that are dedicated to taking notes, during all sorts of meetings, conference calls or office presentations. But the point is, we all know that these sources are not reliable enough to be used for future reference. To make sure that the recorded materials are readable, searchable and easily accessible, it is imperative to hire professionals to deal with the timely and accurate transcriptions of the materials as and when required. 
Online transcription services have been in use for quite some time now. But not every business has been able to use the benefits of online transcription services in an optical way. In the following section of the article, we are going to share the best benefits of professional transcription services.
Improving the turnaround time with professional transcribers
In the online marketing industry, where the audio and video files play an extremely vital role, the accurate transcripts can really speed up the process. It helps a video editor to work in a seamless manner because he/she is getting an accurate copy to create the perfect content. With a written document at hand, the editor will be able to mark the sections where revision needs to be completed all at once and then get back to editing. Switching between tasks is a productivity killer. But with proper transcription services, the editor will have an accurate transcript. Thus, they won't have to shift between watching and editing constantly throughout the process. 
Boosting the value of content 
This is another major advantage of transcription that can help you grow your business. It cannot be denied that accurate content is always valuable. A lot of business organizations take the help of transcription services to make video content more searchable and easily accessible. The search engines are not capable of listening or watching an audio file. The major search engines, like Google, Yahoo, Bing, etc. work on an algorithm by releasing web crawlers. The web crawlers are also known as Google bots. If a video or an audio file is embedded or captioned with proper written content with high ranking keywords, then it becomes easier for the Google bots to read.
Thus, the web page or the transcribed content comes in a higher rank in Google search results. Apart from that since the Google bots can read and know exactly what content is contained within the video, it will also come in the related searches as well. Depending on the length of the videos, there can be valuable information on different topics contained within a single video. The transcripts of these videos will reveal some natural breaking points between the topics. Thus, each transcript can be broken up in different distinct pages or blog posts on your website. 
Helping employees focus 
In all the industries, transcribing the meetings and speaker events will offer the employees with scannable records without forcing anyone to take notes. It will help everyone on a certain project, right from the project management to the repurposing of a transcript into creating marketing content. Research has also proven that visual memory is much stronger than auditory memory. Thus, if the employees are offered a properly transcribed and accurate content from the professional transcribers, they can retain information in a much better way. 

Increasing engagement
Audio transcription services will help in engaging the audience when it is time to deliver a sales pitch. If your viewers trust you, then you can rest assured about the constant engagement with your brand. But to attain the place of constant trust, it is imperative to provide them with absolutely accurate content through transcription of audio and video files. Once they get to know that you are delivering a genuine piece of information, it becomes easy for any business organization to achieve the sale objectives from their target audience. Reusing the transcription content for driving audiences from one online platform to another will make them engage better with the brand. For instance, you can add the snippets of a webinar on your twitter and ask the followers to visit your website for viewing the full thing. Also, you can add popups to ask your viewers to subscribe and sign up for the newsletter after watching a video. This will help in generating more potential leads to the email list without any additional cost. 
Inbound marketing campaigns
Creating written posts and content through accurate transcription helps in growing your business. The reason is, when you create content that is on the same wavelength with your audience, it helps in improving brand awareness. This, in turn, helps in generating more and more potential leads. Every individual interacting with your brand is at some stage of a buying process. Thus, by creating content for multiple stages, you can make sure that you are on the right track. Whether it is through blogs or social media posts or videos, eBooks or posters, creating polls or any kind of informative posts, you can use them for inspiring readers. It will not only encourage them towards the next stage of the sales process but it will also push your business to grow. 
You can create multiple forms of content to inspire and inform the readers and lead them to the next stage of sales. But it is also true that the process of content creation is expensive and sometimes it takes up a lot of time and resources as well. Thus, getting the help of professional transcribers for transcribing audio and video content will enhance the marketing process and reduce the costs too. Transcribing your content will generate more traffic and will ensure that the content reaches as many people as possible. As we already know that the search engines do not pick up the content on videos or audios, transcribing them into blogs or articles will enhance the number of visitors. 
Reducing the voicemail respond time and workload
Most of the companies at present have a virtual voicemail solution. It is capable of handling the digitized recordings and offers that are limited to the transcription automation. But processing the files and sending the overflow customer service or sales calls to a responsive and completely reliable transcription partner will help your team to sort the priorities and respond accordingly. Thus, it will help in saving time, money and energy. When you hire professionals, it will reduce the stress on the administrative professionals or the in-house transcriptionists that are not as qualified as the dedicated professionals that are working for a larger firm. 
Along with that, the other expenditures that include HR, salary, training costs and other expenditure of the IT department can be saved. When multiple people are involved in different processes, they have their insights, ideas, and propositions. Needless to say that all the information needs to be unified and maintained for future reference. With clear, consistent, concise and professional transcription service it becomes easy to handle the regularly scheduled meetings, conference calls and presentations for ensuring that your organization has got a verbatim text version of the important events.