Both robust and global, the Adcash network spans 249 countries and regions, brokering traffic across desktop, mobile and in-app. But Adcash's true competitive advantage lies in its accessibility.
With a starting budget of only 100 USD or EUR, the Self-Managed platform allows you to easily create and manage ad campaigns. But don't let its ease fool you, it is packed with features provided at no cost.
In fact, the platform for Self-Managed accounts runs on the same algorithms and provides the same tracking and targeting options as Adcash managed accounts. Let's dive into their platform.
What the Self-Managed account gets right
Regardless of network, you will always visit their home screen.

In short, it's elegant. From it, you receive a high-level view of your budget and active campaigns. Meanwhile, you can access deeper areas within the platform through the sidebar. However, you sign-up with an ad network for one thing…
…to create campaigns: this is where the home screen really gets it right. In fact, you can create campaigns from three areas within the screen. Now, let's dive deeper and look at some of the features of campaign creation.
Every ad network stays accountable through event tracking.

But the Adcash platform takes it a step further, allowing you to track events for informational purposes as well. Therefore, you can optimize your campaign path without integrating 3rd-party solutions.
That said, unless you can target your audience properly, no amount of tracking will help your campaign. One of the more powerful targeting options that Adcash provides is user interest targeting.

With user interest targeting, you can reach users regardless of the website thematic they visit. It provides 27 general categories to choose from which you can select as many specific areas of interest you want.
User interest targeting is just one of many targeting options that you can use and there is the  danger of targeting your audience too narrowly. To help you avoid this, the platform provides you with potential reach information through their dynamic traffic forecast.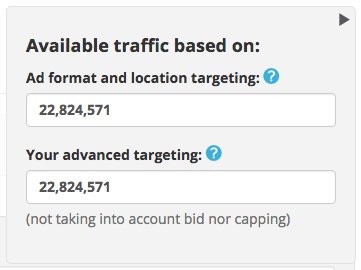 What's interesting to note is that the Adcash network has an extensive targeted audience, which also gives you an idea of the quality of information that they get from the publishers that partner with them.
What the Self-Managed account gets wrong…at least for now
Every platform has its weaknesses. The only glaring weakness for the Adcash Self-Managed account option is its lack of payout options: you can only select either CPM or CPC.

One way to increase your payout options is to opt for a managed account. The only downside is that the starting budget for a managed account is 1,000 USD or EUR, which is not cheap. However, that may not always be the case.
Adcash is currently reviewing the addition of CPA payout options to Self-Managed accounts as a result of customer feedback and that's a key point: they take it seriously. They aren't just looking for feedback either.
If you have a problem, Adcash wants to solve it now and supports that mission through a recently deployed live chat feature. While certainly not cutting-edge, it further proves Adcash's claim that their one aim is their customers' success.
Adcash: A good choice today and tomorrow
You can go to Google if you want CPM/CPC search and Gmail ad campaigns; you can go to Facebook if you want social media campaigns; and, you can go to other networks that specialize in specific traffic types.
Their offerings are powerful but myopic and require thorough education to use successfully, e.g. Facebook's Blueprint. Adcash stands apart from this crowd with its simplicity, features and flexibility of account options.
Click Here To Try AdCash