"My toddler son would usually borrow my phone to play games. One time, I noticed that he was not playing. He was looking at my messages instead. By the time I caught him, he already deleted more than ten messages. I'm hoping I can still recover them. My messages are really important for me, and it would mean a lot if I can get them back. How can I do that? Thanks in advance for the help."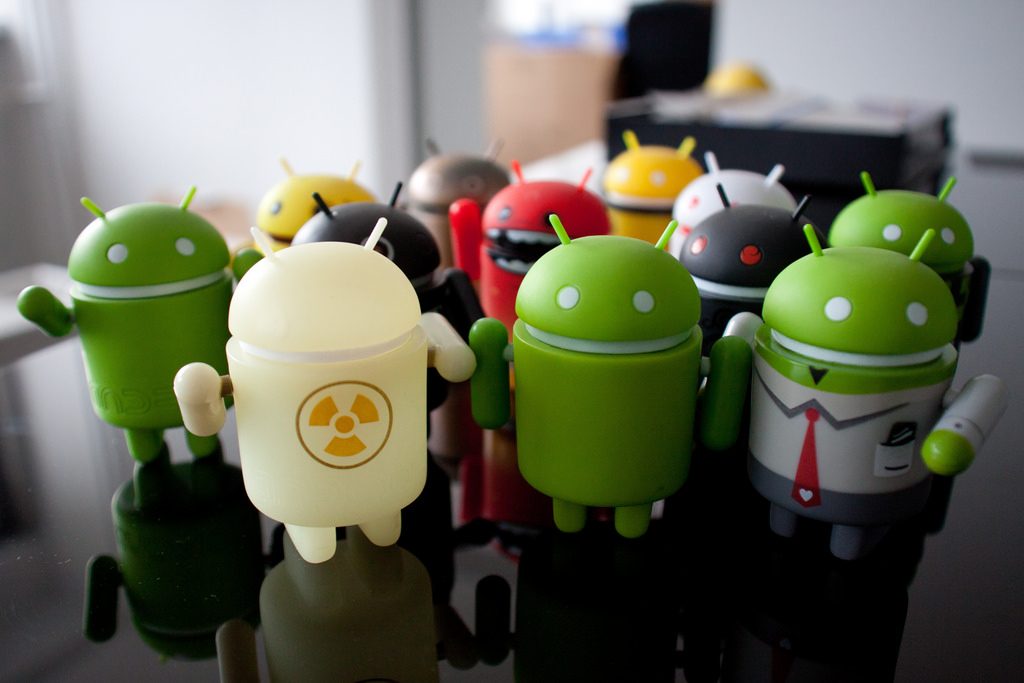 Part 1. Can You Recover Deleted Text Messages from Android?
No matter how powerful your device's specs are, you can always fall victim to data loss. It doesn't matter if you own the hottest phone in the market today or one that was released two or three years ago. A simple tap on the wrong button can delete one important message or one whole thread. The same can happen if your phone gets attacked by malware or your SD card got corrupted.
What if we tell you that there is a way to recover deleted text messages? No, there's no magic involved. To better understand how data recovery works, you should know that deleted files from phones are kept in their internal memory. They remain there until they are overwritten by new data. When lost data are replaced with new ones, data recovery apps or software can no longer get your files back. That's why it is crucial that you close all apps and stop using your phone. Putting your phone on airplane mode would be the best course of action. After this, you should work on recovering your deleted text messages ASAP.
Part 2. Retrieve Lost Text Messages with Backups
There are available backup apps on PlayStore that Android users can easily download. These apps can back up selected files and restore them when needed. Some apps actually specialize in backing up text messages, two of which are the popular SMS Backup and Restore and SMS Backup+. Thanks to their user-friendly interfaces, you can retrieve your backup with just one tap. Apps usually have a Restore button, which when clicked, will automatically get your files straight to your device. If you use a backup app, that's problem solved for you – or maybe not.
The problem with backups is that there is a possibility that they may not contain your needed messages. It all depends on when you have last performed a backup. For instance, a backup saved a week ago will not contain the messages you have received this week. This means backups can't always be relied on when data loss occurs. You can only make use of your backup if you create one regularly. Luckily, this is not the only way that you can recover deleted text messages.
Part 3. Here's the Easiest Way to Retrieve Deleted Text Messages: FoneDog Android Data Recovery
This is the best solution for people who don't do backups. If you're not confident your backup has your recent messages, you can follow this method too.
FoneDog Android Data Recovery is a trusted and highly effective data recovery software. All it would take is a download, your computer, and your phone. It also comes with a 30-day free trial, so there should be no stopping you from using the software. It also supports a wide range of devices. It works with over 6,000 Android devices, to be more precise. It keeps your messages secured too. Once recovered, your messages are saved on your computer. That way, you're sure that only you and you alone can access your SMS.
Step 1: Run FoneDog Android Data Recovery
After downloading and installing the software on your PC, launch it. Plug in your Android phone to the computer. Choose Android Data Recovery option.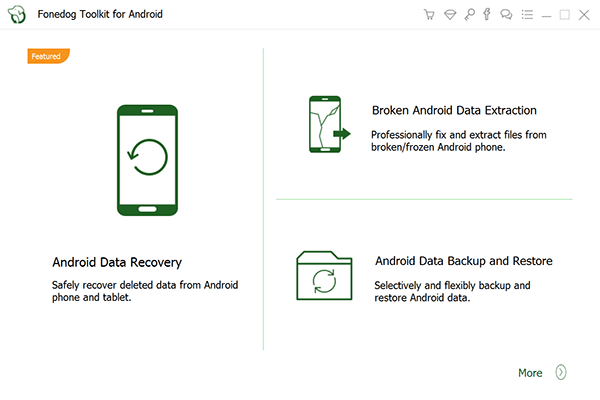 Step 2: Authorize USB debugging on your phone.
If you see a message related to USB debugging on your phone, tap OK.
If there is none, you must manually enable USB debugging. To do that, launch Settings on your phone and follow the steps below.
Android 2.3 and Lower
Tap Applications>Development>USB debugging
Android 3.0 to 4.1
Tap Developer options>USB debugging
Android 4.2 and Higher
Tap About Phone> Press Build Number repeatedly until you see a message that says that you are in developer mode > Go back to Settings >Developer Options >USB debugging
Hit OK on the device and press OK on the program to continue. Take note that once you have enabled USB debugging, you no longer need to do it again the next time you use the software.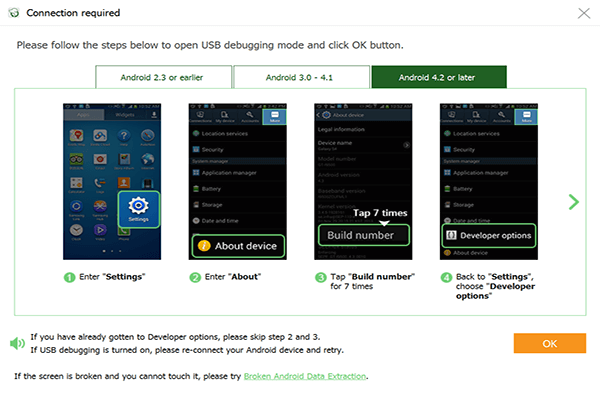 Step 3: Scan for your text messages
You will now see the list of supported file types. From the list, tick Messages to prompt the software to look for your SMS. Press Next to continue.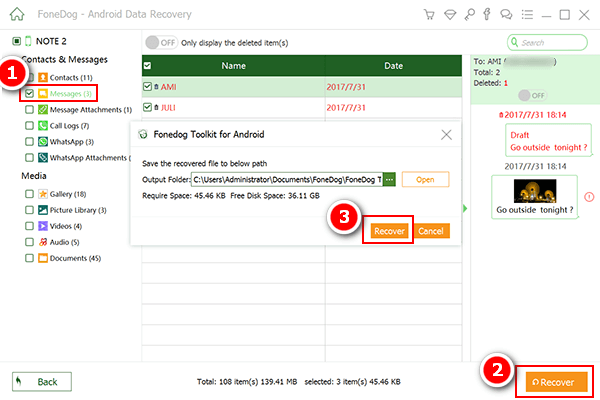 Step 4: Select messages for recovery
Once the software has scanned your phone, go over the found messages. Read them one by one with the preview window of the software. You will see important details such as the date, recipient, and sender.
You may also tick the Select All option if you wish to retrieve all messages.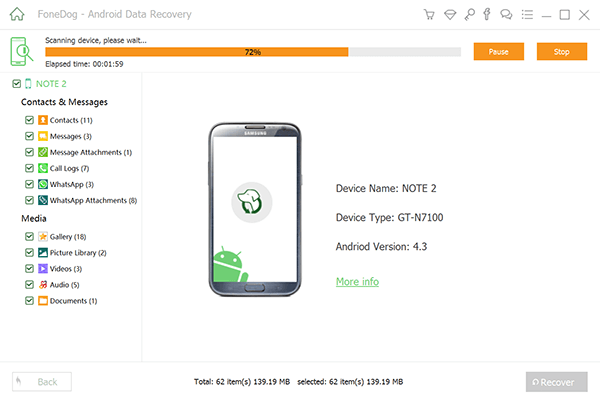 Step 5: Recover SMS
When you're satisfied with your selection, hit Recover. You may find this button in the bottom right corner of the window. You will be asked to choose the folder where you want your messages saved. Select one and click Recover to confirm.
Once downloaded, your messages will be in CSV or HTML format. You can press the Open Folder button to view the file. When you transfer this file to your phone, you should be able to see your messages via your Messages app.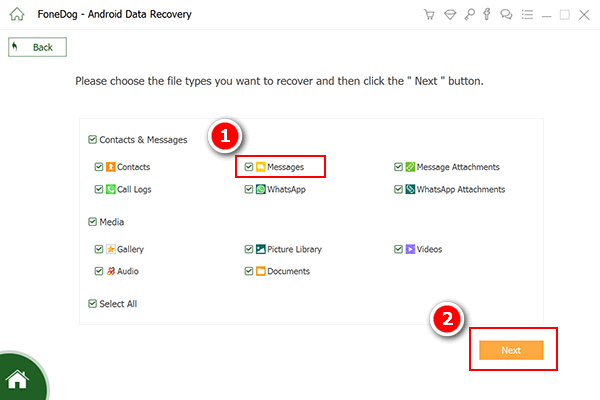 Part 4. Conclusion
You can recover lost SMS with backups, but the most convenient way is to use a data recovery software like FoneDog Android Data Recovery. It is very easy to use, so your deleted files are only a few clicks away. While you're at it, you can also try retrieving other types of files. You might be surprised at what files you see! Free Download Now! For Windows Version, For Mac Version.If you want to learn more tips and tricks, go to FoneDog official website: https://www.fonedog.com/