Have you ever felt that Spotify isn't enough? If you are really into finding and storing the music of your taste, that would have happened. What happens in most cases is that Spotify cannot offer you many types of music content that you are looking for. And, more often than not, you have to depend upon the vast music library of YouTube and YouTube Music. Now, here's a problem: neither YouTube nor YouTube Music is allowing you to download the content for offline access. And, using third-party software to do this is indeed a nightmare, to say the least.
And that is why we think everyone needs a tool like Audials Music Tube 2019. We came across this wonderful Windows application sometime back and the features have been just awesome. As someone who spends a considerable part of my time listening to music, I found Audials Music Tube 2019 pretty useful.
In this article, we have a quick-and-brief review of Audials Music Tube 2019 to let you know what it offers.
Getting Started with Audials Music Tube 2019
As we said earlier, Audials Music Tube 2019 is a one-of-its-kind tools for downloading and organizing a music library of your dreams. There are a number of features that you may find attractive. If you ask us, however, we love Audials Music Tube 2019 for its ability to download music from YouTube at lightning-fast speeds.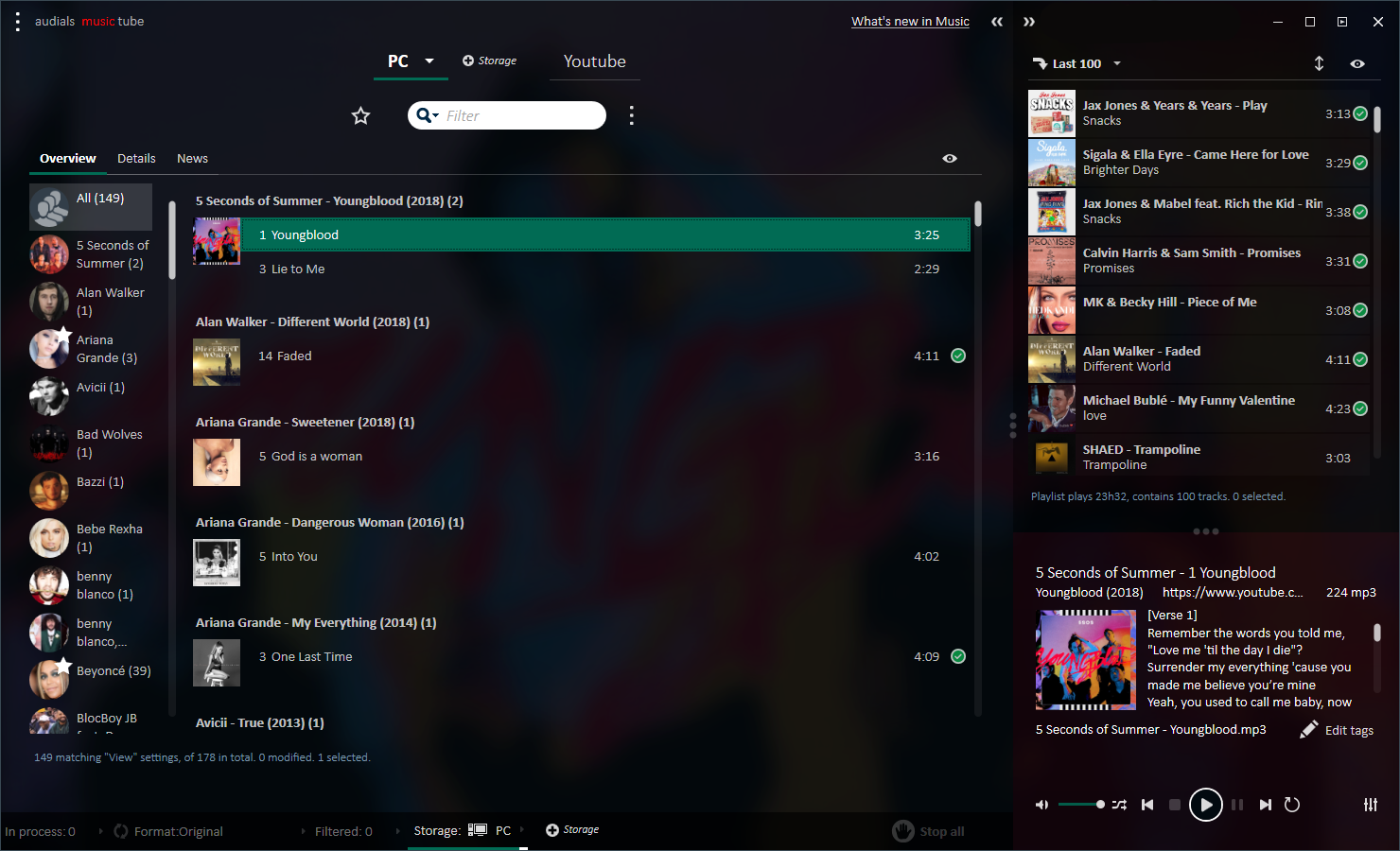 In addition to this, we are looking at a piece of software that is designed by music enthusiasts.
Compared to other YouTube downloaders we have come across, Audials Music Tube 2019 is ages ahead. If you have a Windows PC and want to organize the best music library you want, this is what you choose. Now that you have the basic ideas clear, let's look at what Audials Music Tube 2019 can do.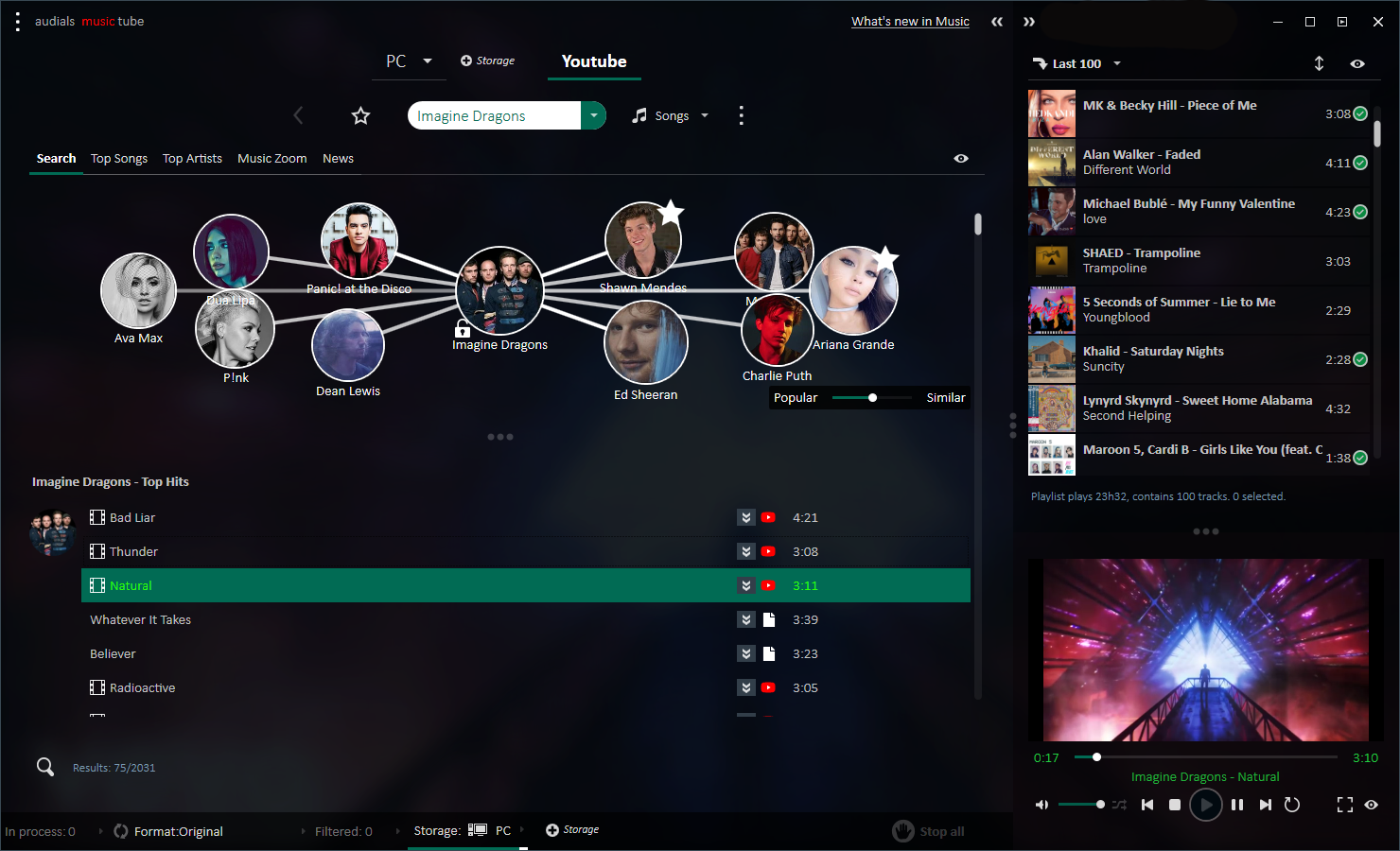 Instead of listing all the features — which will be a huge list —, we would be focusing on what each section of this tool has to offer.
Downloading Music from YouTube
YouTube is still home to thousands of tracks you cannot find elsewhere. Audials Music Tube 2019 helps you to download all these tracks without a single compromise in quality. There are two modes you can choose: Standard and Turbo.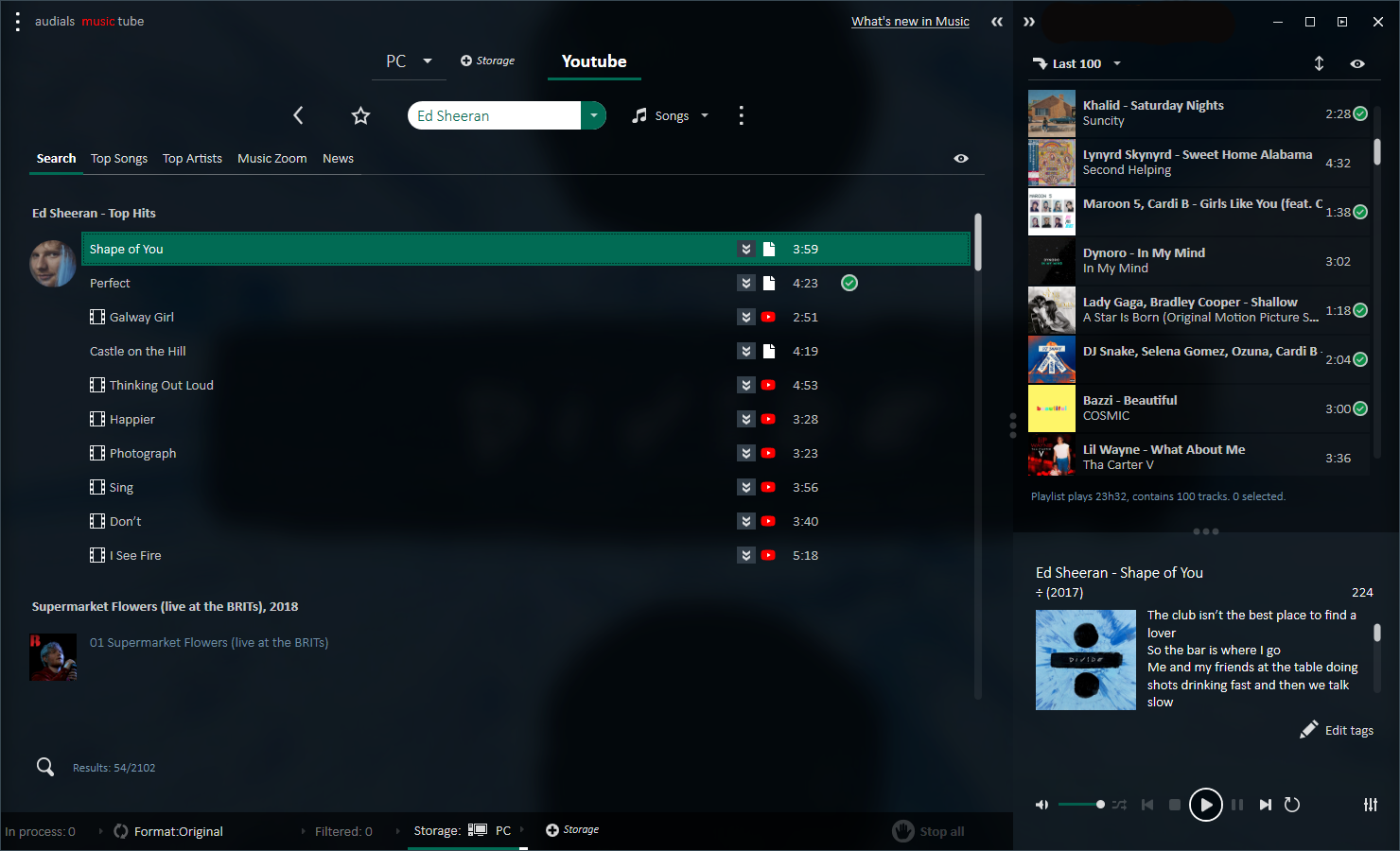 Standard Mode in Audials Music Tube 2019 allows you to download desired YouTube content to your PC. In addition to the audio track, the software will also collect Lyrics and ID3 tags, if available. Later, when you're up to organizing your library, it will be like a breeze.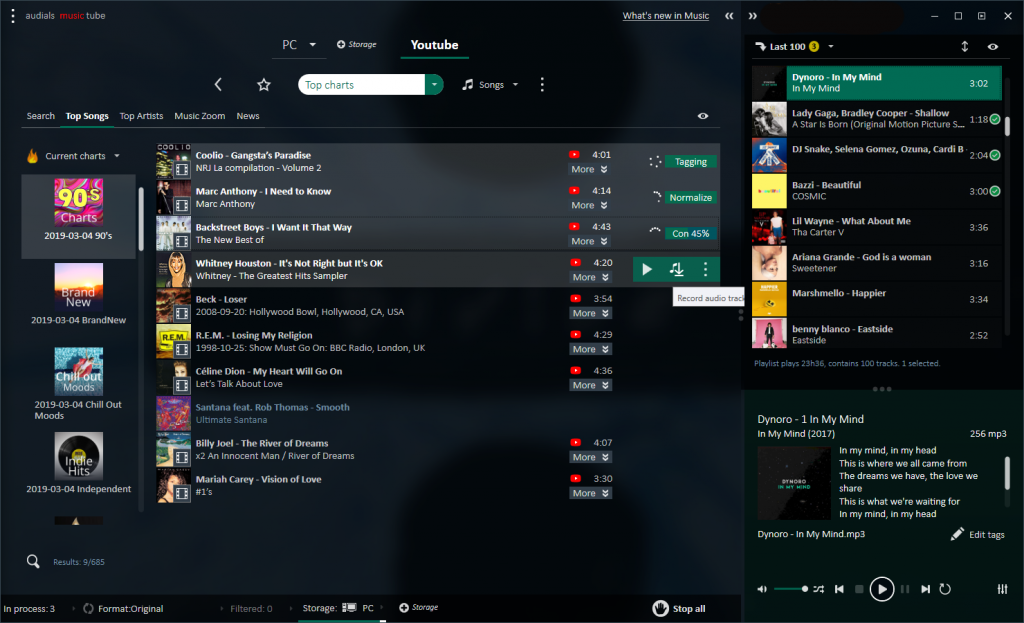 Audials Turbo is the performance-packed mode of Audials Music Tube 2019. You will be getting the highest speeds even when you are downloading the content legally. This tool would also help you to find the full set of discographies by artists.
Organizing
Audials Music Tube 2019 basically organizes everything you download from YouTube. This happens due to two things: first, the program downloads necessary metadata along with content, such as ID3 tags. This will help the program in arranging your music wherever necessary. It also has some algorithms to recognize the genre of a song/album, making organization easier.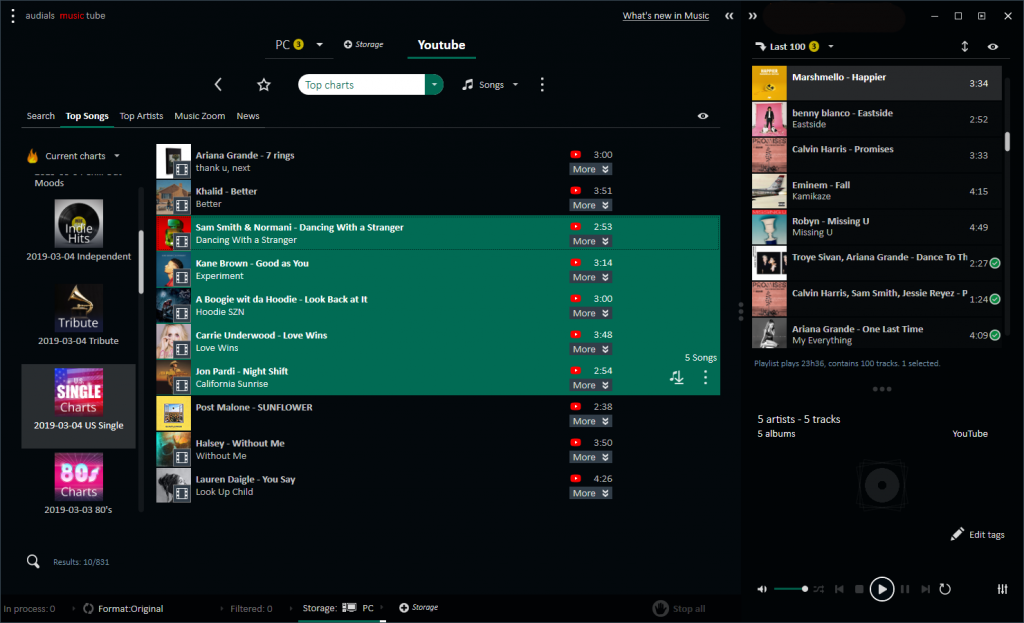 When getting started, Audials Music Tube 2019 will ask some details like your favorite genre. This would be helping the engine in finding music that suits your tastes. That is why we come to the next big thing in this package — music discovery.
Music Discovery
Apart from the basic features like Weekly Top Charts and other suggestions, Audials Music Tube 2019 offers a number of features for discovering new music from across the web. A feature named Music Zoom would be creating a framework of music content and recommending the best for you. Once you are done, you can use the same tool to take your favorite tracks on the go.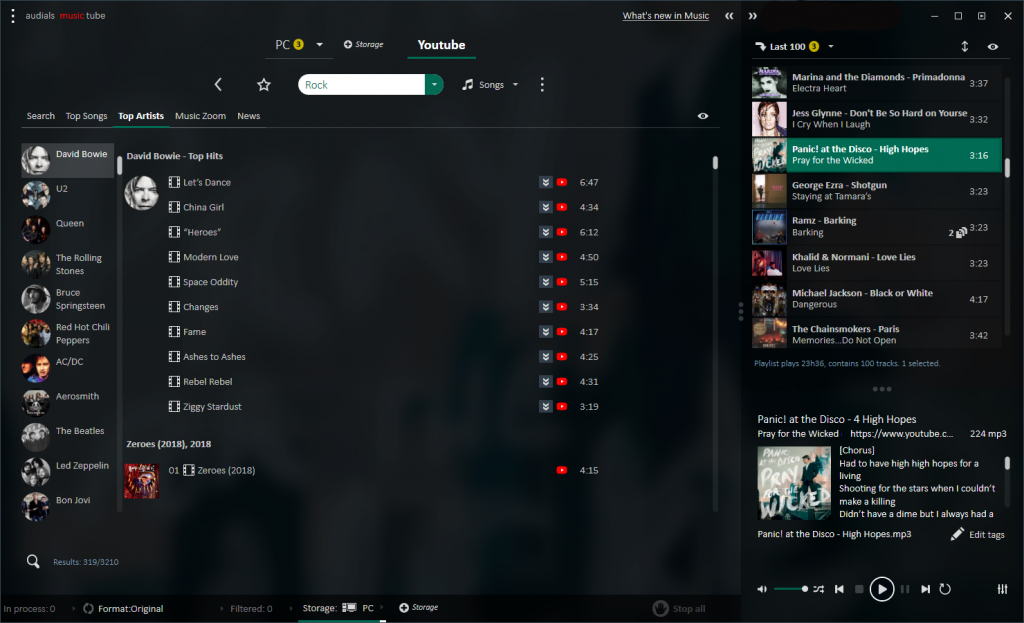 In addition to this, you can use the same music manager for downloading videos. But, when it can help you to convert YouTube video to high-fidelity audio, I think you would prefer that. Altogether, there are a lot of things to love in this package.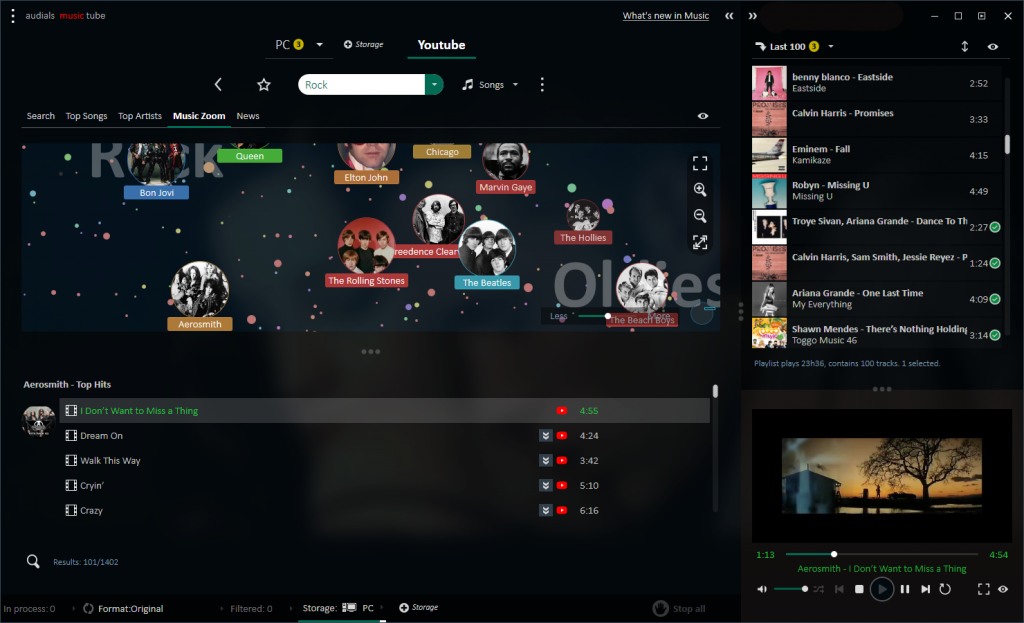 The Bottom Line
The long story short, Audials Music Tube 2019 is an awesome companion for every music lover. Unless you'd want to spend hundreds of dollars on separate music streaming services, you should get Audials Music Tube for easy access and organization. At the end of the day, you spend just a fraction of time to create a superb audio library.