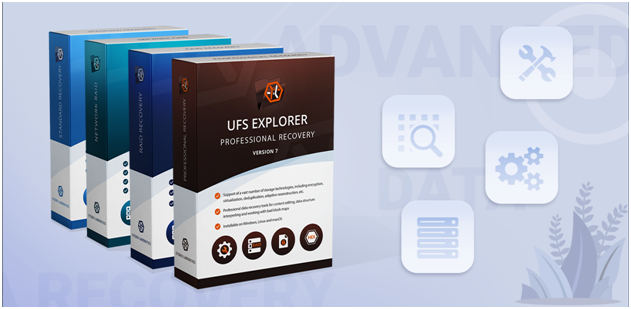 The good old 5th version of UFS Explorer did a great job bringing lost files back from the digital netherworld, but information technologies never stand still and after a while even decent data recovery solutions inevitably become outdated. So far this product release has officially reached the end of its life and all users of the Standard, RAID and Professional editions are encouraged to stay on top of things by switching to the latest 7th version. The ones who didn't put off upgrading note that in all weighty aspects, such as usability, performance and functionality, the new software is a massive improvement over its predecessor. In light of this, if you're still in doubt concerning a shift, read on this brief overview of the major changes and find out which benefits are you missing out on.
User-Friendly Interface
When you start any utility of the 7th release, the first thing that will catch your eye is the reworked interface: now it is far more straightforward and doesn't require so much technical background. The whole data recovery procedure is now complemented with helpful prompts and instructions, becoming hassle-free even for novices. Moreover, auto-detection of additional storage technologies available on logical volumes or physical devices together with the new partition icons make it a lot easier to find the needed storage and access it to regain the missing data.
Highly Efficient Scanning
On the other hand, the process of storage analysis has been substantially enhanced. Even if the partition table of a disk has been damaged or the information about the location of partitions is invalid, the software is now able to determine their correct positions and align them automatically for absolutely accurate data reading. Moreover, before running a scan, you can define a set of file systems that could conceivably be applied on the storage and perform their search in one go, with minimum references to the device and in the shortest possible time. The procedure itself has also become more convenient thanks to the new options that allow pausing the scan, viewing or saving the interim results, etc.
More Supported Technologies Than Ever Before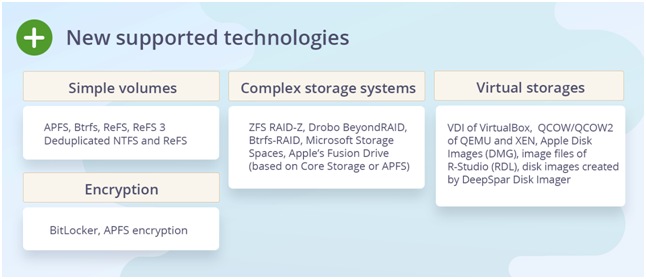 The range of modern storage technologies UFS Explorer is capable of working with has also been greatly expanded: now you can recover data from simple volumes with APFS, Btrfs, ReFS and ReFS 3 as well as complex storage systems like ZFS RAID-Z, Drobo BeyondRAID, Btrfs-RAID, Microsoft Storage Spaces and Apple's Fusion Drive based on both Core Storage and APFS. Furthermore, Microsoft NTFS and ReFS partitions with activated data deduplication can be handled by the software with the help of their corresponding deduplication databases.
Secondly, partitions encrypted with BitLocker or the encryption mechanism based on APFS can be unlocked and opened directly in UFS Explorer, without prior decryption in the OS.
In addition, the set of supported disk images and virtual disks has been extended with new formats, such as VDI of VirtualBox,  QCOW/QCOW2 of QEMU and XEN, Apple Disk Images (DMG), image files created by R-Studio (RDL) and DeepSpar Disk Imager.
Special Handling Of Defective Storages
The Professional and the RAID Edition now provide a advanced toolkit developed specially for work with damaged storages. Disks, their images or even arrays which comprise bad sectors can be processed in them with the help of bad sectors maps created dynamically or by compatible software. Apart from this, UFS Explorer Professional version 7 can make use of a Local Area Network to address defective storages connected to DeepSpar Disk Imager and offers the possibility to adjust the read timeout, block size and other settings without any third-party utilities.
Visualization Of RAID
The software now makes it much easier to verify the consistency of the assembled RAID and the correctness of the employed parameters by visualizing the content of the array. The mechanism syncs with the hexadecimal data viewer and allows checking parity values, highlighting key structures, such as MFT or MBR, or restoring the unavailable data.
Support Of Disks With Non-Standard Sector Sizes
Earlier, data recovery from SCSI and SAS drives of non-standard block formats (520 bytes, 524 bytes, 528 bytes and others) employed in some systems, such as NetApp, EMC and HP, was not possible without their particular hardware. Thanks to the new sector size mutation feature in the Professional Edition of UFS Explorer such drives can be connected to any computer and processed by the utility without any specialized equipment.
Interactive Reports
The Professional Edition now allows saving the result of data recovery as a standard HTML file. It contains a full representation of the reconstructed file system and the information about all the found files. Such a report can be opened on another computer in any web-browser and also features an embedded search function. You can find and select the needed items right in this file, transfer this information to UFS Explorer and immediately start copying the data of your choice.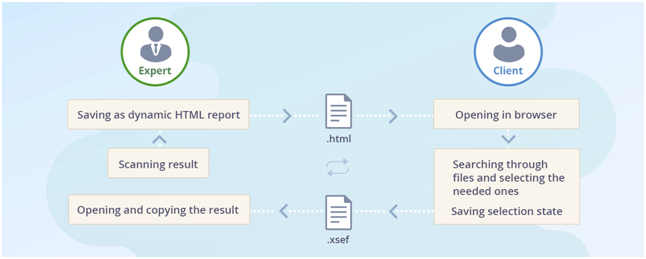 All New Edition – UFS Explorer Network RAID
UFS Explorer Network RAID is a brand-new utility which can boast about the capability to perform distributed data recovery from RAID or any simple storage device over a Local Area Network. It is equipped with almost the same set of functions and tools as the RAID Edition, but allows for the digital media to be attached to another PC or even several computers belonging to the same LAN. The option will certainly come in handy when a single computer cannot host all the needed disks due to various problems, such as incompatibility or an insufficient number of ports.
Revised Licensing Conditions
The licensing scheme for the current software offers a new option for those who are going to earn money with its help: the Commercial License allows installing the program on one company's computer and permits its for-profit use. The Personal License now can be applied to any number of home computers owned by the licensee as well as a single computer at work. Like with the 5th software release, a purchased license implies lifetime usage of the software without trial limitations, yet, the period during which you can receive free updates for the product has been reduced to 360 days. The license pricing starts from €49.95 varies depending on the chosen software edition as well as the license type while an upgrade from the previous version can be performed with a discount of up to 50%.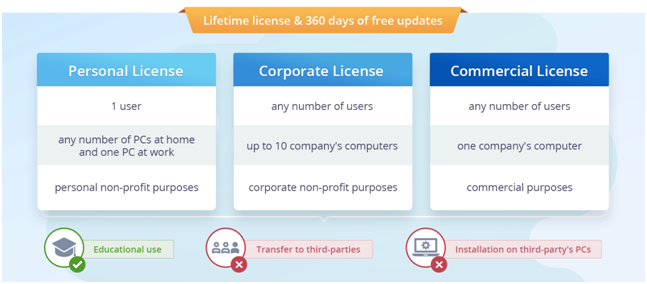 As you can see, the 7th release UFS Explorer breaks a wholly new ground in DIY data recovery, thus, if you are still using the legacy version or simply looking for an efficient all-in-one instrument to rescue your lost files, this new software truly deserves your attention. For any other details, inсluding technical specifications, pricing and download links, you may refer to the official website of the product.