The Surface Hub 2 is generating a lot of buzz in the tech industry as the next big development in video conferencing. Rightly so, with only a small preview it looks to be a huge success among businesses and users alike. While it looks like the video conferencing system to own, it's not scheduled to release until 2019, with the possibility of date pushbacks, you could be waiting a while to get your hands on one. When you have work to do now it's not really an option to sit around and wait.
Kinly take a look at some of the options you have available that can tide you over until the Surface Hub 2 is finally released.
Avocor
The Avocor F-50 Series was built in partnership with Microsoft for starters, so it's already a great option for users looking for Office 365, Microsoft Teams and Windows 10 compatibility. Offering a wide range of options for usability that can't be matched by many. The Avocor includes:
Cutting-edge, optically bonded glass:
With no parallax gap between the glass and the display it allows for excellent clarity and viewability. Giving you and your colleagues a truly next-gen experience.
Crystal clear 4k display:
Ultra-HD display that produces incredible visuals, built with the very latest LCD technology.
Integrated audio conferencing capability:
High-performing, front-facing soundbar modules, deliver a superior audio experience with an active microphone array enabling 3rd party UC based software to create the perfect environment for your meeting.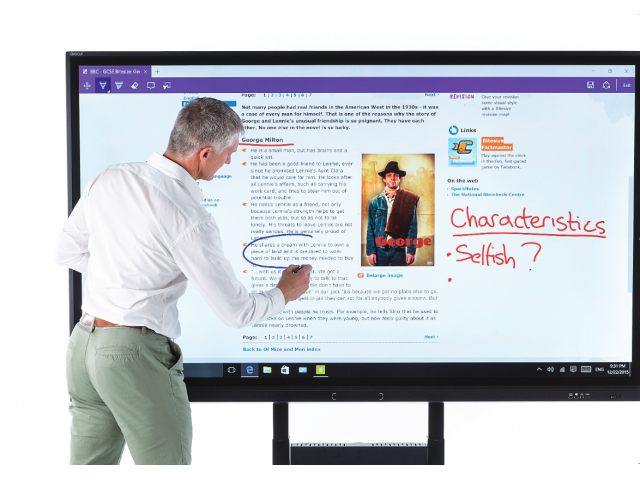 Delivering extremely accurate writing and annotations giving you complete control over your content.
Video conferencing wouldn't be the same without the ability to share content at the touch of a button. Displaying a wireless sharing button, users can send content freely without barriers.
Comprehensive software suite:
Providing a wealth of software options to suit your every need.
Dell Quicklaunch
The QuickLaunch is another very popular option in the video conferencing industry, Dells 4 interactive touch monitor is designed for seamless collaboration. Combining a meeting room application and the interactive monitor all while utilising Office 365 and Skype for Business, it's an excellent option if the Surface Hub 2 is out of reach for now.
4k resolution allows for a greater viewing experience across a wide viewing angle letting everybody in the room see clear and crisp visuals. Regardless of the users in the room, you'll be sure to be involved and able to contribute with the Dell Quicklaunch. The 86" touch screen is ideal for larger groups, perfect for groups of up to 20 people without compromising on quality. Allowing you a large amount of flexibility and usability, extremely important in larger businesses where large meetings are a daily occurence.
InGlass Touch technology:
Catering for natural writing, the InGlass Touch technology allows for smooth interaction. Coming with two styluses, letting you write and draw naturally in real time right on the screen with no lag whatsoever. With interactive software included with Dell QuickLaunch, giving you the ability to share screens, screen shot, take notes and save content on your own device.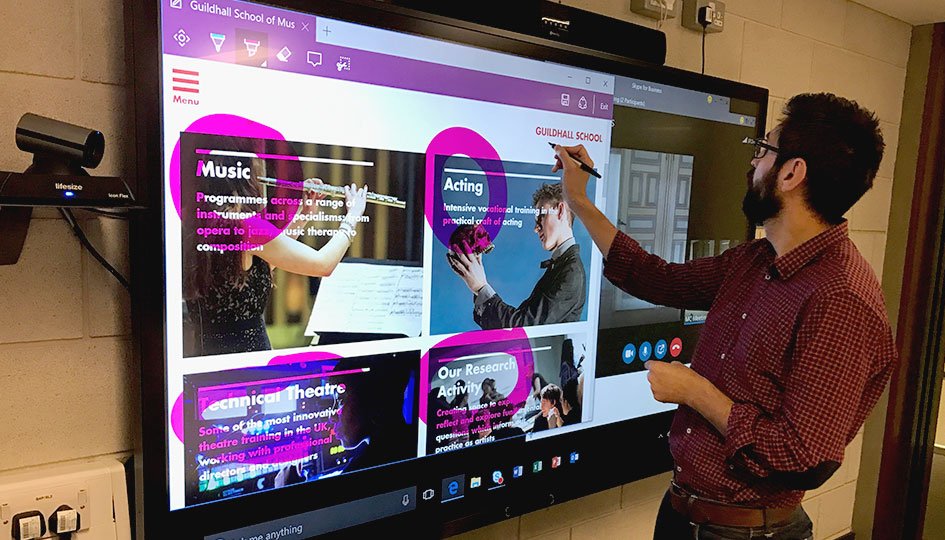 Convenience is a large part of any video conferencing software and it makes or breaks them. Dell Quicklaunch is designed with simple management and setup in mind. Connecting wirelessly is a breeze, enabling secure and reliable wireless activity, very useful when users need to access the meeting outside of the meeting room. The Dell Display Manager lets users easily organise and manage screen layouts and displays remotely.
These are only two of the options available to the market while waiting for the Surface Hub 2. Get in touch with a provider, such as Kinly, today and see how they can help you and your business out!