You may know him as Sergeant Terry Jeffords on the NBC comedy, Brooklyn Nine Nine, or maybe you only know him as that dude from the weird Old Spice commercials. Putting what this man can do with his pecs aside, Terry Crews, famous actor and former NFL player, has now got his fingers in another pie: the Overwatch franchise. In one, albeit long, Facebook Live video, he may have hinted at something that could affect what we'll see at this June's E3.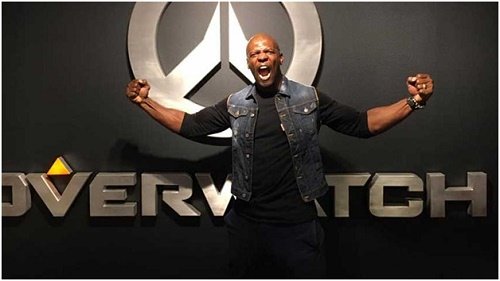 In mid-April, Crews announced he'd be at E3 with a major surprise. He didn't elaborate except to say that we know what it's going to be. Later on in the video, he reiterated this sentiment as his PC seen in the background was playing Overwatch.
This is not Crews' first brush with the franchise. Way back in 2016, fans campaigned in his favor, calling him a perfect fit for Doomfist, a popular character within the game. No official word suggests the Overwatch head honchos will take fans suggestion into consideration, but Gamer Director, Jeff Kaplan, gave a cryptic answer when asked about Crews. After praising the actor's positive and enthusiastic attitude, he admitted, "[Crews]might be great for many things".
For his part, Crews has lived up to Kaplan's description. He's embraced this idea and the Overwatch fandom at large, even streaming the game on his Twitch channel. (Yes, somehow, in between all of his work outs, Terry Crews finds the time to play video games). But perhaps it's the fact that he was spotted at Blizzard HQ back in December of last year that lends credence to this rumor.
It should seem like a done deal that we'll get Crews as Doomfist, but Kaplan announced he won't attend E3, nor will any of the Overwatch crew. This came in the very same statement the Overwatch team won't be announcing anything at the expo.
What does this mean? With several weeks out from the event itself, it could mean anything. Crews could be slated to reveal another Blizzard-related IP, or it could be a carefully worded statement meant to obfuscate the truth. It's all how you intend to interpret the meaning of Overwatch team. Is it reserved only for those involved in its development or does it include voice actors? If it doesn't, then Crews could very well be their messenger.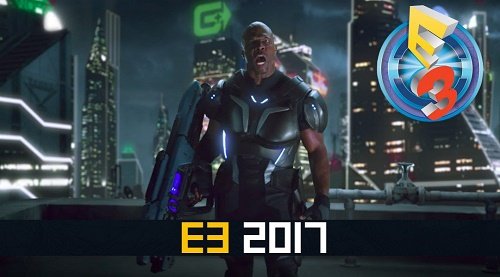 It's a lot to think about, and luckily there's plenty of time to devote on the subject. In any case, if you were one of the 15,000 people luckily enough to cash in on the newly added consumer tickets, you'll get to see Crews amongst a slew of gaming royalty.
If you're like the rest of us, you'll get your news on E3 from the comfort of your own home, but that doesn't mean you can't participate as if you were there. You can customize your Xbox One with a skin in tribute to Doomfist, designing an Xbox One skin each for the Savoir, the Scourge, and the Successor. Don't forget to set up an RSS feed so you can get all of the latest news out of the expo as soon as possible.
However you intend on experiencing E3—in person or by reading first-hand accounts—make sure to clear your schedule for June 13–15. You'll want as much time as possible to devote to the spoils of the expo, including the probable event of Crews announced officially as Doomfist.