Ever walked past a building under construction and got hyped up for what's to come by that tarpaulin that says "On this site will rise"? That's how your clients will feel when they wander over to your website and find your well-crafted Coming Soon page!
Unlike a tarpaulin, however, a Coming Soon page is more dynamic and responsive. When done right, it's just as representative and as hardworking as your actual website—even before you're open for business. Here's what your Coming Soon page should have: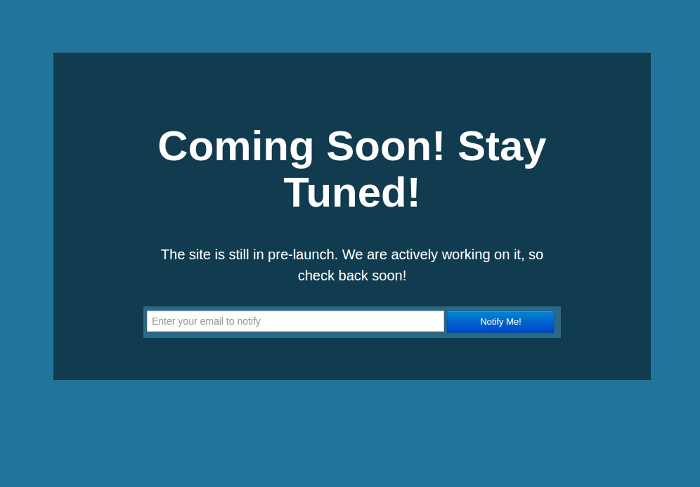 Your logo
Get your brand out there even when you're not quite there yet. Display your logo and let it be the first thing that greets your visitors when they drop by to check out your place. If you don't have one yet, then use freeonlinecreator.io to design your own logo. It's 100% free to use, allowing you to pick from logo templates and customize to your own liking.
Seeing a representation of what kind of business you'll be bringing to the table will give customers a heads up about what to expect when you're finally live. And as always, it increases the chance for customer retention.
Early opt-ins for your mailing list
Start collecting email addresses for your newsletter or mailing list even when you're not yet ready to send out regular content. This way you're building your network before you've even started.
Better yet, you can send countdowns to everyone on your list to stoke anticipation in the days leading up to your site launch, and generate instant traffic once you announce that your site is live.
Social media icons
You're not on your site yet, but where can a client find you if they really, really want to reach you?
Leave links to your social media profiles(for certain, those are far less complicated to set up than websites) and start interacting with your audience and showing off what you can do even before your grand stage is completed.

Plus, just like with your mailing list, you can excite your clients by counting down to your site launch on social media and immediately get visitors on launch day.
A link to your portfolio or gallery elsewhere
If you have content hosted on other services around the web, such as a portfolio site or a blog, leave links to those on your Coming Soon page.
This way, customers can already peruse what you have to offer even before you set up shop. They might even make you offers before your website opens!
A countdown timer
Not strictly necessary, but a countdown timer is a concrete and dynamic element to add to a Coming Soon page. Watching those numbers tick down, down, downgets visitors pumped, and gives them a tangible date (even time) to look forward to about when to come back.
It also holds you accountable about sticking to your schedule especially in those crucial days leading up to your big launch.
Your Coming Soon page should achieve a basic version of what your site will do for you once it's live—introduce your brand, collect emails for your mailing list, let potential clients know where to reach you or find your stuff, and hype them up for working with you.
Make your Coming Soon page work hard for you while construction is underway and your site will rise—pun intended.