There is nothing wrong with 4K content. Despite 8K being under the hood, 4K is the best quality you can get if it comes to video content. The best part is that there are laptops, TVs and even smartphones that do come with a 4K video. The problem, though, is your smartphone or computers may not be able to handle 4K videos in a smooth manner. 
And, especially if you are into video editing, you know how difficult it is to edit 4K videos using a not-so-high-configuration computer. What we were planning to say is that you will have to compress 4K videos every once in a while — at least until you get an advanced device. But you should also make sure that you are converting the content into a compatible format. In other words, you have to compress before you convert.
We came across WinX HD Video Converter Deluxe a while ago and we thought it's the answer to both these concerns. So, we decided to do a fully-fledged review of this HD video converter program. Shall we jump into the review with an intro?
WinX HD Video Converter Deluxe — an Intro
Long story short, WinX HD Video Converter Deluxe is a fully-fledged video converter solution that is available for Windows and macOS. The program has been designed for almost everyone in that the User Interface is so simple. This, however, doesn't change the fact that WinX HD Video Converter Deluxe is one of the most feature-rich video converters we have ever come across. It's a really multipurpose tool but we'll be focusing on two of its major aspects in this article: compression and conversion.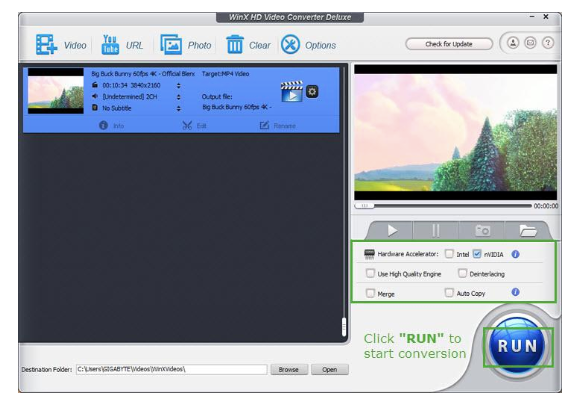 The First Steps
WinX HD Video Converter Deluxe could be called the easiest-to-navigate video converter solution that we've seen so far. Even if you are on ground zero when it comes to handling these applications, you wouldn't have any trouble when it comes to getting started. It's indeed a good thing that not only experienced video makers but also the ultimate newbies can use WinX HD Video Converter Deluxe to get things done. Well, things are the same if you want to convert MKV to MP4 or just compress that big AVI file.
Converting Videos
We've used so many video converters during these testing periods, but we were amazed to find that WinX HD Video Converter Deluxe manages 4K content very well. Even when we import huge-enough 4K content to the interface, there is no delay of any sort. It's indeed a great thing that you can easily turn high-fidelity 4K content to easy-to-use 1080p videos in a matter of seconds. And, all the while, we have to thank its level-3 hardware acceleration.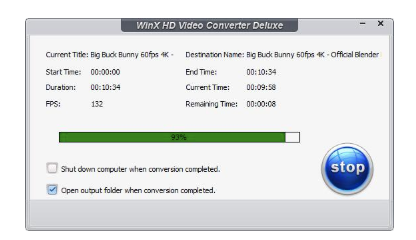 Compatibility & Customization
It won't be wrong to say that WinX HD Video Converter Deluxe allows you to convert video content into any format that is available. There is a wonderful list of codecs that make this possible. In addition to this, you can pick the desired quality of the output video as well. For instance, when you are converting 4K MKV to MP4, you can decide the ultimate resolution and an estimated size of the output file. We believe this is a great way to deal with storage issues.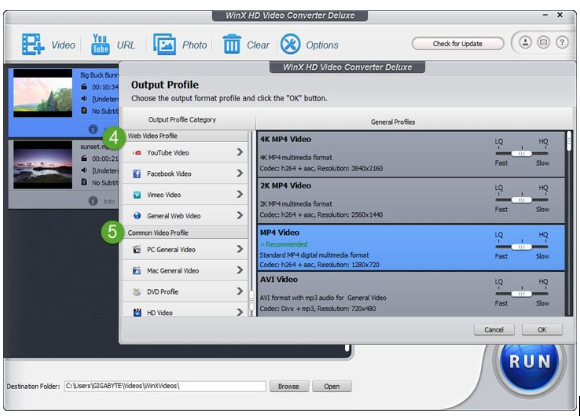 Bonus Features
There are a few additional features in the WinX HD Video Converter Deluxe package.
You can crop, trim, merge, splice and perform a few more edits before converting the video

WinX HD Video Converter Deluxe comes with a built-in video downloader that lets you download a bunch of videos from YouTube and other sites.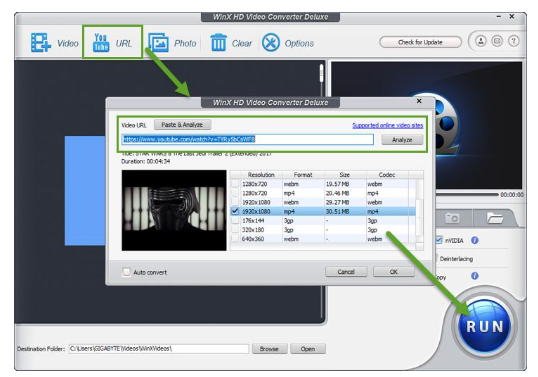 WinX HD Video Converter Deluxe also packs a slideshow maker.
How to Compress and Convert 4K MKV to MP4?
Let's have a look at the easy steps you have to follow when you want to compress a 4K MKV file to something of less quality and then convert the new file to MP4.
Of course, to begin with, you have to download, install and open WinX HD Video Converter Deluxe on your PC or Mac. This process takes just a few seconds, in case you're worried.

Now, open WinX HD Video Converter Deluxe and you have to import the 4K video to be converted.

Once the importing is done, you have to open the

Output Profile

section and select MP4 from the list

From the same interface, you can actually select the desired quality of the output file. Make sure you select the quality according to the resolution as well as storage space.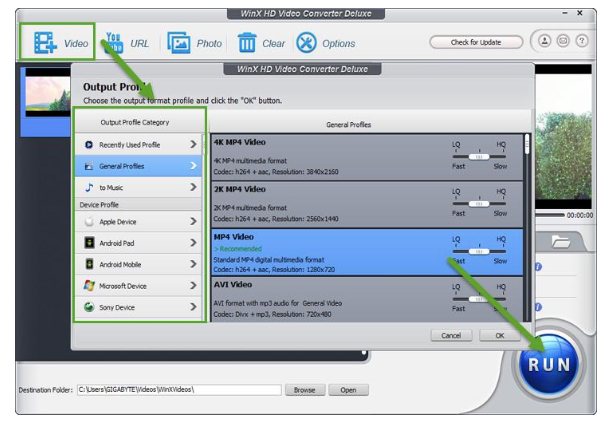 Once you're done, you can hit the Run button and WinX HD Video Converter Deluxe will do the rest.
The Bottom Line
In light of our experience with WinX HD Video Converter Deluxe, we think it's the best 4k video converter in the market right now. While the program doesn't confuse you with so-called advanced User Interface design, there is no compromise of features. And, for all these, you're paying a reasonable amount of money as well.