Do you know why people say Branding is tough? It is TOUGH. It takes a lot of time and multitude of efforts to build and establish a brand. But, as experts say, some elementary things can help you all the way. Your Business Logo is one of those things. Now, there is a major problem most business owners come across when they need a logo for their business — how to get it done?
Hiring a professional designer is often an overkill for most startups. You cannot afford that much money. It's not like you don't want to compromise the logo quality either. Another problem with professional designers is that you don't have much control over how the design is made. Of course, you can give some suggestions, but that's just it.
This is why we need a service that lets you create professional-quality business logos at reasonable costs — something like Wix Logo Maker. As of now, Wix Logo Maker is considered one of the best tools to set up the baseline for your branding needs. But, we wanted to know how good the service is when it comes to the real deal. So, here's a comprehensive review of Wix Logo Maker that you should read.
An Intro — What is Wix Logo Maker?
To answer the question as minimally as possibly, Wix Logo Maker is an AI-powered Do-It-Yourself Business Logo maker. It helps you create professional-quality business logos without being a design guru. It should be noted that the product comes from Wix, which has a great reputation for making tech accessible to all. You might have heard about Wix Instant websites and other intuitive products/services.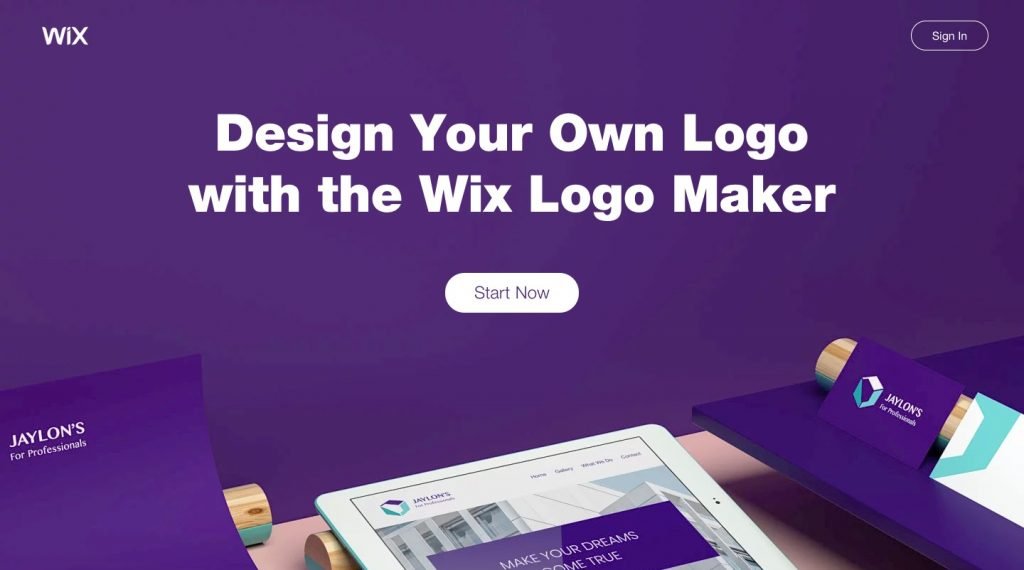 This logo creator is made for everyone who knows the basic Internet skills. You need no designer skills to get a logo designed. Although it sounds so lame, you will find out soon that the platform is so effective. As we'd said earlier, Wix Logo Maker is powered by Artificial Intelligence and Machine Learning. It does not create a random logo. Instead, Wix Logo Maker asks what you're looking for.
Now that you have a basic idea about Wix Logo Maker, we will check out the other important aspects.
Wix Logo Maker — How It Works
Before we check out the features and other aspects, we've to cover how Wix Logo Maker works. We'll take you through some of the important steps here.
You have to open the website of Wix Logo Maker to begin everything. Once you have logged in using your Wix account, you can click the 'Start' button. It should be noted that Wix is an integrated service. If you have been using Wix websites or other products in the past, it'd be easy for you to bring things together. You can, for instance, bring the logo content to your Wix-powered websites easily.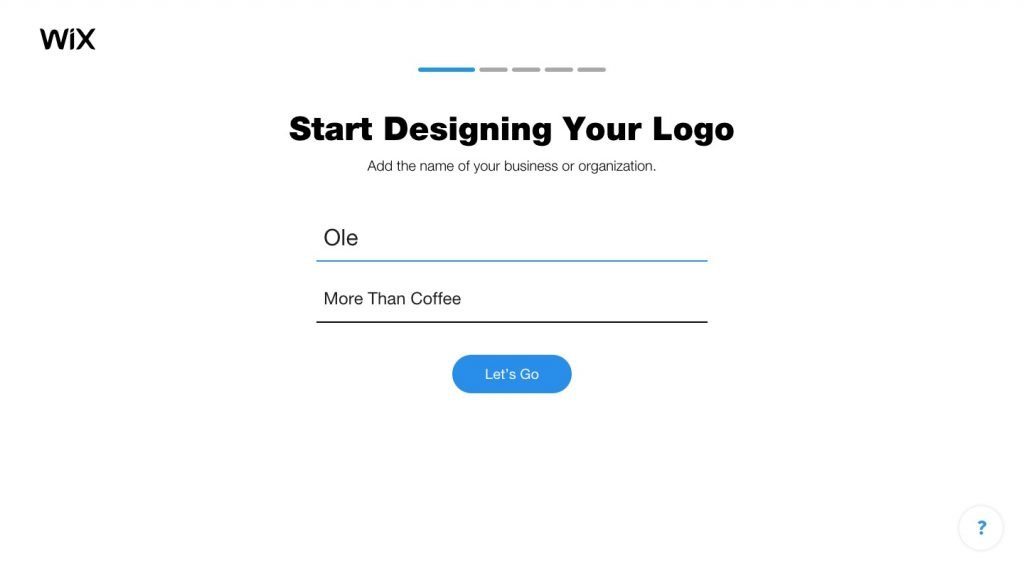 In the next steps, you have to provide some basic information about your business venture. You will be asked for the name, tagline and a few terms that describe your business. The logo will be made based on this set of inputs, you should know. For instance, if you say your company is techy, the logo will have some related elements.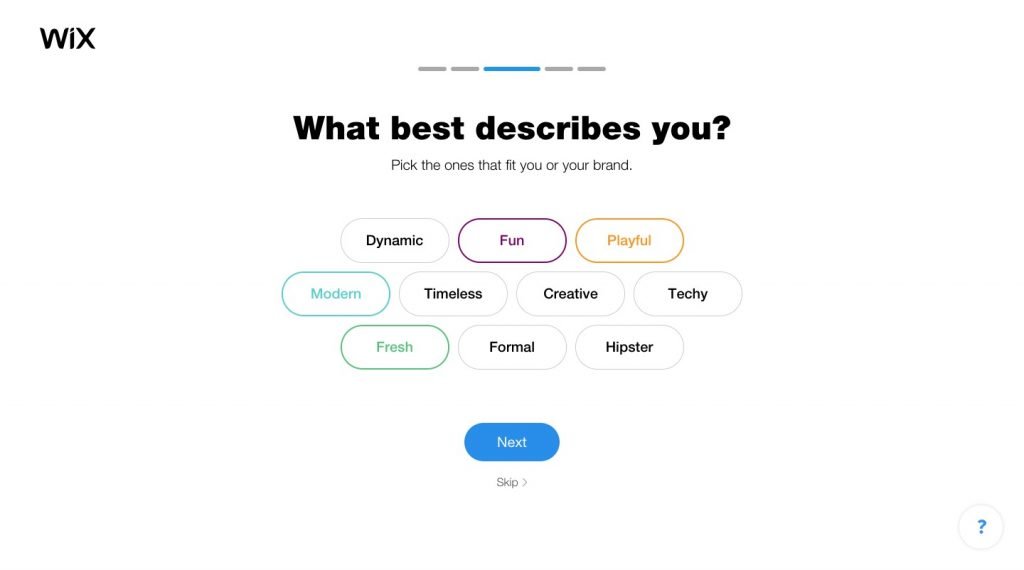 Wix Logo Maker also asks for your preferences. You will have to tell the service which logos you like and the ones you don't like. You will have to choose between 2 or 3 pairs of logos before Wix Logo Maker gets your point. You also have to decided where you will be using the logo on. Once this is done, you got to wait a few seconds when the logo creator prepares logo options.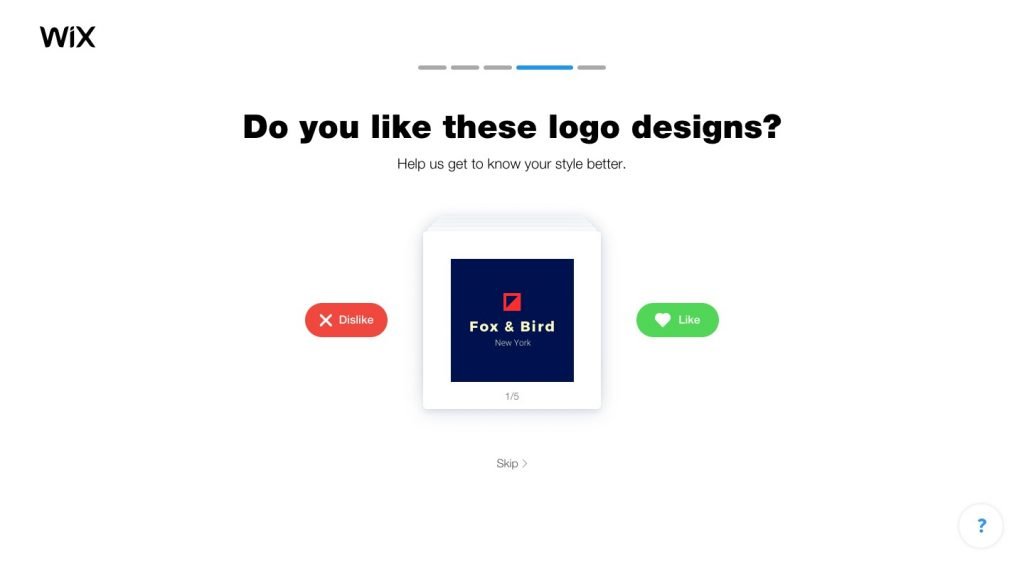 In seconds, Wix Logo Maker will show you a list of possible logos. You can simply choose a logo and start the customization process.
Customizing Your Logo via Wix Logo Maker
Wix Logo Maker is one of the very few logo makers that allow 100% customization of content. From the top to bottom, you can customize almost everything on the logo — be it the icon, colors, font or something else.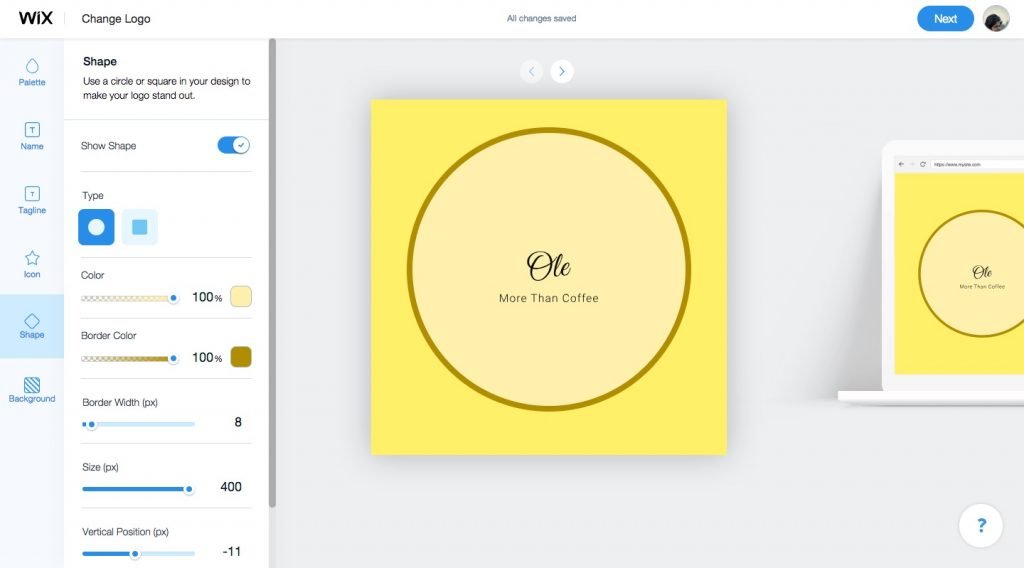 This is the deal: if you have a knack for designing, the customizer is just the best. For instance, if you already have a website, you can change the logo's color pattern according to that of the website. Similarly, there is an option to change aspects like fonts, backgrounds etc. We mean it when we say that Wix Logo Maker lets you customize every part of the logo.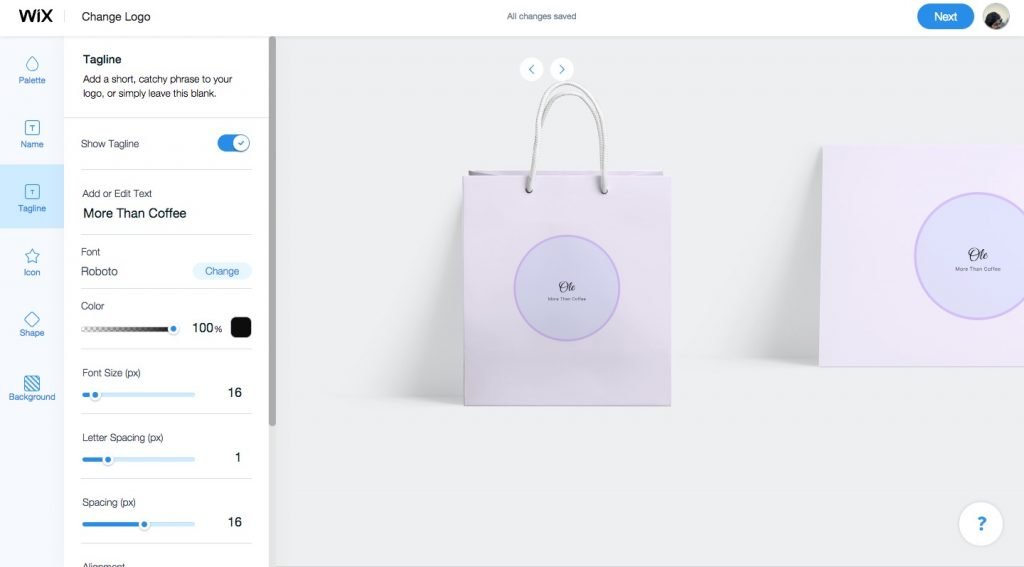 There is another feature we loved. Wix Logo Maker shows how your logo looks at various instances. In the preview pane, you can see a simulation of the logo on websites, merchandise, social media etc. It's a superb feature when you need a quick idea about how things look. Altogether, we would give a five-star rating for the customization aspect.
Still thinking your logo isn't up to the mark? Wix Logo Maker allows you to hire a professional designer for doing a little touch-up.
Using Your Logo
Wix Logo Maker offers ample options for using your logo on various occasions.
As we said earlier, if you already have a Wix website, you can integrate the logo quite easily. This is the best option if you need a quick-but-effective website for your business venture. The best part is that Wix AI will help you create a suitable website based on the color, content and pattern of the logo.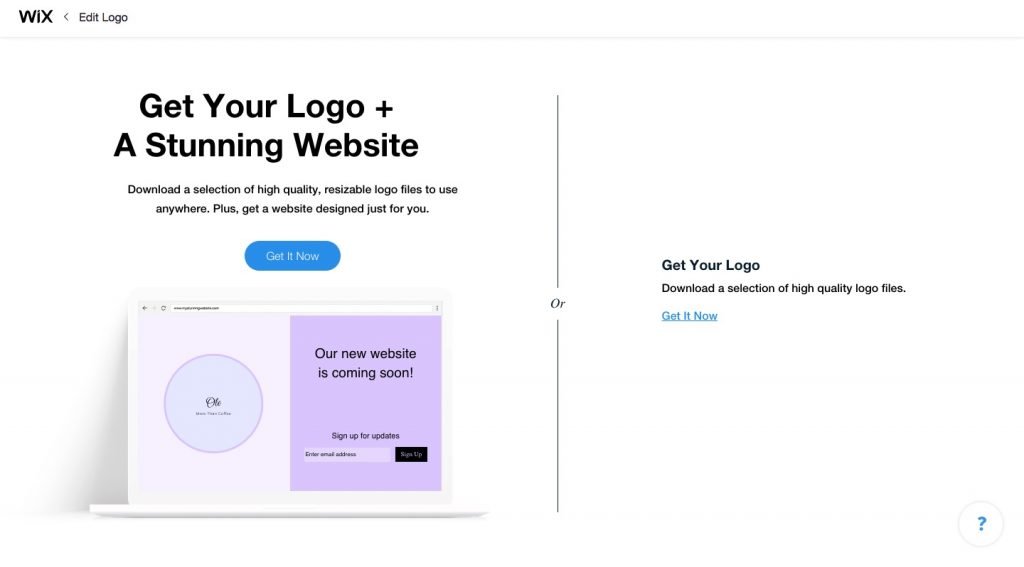 On the other hand, if you have other purposes, you can download the high-resolution vector files of the logo to your computer. In addition to this, Wix Logo Maker is also offering social media kit. For instance, you will be able to find profile pictures and cover pictures based on your logo for popular social media platforms.
Wix even goes to the extent of letting you create business cards and get them delivered.
Pricing
Wix Logo Maker has different price tags, based on what you want.
If you just want the logo, there are two options. In the Basic option, you get access to standard logo files and the complete rights. In the Advanced option, you will be able to access Resizable Logo Files, Vector Files and Social Media Kit. Basic and Advanced plans are priced at $20 and $50 respectively.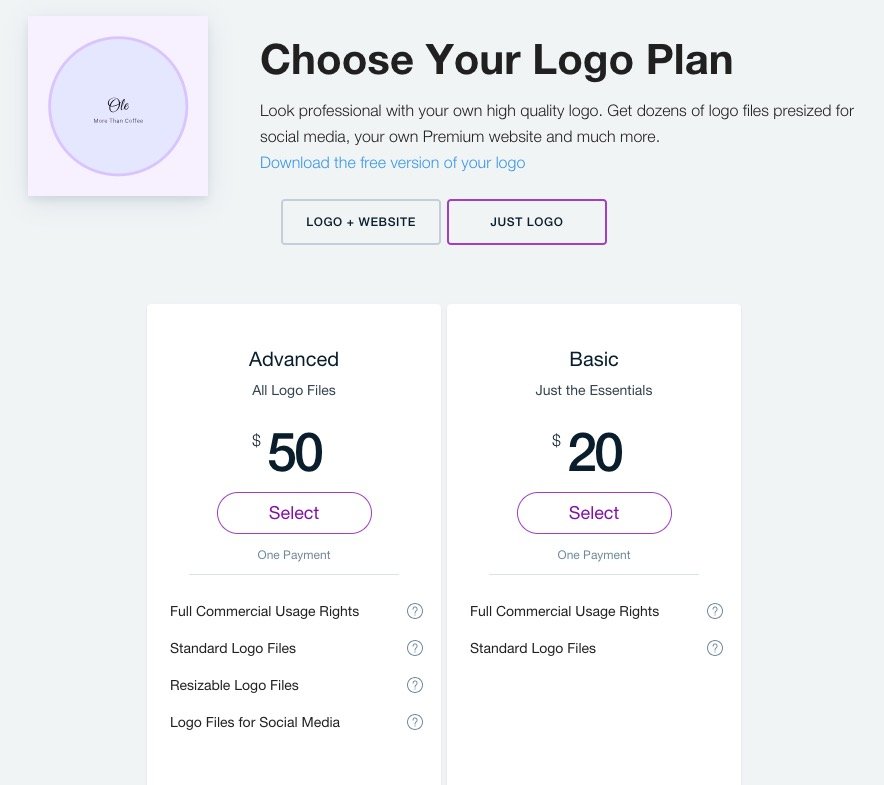 There are also some other plans where you get a Wix-powered website along with the logo.
The Bottom Line
At the end of the day, Wix Logo Maker is the best choice for everyone. It does not matter whether you have designing skills or not — Wix Logo Maker does not require those skills. That having said, the customization options are so wide that you can have a completely unique logo in no time. Compared to the cost charged by professional designers these days, Wix Logo Maker is also the reasonably-priced way to get unique logos for your business ventures.