Wondershare Filmora is your perfect video editing companion. It is specially designed for creation, conversion and editing of videos in readiness for sharing on websites. For your top-notch clips, this editor is enriched with a broad spectrum of transitions, effects, titles and graphics.
It is one of the most user friendly video editing software with a unique compact design. It has been observed that videos shared on social media contain irrelevant content, yet to be optimized. Such loopholes are solved by Wondershare Filmora. This video editor is well equipped with advanced tools for processing your videos.
Wondershare Filmora is compatible with all operating software. It is intrinsically designed to provide you with the simplest video editing process ever! You can enjoy optimizing your videos to allow for playback on different devices. The newest version of the video editor is out! Wondershare Filmora (V7.8.0) now makes your video editing even more exciting.
What's New?
1. The New and Advanced Color Editing Features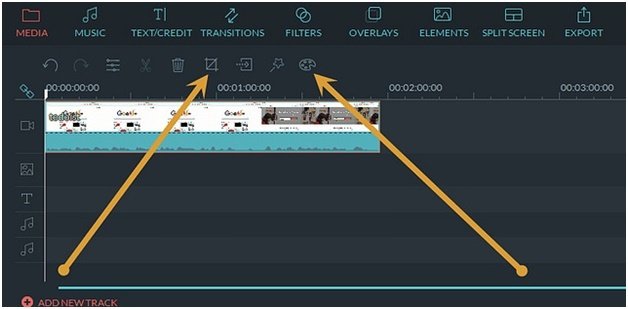 You can now manipulate the color in your video. There are various aspects of color that you can edit using this v7.8.0, such as: tint, temperature, vignette, HSL, Light and many more.
2. Pan and Zoom Feature
Do you want to add a little bit of life to your still video images? Pan and zoom has got you covered. You can now customize and animate any image that is still!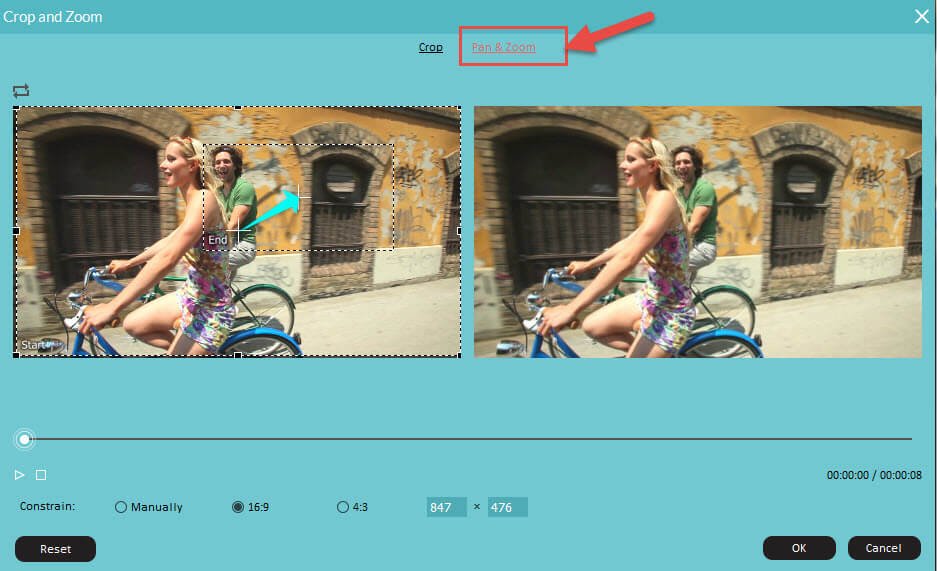 3. Save Customized Text as New Preset
The animation, size, font and color of the texts' effects can now be customized and the changes saved into a new preset.
4. New Transition Controls
Have you always wondered when it will be possible to manipulate the transitions between two videos without altering their durations? Well, Wondershare Filmora V7.8.0 has now come with an advanced feature that allows for perfect and timely transition control.
5. Ripple Delete
Wondershare Filmora v7.8.0 has a smart tool that allows you to ripple delete. This means that you can delete a video clip and the other clips, subsequent to the former, move to fill the timeline gap.
Wondershare Filmora is a professional video editor that enables you to import videos of different formats, edit and save them in your disk. It supports formats with the following extensions: MPEG 2, MP4, AVI WebM and TS. It also allows you to export MP3 and HTML5 files.
Frame freezing
It is now possible to freeze any frame you want with Wondershare Filmora. Simply take a snapshot of the particular frame, and then slowly drag it to your preferred spot. Start freezing. Finally, double-click your snapshot for duration adjustment.
Friendly for First-timers
Wondershare Filmora is powerful software, so easy to use. It is endowed with a simple interface, making video editing an easy process. The commands are straight- forward and any novice editor can understand them. Even though some video editing functions are complex, this easy-to-use app simplifies them to the latter. It is highly recommended for new video editors.
Video Creation
When you hit the export button, you will see a new module as it opens up with 12 formats that you can use to export your video file. It also comes with 12 preset formats organized by device. Thus, if you know the device it should play on but have no idea which format to create it, you're covered.
Alongside, the formats, there are several outputs where you can upload the final video. They include YouTube, Facebook and Vimeo. Each of these outputs has presets to ensure you upload a high-quality video online.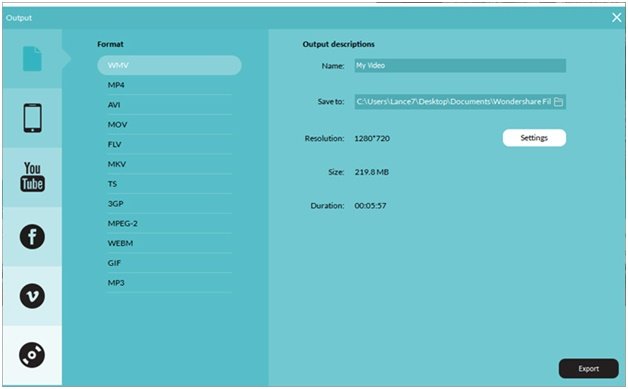 Simplified video editing
Wondershare Filmora has utterly simplified the video editing process. It supports recording using HD and SD devices. With this app, you have the leisure of recording and importing various multimedia files such as videos, audio and pictures.
This software enables editing of individual tracks before and after addition to the timeline. The other editing features you get to enjoy with this app include: image cropping, duration trimming, audio stream detaching, snapshot capture and adjustment of attributes such as contrast, saturation and brightness. Your multimedia files can be saved in various formats.
How Much is the App?
Wondershare Filmora is free of any charge. However, you can enjoy super features at an affordable cost of $39.99 only.
Pros
Compatible with both Mac and Windows devices
Straight-forward commands
Easy to use
User-friendly and simple user interface
Supports both SD & HD recorders
Supports multiple file formats
Allows for snapshot taking
Cons
Some users have mentioned that they didn't find a feature to speed up a video up to five times its initial speed.
Conclusion
Having used this app for video editing, we can confidently say that Wondershare Filmora is the simplest and most intuitive video editor you will ever come across. If you wish to try out the demo before purchasing the license, click here to download.