Are you looking for something new and exciting that you and your friends can do together? Look no further, as Europe has a long-standing tradition of rich and entertaining card games, which have been successfully adapted worldwide.
From late nights with friends to winding down after dinner on a Friday night, European card games provide hours of laughter and will bring you closer together. If you're ready, we'll explore five popular card games that originated in Europe, including Skat and Briscola, to name a few.
All are guaranteed to liven up any gathering, so let's begin!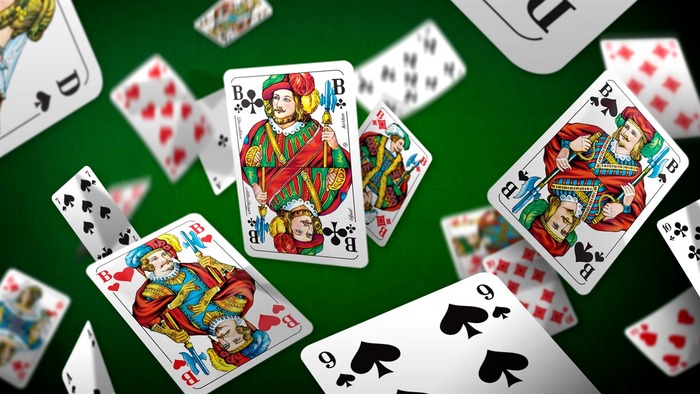 Memorable Card Games from Europe
Immerse yourself in Europe's varying cultures with five of the most popular card games from the continent.
Skat
Skat is a German card game that was historically spelled Scat. It's Germany's national card game that came from the Ace-Ten family, and it's incredibly widespread in German-speaking regions, together with Doppelkopf.. This trick-taking card game was developed in 1810 in the Duchy of Saxe-Gotha-Altenburg by a local Tarock club.
British mathematician and historian John McLeod considered it one of the most interesting card games for three players, and it was proudly described as "the king of German card games."
Skat Basics:
The three players in the game are known as forehand, middlehand, and rearhand.

The rearhand is the dealer.

As the game begins, one player is the declarer, while the other two are the defenders

Defenders aren't allowed to communicate except for the cards they play.
Since Skat has many rule variations, it's best to begin with the General principles to get a better feel of the game. Once you're confident, you can freely explore other variations and easily adapt to their rule differences.
Euchre
Although Euchre's origins are unknown, it was widely played in Europe during the Napoleonic era. It's a trick-taking game similar to the well-known modern online Spades card game due to its trick-taking mechanics.
The earliest recorded evidence of Euchre's existence came from 1810, when it was enjoyed in many gaming houses with Whist, Cribbage, and All Fours. Like any online Spades card game, it's primarily played by four players divided into two partnerships.
Euchre Basics:
Standard Euchre uses 24 playing cards with A, K, Q, J, 10, and 9 from each of the four suits.

Players receive five cards clockwise in two rounds.

The first player receives three cards, and the second gets two cards, continually alternating until the dealer has three. 

 The goal is to win at least three tricks.
Some games add one Joker, and the cards dealt will depend on how many players join. Two to nine persons are welcome to play Euchre, and more cards will be added to accommodate the players. Since it's popular in Australia, the US, and Europe, you can find many variations on mobile apps or browser-based platforms!
Whist
Developed in England, Whist was widely played during the 18th and 19th centuries. It has numerous variations, but Contract Whist (originally called Bridge Whist) was the most popular in the 1890s. Its iconic gameplay and reputation brought many fans worldwide who host social events called Whist Drives to commemorate the game. Here, numerous players play modern variations for fun.
Whist is played using a standard 52-card pack, and the rank for each suit is A K Q J 10 9 8 7 6 5 4 3 2 (highest to lowest). It's also played by four players divided into two partnerships, and the game's objective is to be the first team with the most points to win.
Whist Overview:
The play is in a clockwise rotation

The dealer gives each player one card at a time

The last card is the trump card, which the dealer will place face-up

All cards with the same suit as the last card becomes a trump

The dealer will take the original trump card when it's their turn to play

Partners will try to score points by taking tricks over six

Each odd trick is a point for the side winning it
Whist can sometimes be complicated, but you'll master it the more you play. In addition, other variations are available so that you won't quickly lose interest while playing this compelling card game. 
Piquet
Frances' national card game, invented in the early 16th century, is Piquet. It's designed for two players and is one of the oldest card games still being played today. Its earliest mention was in 1585 by Jacques Perrache, who described unusual games as "premieres & piquets."
Piquet was perhaps France's most popular card game until the 20th century, having a similar position as Cribbage in England. However, it became all the craze in England in 1554, when Mary I of England married Phillip II of Spain.
Piquet Overview:
The objective is to score as many points from six deals

Score points through combinations (Sets, Sequences, and and taking tricks

32-card deck of Aces to sevens are used: (Highest to lowest rank) Ace, King, Queen, Jack, 10, 9, 8, 7

Each player receives 12 cards in sets of two to three cards
Even though the gameplay has two phases, it's simple and easy to understand. Anyone can play the game if they're good at combinations and know how to outsmart their opponents through trick-taking.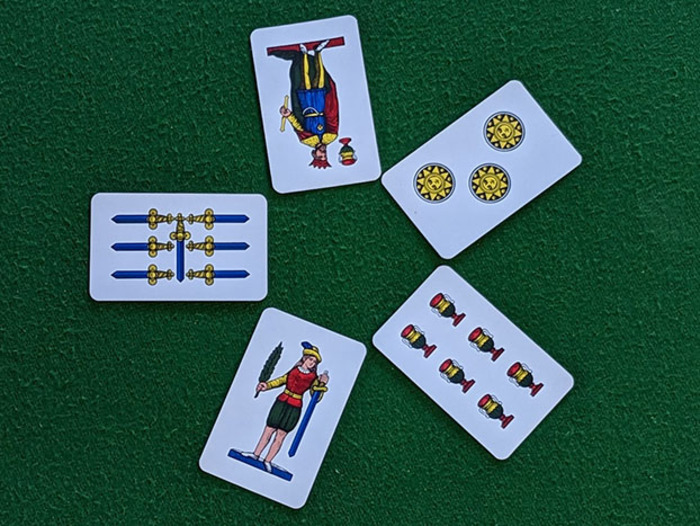 Briscola
An infamous trick-taking card game with Italian origins is Briscola. It has the same level of popularity as Scopa and Tresette, and it was derived from Brusquembille, an ancestor of Bezique. It's primarily designed for two to six players using an Italian deck of 40 cards.
Depending on the number of players, the cards dealt will also vary. Briscola has many variations with subtle rule differences that make them unique. These variations are:
Briscola Chiamata

Briscola scoperta

Briškula

Bisca

Sueca Italiana

Sueca
Some of these variations are based on the countries that play them. For instance, Sueca Italiana is the Portuguese variation of Briscola Chiamata that uses an Anglo-French deck. Meanwhile, Slovenia, Croatia, and Montenegro call the game Briškula.
Experience Europe Through Their Special Card Games
Europe is always full of surprises; their numerous card games are a good example. If you want to experience their culture and history, you'll see it through these timeless card games. Be it Skat, Euchre, Whist, Piquet, or Briscola – you'll have a great time playing them on your PC or mobile device!