The struggle with low-quality images is something I encounter from time to time. Whether it's a cherished old video with grainy footage or a low-res snapshot from a special moment, subpar visuals can be a real buzzkill. 
But owing to the recent rapid advancement of AI generated image enhancement technology, today I am able to remaster shoddy, low-res images into high-solution, print-worthy images with just a few clicks. Out of hundreds of AI image upscalers, the one that stood out for me was VideoProc Converter AI Super Resolution.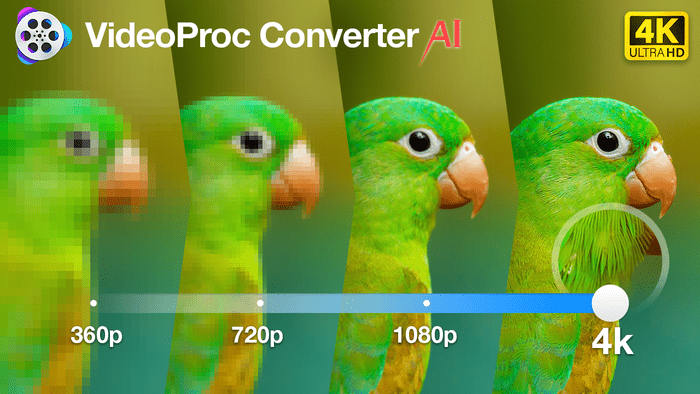 While some video enhancers only offer 2x upsampling, this remarkable tool takes things to a whole new level by boosting the resolution of your videos by up to 4 times! It's like giving a 360p video a dazzling 4K makeover.
In this guide, I will talk in detail about how this tool transforms pixelated memories into crystal-clear moments.
VideoProc Converter AI – The Most Seamless Solution for Low-quality Images
VideoProc Converter AI is no ordinary software –  it's an AI-powered smart tool that takes your low-res images and videos and turns them into jaw-dropping, high-resolution files with stunning clarity. 
But that's not all; it's your one-stop shop for video optimization as well. Beyond Super Resolution, it offers additional AI features like Frame Interpolation and Stabilization that makes VideoProc Converter AI a more powerful and efficient video enhancer and converter, providing users with a seamless experience to edit, convert, and enhance video image quality.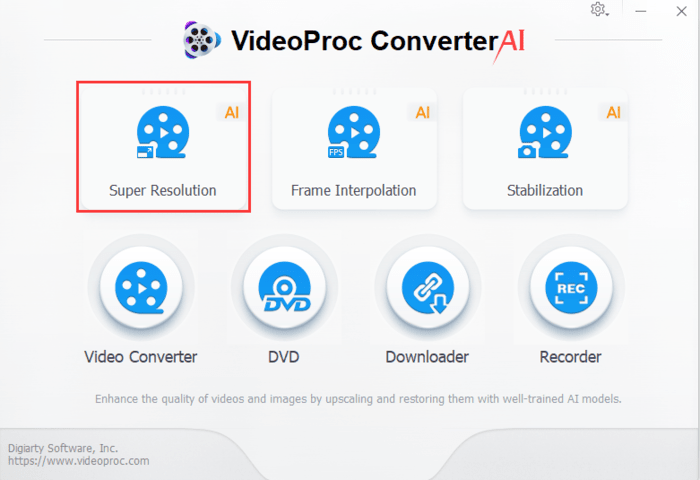 What Can Super Resolution Do?
With the help of VideoProc Converter AI Super Resolution feature, you can: 
Enhance fine details, textures, and sharpness.

Removes noise.

Generate exceptionally detailed results.

It's ideal for scenarios where emphasizing intricate patterns and clarity is crucial. Example: landscape, nature, travel, astrophotography images, and portraits. 
With a user-friendly interface and the added turbo boost of Level-3 hardware acceleration technology, image upscaling is a seamless experience.
Here's Why It's a Complete Game-changer
VideoProc Converter AI's Super Resolution feature is like a digital makeover artist for your low-resolution videos and images. With the power of AI, it can magnify them by a whopping 400%, all while preserving every tiny detail, leaving you with a picture-perfect result free from any weird glitches or loss of quality. 
What's the sorcery behind it, though? 
It's all thanks to some cutting-edge AI know-how. This smart tool peels back the layers of your visuals analyses them, and reconstructs the missing pixels, breathing new life into your videos and images. 
It's particularly great at enhancing nature, architecture, and travel footage, enhancing blurry, grainy photos, sprucing up heavily compressed content, or perfecting those crop-ins for top-tier display. You can also use this to upscale your AI artwork, including Midjourney images with ease. 
Want to delve deeper into the revolutionary tech behind Super Resolution? 
The Super-Resolution Model uses kernel estimation and noise injection – a cutting-edge approach to enhance the quality and resolution of low-resolution images. Here's how it works:
Kernel Estimation:

The degradation kernel describes the factors that have caused the image to lose quality and resolution. These factors can include blurriness, noise, and other artifacts. By accurately estimating this kernel, the model gains a better understanding of how to reverse the degradation.

Noise Injection

: In many low-resolution images, noise can be a significant issue. To combat this, the model injects a controlled amount of noise into the image, essentially simulating a higher-resolution image with naturally occurring noise.
With kernel estimation and noise injection in place, the AI model employs advanced deep learning techniques, often utilizing convolutional neural networks (CNNs), to upscale the image. 
These networks learn complex patterns and relationships within the image data to predict and generate missing high-frequency details. The noise injected earlier aids in preserving and enhancing these details, resulting in a more realistic and detailed image.
System Requirements for Video Converter AI's Super Resolution
One of the biggest perks of using Super Resolution is that it doesn't demand much from your system. 
Operating System: Microsoft Windows 7/8/8.1/10/11 or later (Both 32-bit and 64-bit versions are supported)

Storage Space: A minimum of 1GB available on your hard disk

RAM: At least 2GB

Graphics: Ensure that your graphics card is compatible with Vulkan 1.2.x or a more recent version
Good news for Mac users, the AI features will be available soon for Mac as well!
Important note: Image upscaling using AI can be quite demanding on your computer, needing more power than regular video tasks. VideoProc Converter makes the most of your computer's graphics power (GPU) to make AI work faster.
How to Upscale Low-Quality Image With VideoProc Super Resolution – Step-by-step Instructions
Here are the steps to upscale or enhance a low-quality image, blurry image with VideoProc Super Resolution:
Download and install VideoProc Converter AI on your Windows computer.

Open VideoProc Converter AI and click on the "Super Resolution" tab on the home page.

Drag and drop the low-quality image you want to upscale into the software.

Click on the "Resolution" feature and choose the resolution that you prefer or input the resolution numbers manually.

Click on the "RUN" button to start the image processing.

Wait for the processing to complete, and you will get the image file with the upscaled resolution.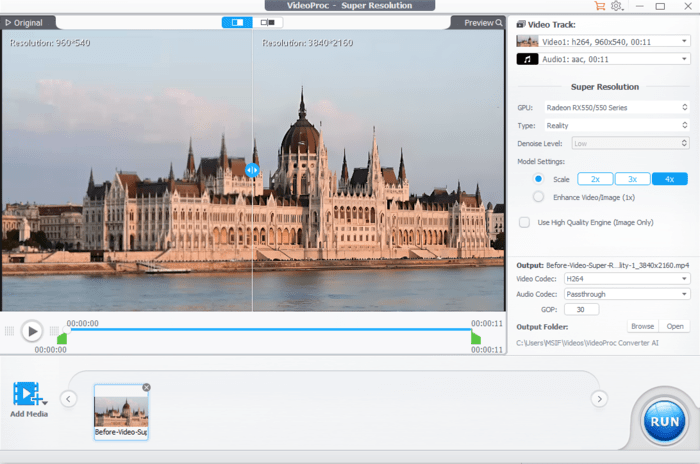 Pricing of VideoProc Converter AI
For the full version of VideoProc Converter AI, you have 3 options:
The Premium 365 at $25.95:

Comes with 1-year access to full features and updates. Can be installed on up to 3 PCs.

Family License at $57.95:

Get access to all the features and updates for a lifetime. Can be installed on up to 5 PCs. 

New Release Offer at $45.95:

This package allows users to get a lifetime access to full license of VideoProc Converter AI. Can be installed on 1 PC.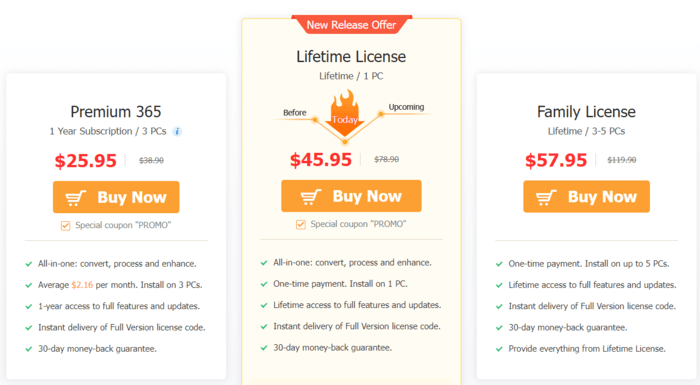 Important: This is a limited period offer, so hurry up and join the News Release offer campaign to unlock all the amazing features of VideoProc for a lifetime at such unbelievable price!
All the subscription packages are backed by 30-day moneyback guarantee for your peace of mind. 
Also note: If you are not sure whether Video Converter AI is the right choice for you or you simply want to explore the features, you can also sign up for a free 30-day trial version of the application. 
The Bottom Line
In the age of visual storytelling, where every pixel counts, the VideoProc Converter AI's Super Resolution Image Upscaler stands as a true game-changer for photographers like me. With its groundbreaking AI technology, it out the vivid details and colors you never thought possible. 
Start your free trial today or get a lifetime unlimited access to all the premium features by signing up for our New Release Offer at $45.95 only!