Definition of an Application Support Technician
An application support technician plays a pivotal role in the modern technological landscape, serving as a linchpin between software users and developers. This professional possesses a unique skill set that combines technical prowess with excellent communication abilities. Tasked with ensuring the seamless operation of software applications, the application support expert diagnoses and resolves user-reported issues, ranging from software glitches to interface intricacies.
These specialists possess an in-depth understanding of diverse software systems, enabling them to troubleshoot problems efficiently and provide expert guidance to end-users. Their dedication to resolving technical hitches, coupled with their knack for translating complex jargon into user-friendly instructions, makes them indispensable for businesses and individuals reliant on digital tools. As technology continually evolves, the role of an application support technician remains ever-relevant, standing as a vital bridge that enhances user experiences and fosters the growth of innovative software solutions.
Role and Responsibilities of an Application Support Technician
I. Providing Technical Assistance and Troubleshooting
One of the primary responsibilities of an application support technician is to serve as the first line of defense when software-related issues arise. These professionals are adept at swiftly diagnosing problems, whether they involve functionality glitches, error messages, or compatibility concerns. Through meticulous analysis and problem-solving, they identify the root causes of these issues and offer prompt solutions. Their expertise extends to debugging code, investigating database inconsistencies, and rectifying configuration errors. By effectively resolving technical challenges, application support technicians ensure the uninterrupted flow of operations and foster user satisfaction.
II. Installing, Configuring, and Updating Applications
Application support technicians take charge of installing, configuring, and maintaining software applications across various platforms. They possess a deep understanding of software architecture and deployment processes, allowing them to seamlessly install and set up applications to suit specific business needs. Moreover, these professionals oversee the timely updates and patches required to keep the software current and secure. By managing software installations and updates, they contribute to system stability and cybersecurity, enabling organizations to harness the full potential of their technological investments.
III. Collaborating with End-Users to Understand Their Needs
Effective communication lies at the heart of an application support technician's role. These experts engage with end-users to comprehend their unique requirements, challenges, and preferences. By actively listening and empathizing, they gain insights into user experiences and tailor their support accordingly. This collaborative approach enhances user satisfaction by ensuring that software solutions align with real-world needs. Application support technicians act as liaisons between users and developers, advocating for enhancements and contributing to the evolution of user-centered software.
IV. Training Users on Software Applications
To empower users and optimize software utilization, application support technicians provide comprehensive training sessions. They adeptly design and conduct user-friendly tutorials, enabling individuals to navigate applications confidently. Through step-by-step guidance, interactive demonstrations, and informative resources, they facilitate skill development and enhance user proficiency. By fostering a deep understanding of software capabilities, Application support technicians enable users to harness the full potential of applications, thereby driving productivity and efficiency.
V. Monitoring and Maintaining System Performance
The vigilant oversight of software performance falls within the purview of Application Support Technicians. They continuously monitor system health, identifying potential bottlenecks, resource limitations, or unusual activities that could impact user experiences. Through proactive monitoring, they ensure optimal system performance and promptly intervene to mitigate potential disruptions. By conducting regular maintenance tasks such as database optimization and system backups,  application support technicians contribute to long-term stability, safeguarding critical data and enabling seamless operations.
Importance of Bridging the Gap
I. Challenges Faced by Users in Adopting and Using Technology
In today's rapidly evolving digital landscape, users often grapple with a range of challenges when embracing and utilizing new technologies. The ever-increasing complexity of software, coupled with frequent updates, can lead to confusion and hinder the seamless integration of technology into daily workflows. Users, especially those engaging with offshore remote work, may encounter hurdles related to connectivity, software compatibility, and navigating unfamiliar digital environments. Overcoming these challenges requires targeted training, user-centric design, and robust technical support. In the context of offshore outsourcing, these challenges can be magnified due to the additional layers of communication and collaboration involved, necessitating even more tailored solutions.
II. Impact of Technology Usability on Productivity and Efficiency
The usability of technology exerts a profound influence on overall productivity and efficiency. User-friendly interfaces and intuitive interactions substantially reduce the learning curve, enabling users to swiftly harness the full potential of software tools. This is particularly crucial in offshore operations, where cohesive communication and smooth task execution are imperative. Seamless technology adoption ensures that teams can focus on core responsibilities, mitigating time spent grappling with complex processes. In the case of offshore teams, well-designed technology not only improves individual productivity but also fosters harmonious teamwork by enhancing information sharing, project tracking, and real-time collaboration.
Recognizing the importance of bridging the gap between user challenges and technology's potential, especially in the context of offshore operations, underscores the need for a holistic approach. By addressing user concerns, offering tailored training, and prioritizing user-centric design, organizations can unlock the transformative power of technology. A focus on enhancing technology usability is not merely a convenience—it is a strategic move to bolster productivity, drive operational efficiency, and amplify the success of offshore endeavors.
In the realm of offshore RPO services, where global recruitment teams collaborate across geographical boundaries, technology usability becomes a pivotal factor in ensuring seamless candidate sourcing, effective talent acquisition, and streamlined communication. The usability of software tools plays a pivotal role in harmonizing these diverse efforts, allowing offshore teams to fully capitalize on their capabilities and contribute to the broader organizational objectives.
Skill Set and Qualities of an Effective Application Support Technician
I. Technical Proficiency in Various Software Applications
Effective IT support boasts a comprehensive grasp of diverse software applications, ranging from operating systems to specialized software suites. Proficiency in programming languages, database management, and network protocols enables them to diagnose and resolve intricate technical issues. This expertise not only expedites troubleshooting but also empowers them to offer valuable insights for optimizing software usage.
II. Excellent Communication and Interpersonal Skills
Communication lies at the core of an app support technician's role. The ability to convey complex technical concepts in a clear, jargon-free manner fosters efficient problem resolution. Furthermore, adept interpersonal skills facilitate effective collaboration with both end-users and development teams. These technicians act as a bridge, ensuring that user feedback and concerns are accurately communicated to developers for continuous improvement.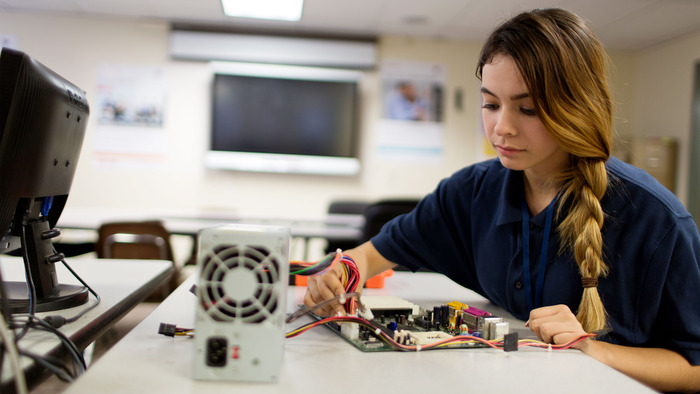 III. Problem-Solving and Analytical Abilities
Navigating the labyrinth of software intricacies demands strong problem-solving and analytical capabilities. Effective application support engineers exhibit a knack for dissecting multifaceted issues, identifying root causes, and formulating systematic solutions. Their logical thinking and attention to detail empower them to address challenges efficiently, thereby minimizing downtime and maximizing user satisfaction.
IV. Patience and Empathy When Assisting Users
Patience and empathy are indispensable qualities when interacting with users facing technical glitches. Application support developers maintain a calm demeanor, understanding that users possess varying levels of technical proficiency. By empathizing with user frustrations and providing patient guidance, they create a positive support experience, empowering users to overcome obstacles and regain confidence in utilizing software tools.
V. Adaptability to Evolving Technologies
In the dynamic realm of technology, experienced applications support engineer specialists embrace change and adapt to evolving tools and trends. They possess a proactive attitude toward learning and staying updated with the latest advancements. This adaptability not only ensures they remain effective troubleshooters but also positions them as valuable contributors to innovation, providing insights for enhancing software features and functionality.
Collaboration with IT Teams and Developers
I. Acting as a Liaison between Users and Technical Teams
Effective collaboration between end-users and technical teams is a cornerstone of successful software development and maintenance. Application Support Technicians play a pivotal role as intermediaries, bridging the gap between users' needs and the intricate workings of technology. By actively engaging with users, understanding their challenges, and translating their requirements into technical insights, these professionals ensure that the development process remains aligned with real-world expectations. This synergy fosters a cohesive partnership, where users' voices are heard, and solutions are tailored to address their specific needs.
II. Communicating User Feedback and Feature Requests
User feedback is a precious resource for refining software applications. Application Support Technicians gather valuable insights from users' experiences and relay them to development teams. This two-way communication channel facilitates iterative improvements, enabling developers to enhance existing features or introduce new ones that directly cater to user expectations. These technicians distill user feedback into actionable recommendations, driving the evolution of software solutions that resonate with end users and bolster overall satisfaction.
III. Troubleshooting Issues and Escalating to Appropriate Teams
When technical hitches arise, Application Support Technicians are on the frontline of issue resolution. They meticulously diagnose problems, employing their technical acumen to determine if an issue stems from user error or software malfunction. In cases where the latter is true, these technicians escalate the matter to the appropriate technical teams, ensuring swift and accurate resolutions. By effectively conveying the nature of the issue and its potential impact, they facilitate efficient troubleshooting and maintain a seamless user experience.