With so many options, choosing the right software for business becomes a real challenge. Looking for cloud predictive dialer? Then you'll find this article helpful.
What Is Predictive Dialer?
An outbound predictive dialer is a calling system that automatically dials telephone numbers from the list. Similarly to other autodialers, predictive dialer takes over the routine manual dialing and connects agents with the real people by skipping voicemail, busy signals, no-answer, and disconnected numbers.
However, there's one important characteristic of predictive dialer that makes it the most desirable system for outbound call centers. Its sophisticated algorithm uses call metrics to predict the exact moment an agent will be free to take the next call. So the goal of a predictive dialer is to call the right number of leads at the right time, and therefore ensure maximum agent occupancy.
What Are The Benefits Of Predictive Dialer?
It minimizing routine work and allows agents to focus on conversations.
It connects agents with contact one-by-one (no listening to ringing signals).
It creates a steady stream of calls with minimum downtime.
What To Look For When Buying a Predictive Dialer Software?
When choosing predictive dialer, you should map out the needs of your business and make sure that the solution of your choice will fulfill them. The best predictive dialers should be efficient, flexible, and reliable.
Here are some of the most useful features to look for in a predictive dialer:
Campaign Management System;
Local caller ID;
Intelligent call routing;
Call recording;
DNC management;
Time zone dialing;
Legal compliance;
Real-time monitoring;
Historical reporting;
Webhooks and API;
Built-in CRM;
Data import and synchronization, etc.
Another extremely important thing is the quality of technical support. One of the greatest benefits of cloud solutions is that all the maintenance work is usually provided by the vendor. They are supposed to solve all your issues (unless you have a hardware or internet connection problem, that's on you). Check in with customer support to find out how exactly they are planning to help you, when they are available, etc. You don't want to get involved with a company that will leave you hanging in the middle of a crisis.
Now that we've covered predictive dialer basics, let's move on to the actual solutions. What options have you got? We've compiled a list of top 10 most popular predictive dialers at the moment. Check out this comparison, explore options, and choose the best solution for your business.
TOP 10 Predictive Dialers
Who uses: SMBs, large corporations, organizations (Religious communities, etc), Government & Military, Insurance, Real Estate.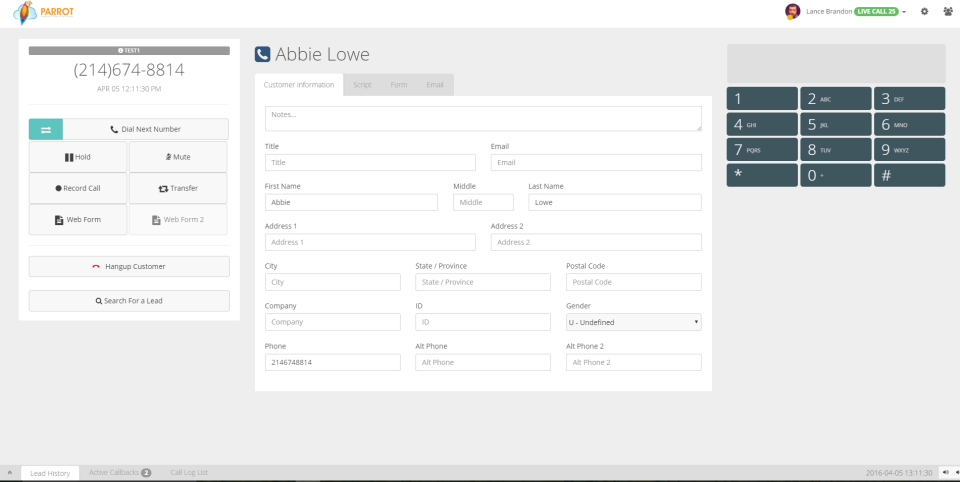 Starting price: $129.00/month/user.
Free trial: No
This is a modern, cost-effective, and scalable cloud call center. Your agents will be able to make thousands of calls per day with this predictive dialer because Parrot allows dialing up to 5 lines per agent. Also, Parrot provides unlimited calls and a dedicated Customer Success Manager for each client.
Pros:  User-friendly, great management features, a colorful graphic overview of the office.
Cons:  Better suited for mid-size and smaller companies*.
*Pros and Cons are based on predictive dialer software reviews on Capterra and GetApp.
Who uses: Sales & Telemarketing, Debt Collection, Professional Services in BPO, Mortgage & Insurance, HR and Recruiting, Non-profit organizations, Political predictive dialing.
Starting price: $25/month/user
Free trial: Yes
Voiptime Cloud Predictive dialer is designed to triple outbound call volumes while complying with FCC/ FTC/ Ofcom at the same time. It's a flexible feature-rich solution that boosts the efficiency of agents and simplifies the work of call center managers at the same time. On top of that, it's scalable and affordable. Be sure to check out their sweet discounts.
Pros: User-friendly, provides lots of insights for sales, great for remote teams, great technical support.
Cons: Can't send follow-up emails from the system.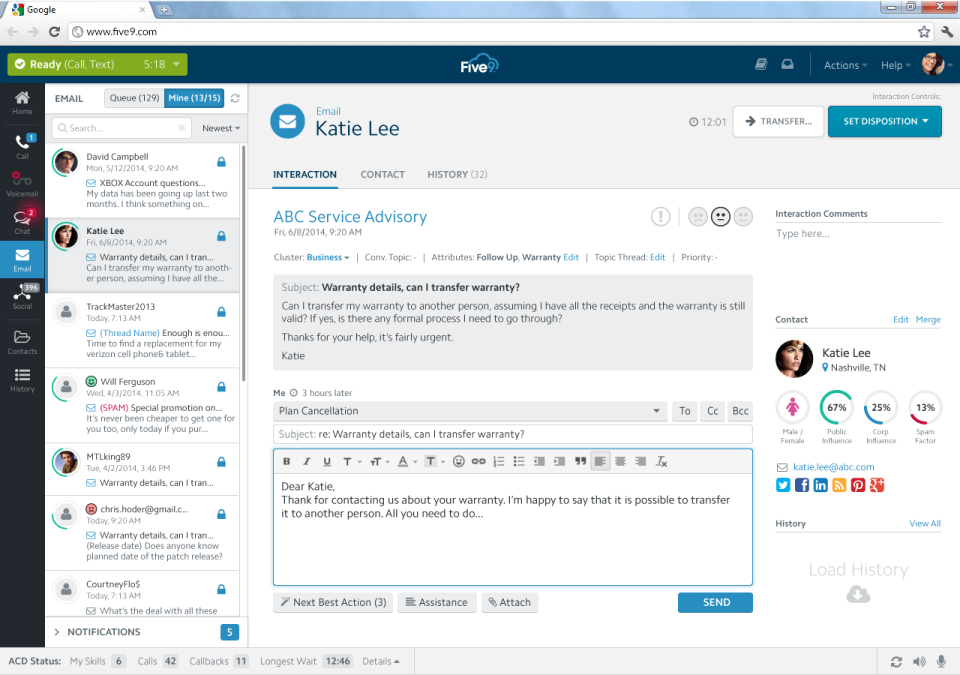 Who uses: Organizations of every size, Business Services, Computers & Electronics, Software & Internet, Technology, Education, Financial Services, Healthcare, Government, Manufacturing, Outsourcing, Retail.
Starting price: Not provided.
Free trial: Yes
Five9 is one of the biggest call center software providers, and they have Predictive dialer, too. This solution has easily adjustable dialing modes to fit the needs of any business. Apart from dialing, Five9 helps with managing lists and campaigns, monitoring calls, coaching agents, etc. You'll especially appreciate real-time reporting and TCPA compliance.
Pros:  Easy to use, lots of professional features.
Cons: Not as intuitive as other systems, customer support is sometimes cumbersome.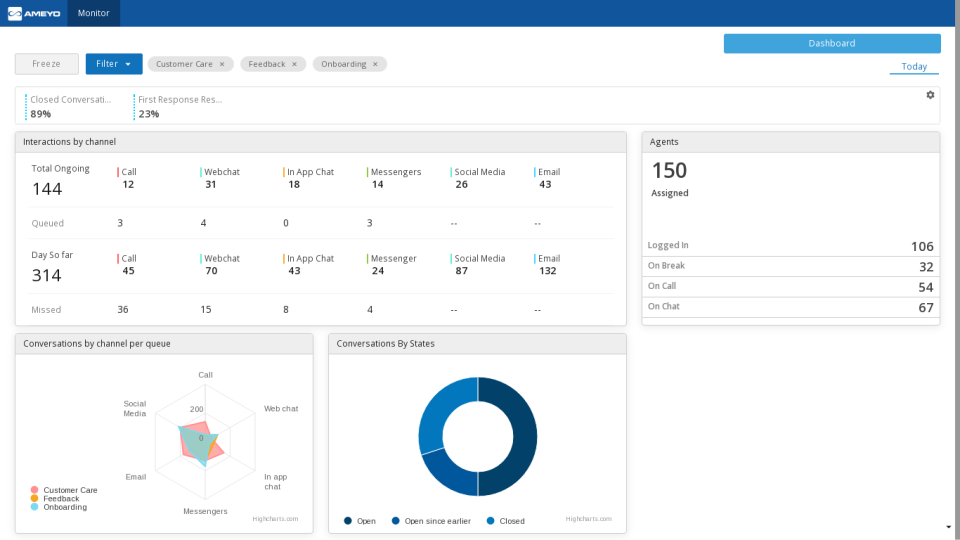 Who uses: E-commerce, Banking, Finance, & Insurance, BPOs, Education, IT, Healthcare, Real Estate, Media & Publishing House, Government, Startups, etc.
Starting price: Not provided.
Free Trial: No.
Ameyo is an omnichannel customer engagement software with predictive dialer, which is designed to increase the productivity of outbound contact centers. Ameyo's contact center software is available on the Private, Public & Hybrid Cloud. The software also includes voice recording, quality monitoring, reporting, answering machine detection, multiple campaign, and lead management.
 Pros: Easily customizable, allows monitoring KPIs.
Cons: Occasional glitches.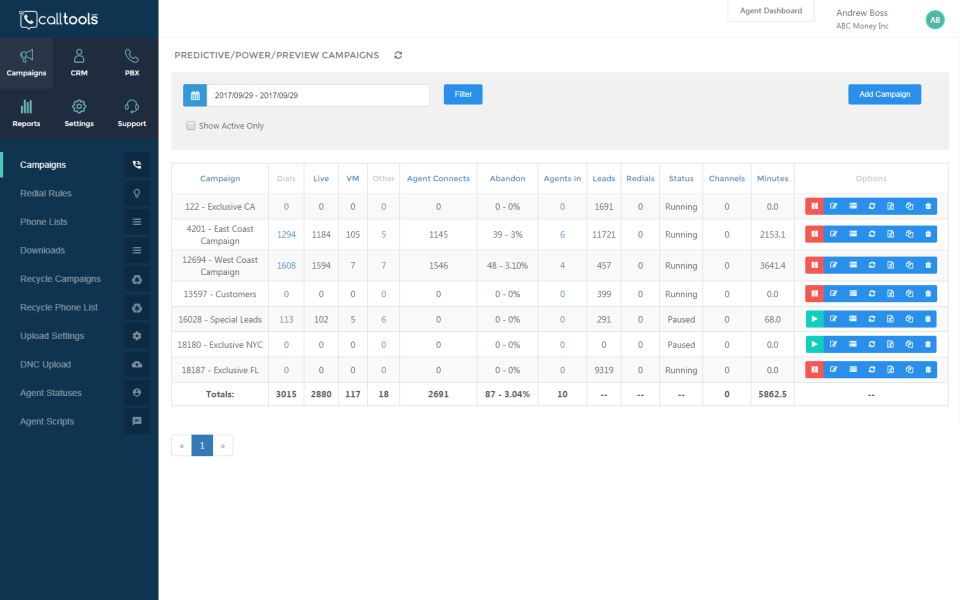 Who uses:  Small businesses, enterprises, BPO's, Telemarketing, Sales and Customer Support.
Starting price: Not provided.
Free trial: No.
CallTools Predictive dialer promises a 500% productivity increase. They describe themselves as a solution that was made by business owners, for business owners, so you can expect pretty decent productivity from this dialer. The system may seem a bit complicated but their in-house customer support is always ready to help.
Pros: Rich features, very easy transfer process.
Cons: Occasional errors, the system is a bit complicated for some users.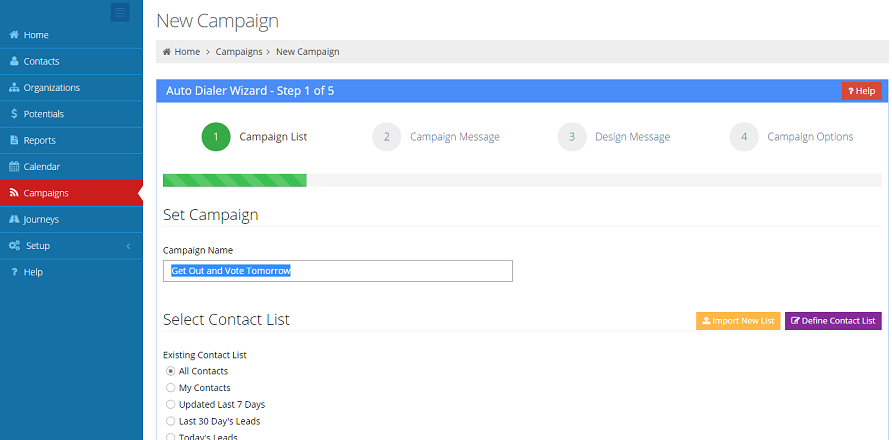 Who uses: Small and medium businesses, large enterprises, religious organizations, Education, Nonprofits, Healthcare, Government agencies.
Starting price: $385.00/one-time/user.
Free trial: Yes.
A scalable and flexible solution with an intuitive interface and lots of useful features besides predictive dialing. Voicent Predictive dialer increases team productivity, improves campaign bottom-line, and allows your business to scale easily. Overall, a decent and affordable predictive dialer.
Pros: Easy-to-use, scalable, built-in CRM.
Cons: Softphone only works on Windows.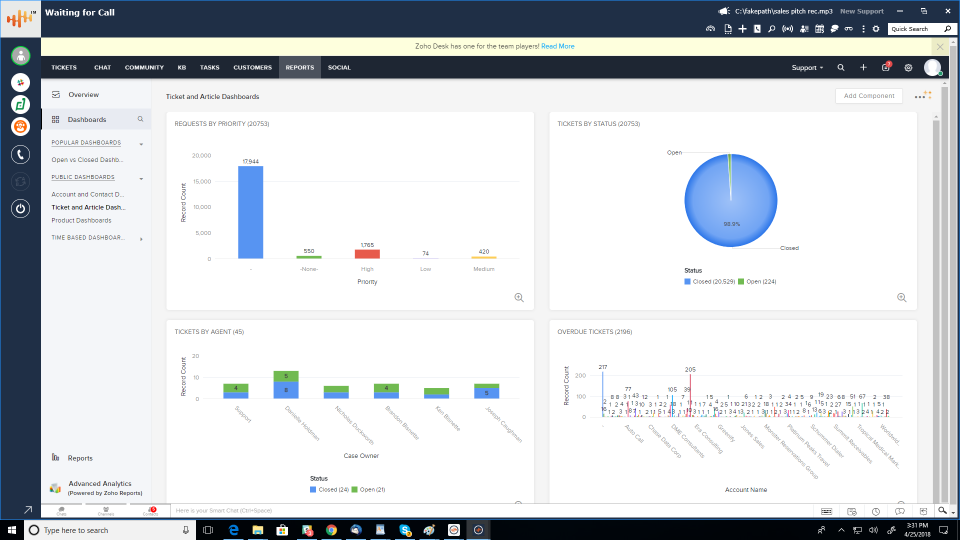 Who uses: B2B, SaaS, Financial Services, Utility, Travel & Hospitality, Insurance, Banking, Home Improvement & Construction, Debt Collection, Nonprofits, Consumer Product Sales.
Starting price: $89.00/month/user.
Free trial: Yes.
ChaseData is a cloud-based call center solution with a predictive dialer. The software boosts the agent productivity by dialing numbers, routing the calls to the nearest open agent, and skipping disconnects and busy signals. You can make use of Progressive, Preview, and agentless dialing. Also, you might like their lead prioritization feature.
Pros: User-friendly, really flexible to your exact needs.
Cons: Documentation is lacking, doesn't show how many calls each agent has on the live dashboard.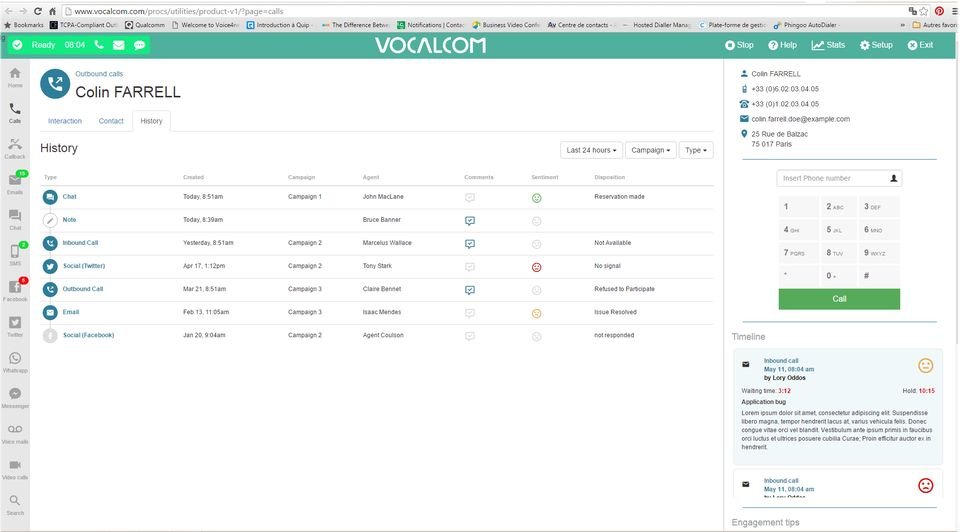 Who uses: Enterprises, inside sales, contact centers, BPOs, Debt Collection, IT, Finance, etc.
Starting price: Not provided.
Free trial: Yes.
As mentioned on their website, Vocalcom Predictive dialer has the only no-pause dialing system in the industry. This means that you can expect significantly fewer hang-ups from your customers. In addition to a dialer, Vocalcom includes scripting, auto CRM-sync, voice recording, etc. It also integrates with Salesforce, Zendesk, Dynamics, Avaya.
Pros: Ease of use, stability, rich features.
Cons: Nothing particular, some users say the documentation could be more detailed.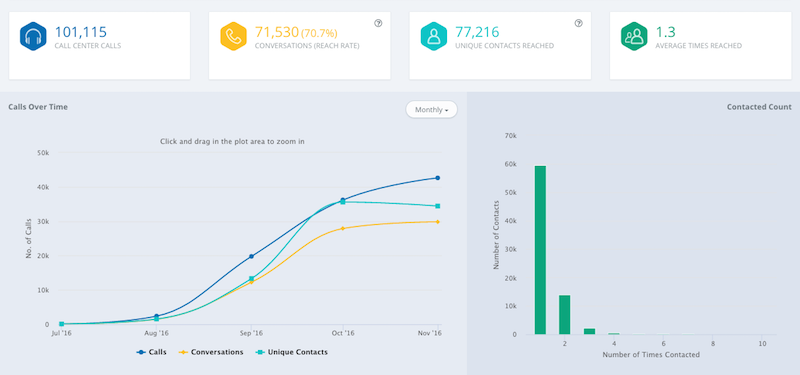 Who uses: Nonprofits, Sales teams for businesses, Political and Advocacy Campaigns.
Starting price: $25.00/one-time.
Free trial: Yes.
This is an easy-to-use call center software with a predictive dialer. The system is much simpler than in many other similar solutions with less complicated settings and fewer features. The best thing about this predictive dialer is probably its cost. Also, CallHub provides voice and text broadcasting.
Pros: Pricing (really affordable and flexible).
Cons: Calling is not smooth (delays and some disturbance).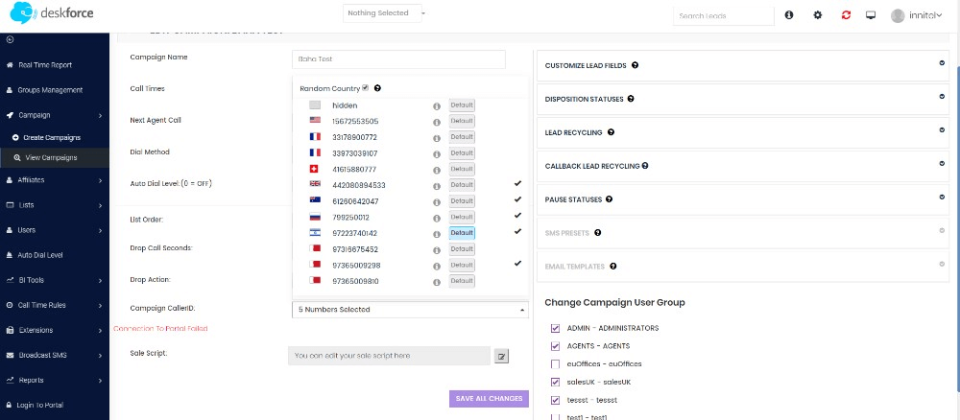 Who uses: Call centers looking to increase their engagements and decrease their CPA.
Starting price: Not provided.
Free trial: Yes.
DeskForce Predictive Dialer is the solution with fully customizable smart features,  such as Predictive Time Zone Optimization, Callback Lead Recycling, sending emails and SMS's to the lead before or after the call, and more. In addition, it ensures seamless integration with CRMs and several other platforms.
Pros: Easy to use, useful features, great support.
Cons: Occasional tech issues and bugs.
On A Final Note
Here's our final tip. Don't rush. The most expensive software is not always the best, and what looks good on the website will not necessarily perform well in your browser. Schedule demos with several companies and get free trials whenever possible. This will secure your business from impulse purchases.
Good luck!