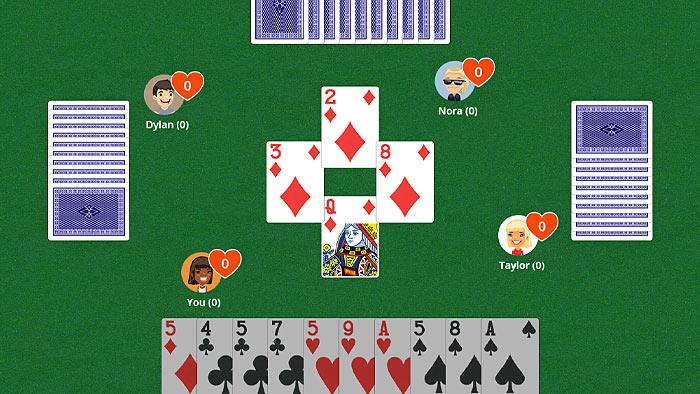 Welcome to the vibrant world of card games, a realm where tradition gracefully intertwines with modern creativity, offering a plethora of options for game enthusiasts. If you're in search of engaging card games suitable for a group of four or more, you're in for a treat! We've thoughtfully curated a list encompassing both timeless classics and innovative modern games to ensure every card game lover finds something that resonates with their taste.
Imagine an evening filled with laughter, competition, and the sheer joy of playing, as you and your friends dive into games, ranging from the nostalgic Hearts and Euchre to the exciting realms of UNO and Exploding Kittens. The canvas of choices allows for a rich, diverse gaming experience, making every gathering a memorable one.
Hearts
Let's begin our journey with the Hearts card game, a classic that has charmed card game enthusiasts for generations. A compelling trick-taking game, Hearts invites four players to engage in a battle of wits and strategies, where avoiding hearts and the formidable Queen of Spades is the key to success. In the digital era, the charm of Hearts hasn't faded; various online platforms and mobile apps allow you to enjoy this timeless game virtually, ensuring that you can always find a game to join.
Phase 10
Taking a stroll down memory lane, we encounter "Phase 10," a remarkable blend of tradition and modernity. Originating in 1982 and bearing similarities to Rummy, Phase 10 brings a unique twist, positioning itself as a modern contender in the card game arena. Its engaging format and the delightful challenge it presents have earned it a special place in the hearts of card game aficionados.
Uno
On the contemporary front, UNO stands as a titan, winning hearts with its vibrant cards and dynamic gameplay. Suitable for 2 to 10 players, UNO delivers an exhilarating experience filled with unexpected turns, strategic plays, and the quintessential "UNO" moment that precedes victory. The universal appeal of UNO has transcended physical boundaries, flourishing in digital domains where players can indulge in its exciting challenges online.
Exploding Kittens
Exploding Kittens represents a fabulous fusion of humor, strategy, and a touch of unpredictability. Initially presented as a Kickstarter project, the game quickly captured the imagination of backers, catapulting it to unprecedented success. It's more than a card game; it's a rollercoaster of suspense, strategy, and the inevitable explosion that players deftly try to avoid.
Traditional charm resurfaces with Euchre, a game that emphasizes strategy and partnership. In this fast-paced game, players navigate through rounds, collaborating with partners to secure tricks and outmaneuver opponents. The world of Euchre extends beyond physical cards; online platforms invite players to explore, engage, and enhance their Euchre-playing skills in a vibrant virtual environment.
Go Fish
Go Fish takes us back to simplicity and the pure joy of playing cards. It's a delightful choice for a relaxed, enjoyable gaming session where players ask for cards to complete sets, navigating through rounds with the goal of achieving the coveted four-card sets. The game's simplicity and appeal have found a new home in digital platforms, allowing a broader audience to enjoy its charm.
Rummy
Rummy stands as one of the most captivating and strategically rich card games played globally. Rooted in the concept of card matching, it carries players through a thrilling journey where the ultimate quest is to craft a hand filled with coherent sets or runs of cards, a process lovingly known as 'melding'.
Rummy isn't merely a game of chance. It's a celebration of mental agility and strategic prowess. As players delve deeper into the game, they are welcomed by endless opportunities to exercise their brains, sharpen their skills, and develop a more profound understanding of the game's nuances and strategies. Every match becomes a cerebral adventure, where mental acuity is tested and honed, making it a magnetic draw for individuals who revel in intellectual stimulation and challenge.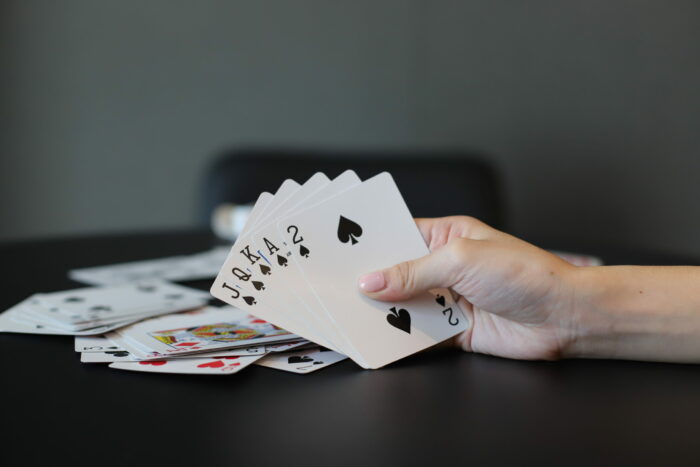 Spades
Spades is a classic card game that's all about strategy, prediction, and teamwork. Like other popular trick-taking games such as Hearts and Euchre, Spades has its own special twist, making it both challenging and exciting. In this game, spades are always the trump suit, meaning they beat out all other cards. What makes Spades interesting is the constant challenge and competition. You always need to be on your toes, thinking about your cards, your bid, your partner's play, and what your opponents might do next. The game requires focus, a good memory, and the ability to make quick, smart decisions.
Canasta
Originating from Uruguay, Canasta has a rich history and is played with two decks of cards. The game revolves around forming melds of seven cards of the same rank, and its diverse rules make for an engaging playing experience.
In conclusion, the universe of card games is richly diverse, offering an exquisite blend of traditional elegance and modern innovation. The games highlighted here represent a spectrum of choices that promise to deliver memorable, enjoyable experiences, whether you're drawn to the classics or eager to explore contemporary creations. Happy playing!