Apple devices have a huge fan base and that is not without reason. However, there is one problem that all iOS users face – the Apple ecosystem is not open enough. For instance, if you have a great video or photo on your iPhone or iPad which you want to show on your TV, you cannot do so without going through a lot of steps or buying an Apple TV. 
DoCast – An Introduction
In comes DoCast, which is an IOS screen mirroring app in the Apple store which not only lets you stream photos and videos directly from your library but also mirrors a screen of your iOS devices to Chromecast-enabled TVs. 
DoCast is the app that all Apple users have been looking for for years. All you need to do is ensure that both the devices are connected to the same WiFi network and you are all set to use the app. Apart from this, the TV should be compatible with Google Cast or at least be Chromecast enabled for the app to work. However, this is not a factor to worry about since most modern TVs do have such capability.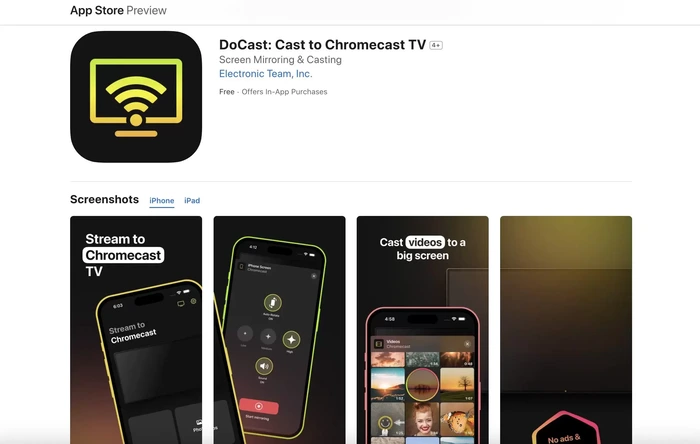 Here's All That You Can Do Using DoCast
Now that you are clear on how the app works, let us take a look at some of the specific tasks that can be accomplished using it. 
Screen Mirror your iPhone to TV

– With DoCast, you can experience seamless mirroring of your iPhone screen onto your TV. This includes the sound too.



Video Streaming

– While screen mirroring is all good, what is often demanded by users is video streaming from iPhone to TV. You can use DoCast to do exactly that without any buffering or lags.



Chromecast all the beautiful photos

– Now you can flaunt all the beautiful images taken on your iPhone on a bigger screen using DoCast. 
Compatibility 
While reviewing any device which claims to have features like screen mirroring, it is necessary to talk about compatibility. This becomes even more relevant when one of the devices involved is from the Apple family. 
The good news is that there are no such issues with DoCast. Firstly, it is an official app available on the Apple store itself. Secondly, it is perfectly compatible with all generations of Chromecast. Moreover, if your TV has Google Cast or an in-built Chromecast feature, DoCast can be used with that also. 
When it comes to brands, it works well with Sony, Sharp, Vizio, Philips, Polaroid, Toshiba, and many more. Moreover, it works well not just with iPhone but with iPad too, making it all the more attractive.  
Unique Features of DoCast 
After having used the app, here are a few observations regarding some of the unique features of DoCast. 
The first thing that you need to know is that DoCast allows you to cast photos for free. There are no limits. 

The screen mirroring and video streaming feature is only available for a limited time on the free version. 

It makes sense to use the screen mirroring facility of DoCast since you get a lot of advanced controls like auto-rotation and sound/video quality. 

It is simple and easy to understand how the app functions and all you need to do is take a look at its controls once.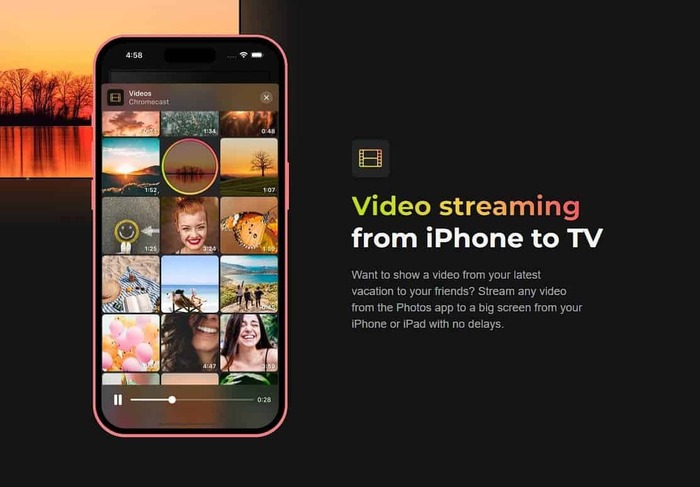 Pricing 
Let's discuss pricing now. 
With the free version, you get 15 minutes of screen mirroring and 3 minutes of video casting. 
If you take a look at the premium versions (plans mentioned below), you get unlimited screen mirroring, unlimited video casting, and no ads. 
Premium plans are as follows:
Lifetime – $19.99 (one-time payment).

Yearly – $14.99 per year.

Monthly – $3.99 per month. 
Final Word 
At this price point, it is extremely lucrative to check out this app especially if you are someone who needs to mirror or stream content from your iOS device onto a larger screen very often. This is because the app delivers on what it promises. The functions are simple enough that anyone can set it up. 
Are you planning to download and use DoCast for your needs? Do let us know about your experience in the comments below.