No business can survive the extra-competitive marketing world if they don't have a robust customer experience backing it. Regarding furniture delivery, customers expect the highest quality services at all times. One damage, loss, or defective piece can drive away the customer, leading to potential business loss over time. Here's why –
5 Reasons Why Customer Experience is Crucial While Delivering Furniture
Better customer retention
A good furniture delivery experience nurtures loyal customers. They will without fail buy more from the store as good shopping experiences and delivery experiences are proof of that. Eventually, the customers will harbor a long-term relationship with the brand and will think twice before buying from another brand.
All businesses of today thrive on ratings and reviews. A brand without an online identity is as good as a non-existent brand. If you as a furniture store keep delivering your products at the best conditions, without delays and miscommunication, you will automatically see an increase in the number of positive reviews. This increases market exposure. 
Reduction in returns and replacements
The better the delivery experience, the better the audience's perception of your brand. Nowadays, when returns and replacements have become second nature, your focus must be on ensuring that services during and after sales are excellent, leaving no room for returns.
There can be no greater joy for companies than having a high customer return percentage. Continue delivery hiccup-free furniture delivery experiences and you'll have a good amount of satisfied customers returning and staying loyal to your brand.
A new customer conducts a lot of research in the form of word-of-mouth reviews, online reviews, brand perception in the market and more. However, when you do offer successful delivery experiences, you're establishing confidence with people who may not have the time to inspect the product before purchasing.
5 Factors That Impact Customer Experience During Furniture Delivery
The excitement of your order reaching your doorstep is clearly unmatched, especially when it's for something huge and tangible like a sofa. People mostly make their schedules around the estimated delivery date of their order. When you delay the delivery, customers will be disappointed and frustrated, even more so if there's no prior intimation. 
Damaged or missing products
The delivery of damaged or missing products is a major blow to the expectations of the customers. People who expect their orders to reach them in perfect condition will automatically make up their minds not to purchase from the same store again. 
Untrained delivery personnel
The behavior of your delivery personnel can make or break the trust of your customers. You need to have well-skilled and trained people delivering the product and also setting it up at the location. Zuper has a well-built portal that helps you check the background and history of the person you've assigned the task to. 
Miscommunication about delivery and charges
Transparency in financial matters is always a must for customers. If you add on more charges during delivery and after setup, your customers will feel like they're being cheated. Always maintain an open channel in monetary issues.
Inefficient customer care services
Fast and responsive customer care services will always be appreciated when handling delivery-related issues. Have an expert team handling queries and resolving issues.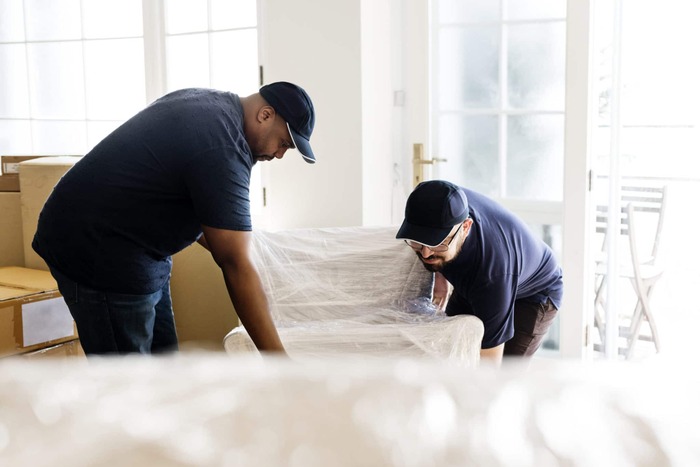 5 Ways to Use Logistics and Tracking Solutions To Improve Furniture Delivery Experience
Furniture businesses can embrace new solutions to keep themselves at the top of their game as follows:
Use real-time tracking systems:

Have a system that enables and updates customers on the status of their delivery by the minute. Use it to inform any delays promptly. 

Provide customer support via the mobile app:

develop a mobile app where customers can access details concerning their orders and manage their delivery preferences accordingly. 

Perform quality control checks:

implement thorough quality control checks before dispatch so that the furniture is in perfect shape through transit and at the time of delivery. 

Support interactive delivery scheduling:

offer extra assistance by enabling your customers to choose their delivery slots as per their availability.

Maintain transparency in communication:

have a two-way communication mode where you and the customer can be honest about delivery slots, logistical issues, and/or other potential bottlenecks.
Customer experience and furniture delivery: a potential pathway
Customer experience will be the first thing to be examined in furniture deliveries. The future of your company will be in good hands if both sectors are well taken care of. Book a demo with Zuper's team today if you wish to learn how to integrate technology for improving furniture delivery.