Opening Thoughts & Origins Of Free Fruit Machine Games
Slots have turned into a colossal industry within the casino sector. Fruit-themed slots perhaps have arguably the longest-standing, deepest, and most intriguing history of all the slot themes. While mythology-themed games (Egyptian, Greek & Norse) might have grown to be the most prominent genre at the moment, the origin of fruit-themed slots dates back over 120 years, and they play a pivotal role in the overall success of the industry, particularly in the new era of online fruit machine games.
When Charles Fey constructed the first slot machine in the 1890s, he initially used playing card symbols, with the winner landing the jackpot if they lined up three Liberty Bell symbols horizontally. However, following a swift change in legislation that banned the devices, Fey had to think outside the box, and this became the first recorded evidence in the history of fruit symbols used on a slot interface right at the beginning of the 20th century.
Fey decided to change the symbols to fruits and confectionary ideas so that the winners would be paid out in gum instead of money, and with it, the concept of free fruit machine games was born. By offering fruit instead of cash prizes, the San Francisco-born designer could circumvent the legislation and allow his ingenious invention to continue gathering momentum. 
The Pull Of Exotic Fruit Slots
Fruit slot games went from strength to strength from this point, and within the following few decades, they became popular machines all over the US and abroad. Many studies have tried identifying why fruit slot games are popular with casino bettors worldwide. One of the critical factors that psychologists believe plays a significant role is the bright and vivid imagery that conjures up the aura of positivity. 
Fruit is a superfood, so it's good for your diet, as are exotic fruits. It powers our brain and helps boost our health. As fruit slot games developed, essential fruits like lemons and cherries were replaced with exotic kiwi, watermelons, and pineapples. Not only did this help inject a new set of symbols, but it also ensured that designers kept the gaming blueprint, structures, and grid reels fresh. The new features meant they continued engaging in slot games, facilitating a rise to prominence.
With so many different shapes and colored fruits, gamblers unconsciously connect with upbeat and dazzling symbolism, and that fruit is part of a robust and varied diet. Although this might seem like a push, our brains are magnificent and download data and information even when unaware. Discerning imagery and whether it evokes a positive or negative memory is a big part of that. 
Psychology Of Fruit Slot Games
Fruit is often seasonal, so it cultivates mental and emotional images of summer, long summer nights, and the benefits the sun brings, especially exotic fruits typically found in hot, tropical climates. There's a staggering range of exotic fruit games to play when longing for summer, and it's not just the symbolism that generates positive imagery of summer. Still, the backdrop of exotic fruit slot games often has the best graphic design to strengthen the theme.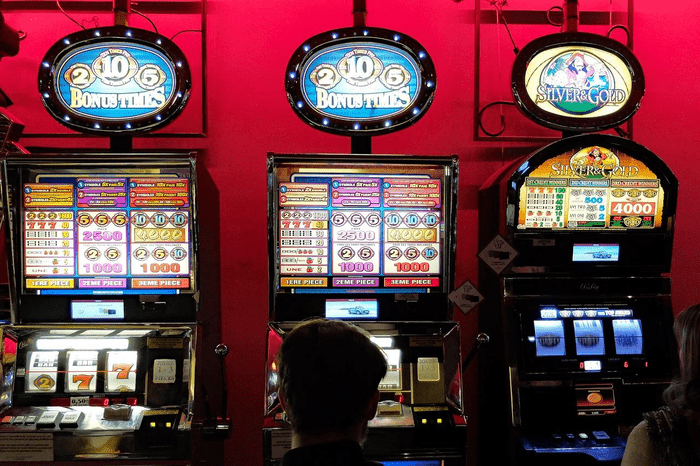 Simple designs set on a beach are sufficient to sell the whole idea and theme of the slot. However, some games expand far beyond that and include characteristics such as
Huge reels, far exceeding the original fruit-themed slots of standard 3×3 reels.

Up to 100+ grid squares.

Mini-games bonus rounds, progressive jackpot prizes.

Bonus wheel mini-games with additional free spins to unlock. 

Change the payline bet. 

Quick hit casino games featuring fruit symbols that allow you to play one spin after the other consecutively.

Free fruit machine games, such as sweepstakes, where you play with in-game tokens, replacing real cash.
The main pull for any game is the chance to win a top prize or jackpot in any casino betting venture. Slot games don't have any strategy involved, so random chance is a crucial fixture in its design. If you're somebody who likes the look and feel of a slot and doesn't want to play with real money, the internet is awash with free fruit machine games for fun and thousands of fruit slot games; the choice is extensive and continues to grow daily. 
External Factors 
The catalog of fruit machine games available online and in physical casinos has increased usage and popularity.
According to slotsjudge.com editor-in-chief Aleksandra Andrishak: "Across Western countries, two significant components have resulted in both online betting and casino game popularity soaring to new heights. Firstly, legislation in the US has allowed over a dozen states to permit online gambling within their state lines over the last five years, with many economists believing this will fuel growth for the next several years. "
In addition to positive legislation that is allowing companies to advertise and market themselves more impactfully, the widespread accessibility of smartphones and mobile casino fruit slot games has helped the industry to flourish. It's not just smartphones, but the upsurge in Android tablets and iPads has meant that fruit slot game designers have been able to transpose their ideas for more extensive displays. 
Due to the market enlarging and creating more revenue, it's bringing in higher-quality game designers. Many have switched from designing console games to slot games due to the amount of money now available in the sector. 
Final Thoughts
Fruit-themed slots are part of a bracket of games that have benefitted immensely due to the sophisticated advancements in gaming algorithms, game designers, and graphic display quality. 
Once you combine these factors with the external factors we discussed, like the widespread availability of smartphone devices and conducive legislative changes in the US and beyond, fruit-themed slots are at the precipice of an industry, and many believe that this continued expansion in popularity still has the capacity to go a lot further. 
All of these positive subsidiary factors help to push the gambling juggernaut onto greater horizons, and multiple business analysts and economists are under the impression that more states will continue to unlock legislation that allows online casino gaming to flourish. As they open more doors, fruit slot games will inevitably become a direct benefactor of these decisions and continue their ascent.