When it comes to gaming, the right setup is as crucial as skill. Whether you're a casual player or a professional streamer, designing the ultimate gaming setup is about creating a space where you can excel, enjoy, and emerge victorious. 
It's not just about the tech; it's also about the furniture that supports you through every level, boss fight, and PvP battle. Here's how to design a gaming setup that's as impressive in function as it is in form.
The Throne of Games: Choosing the Right Chair
At the heart of every gaming setup is the chair. It's where you'll spend hours strategizing, socializing, and scoring. Investing in a quality game chair is not just about comfort; it's about maintaining your health. Game chair health benefits are numerous, including better posture, reduced back pain, and improved circulation—all vital for keeping you at the top of your game.
The Command Center: Your Desk
Your desk is more than a surface for your monitors and keyboard; it's the command center of your gaming universe. An ideal gaming desk is spacious, sturdy, and ergonomic. Look for one with adjustable height to alternate between sitting and standing, keeping you agile and alert during marathon sessions.
Visual Victory: Monitor Setup
A seamless visual experience can give you an edge, especially in fast-paced games. Position your monitors at eye level to avoid neck strain, and consider a curved monitor for an immersive field of view. Multiple monitors? Make sure they're aligned for easy viewing transitions without jarring movements.
Sound Strategy: Audio Equipment
Immersive sound can transport you into the game's world, but a tangle of wires can break the spell. Opt for a wireless headset with crisp audio and a microphone that captures your voice clearly, whether you're coordinating with teammates or engaging with your stream's audience.
Lighting the Way: Ambiance and Clarity
Good lighting is essential, not just for aesthetics but also for reducing eye strain. Soft, diffused lighting can create ambiance while ensuring there's enough light to keep your space well-lit without any harsh glare on screens.
Storage and Organization: A Place for Everything
Keep your gaming space clutter-free with smart storage solutions. Shelving units, drawers, and cable management systems can keep your gear organized and your mind clear. A tidy space is conducive to a focused mind, which is essential when you're deep into gaming strategy.
Ready for Action: The Right Accessories
Every detail counts in a gaming setup. From a reliable mouse and keyboard to a sturdy headset stand, the right accessories ensure that everything you need is within reach. It's about creating a space that's as functional as it is personal.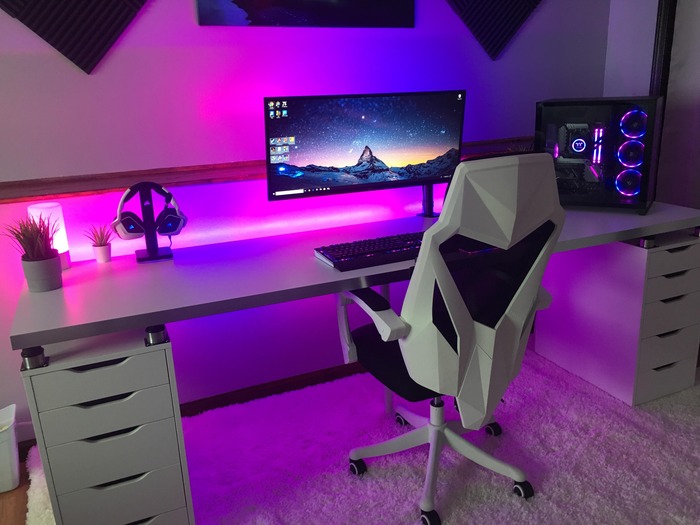 The Ultimate Test: In-Game Performance
A great gaming setup is tested by its performance in-game. For those who spend hours in Azeroth, the comfort and functionality of their gaming environment can be the difference between a triumphant raid in World of Warcraft and a near miss. It's about being so comfortably supported that you can fully immerse yourself in exploring Amirdrassil and tackling Mythic Plus Dungeons.
Your Gaming Legacy
Designing the ultimate gaming setup is about more than just playing games; it's about creating a personal domain that's equipped for victory. It's a place where you can connect with friends, conquer new worlds, and create unforgettable gaming moments. With the right furniture, your gaming setup can become a legendary space that supports your health, reflects your style, and enhances your play. So take the throne, command your space, and let the games begin.