Because of Spotify's regulations launched on restricting the music streaming experience within its official platforms, many of you probably wish to convert Spotify to MP3 in terms of storing, playing, or editing Spotify songs locally whenever you need. Nevertheless, processing Spotify to MP3 conversion needs assistance from professional third-party programs, as the sophisticated encryption technique, DRM, has been adopted by Spotify to restrict such behaviors.
For such a purpose, this review will mainly introduce an ultimate guide to teach you how to convert Spotify to MP3 on Windows/Mac computers with easy taps. Please keep reading to figure out how!
Where Will Spotify Save Downloaded Playlists? Are They in MP3 Format?
A fact we all know is that Spotify also provides an offline music download feature allowing you to download Spotify playlists to stream offline. You probably wonder where these Spotify downloads will be stored after the download process is completed successfully. Will they be encoded in MP3 or other audio formats?
On Windows/Mac
For Windows or Mac users, you can directly turn to the file path mentioned below to quickly access Spotify downloads after the playlist download is complete:
Windows: C:\Users\[User Name]\AppData\Local\Spotify\Storage.
Mac: /Users/ username/Library/Application Support/Spotify/PersistentCache/Storage.
On Android
If you own an Android device, it is possible for you to quickly find the downloaded Spotify files on your device under the folder in this path:
Android/data/com.spotify.mobile.android.ui/files/spotify.
Nevertheless, please note that Spotify only keeps the cached files for the downloaded Spotify songs in the mentioned folders on different devices above, which means that you can't actually access the real music files, as Spotify has not created them at all. Therefore, it won't be possible for you to play these cached files in regular media players, and none of them will be generated in MP3 format. Instead, only on the Spotify platform can you play the downloaded songs offline.
Best Converter to Convert Spotify Playlists to MP3 [No Spotify Premium Required]
To get independent and streamable Spotify MP3 music downloads offline, bypassing DRM is an essential procedure. TuneFab Spotify Music Converter is an excellent and powerful program developed with advanced techniques to get rid of this obstacle, decode sophisticated DRM protection, and convert Spotify playlists to MP3 with one click. Please go in-depth and walk through its sparking features.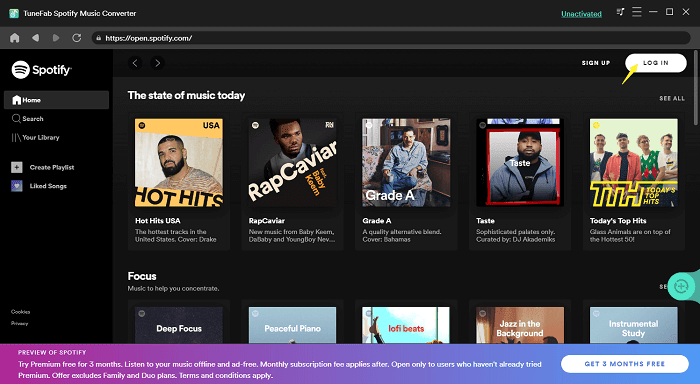 Convert All Spotify Playlists to MP3
By embedding with Spotify music player, the program allows you to browse and select all Spotify playlists provided in the official database, and convert them to MP3 or other popular formats such as M4A, WAV, and FLAC in preferences. You can extract almost all music resources from Spotify and keep them permanently offline.
Personalized Music Effects
To retain satisfying music effects for every user, the program delivers personalized settings and allows everyone to adjust the music quality to match their streaming habits. The maximum bitrate setting can be raised up to 320Kbps to encode the MP3 outputs, which guarantees the best streaming experience on all devices flexibly, and this can also be a superiority feature distinguishing the program from those free online Spotify to MP3 converters.
Batch Convert Playlists at 5X Faster
Amazingly, TuneFab Spotify Music Converter has well-enhanced its batch conversion feature to process batch playlist downloads for you. It won't consume a high CPU and provides a no-lag experience even if it functions to convert multiple Spotify playlists to MP3 at once. With a stable Internet connection, the conversion speed can further be raised up to 5X faster, greatly facilitating productivity to help you save a bulk of Spotify songs in MP3 format without wasting much time!
Retain ID3 Information
While proceeding with the Spotify playlist to MP3 conversion, the program will also detect and retain ID3 information such as the title, artist, album, etc accompanying every Spotify download. It can better help you sort the downloaded MP3 files in order and organize your offline music library well effortlessly. You don't need to worry about wasting time managing the downloads every time you have a vast amount of songs converted to MP3.
Please also note that TuneFab Spotify Music Converter will not ask you to subscribe to Spotify Premium to access the offline feature! Alternatively speaking, even if you are just using a Spotify Free account, you can log in to the program to convert Spotify playlists to MP3 directly!
4 Steps to Convert Spotify Playlists to MP3
Next, please also take one more minute to master how to convert Spotify playlists to MP3 in just 4 steps without Spotify Premium using TuneFab Spotify Music Converter.
Step 1. Log in TuneFab Spotify Music Converter Music Player
Please run TuneFab Spotify Music Converter after well installing the program. On the main feed, you will see the large Open the Spotify web player button provided. Click on it and complete the account login using your Spotify Free ID.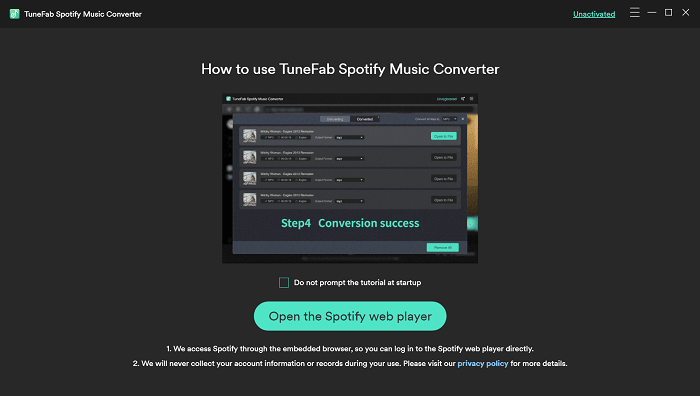 Step 2. Drag Spotify Playlists to Convert
After the account login, you can use the music player, as usual, to browse, search, or stream Spotify playlists. Once discover those you wish to convert as regular MP3 files for storing and playing later on, please drag them to the Add button to resolve all containing songs.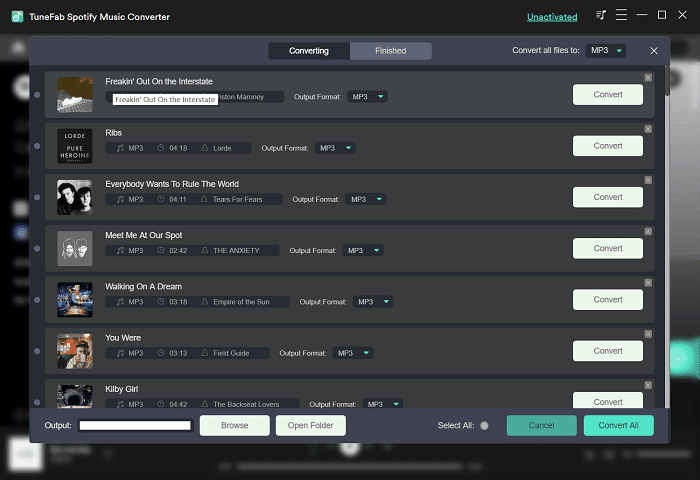 Step 3. Configure Output Settings
Please walk on to determine the output settings for Spotify downloads now. You can turn to Menu >> Preferences and switch to the Advanced module. Here, please select MP3 as the output format, also further personalize the quality settings by altering both SampleRate as well as Bitrate in preferences. The maximum quality can be raised up to 320Kbps and 48kHz, but the file sizes will be comparatively larger.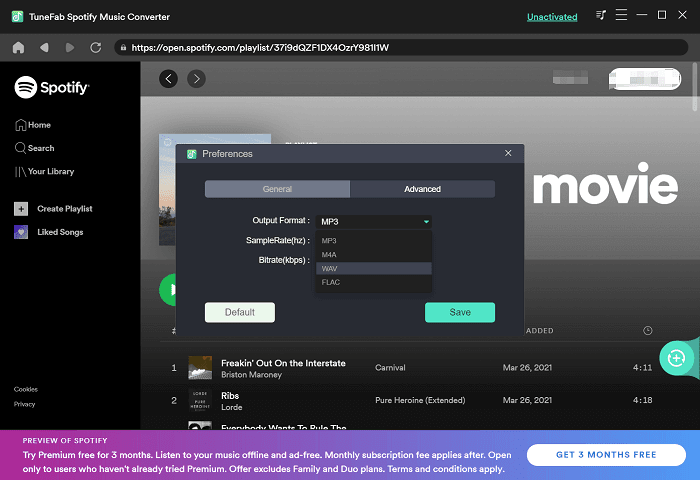 Step 4. Convert Spotify Playlists to MP3
Eventually, once walking through all the above steps, continue with the final manipulation now! Simply click on the Convert All button, then the program will convert Spotify playlists to MP3 for you in no time!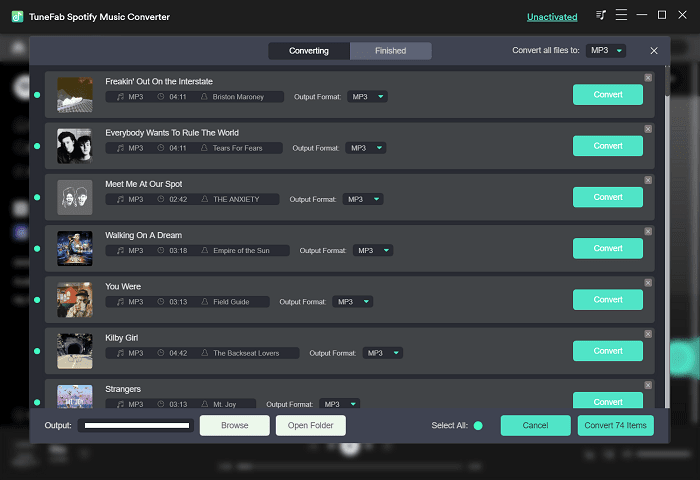 Once the music download completes, you can access the MP3 downloads under the Finished tab. By tapping the View Output File button, the output folder will be launched and you can find all downloads saved here.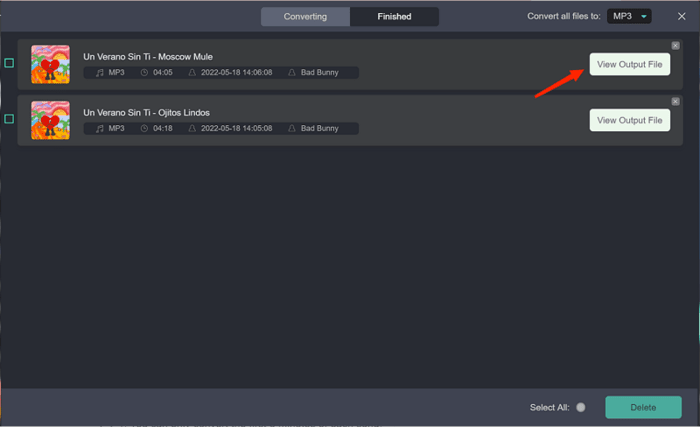 Final Verdict
To convert Spotify playlists to MP3, the official download function offered by Spotify Premium can't actually work. Instead, you need a more powerful converter like TuneFab Spotify Music Converter to remove DRM encryption, then the Spotify to MP3 conversion will be guaranteed as successful. Furthermore, the program also offers more outstanding features that can facilitate the experience to be more enjoyable. Now, please install TuneFab Spotify Music Converter and have a try!