Are you wondering – Is Terraria Cross Platform or CrossPlay?
Here's everything you need to know about Terraria!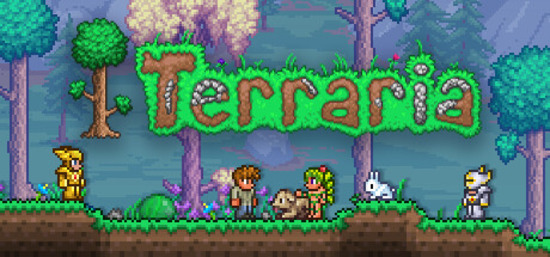 Is Terraria Cross-Platform in 2023?
As of 2023, Terraria is not cross-platform between major gaming systems like PC, PlayStation, Xbox, and Nintendo Switch.
If you're playing Terraria on a PC, for instance, you won't be able to join a game with a friend who is playing on an Xbox.
This limitation can be a significant drawback for players who have friends on different platforms.
Why is Terraria Not Cross-Playable/Platform?
The reason Terraria isn't cross-platform is multi-faceted. Each gaming platform—be it PC, PlayStation, Xbox, or Nintendo Switch—has its own distinct software and hardware architecture.
Ensuring a game is cross-playable involves aligning the game code across these diverse systems, which is a significant undertaking.
Additionally, there are policy requirements and restrictions imposed by each platform owner that must be met.
Another issue that complicates matters is that platforms often receive different updates, which can lead to version mismatches.
This makes it quite challenging for developers to maintain a stable cross-platform play environment.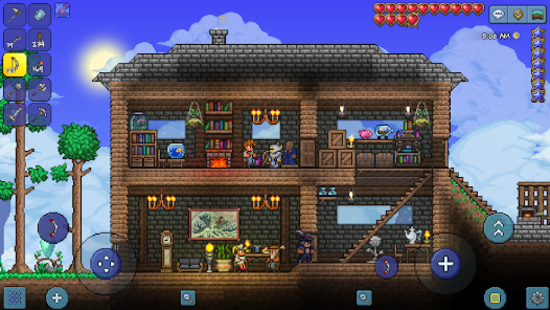 Terraria Cross-Platform – What Are The Chances?
As of now, there hasn't been any official announcement about Terraria becoming cross-platform.
However, it's worth noting that there's a community-made mod that allows for limited cross-play between PC and Android.
While this mod's existence suggests that cross-platform play is technically feasible, implementing official support would require a concerted effort by the developers.
It would also necessitate collaboration with the various platform owners to navigate policy and technical constraints.
So, although there's no official support as of 2023, the presence of mods and the game's continued popularity provide a glimmer of hope for future updates.
Terraria Cross-Platform Rumors And Release Date
Speculations and rumors about Terraria going cross-platform have been circulating for years.
While these rumors generate excitement, it's essential to note that there hasn't been any official confirmation or announcement regarding a cross-platform release date.
Therefore, it's advisable to stay tuned to official Terraria channels and forums for the most accurate and updated information.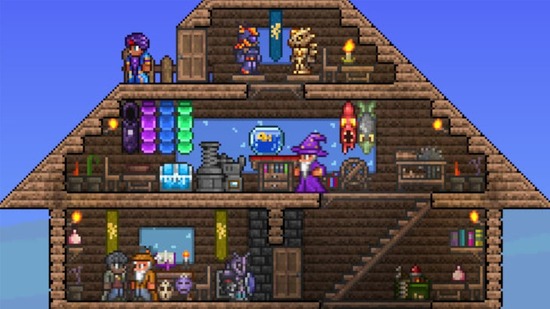 Can You Play Terraria On Split Screen?
Yes, Terraria does support split-screen multiplayer gameplay, but this feature is platform-dependent.
For instance, console versions often allow for two or more players to share a single screen.
This makes it easier for friends and family to jump into the game without needing multiple devices.
However, the exact number of players supported and the specific platforms that offer this feature can vary, so it's advisable to check platform-specific details before planning your split-screen gaming session.
Is Terraria Cross-Progression or Cross-Generation?
Unfortunately, Terraria doesn't support cross-progression or cross-generation features.
What this means is that you can't continue your game progress when you switch platforms.
For example, if you have a character on the Xbox, you won't be able to transfer that character's progress to a PlayStation.
The absence of cross-generation support also means that moving between different generations of the same console family, like from PS4 to PS5, will not carry over your progress.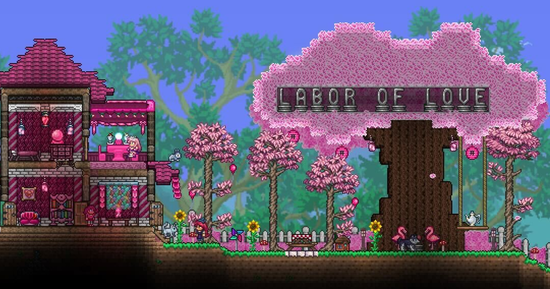 Conclusion
To sum it up, as much as Terraria is a fantastic game that has captivated players across multiple platforms, it sadly does not offer cross-platform capabilities.
While some mods offer a semblance of this feature, they come with their own sets of challenges and risks.
Therefore, until there is an official announcement, players should remain cautious and keep an eye on official communications for any updates regarding cross-platform support.
FAQs
Q: Can I play Terraria with my friends on different platforms?
As of 2023, Terraria doesn't support cross-platform play among major gaming systems.
Q: Is there any way to make Terraria cross-playable?
While the base game isn't cross-playable, a community mod does allow for limited cross-play between PC and Android. Use this mod at your own risk as it's not officially supported.
Q: Will Terraria ever become cross-platform?
There has been no official confirmation. Stay updated by following the official Terraria channels.
Q: Does Terraria support split-screen on all platforms?
No, split-screen support is platform-dependent. Check your specific platform for more details.
Q: Why is cross-progression not available in Terraria?
Cross-progression isn't supported due to the different architectures and policies of gaming platforms, making it challenging to implement this feature.