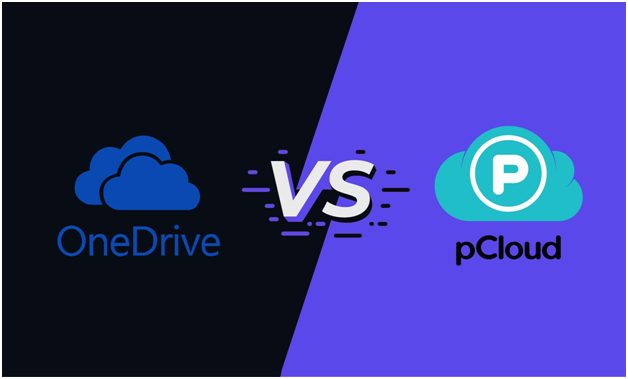 Cloud storage solutions are popping up everywhere making it difficult for average consumers and business users to find the right provider for their needs. In the past, deciding which cloud storage provider to go with depended on how much free storage space was on offer.
The problem is that it only tells one part of the story. There's so much more to cloud storage than the actual storage space itself. For starters, you have to consider how secure the cloud storage provider is, whether it has streaming capabilities, and how it handles file versioning.
If the first word that comes to your mind is Dropbox, you're not up to date. Many disappointed Dropbox users are constantly seeking for Dropbox alternatives to overcome its many faults (particularly those dealing with security and privacy issues).
In this post, we'll compare some of the main features on offer with two popular cloud storage solutions, pCloud and OneDrive, to help you determine which one is right for you.
Brief Overview of pCloud
Founded in 2013, pCloud is a popular cloud storage service that you can use to make sure your documents, photos, music, and other important files and folders are secure. You won't have to worry about losing your data in case your hard drive goes corrupt or you lose your smartphone.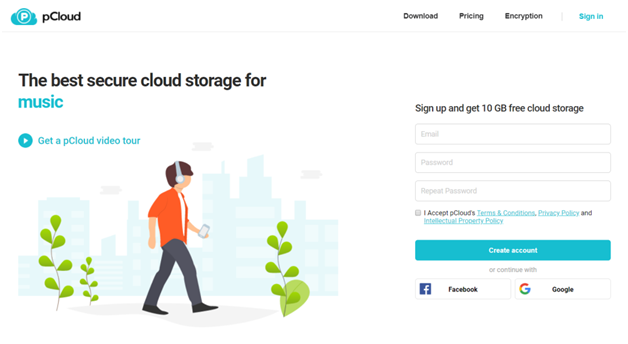 pCloud has apps for desktop computers, laptops, smartphones, and tablets. However, you can always access your data from pCloud's online web client that runs in the browser. It's designed for both consumers (individuals, families, and photographers) and business users (SMBs and freelancers).
Brief Overview of OneDrive
OneDrive is a cloud storage solution by Microsoft that offers a number of collaboration and productivity integrations with Microsoft products such as Skype, Office 365 for Desktop, and Outlook.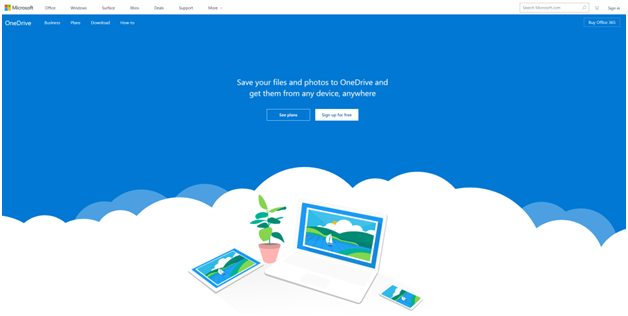 It's worth noting that there are some clear red flags associated with OneDrive security – specifically regarding privacy issues as it's been linked to the PRISM project. Even though OneDrive has recently upgraded its security, it still has a long way to go to compete with security-first cloud storage services (like pCloud).
As you can probably guess, OneDrive is designed for business users, particularly those that use other Microsoft services. It's not a good fit for average consumers who aren't using all Microsoft products.
pCloud vs OneDrive: Feature Comparison
Here, we'll go through some of the key features on offer with pCloud and OneDrive.
#1: File Storage
pCloud
pCloud lets you access your files anytime using different, connected devices and doesn't take up any physical storage space on your hard drive or smartphone. Essentially, it creates a virtual drive on your computer which lets you automatically synchronize your files across connected devices.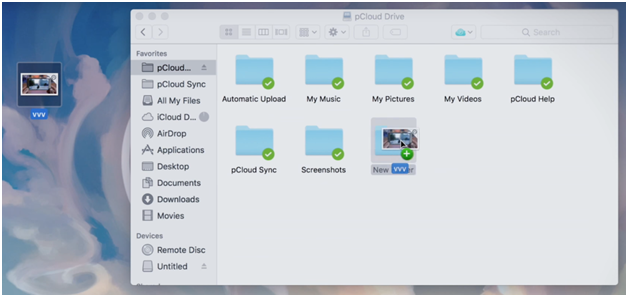 For example, you can configure pCloud to delete all photos and videos from your smartphone once they've been uploaded to the cloud. This way, you can save storage space on your Android or iOS device.
Let's say you run a design agency and have files that need to be edited. All you'd have to do is launch the application you need to edit it in, locate the file in pCloud Drive, make any necessary modifications, and save changes. The key benefit here is that you won't have to download the file first in order to make changes and then re-upload the modified file.
OneDrive
OneDrive's Files On-Demand feature lets you access your data in OneDrive (in Windows 10) without downloading each file or taking up storage space on your local machine.
By enabling Files On-Demand, you can access all of your files via the File Explorer in addition to updated information about them. OneDrive marks files created online (or through connected devices) as online-only files. It also lets you save storage space on your device by letting you access data online and gives you the option to select which files and folders you want to access locally on your machine.
This is a useful option for business users as it lets them easily scan and store documents, images, receipts, business cards, or notes, and always have quick access to them.
#2: Streaming Capabilities
 pCloud
With pCloud, you can play your favorite music directly from the online storage platform once you've uploaded it. All of your audio files will be available in the Audio tab regardless of where you uploaded them to in pCloud.
You'll be able to stream songs, audio, and video directly through your Android or iOS smartphone or tablet without having to download the files to your device first. You can also synchronize your digital collections from your device to the web using pCloud Sync.
pCloud's built-in audio player lets you create new playlists in the cloud or load existing ones. Plus, you can choose to play your music in shuffle mode or repeat the entire playlist.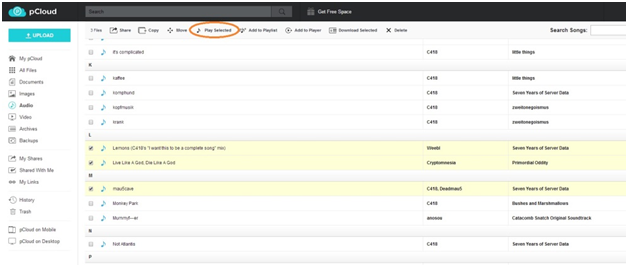 It even gives you offline access to certain files which lets you preview them from the app, even if you don't have internet connectivity. Simply long-press the file or folder you would like to make available offline and select the Make available offline option.
OneDrive
Although OneDrive technically lets you upload your Music Library, streaming audio files directly from the cloud requires you to jump through a few extra hoops. Selecting an audio file that you've uploaded will only give you the option to download it.
If you wish to stream your uploaded music files, you can do so by using Microsoft's Xbox Music service. One thing to remember is that you need to upload your music to OneDrive's Music folder to be able to stream it. OneDrive doesn't automatically move all audio files to the Music folder.
#3: Security
 pCloud
pCloud uses client-side encryption to keep your files hidden from unauthorized access. Its pCloud Crypto add-on enables you to protect files with high-end security and is as easy as putting a file in a folder. This is especially useful for business users who might need to save important files to the cloud.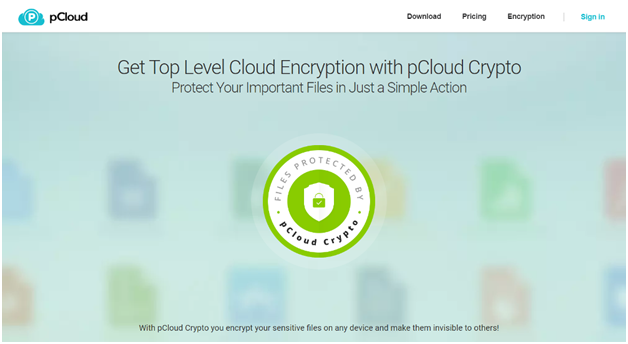 pCloud's security client encrypts the files on your desktop computer and uploads only the encrypted copies to the cloud servers. Since no file will leave your device, you can rest assured that your data won't be accessed by anyone.
It utilizes zero-knowledge privacy which means that pCloud doesn't store or upload the encryption keys anywhere in their systems. In simple words, only you will have access to the encryption key. pCloud uses 4096-bit RSA for users' private keys and 256-bit AES for single-file and single-folder keys.
OneDrive
In the past, OneDrive lacked proper security features (even at-rest encryption) and has only recently upgraded its systems. Now, OneDrive Personal offers at-rest and in-transit encryption.
At-rest encryption involves per-file encryption and BitLocker disk-level encryption. Each file is secured using a unique AES 256-bit key. OneDrive also utilizes the TLS protocol to prevent man-in-the-middle attacks.
It doesn't offer private, end-to-end encryption which prevents others from viewing your files. As a result, you could be at risk of having your privacy compromised.
#4: Branded Links
 pCloud
Branded links enable you to send customized download links to others and track who views and downloads your files. This is useful for freelancers and business owners (such as course instructors, design agencies, or developers) who work with multiple clients at a time. pCloud lets you generate a branded download link for one file (or several files or folders) and it also allows others to download this data.
If you enable Branding in pCloud, you'll be able to add and customize the title image, headline, and description of the files you make available for downloading.
OneDrive
OneDrive doesn't offer any sort of branding capabilities. Considering OneDrive is primarily targeted at business users, this isn't ideal. This kind of feature is essential for SMBs (such as design agencies, consultants, and other service providers) who need to add branding elements to the files and folders they share with their clients.
#5: File Versioning
pCloud
pCloud's Rewind feature lets you see all the older versions of your files for upto 30 days on premium plans. It also lets you view your account on a particular date and time in history and quickly restore or download any non-encrypted data or shared files you may have accidentally removed.
You'll also be able to recover previous versions of files, data that was previously shared with you, and content sent to Trash. Additionally, pCloud's Extended File History feature allows you to record all file changes made in your account for a period of 360 days and lets you recover data within a year of modification or deletion.
OneDrive 
OneDrive's File Restore is an all-in-one self-service data recovery solution that lets you restore data for a period of up to 30 days.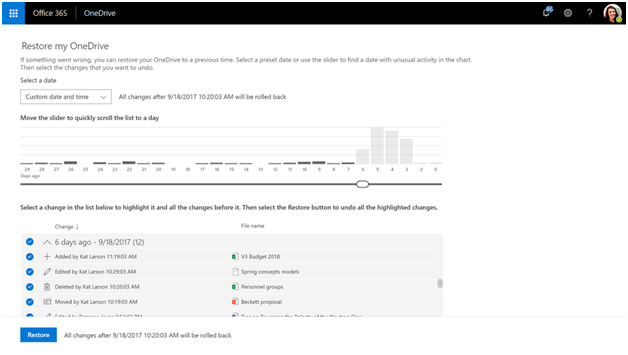 If you think that your files have been compromised, you can easily probe file modifications and go back to any second in the last 30 days to restore your files. This way, you'll be able to restore changes through tracking activity data to spot the exact moment you want to go back to.
Conclusion
Cloud storage services enable you to safely store your data on the cloud, share data with your friends and team members, and improve your overall workflow. To recap:
If you're looking for a security-first cloud storage provider, we recommend checking out pCloud. It offers neat features (like pCloud Crypto, streaming capabilities, and branded links) which are great for both average consumers and business users.
However, if top-notch security isn't your primary concern, you might consider trying out OneDrive – especially if you're already invested in the Microsoft ecosystem.
Between pCloud and OneDrive, which cloud storage solution fits your needs best and why? Let us know by commenting below.