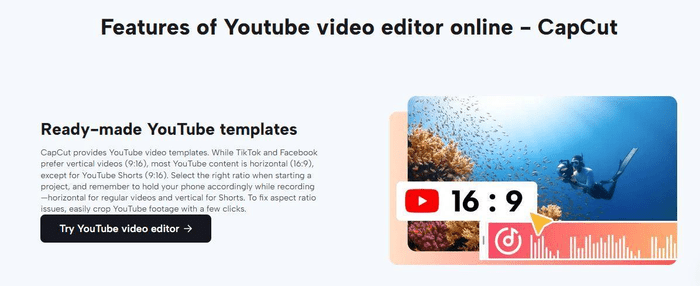 In the vast realm of online content creation, YouTube reigns supreme as the platform of choice for countless creators looking to share their stories, insights, and entertainment with the world. As the popularity of YouTube continues to soar, so does the demand for high-quality video content. Whether you're an aspiring vlogger, a seasoned filmmaker, or a business owner looking to harness the power of video marketing, a key component of your success on this platform is the quality of your videos. This is where the role of a video editor for YouTube becomes indispensable.
Video editing is the process of assembling and refining raw video footage into a polished, engaging, and coherent final product. Traditionally, video editing was a complex and resource-intensive task, requiring expensive software and high-end hardware. However, with the advent of online video editing tools, the landscape has evolved dramatically, offering creators a more accessible and efficient way to enhance their YouTube videos. In this article, we'll explore the advantages of using online editing tools, discuss the benefits of a smoother workflow, and touch upon the significance of video stabilization in the world of online content creation.
The Rise of Online Editing Tools
Online video editing tools have revolutionized the way content creators approach their work. These tools have made the video editing process accessible to a wider audience, allowing creators with varying levels of expertise to craft compelling videos without the need for extensive technical knowledge or expensive software licenses.
Accessibility and Affordability
One of the most significant advantages of online video editors for YouTube is their accessibility. These tools are often web-based, eliminating the need for users to download and install software on their devices. This means that whether you're working on a powerful desktop computer or a modest laptop, you can access these editing tools from virtually anywhere with an internet connection.
Collaboration and Sharing
Another notable benefit of online editing tools is their collaborative capabilities. In the world of YouTube, collaboration can be a powerful tool for growth and exposure. Video editors designed for online use often come equipped with features that facilitate collaboration between multiple users, allowing creators to work together seamlessly, regardless of their physical locations. This fosters teamwork and enables creators to share their workload, resulting in faster production timelines and higher-quality content.
A smoother workflow is one of the primary goals of using a video editor for YouTube, and online tools excel in this regard. These platforms are designed with user-friendly interfaces, intuitive drag-and-drop functionality, and streamlined editing processes that help creators work efficiently. With pre-made templates, effects, and transitions readily available, video editing becomes less of a technical chore and more of a creative endeavor.
Video Stabilization: A Crucial Component
In the pursuit of producing high-quality YouTube videos, the video stabilization tool plays a pivotal role. Shaky or jittery footage can be distracting and diminish the overall viewing experience.
Video stabilization is a post-production technique used to smooth out shaky or unstable footage. It can be particularly useful for creators who shoot videos using handheld devices or without the aid of stabilizing equipment like gimbals or tripods. The stabilization process involves algorithms that analyze the video frames and apply corrections to reduce unwanted motion.
These tools work wonders in transforming amateurish footage into professional-looking content. By stabilizing your shots, you can ensure that your audience focuses on your message rather than being distracted by shaky camera work. Whether you're capturing breathtaking travel vlogs, exciting action sequences, or informative tutorials, video stabilization is a must-have tool in your editing arsenal.
Achieving a Smoother Workflow
Now that we understand the significance of online video editors and video stabilization let's delve into some practical tips for achieving a smoother workflow when editing YouTube videos.
Before you even begin editing, it's crucial to have a well-organized library of assets. This includes all your video clips, audio files, images, and graphics. Sorting and labeling your assets will save you valuable time during the editing process. Most online video editors allow you to import and organize your files directly within the platform, making it easy to locate and use them as needed.
Having a clear plan for your video is essential. Outline the structure, create a storyboard if necessary, and identify the key elements you want to include in your video. This will help you stay focused and avoid unnecessary edits or revisions.
Use Templates and Presets
Online video editors often come with a variety of templates and presets that can streamline your editing process. These templates can serve as a starting point for your project, saving you time on repetitive tasks like adding transitions or text overlays.
Take Advantage of Collaboration Tools
If you're working with a team or collaborating with others on your YouTube videos, leverage the collaboration features of your chosen online video editor. Share your project with collaborators, assign tasks, and communicate effectively to ensure a seamless workflow.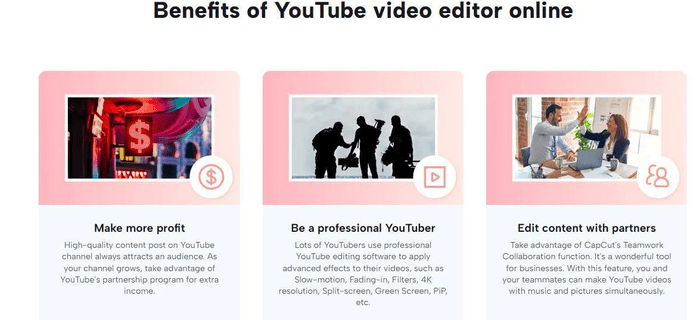 Breaking your editing process into stages can make it more manageable and less overwhelming. Begin with rough cuts to establish the overall flow of your video. Then, move on to fine-tuning, adding effects, and adjusting audio. This staged approach allows you to focus on specific aspects of your video without feeling overwhelmed.
Conclusion
In the world of YouTube content creation, a smoother workflow is the key to success. Online video editors for YouTube have democratized the art of video editing, making it accessible to creators of all backgrounds and skill levels. These tools offer a wide range of benefits, from affordability and accessibility to collaborative features and efficient workflows.
Moreover, the importance of video stabilzation cannot be overstated. It is a crucial component of producing high-quality YouTube videos, ensuring that your audience remains engaged and focused on your content rather than distracted by shaky footage.
As you embark on your YouTube journey or seek to enhance your existing channel, consider integrating online video editors into your workflow. With the right tools and techniques, you can streamline your editing process, produce captivating content, and build a loyal audience on this ever-growing platform. So, harness the power of online editing and video stabilization to take your YouTube channel to new heights. Your viewers will thank you for it.