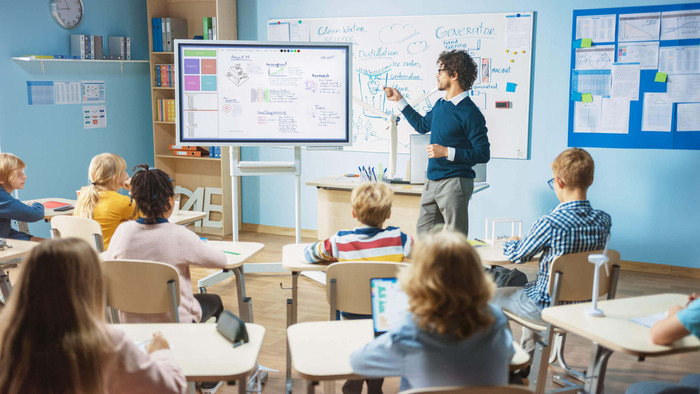 Interactive boards, or digital whiteboards, have transformed early education. According to a study by the National Association for the Education of Young Children (NAEYC), interactive boards for classrooms are now a fixture in over 80% of preschools in the United States. Their widespread adoption is attributed to their ability to make learning fun, interactive, and effective. 
In today's segment, we'll explore how interactive boards help with early education and development in critical areas: literacy, mathematics, science, and social skills. These versatile tools offer dynamic ways to introduce and reinforce essential concepts. 
Fostering Early Literacy
Interactive boards for classrooms are transformational instruments of learning. These digital canvases are emblazoned with colorful pictures and letters, laying the foundation for all their future learning.
Visual Reinforcement
These digital boards display letters and images in vivid, captivating colors. When children see "A" accompanied by an apple, it reinforces the association between the letter and the initial sound. It's like a visual cue that sticks.
Hands-On Learning
What's even more exciting is the ability for kids to actively participate. They can use their tiny fingers to trace letters and words directly on the board. This tactile engagement makes the learning experience more memorable and meaningful.
Storytelling Magic
Interactive learning boards bring storytelling to life. With interactive story apps, teachers can narrate and display stories with captivating visuals. It's not just reading; it's an immersive experience that expands vocabulary and enhances comprehension. Kids get to see the characters, the setting, and the plot come to life right before their eyes.
Simplifying Mathematical Concepts
Math can be intimidating for little ones, but interactive boards make math concepts approachable and enjoyable.
Counting and Sorting
Interactive activities on the board often involve counting and sorting objects. This practice helps kids develop fundamental math skills. They can count how many apples are in a basket or sort different shapes into categories. It's learning through play.
Shapes and Patterns
Shapes and patterns are the building blocks of math, and interactive boards make them tangible. Children can touch and move shapes on the screen, creating patterns and arrangements. It's a hands-on experience that makes math visual and understandable.
Problem-Solving
Games and puzzles on interactive boards are not just fun; they encourage critical thinking and problem-solving skills. Whether it's figuring out a puzzle or solving a math challenge, it's like a mental workout that prepares young minds for more complex math in the future.
Exploring the Wonders of Science
Science is all about curiosity and exploration, and interactive boards provide the perfect platform for young scientists.
Virtual Field Trips
Digital learning boards can transport children on virtual field trips to explore wildlife. They can visit a virtual zoo and see animals up close. This kind of experience creates a profound connection with the animal kingdom and can spark a lifelong interest in nature and biology.
Weather and Seasons
Understanding the concept of weather and the changing seasons becomes a vivid experience with interactive boards. Kids can see how the sun, clouds, and rain interact to create different weather patterns. They can also learn about the four seasons and how they affect the world around us.
Hands-On Experiments
Interactive displays can simulate science experiments. Children can mix virtual chemicals, observe reactions, and learn about cause and effect. It's like having a mini science lab right in the classroom, minus the mess and safety concerns.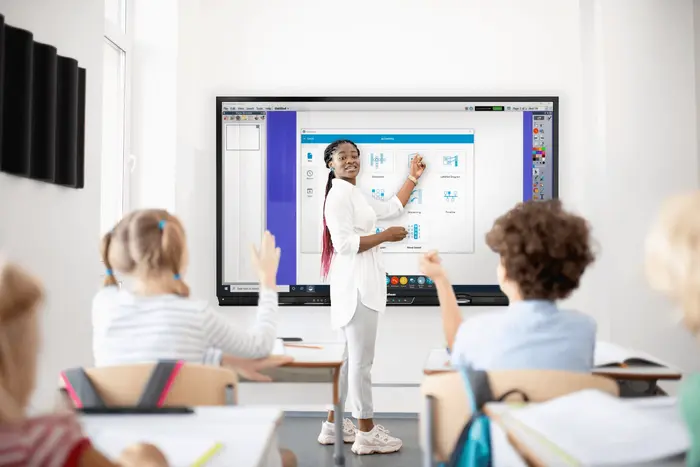 Building Social Skills
The purview of education isn't limited to academics; it's also about developing social and emotional skills. Interactive boards contribute to this important aspect of a child's growth.
Group Activities
Many electronic interactive panels offer activities that are designed for group participation. Kids can work together to solve problems, create stories, or complete challenges. This encourages teamwork, communication, and sharing.
Emotion Recognition
Educational apps on interactive boards can help children recognize and express their emotions. They might interact with characters who have different feelings, allowing them to practice understanding and talking about emotions, enhancing their social intelligence.
Conflict Resolution
Interactive scenarios on the board provide opportunities for children to practice resolving conflicts in a safe and controlled environment. They can learn to negotiate, compromise, and find solutions to problems they encounter in their interactions with others.
The Bottom Line
Interactive digital boards can be a revolutionary tool in early education, making learning interactive and hands-on. To make the most of them, you need to encourage active participation, balance with other activities, and make sure educators receive proper training. When utilized correctly, interactive panels can cultivate a lifelong love for learning in our youngest students.