Learning languages is not just about practicality, it is also about fun and joy. And guess what? According to Babbel, a subscription-based language platform, almost half (46%) of their users are in it for sheer enjoyment. And, another 35% admit that they learn a language to keep their cognitive abilities at a high level. Duolingo and Babbel apps are riding high on the trend and raking in profits. But hold up, there's space for more savvy and effective language apps to join the party. Ever come up with the idea of venturing into this field? It is not that difficult if you partner with a competent tech vendor who offers off-the-shelf e-learning app development services.
Geniusee, a reputable e-learning app development company, is here to help you join the EdTech revolution! Want to start with a reliable team by your side?? Our tech experts are ready to assist you on your way. Below you will find the essential steps you should follow and tips you should consider. Nothing is impossible. Let's make sure together!
What Is the Functioning Mechanism of Language Apps Such as Duolingo?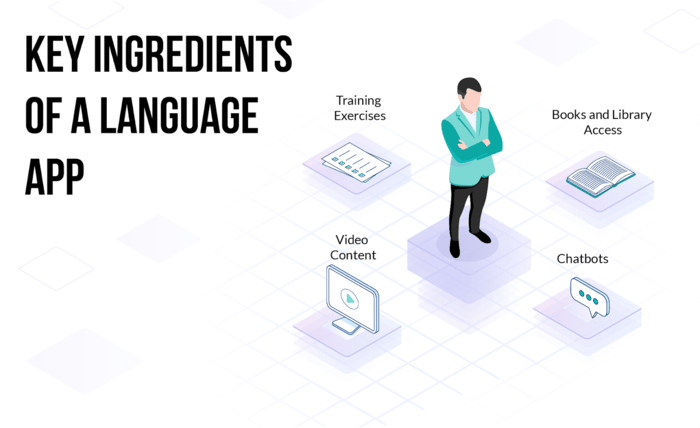 For those who have not yet had the chance to dive into language learning apps, imagining how these apps actually work might be a bit tricky. But we are here to break it down for you! Here are some of the essential features that you should consider:
Training Exercises
Imagine a workout routine for your brain. Language learning apps are all about that. They've got various exercises that focus on the language you are learning, and they start simple and gradually get trickier as you progress. Some of these exercises are like:
Matching foreign words with their meanings in your language;

Reading a short story and answering questions about it;

Listening to someone speak and filling in the missing words;
Video Content 
Videos are valuable because they show you things happening, making it easier to understand even when the language seems like a puzzle. Plus, who doesn't love a good video? It is a nice way to interact with your users.
Books and Libraries 
Language apps can give you access to books and resources that include grammar and vocabulary. Such knowledge elevates language learning beyond memorizing individual words and phrases. While mastering vocabulary might seem straightforward, the ability to construct coherent sentences hinges on understanding linguistic principles.
Chatbot Buddies 
Chatbots constitute a nice addition to language learning apps by fostering a supportive presence and motivating users to sustain their learning journey. Duolingo, for example, has a smart AI that gets what you're saying and gives you responses that match your vibes. 
Key Stages To Build A Language Learning App Like Duolingo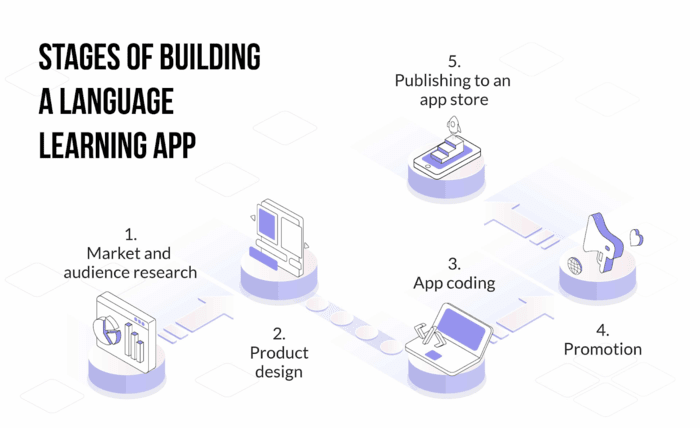 Curious about building your own language-learning app? Let's dive in! Here's your roadmap with basic steps:
Stage 1: Conceptualization and Research
Market Insight: Get your research goggles on and explore the language app arena. This field hit almost $12.5 billion in 2019 and is projected to double by 2027. With 1.6 billion users globally, it's a promising playground.
Know Your Users: Two categories dominate the scene – individual users and institutions. Tailor your app's aim accordingly. The target audience directs your app's problem-solving mission.
Stage 2: Design
Visual Charm: Start with an eye-catching logo and a fancy name to attract users.
UI & UX: Map out the user journey with a UI research and UX Map. Choose the design theme, color scheme, and other key interface elements.
Screen Creation: Develop the app screens, the basis of your design. It's a meticulous phase demanding your utmost attention.
Stage 3: Development
Code Writing: The most challenging part begins. This stage can consume about 1,000 hours. Start by developing for iOS and Android, ensuring cross-device compatibility.
Web Compatibility: Extend your app's reach by considering web development, making it accessible via browsers.
Quality Assurance: Perfect the app by fixing bugs in the QA phase to ensure flawless functionality for your users.
Stage 4: Marketing and Sales
Time to let the world know. Social media ads can be your megaphone to attract potential users. Engaging visuals such as screenshots and videos to highlight your app's strengths and set it apart.
Stage 5: App Store Debut
Publishing on Google Play and Apple App Store is the grand finale. But hold up, your app faces a review stage. App Store has stringent guidelines, but a bug-free, compatible, and user-friendly app will earn its spot. Google Play is more lenient but thorough. Create a developer account, follow the quality standards, and test it with internal users to get feedback. 
Embarking on language app development takes effort, but with each step, you're getting closer to creating an app that could change how people learn languages. Ready to build your language learning masterpiece? Let's make it happen together! The Geniusee team of tech professionals will assist you at each development step, ensuring a smooth process and quick results in time and within the prescribed budget!