Startups must adopt emerging technologies like AI, ML, and VR to thrive in today's competitive business landscape. These technologies offer immense potential to streamline operations, enhance customer experiences, and unlock new growth opportunities. However, integrating them poses challenges such as talent acquisition and implementation costs. By embracing these technologies and navigating the associated challenges, startups can gain a competitive edge and drive innovation in the dynamic business environment. So, at this point, custom software for startups is necessary to build a unique experience to bring more people to your business. 
Future Is Here: The Importance of Implementing Emerging Technologies Into a Startup's Architecture
In today's rapidly evolving technological landscape, startups need to embrace emerging technologies to stay competitive and drive innovation. Artificial Intelligence (AI), Machine Learning (ML), and Virtual Reality (VR) have emerged as powerful tools that can fuel startup growth and revolutionize various aspects of their operations.
AI, with its ability to simulate human intelligence and automate complex tasks, enables startups to streamline processes, enhance decision-making, and improve customer experiences. By leveraging AI algorithms, startups can automate repetitive tasks, gain valuable insights from data analysis, and develop intelligent chatbots or virtual assistants to provide personalized support to customers.
ML, a subset of AI, empowers startups to analyze vast amounts of data, recognize patterns, and make predictions or recommendations based on those insights. Startups can use ML algorithms to optimize their marketing strategies, identify customer preferences, and offer personalized product recommendations. ML also plays a vital role in cybersecurity by detecting and preventing potential threats in real time.
Furthermore, VR technology offers startups immersive and interactive experiences, enabling them to showcase their products or services in a virtual environment. This opens up new avenues for customer engagement, product testing, and even employee training. Startups in industries such as real estate, tourism, and gaming can particularly benefit from VR by providing virtual tours, creating lifelike simulations, and offering unique user experiences that were previously inaccessible.
The integration of AI, ML, and VR into startup operations has the potential to disrupt traditional business models and create innovative solutions. By harnessing the power of these technologies, startups can gain a competitive advantage, attract investors, and create products or services that meet the evolving demands of the market.
If you are looking for a developer or a team to create custom software for your startup, check out Sloboda Studio. They have been developing business solutions for more than 13 years. All of their specialists know the latest technologies and are passionate about each project they face. 
Brief Explanation of AI, ML, and VR and Their Potential Impact
AI refers to the development of intelligent machines that can perform tasks that typically require human intelligence. It involves the simulation of human intelligence in machines, enabling them to learn, reason, and make decisions. ML, a subset of AI, focuses on the development of algorithms that allow computers to learn from and make predictions or decisions based on data. VR, on the other hand, immerses users in a simulated environment, providing a realistic and interactive experience.
The potential impact of AI, ML, and VR on startups is immense. These technologies have the ability to streamline operations, enhance customer experiences, enable data-driven decision-making, and unlock new opportunities for growth and innovation.
AI Integration for Startup Prosperity
Startups can harness the power of AI to enhance customer experiences and personalize marketing efforts, leveraging data analysis and chatbot technology to deliver tailored recommendations, address customer queries, and gauge satisfaction, ultimately fostering loyalty and driving revenue growth.
How Startups Can Leverage AI for Process Automation and Optimization
One of the key benefits of AI for startups lies in its ability to automate processes, saving time and resources. AI-powered chatbots, for instance, can handle customer queries, reducing the need for human intervention. Startups can leverage AI to automate routine tasks, such as data entry, analysis, and reporting, allowing employees to focus on more strategic initiatives. By implementing AI-driven process automation, startups can improve operational efficiency, reduce errors, and achieve cost savings.
AI in Customer Experience Enhancement and Personalized Marketing
AI enables startups to provide personalized customer experiences at scale. By analyzing customer data, AI algorithms can identify patterns and preferences, enabling startups to deliver tailored recommendations, product suggestions, and personalized marketing campaigns. Chatbots equipped with natural language processing capabilities can engage with customers, addressing their queries in real time. AI-powered sentiment analysis can also help gauge customer satisfaction and identify areas for improvement. By leveraging AI for customer experience enhancement and personalized marketing, startups can foster customer loyalty and drive revenue growth.
Machine Learning (ML) for Startup Innovation
ML plays a pivotal role in startup innovation, enabling data analysis, pattern recognition, and predictive modeling to make data-driven decisions, optimize marketing strategies, and revolutionize sectors like finance, healthcare, and e-commerce through applications such as market analysis, disease diagnosis, and personalized shopping experiences.
Role of ML in Data Analysis, Pattern Recognition, and Predictive Modeling
ML plays a crucial role in startup innovation by empowering data analysis, pattern recognition, and predictive modeling. Startups can leverage ML algorithms to analyze vast amounts of data and uncover valuable insights. This enables them to make data-driven decisions, identify trends, and predict future outcomes. ML techniques, such as clustering and classification, can help startups segment their customer base, identify target markets, and optimize marketing strategies. ML also facilitates predictive modeling, enabling startups to forecast demand, detect anomalies, and optimize resource allocation.
Application Examples of ML in Startup Sectors Such as Finance, Healthcare, and E-commerce
ML has found numerous applications across various startup sectors. In finance, ML algorithms can be used to analyze market trends, assess credit risks, and detect fraudulent activities. In healthcare, ML can assist in diagnosing diseases, analyzing medical images, and predicting patient outcomes. E-commerce startups can leverage ML to improve recommendation systems, optimize pricing strategies, and personalize the shopping experience. ML algorithms have the potential to revolutionize these sectors by enabling startups to extract actionable insights from vast data sets.
VR for Startup Evolution
VR technology offers startups the ability to create immersive experiences, such as virtual tours in tourism or interactive narratives in entertainment, allowing them to differentiate themselves, attract customers, and leave a lasting impression, while also providing opportunities for product visualization, training simulations, and virtual collaboration, enabling startups to showcase products, train employees, and facilitate remote teamwork.
Immersive Experiences VR Can Offer to Startups and Their Customers
VR technology opens up new avenues for startups to create immersive and engaging experiences for their customers. Startups can leverage VR to transport users to virtual environments, providing unique and memorable experiences. For example, in the tourism industry, startups can offer virtual tours of destinations, allowing customers to explore and interact with different locations. In the entertainment sector, VR can enhance storytelling and create interactive narratives. By incorporating VR into their offerings, startups can differentiate themselves, attract customers, and leave a lasting impression.
VR in Product Visualization, Training Simulations, and Virtual Collaboration
VR also presents valuable opportunities for startups in terms of product visualization, training simulations, and virtual collaboration. Startups can use VR to showcase their products or prototypes, allowing customers to visualize and interact with them in a virtual environment. This can facilitate better product understanding and increase purchase intent. Additionally, VR can be utilized for training simulations, enabling employees to practice complex tasks in a risk-free virtual setting. Startups can also leverage VR for virtual collaboration, allowing teams to work together remotely, regardless of their physical locations.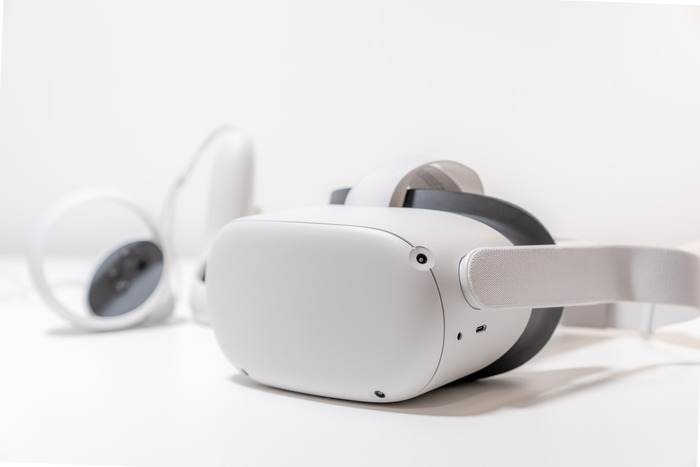 AI, ML, VR Challenges and Key Considerations
When integrating AI, ML, and VR solutions into their operations, startups must consider factors such as identifying strategic use cases, prioritizing data quality, focusing on user experience, investing in talent development, and collaborating with experts, to effectively overcome challenges and ensure successful adoption and integration of these technologies into their business operations.
Potential Challenges in Adopting and Implementing These Technologies
While AI, ML, and VR offer immense potential, startups must be aware of the challenges associated with adopting and implementing these technologies. Lack of skilled talent, high implementation costs, and data privacy concerns are some of the common challenges faced by startups. Additionally, integrating these technologies into existing systems and workflows can be complex and time-consuming. Startups need to carefully evaluate these challenges and develop strategies to overcome them effectively.
Factors to Consider When Integrating AI, ML, and VR Solutions Into Startup Operations
Startups should consider several factors when integrating AI, ML, and VR solutions into their operations. It is essential to identify specific use cases where these technologies can provide the most value and align them with strategic business goals. Startups should also prioritize data quality and availability, as accurate and relevant data is crucial for the success of AI and ML initiatives. Additionally, startups should focus on user experience and ensure that the implementation of VR technologies aligns with their target audience's preferences and expectations. Furthermore, startups should invest in talent development and collaborate with experts to ensure the successful adoption and integration of these technologies.
Conclusion
In conclusion, AI, ML, and VR are playing increasingly significant roles in fueling startup innovation. Startups that embrace these emerging technologies can gain a competitive edge, improve operational efficiency, enhance customer experiences, and unlock new growth opportunities. However, it is crucial for startups to carefully consider the challenges and key considerations associated with implementing these technologies. By doing so, startups can harness the power of AI, ML, and VR to drive their success in the dynamic and technology-driven business landscape of today and the future.