Do you get a thrill out of finding solutions to tricky math equations? Or do you enjoy the challenge of solving complex problems while avoiding stress? Puzzles that involve numbers offer both! We've rounded up some top-rated options to help you find your favorite puzzle game. 
Whether it's an immersive Sudoku adventure or something as simple as a crossword board filled with number clues, these games will bring all the fun and satisfaction of problem-solving into your home. So break out your calculator if need be, and get ready for an engaging journey through mental arithmetic – it's time to take on some exciting number puzzles!
Puzzle Games Where Numbers are Involved
You might think that this list is only for math lovers. But think again because these games are meant to help you exercise your math skills while having fun. It's not made to stress you out but to help you have a good time! So here are some of the best puzzle games involving numbers. 
2048
One of the easiest puzzle games in this list is 2048. It's perfect for kids and adults who are incredibly competitive. The game's goal is to reach the 2048 tile by combining tiles. The tile starts at 2, and you'll need to merge tiles with similar numbers until you can get 2048.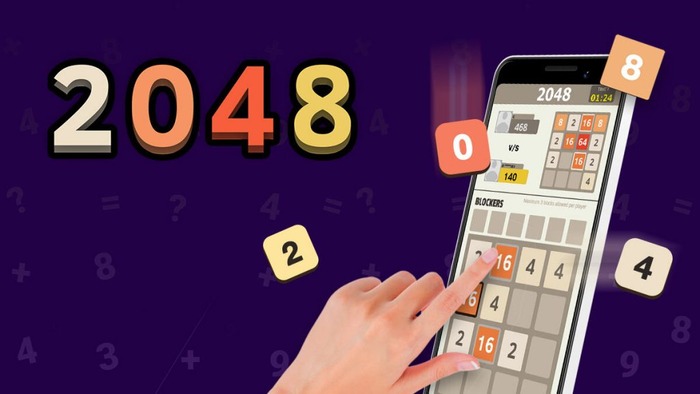 Since it has a timer, you will also want to merge tiles fast to ensure you can reach the target within the shortest time possible. However, some game versions allow you to have no timer, which is ideal for beginners.
Other game features:
Different board sizes (3×3 as the smallest and 8×8 as the biggest)

Continue the game even after reaching 2048

Achievements and leaderboards

Excellent math game for kids
Due to its popularity, numerous game versions from different developers began to pop up. One of these is 2048Game.us. It has an undo button if you want to reverse a move, and you can also swipe anywhere on the screen to move. These intuitive controls allow for a better game experience.
Minesweeper
Minesweeper is one of the most iconic games that many puzzle enthusiasts still don't understand. First released by Microsoft Windows, this classic puzzle game also involves numbers. But you won't be using your math skills too much. If you have played a Minesweeper game before, you already know the principles behind this game.
What you need to know:
Complete the grid without triggering any mines

Tiles with numbers represent the number of mines adjacent to that tile

With the elimination method, find out which tile doesn't have a mine

Once you're sure, put a flag as a reminder

Three difficulty settings are beginner, intermediate, and expert

Challenge your Minesweeping skills with custom mode to add more grids and mines
Anybody can win a Minesweeper game as long as you can apply logic. The best part is that hundreds of versions are out there right now, available on both browsers and mobile devices for accessible and more innovative gameplay.
Sudoku
Another number game where math is not essential is Sudoku. The game's objective is to ensure that all rows, columns, and subgrids have the digits 1 to 9 and that no two squares will have the same number. It looks simple, but solving a Sudoku board can be a real challenge.
Since Sudoku became a staple in puzzle games, multiple variations have come out, which you can access through browsers or download for your smartphone. They have the same elements, but sometimes they may have different rules or features, making them stand out independently.
Some examples of variations to try:
Arrow Sudoku

: Arrows are overlaid on the grid, and the arrows indicate the sum's direction.

Thermo Sudoku

: It's like normal Sudoku, but the thermometer column has numbers that increase as the game progresses.

Wordoku

: Words or letters are used instead of numbers

Futoshiki

: Also known as More or Less,

Futoshiki

has the same gameplay as Sudoku, where the goal is for every row or column to have numbers between 1 and the grid's size.
Try any of the above games, and experience Sudoku, but with a twist!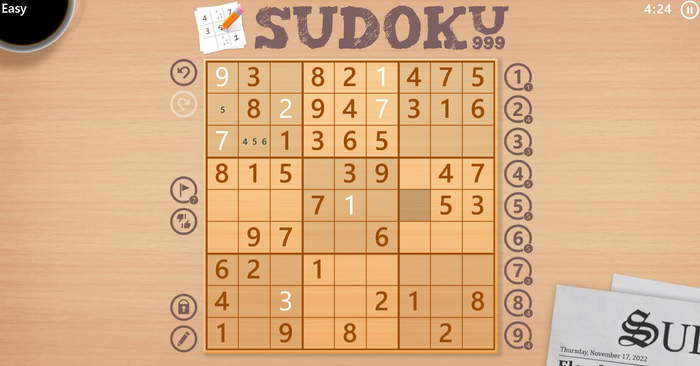 Nonogram
A crowd favorite due to the creativity it offers is Nonogram. It's a relatively simple puzzle game where numbers have a representation. The numbers in this game represent how many rows or columns you'll need to color. Once done, a picture will be revealed.
Although it has simple solutions, the gameplay may be challenging to overcome, especially for larger grids. In addition, different versions may have different rules and features. For instance, you can change the grid size or enable the timer for a more challenging game. Nonograms Katana is a great example, which you can download on your mobile device.
Nonogram is perfect for puzzle enthusiasts who want to shift from traditional number puzzle games. With its unique approach, it allows players to explore other aspects of their problem-solving skills and, at the same time, enjoy a creative experience with numbers. 
Suguru
Last but not least is Suguru. It originated in Japan, and it's sometimes known as Tectonics. The game only has two simple rules where logic is imperative. First, the cells in the grid are divided into two groups containing numbers from 1 to N.
N refers to the number of cells in the group. The main rule is no two adjacent cells must contain the same number. Even though it only has two rules, some Suguru puzzles are still tricky and tough to complete. So you must focus and ensure all bases are covered.
As you may have noticed, it has the same elements as Sudoku. Of course, it's unique in its way. Try Suguru by Aliaksandr Uvarau and hone your skills by exploring over 6000 puzzles.
Play These Number Puzzle Games & Test Your Brain
If you're a puzzle lover and want something unique to spice up your afternoon or weekend, these are all great games to try. Each has a unique twist that can help you expand your problem-solving and critical-thinking abilities. Plus, they are fun, so there's no pressure involved.