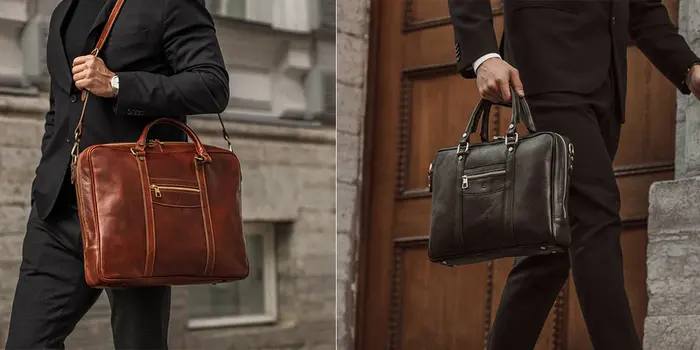 Laptops have seamlessly integrated into our lives, providing indispensable tools for work, entertainment, education, and beyond. In this digital age, the need to protect these devices while moving has spurred the creation of a diverse array of laptop bags. These bags are not just mere carriers; they've evolved into functional accessories that cater to various lifestyles and preferences. Continue reading to start a journey through the realm of notebook bags, exploring their distinct types and the specific roles they fulfill.
Picture this: You've acquired a cutting-edge portable computer that perfectly complements your professional commitments and personal projects. Naturally, ensuring its safety and prolonged utility becomes paramount. Enter notebook bags – a solution that extends beyond mere aesthetics. Beyond just a mode of transportation, a laptop bag becomes a safeguard, a guardian against the unpredictable external world. With many choices available, delving into the nuances of notebook bags is akin to discovering the right puzzle piece for your device's protection.
Backpacks 
Timeless and reliable, backpacks have become synonymous with carrying laptops. Designed to combine comfort with functionality, these bags have earned their classic status. One of their defining features is the presence of padded compartments that cocoon laptops within a cushioned embrace. This clever design minimizes the impact of accidental bumps and movements, preventing potential damage.
What's more, the laptop's weight and accompanying load are evenly distributed across both shoulders, making backpacks a comfortable choice, especially for those who find themselves on the move for extended durations. Whether you're a student navigating campus, a professional traversing the urban landscape, or a digital nomad exploring the world, a laptop backpack embodies convenience and protection, leaving your hands unburdened and your laptop safe.
Messenger Bags 
The messenger bag emerges as a fitting option for urban dwellers seeking style and convenience. Often referred to as crossbody bags, these accessories add sophistication to the notebook bag domain. One striking feature is the single strap that elegantly crosses the body.
This configuration ensures easy access to your laptop without removing the entire bag. With a sleek design that seamlessly transitions from work to casual settings, messenger bags are the epitome of urban chic. However, don't let the fashionable facade fool you; these bags are as functional as they are stylish. Typically equipped with ample compartments, they easily accommodate laptops, documents, and other essentials, catering to those who demand both form and function.
Tote Bags 
Historically synonymous with fashion and flair, Tote bags have adapted to accommodate notebooks without compromising style. Tote laptop bags effortlessly blend practicality with elegance, offering a more spacious alternative to traditional laptop bags.
Beyond just providing a snug space for laptops, these bags boast room for chargers, notebooks, and other necessities. Tote laptop bags cater to individuals who prioritize making a fashion statement while ensuring their laptops remain safe and sound. From boardroom meetings to relaxed coffee shop visits, these bags serve as a statement piece, effortlessly marrying fashion and function.
Rolling Bags
For those who find traditional bags a burden to bear, rolling laptop bags come to the rescue. These bags redefine convenience with wheels and a retractable handle akin to carry-on luggage. Frequent travelers and individuals needing to transport laptops or Macbooks across considerable distances will find solace in these bags.
The rolling mechanism offers a seamless solution, sparing your back and shoulders from undue stress. If the thought of effortlessly gliding through terminals or bustling streets appeals to you, a rolling notebook bag might be the answer.
Briefcases
In the world of business, appearances matter, and briefcase-style portable computer bags have emerged as the embodiment of professionalism. Tailored for formal settings, these bags exude a sense of purpose and sophistication. The structured design, often accompanied by a top handle, grants them an air of authority.
Their purpose extends beyond merely safeguarding laptops; they're designed to accommodate crucial documents, pens, and other essentials integral to the business world. A briefcase notebook bag effortlessly transforms a casual commute into a professional presentation, making it the discerning choice for meetings, conferences, and any scenario demanding a polished demeanor.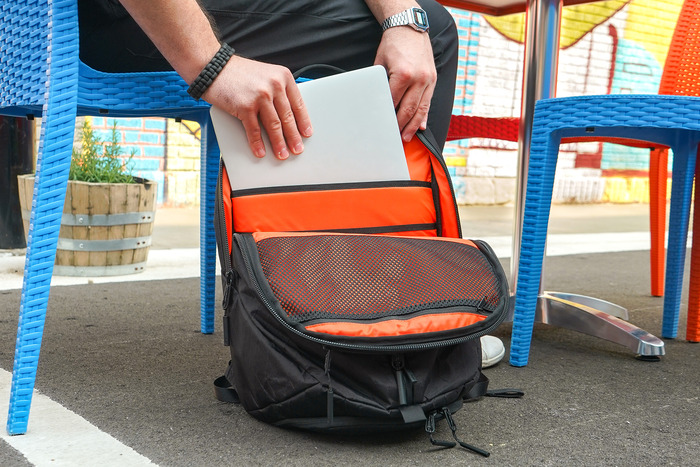 Sleeve Cases
For those who value minimalism, sleeve cases offer a streamlined approach to laptop protection. These cases are designed to snugly encase laptops, providing a second skin that guards against scratches and minor impacts. Although they may lack the space for additional items, sleeve cases are the epitome of efficiency and simplicity. They are the ideal companions for those who prioritize lightweight solutions and prefer the ease of slipping their notebooks or Macbooks into larger bags or carrying them discreetly under their arms.
Convertible Bags 
The world of laptop bags has witnessed the emergence of convertible bags – a breed of bags that redefine versatility. True to their name, these bags adapt to various situations, offering flexibility that suits dynamic lifestyles. Some convert from backpacks to messenger bags, effortlessly transitioning between styles.
Others boast expandable or compressible features, allowing you to tailor the bag's capacity to your requirements. Suppose you're the kind of individual who thrives on having options and embraces the evolving nature of your day-to-day routine. In that case, a convertible notebook bag is the epitome of versatility.
Conclusion: 
The realm of laptop bags extends a choice for every persona. Whether comfort, style, professionalism, or versatility is your guiding principle, a fitting bag awaits your selection. From the ever-reliable backpack to the fashion-forward messenger bag, each type boasts a unique attribute that aligns with various roles and demands of contemporary living.
So, when seeking a laptop bag, remember to consider the practicalities, your personal flair, and the contexts in which you'll utilize it. In essence, a laptop bag goes beyond a mere accessory; it's a functional manifestation that ensures your valuable device remains secure as you navigate the captivating landscape of the digital era.